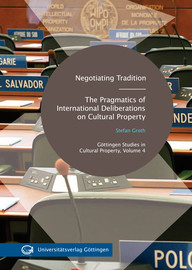 3. Negotiating Tradition on the Global Stage
p. 25-52
Texte intégral
2It is the first day of the 12th session of WIPO's Intergovernmental Committee on Intellectual Property and Genetic Resources, Traditional Knowledge and Traditional Cultural Expressions/Expression of Folklore (IGC on GRTKF). The meeting is scheduled to begin at 10 a.m. At 9:15 a.m., the plenary room and the foyer are almost empty, apart from WIPO staff and security personnel. Little by little, delegates arrive in WIPO's main foyer, filling out paperwork to register for the session and receiving their name badges, whose colors are similar to the larger name plates in the plenary room: delegates from member states are marked blue, observers green. During the meetings, these are an important way participants can establish the identity and status of their counterparts, as well as determine whether one is granted access to internal meetings or confidential information. Even in the cafeteria, they aid IGC participants in learning whom to speak to when and about what. Security guards are posted in front of each of the doors of the plenary room. They check the name badges and prohibit entrance to participants not authorized to attend specific meetings. At the left door stands a photocopier, next to it several tables stacked with brochures, announcements and the various documents relevant for the subsequent meeting. Behind a counter, WIPO staff members hand out additional documents from prior sessions and provide new documents that are produced during the course of the session. A few steps away from the main plenary room is Room B, partly used by observers and the staff assistants of member states who cannot find a seat in the main room. It is equipped with microphones, earphones and booths for simultaneous translation, and is also used for side-events, regional group coordinating or introductory meetings.
3At 10:10 a.m., the main room is still not full, and delegates walk around or stand chatting in small groups. A small display in the foyer indicates an internal meeting of the African Group on the thirteenth floor. Finally, at around 10:30 a.m., the bulk of the delegates have arrived and WIPO's vice Director-General signals with his gavel that the session is about to begin.
6For the following four days, delegates and observers discuss matters of TK, TCEs and GR in the main plenary as well as in smaller regional group meetings and informal settings. At the end of the week-long twelfth meeting of the IGC, the committee will have decided – besides smaller procedural items – to compile two gap analyses for the next session. They are to describe "what obligations, provisions and possibilities already exist at the international level to provide protection" for TK and TCEs and "what gaps exist at the international level, illustrating those gaps, to the extent possible, with specific examples" (WIPO/GRTKF/IC/12/Decisions).
7After seven years of negotiations, this decision is a clear indication that progress is very slow and that there is a lot of dissent between member states on how to proceed with the committee. In part, this study deals with the question how the IGC continues to exist besides this clear lack of consensus and some member states' lack of interest to move forward. How, after much preparatory work, twelve meetings and inter-sessional negotiations, is it possible that the only substantive decision on future work is to map the existing international legislation on TK and TCEs and gaps therein? Especially given the fact that there are some member states calling for a legally-binding international instrument for the protection of TK, TCEs and GR, this is a puzzling situation. IGC 12 included wider-reaching efforts and proposals to move the work of the committee in the direction of treaty negotiation, but they were mostly turned down by states not interested in this. While the session ended with critique and in conflict, in the end a fragile consensus with minimal results on future work was found – and this is a typical outcome of IGC meetings. More substantive agreements are very rare, and slow speed as well as adversarial positions resulting in decisions with only tenuous implications are what characterizes IGC negotiations. And despite delegations threatening to walk away from the negotiation table and bring issues of TK, TCEs and GR to other fora – an unwanted process for delegations not interested in new intellectual property legislation for cultural property –, the situation of the committee lingers on without any bigger ramifications. Somehow, delegates seem to be able to create stability in an essentially unstable situation.
8The main argument of this study is that communicative strategies play a key role in mediating the different interests of stalling and speeding member states, and that the analysis of linguistic behavior helps to understand what keeps the committee together despite only minimal progress in its work. The specificities of diplomatic registers and communicative practices are essential for an understanding of how stability is constantly recreated despite divergent views and interests. Thus, this study will analyze the sociolinguistic practices and patterns used by participants in international negotiations. It will shed light on how actors in WIPO's IGC employ communicative strategies in order to both mediate between different positions as well as enforce their interests while making only small concessions to opposing parties. While its results are partly applicable to intergovernmental negotiations in general, this study will focus on IGC negotiations on cultural property within the sphere of activities of WIPO.
24

See http://www.wipo.int/treaties/en/convention/trtdocs_wo029.html, last accessed 1 May 2011.

The objectives of the Organization are: (i) to promote the protection of intellectual property throughout the world through cooperation among States and, where appropriate, in collaboration with any other international organization, (ii) to ensure administrative cooperation among the Unions.24
11In 2000, the 25th session of the WIPO's GA discussed whether to establish an intergovernmental committee to address issues of intellectual property, traditional knowledge and folklore. It "invited member states to consider the establishment of an Intergovernmental Committee on Intellectual Property and Genetic Resources, Traditional Knowledge and Folklore (IGC)" (Dutfield 2003: 15). The text adopted by the representatives from WIPO's 184 member states at the GA argued that "[w]ith the emergence of modern biotechnologies, genetic resources have assumed increasing economic, scientific and commercial value to a wide range of stakeholders" (WIPO/GA/26/6:para.1). Furthermore, traditional knowledge associated with genetic resources as well as "other tradition-based creations, such as expressions of folklore" were receiving an increased amount of attention within a "globalized information society", making it necessary to rethink intellectual property questions in these three areas. The decision by the GA to bring this new intergovernmental committee to life read in part:
The Intergovernmental Committee would constitute a forum in which discussions could proceed among Member States on the three primary themes which they identified during the consultations: intellectual property issues that arise in the context of (i) access to genetic resources and benefit sharing; (ii) protection of traditional knowledge, whether or not associated with those resources; and (iii) the protection of expressions of folklore.26
32

See also Halewood 1999:965–985 for an overview of conventions and committee concerned with TK and (...)

The involvement of WIPO in TK goes back more than 20 years. In the 1970s and 1980s, WIPO, with UNESCO, held a series of meetings on folklore that culminated in the 1982 adoption of the Model Provisions for National Laws on the Protection of Expressions of Folklore Against Illicit Exploitation and Other Prejudicial Actions. In 1984, WIPO and UNESCO convened a meeting to explore the possibility of developing an international treaty on folklore based on the Model Provisions. However, participants at the meeting were unable to reach agreement and the proposal for a treaty was withdrawn. Consequently, WIPO dropped the issue of folklore from its programmes for several years. (Dutfield 2004: 132–133)32
14WIPO again took up issues of folklore and cooperation with UNESCO in 1997 at the World Forum on Folklore in Phuket, Thailand. The participants agreed on establishing a forum for further discussions about folklore and the intellectual property system, arguing that the existing copyright, trademark and patent system offered inadequate protection for TK, TCEs and GR. In 1998, WIPO established the Global Intellectual Property Issues Division (GIPID), to address, among other things, folklore and the possible creation of an international committee dealing with its relation to the international intellectual property system. From the beginning, its expected outcome was constrained:
GIPID's mandate is limited. American support for the new mandate was secured in return for the concession that GIPID was not "on a norm setting track"; that is to say, that its work is not intended to feed into a process which would end with the creation of a treaty or recommendations. (Halewood 1999: 986–987)
34

http://www.wipo.int/export/sites/www/tk/en/tk/ffm/report/final/pdf/part1.pdf, accessed 1 June 2011

The fact-finding missions (the FFMs) were designed to enable WIPO to identify, as far as possible, the IP needs and expectations of TK holders. While the needs of TK holders have been referred to in other international fora, there has been to date no systematic global exercise by international organizations to document and assess, firsthand, the IP-related needs of TK holders. As the United Nations specialized agency responsible for the promotion of the protection of IP, WIPO undertook the FFMs as part of a new programme of activities, initiated in 1998, to explore and study current approaches to, and future possibilities for, the protection of the IP rights of holders of TK.34
16The fact-finding missions have been a valuable resource for the committee, providing information on diverse cultural property contexts and the relation between national and international intellectual property infrastructures on the one hand and TK, TCEs, GR and social actors connected with these resources on the other hand.
17Actions to establish the IGC ensued in 1999, though its creation seems to have been more unplanned than planned:
The establishment of this forum, the Intergovernmental Committee on Intellectual Property and Genetic Resources, Traditional Knowledge and Folklore, was an unintended outcome of a proposal submitted to the third session of WIPO's Standing Committee on the Law of Patents (SCP) (Dutfield 2004: 134).
18The Colombian delegation at that session submitted a controversial document entitled 'Protection of biological and genetic resources' proposing linking patents relating to GR to an assurance that the resource had been acquired legally, and that this be accompanied by an access and benefit sharing (ABS) clause. Many developing countries supported this proposal, while developed countries argued against it. The dissatisfaction of these countries with how intellectual property legislation concerning cultural matters were being addressed was rooted in conflicts with pharmaceutical companies that were said to be capitalizing on traditional medicinal knowledge or concerned the misappropriation of indigenous artworks or folklore for commercial purposes. In consequence, delegations compromised to keep these issues out of the SCP and in return have a meeting specifically on issues of intellectual property and GRs. This meeting led to a proposal that was eventually taken up by WIPO's GA, which decided to establish the IGC in 2000 (ibid).
19Actors and institutions from local, national, regional and international levels are involved in debating the constitution of a cultural property right in WIPO's IGC. They all bring specific expectations, desires, levels of competence and languages to the table, which both shapes and limits the field of discourse. Negotiations and talk about traditional knowledge takes place in a multitude of fora, including the CBD, the WTO, the ILO, the Food and Agriculture Organization (FAO), and even the World Meteorological Organization (WMO). This nicely illustrates the entanglement of institutions at the international level in the issues, and there are of course connections to local, national and regional organizations as well.
20Actors in the IGC also not only come from a multitude of institutions and organizations, they also come from a broad range of sociocultural backgrounds, have differing political and moral views, expectations, levels of competence, intentions, or policy guidelines to follow. They hold personal as well as professional opinions and, in their subjectivities, maintain interpersonal relationships that are expressed in their performance on the international stage. Moreover, the actors at the IGC meet in various temporal-spatial constellations: in the main meeting room, in the hallway, the cafeteria, the Director-General's office, at a side-event or workshop, for lunch in an embassy, at a hotel or shopping mall, on the way from the UN headquarters in Geneva to the WIPO building. Or they may meet on a train from Geneva to Berne, all of which leads to an immense number of both formal and informal settings that are ethnographically of considerable interest. Most visible, of course, and the most accessible to closely study are the encounters in the WIPO meeting room where the sessions of the IGC take place.
36

WIPO/GRTKF/IC/11/5(c):20.

International IP standards typically defer to the national level for determining the precise scope of protected subject matter. The international level can range between a description in general terms of eligible subject matter, a set of criteria for eligible subject matter, or no definition at all. For example, the Paris Convention and the TRIPS Agreement do not define "invention".36
22As will be discussed in greater detail below, issues of definition are highly complex in the IGC. The IGC has worked through a large number of case studies and there is thus a general understanding on the part of IGC participants about what TK, TCEs and GRs are, including the social and political contexts they are situated in. But as actors carry divergent views as to the economic, political and social values of TK, TCEs and GR, there are also fundamentally divergent policy objectives in the IGC. They result in different perspectives on the IGC's subject matter. While there are specific examples for TK in the IGC, actors do not necessarily share the same views about these examples. Differences exist in terms of their social, cultural, or political valuation, as well as in the strategic implications of these views. There is an understanding at the level of information, but the way actors perceive of that information and the conclusions they draw from it are not necessarily shared. Likewise, there is disagreement about the legal classification: the specific qualities something must have to be classified as TK, TCEs or GR are disputed between IGC participants. This classification can have legal as well as political and financial implications for member states and other actors, and thus it is discussed in a controversial manner. However, the specific characteristics and terms that qualify something as belonging to these categories are mostly unclear with regard to the legal dimension. Similarly, this study will abstain from trying to define what TK or TCEs are as this would level the different perspectives and perceptions of these substantial issues of the IGC process. A discussion of divergent perspectives on cultural property is part of Chapter 5.
23Yet, there have been attempts at defining TK and TCEs, and they offer a broad overview of what belongs to these issues and what not. They convey an understanding of what actors in the IGC mean when referring to TK and TCEs. An important distinction made in the context of the IGC is that of TK lato sensu and TK strictu sensu:
37

WIPO/GRTKF/IC/7/6, Annex I:22.

As a broad characterization, TK lato sensu can be understood as 'the ideas and expressions thereof developed by traditional communities and Indigenous peoples, in a traditional and informal way, as a response to the needs imposed by their physical and cultural environments and that serve as means for their cultural identification.' TK latu sensu becomes a convenient umbrella term covering both aspects of protection of TK stricto sensu and TCEs (in this broader sense, it goes beyond 'knowledge' as such). Some objects of protection touch simultaneously upon those two distinct fields of IP, such as technical creations that have an aesthetic character. For instance, many handicrafts have a utilitarian function, having been developed with a utilitarian purpose and giving effect to a technical idea, but may acquire an additional aesthetic quality. Either because of their use in religious services and other spiritual events, or because of their general association with a culture and a community, handicrafts may become more important as a cultural expression than simply as the product of a technical idea. In this vein, handicrafts may embody TK stricto sensu or may be viewed as expressions of TK or TCEs.37
24Thus, the distinction between TK and TCEs stems from the technical separation of these domains in the intellectual property system. Therefore, what is used in IGC negotiations is TK in its strict sense, consisting – according to a draft definition – of the
38

WIPO/GRTKF/IC/18/5. This definition is taken from a "Glossary of Key Terms Related to Intellectual (...)

content or substance of knowledge resulting from intellectual activity in a traditional context, [including] the know-how, skills, innovations, practices and learning that form part of traditional knowledge systems, and knowledge embodying traditional lifestyles of indigenous and local communities, or contained in codified knowledge systems passed between generations. It is not limited to any specific technical field, and may include agricultural, environmental and medicinal knowledge, and knowledge associated with genetic resources.38
25Similarly, there have been attempts by the IGC to outline the components of TCEs, as in this enumerative definition from "The Protection of Traditional Cultural Expressions/Expressions of Folklore: Overview of Policy Objectives and Core Principles":
39

WIPO/GRTKF/IC/7/3, Annex I: 4.

'Traditional cultural expressions' or 'expressions of folklore' may be understood as including productions consisting of characteristic elements of the traditional cultural heritage developed and maintained by a community, or by individuals reflecting the traditional artistic expectations of such a community. Such productions may include, for example, the following forms of expressions, or combinations thereof: (i) verbal expressions, such as folk tales, folk poetry and riddles; aspects of language such as words, signs, names, symbols and other indications; (ii) musical expressions, such as folk songs and instrumental music; (iii) expressions by action, such as folk dances, plays and artistic forms or rituals; whether or not reduced to a material form; and (iv) tangible expressions, such as: (a) productions of folk art, in particular, drawings, designs, paintings, carvings, sculptures, pottery, terracotta, mosaic, woodwork, metalware, jewelry, basket weaving, handicrafts, needlework, textiles, carpets, costumes; (b) musical instruments; (c) architectural forms.39
26There is thus an understanding of what TK and TCEs are for the purposes of discussions in the IGC that actors can refer to – but the passages quoted above need to be understood for what they are: efforts to summarize key terms. These are not consensually agreed-upon codifications by WIPO participants.
28WIPO's IGC now brings together 184 nation-states and a significant number of NGOs and ILCs, and focuses on developing legal frameworks for intangible cultural resources within the intellectual property regime. The founding of the committee was influenced by increasing pressure from developing countries and indigenous groups on WIPO and the UN (Hafstein 2004: 301).
29The expectations of member states and observers regarding the results of this process could not be more diverse. Western industrial nations are largely satisfied with the current state of copyright and patent regimes and not very interested in changes or in creating a new legal instrument for intellectual property. The current system works to their advantage, as patented and copyrighted works are protected not only at the national, but at the international level as well.
30This is not true of the resources under negotiation in WIPO's IGC. No vigorous instruments exist in international intellectual property law that can combat the transnational misappropriation of cultural resources. Therefore, countries which have large indigenous populations and a broad range of TK and TCEs exert pressure to create legally binding instruments at the international level that can protect or compensate the holders of TK – or be financially or politically beneficial for the country itself.
32While the immense number of documents prepared by the IGC since its inception in 2001 has not produced tangible outcomes at the international level, these texts show the amount of work completed by the IGC and that the committee is moving forward, although at a very slow speed and with many member states stalling negotiations. In terms of international treaty negotiations, the IGC is still a relatively young forum. Apart from that, some member states see the slow speed of negotiations already as success: the work of the IGC, however slow it may be, shows that they are working on issues of GRTKF.
34IGC participants come from a broad range of sociocultural and linguistic backgrounds. Thus, the committee is challenged not only by different strategic agendas, but also a by multitude of perceptions of what "culture", "property" and "community" mean. While NGOs and indigenous communities are admitted only as observers and have no voting power, they nonetheless frequently partake in the discussions. This multiplies perspectives, increases ambiguity and reduces the degree of shared understanding of terminology and its interpretation among the different actors. A prime example for this is that after more than ten years of negotiations, there is still no consensual or binding definition of "traditional knowledge" or "traditional cultural expressions". Thus, it is appropriate to take a closer look at the constellation of actors in order to understand the different interests as well as perspectives that actors have in the context of TK, TCEs and GR.
35Actors of the WIPO IGC process are what Hymes termed 'participants' in his SPEAKING-model. The unit of analysis of the ethnography of communication is the speech event. However, as for instance the component 'setting' illustrates, the analysis of communicative events is not limited to the actual conversation or communicative exchange. The setting of a speech event also includes its broader context, like negotiations on TK in the CBD in the case of the IGC. Similarly then, the participants of the IGC's communicative events are not only those present during the sessions and meetings, but also external actors influencing what is happening at WIPO. This includes national government agencies determining the position a delegation is going to take during negotiations as well as numerous civil society and industry organizations working in local and international contexts on the protection of GRTKF. Moreover, the work of legal scholars as well as of anthropologists influences the negotiation process at WIPO.
36The range of actors who participate directly and indirectly can be grouped into five different categories: WIPO staff, member states, IGOs, NGOs and ILCs.
38The tasks of WIPO's secretariat are manifold. It has to compile reports, working documents and other publications, prepare and organize meetings such as the IGC, present the activities of the IGC in numerous fora, and participate in workshops, including capacity-building programmes, and other activities relating to the protection of TK, TCEs and GR. It also provides professional assistance and expertise on issues discussed in the IGC to various actors, and its work is aided by WIPO's translation unit in preparing documents in WIPO's working languages (simultaneous translation during the sessions is provided by external interpreters).
39Thus, for the IGC, the WIPO secretariat plays an essential role in both organizing and facilitating negotiations as well as furthering the IGC process in accordance with its mandate. Furthermore, the secretariat helps ILCs participating in the IGC meetings, including organizing their accommodation and arranging other organizational matters. In numerous cases, IGC participants used to work at WIPO, or where WIPO staff used to be part of a member state's delegation.
42This is not true for cultural property. No binding instruments exist in international intellectual property law to prevent the transnational misappropriation of cultural resources. Therefore, countries with large indigenous populations or a broad range of TK, TCEs or GRs (e.g., India, Brazil, Peru, many African states) want to see a legally-binding agreement adopted at the international level that protects these resources, establishes access to and regulates the benefits of that access, or established prior-informed consent mechanisms. Furthermore, other developing countries not directly interested in the protection of intangible cultural property support these processes as they influence broader power relations within the UN system. In such cases, discussions of TK and TCEs are used as political leverage for other issues.
43Developing countries also tie the discussions about traditional knowledge and intellectual property to broader negotiations on the development agenda. They claim development is itself a human right and argue that discussions of intellectual property need to shift from a technical exercise of minimally adjusting the existing intellectual property system to a broad-minded debate on the role intellectual property plays in development, human rights, and traditional knowledge. From their perspective, reshaping the intellectual property system is less a task for intellectual property lawyers and diplomats, and more a global question of justice and human rights.
45Yet, it has to be considered that a simplifying dichotomy of "speeding up" and "stalling" delegations is an abstraction to characterize far more complex and multilayered processes. Insofar as there are tendencies towards this dichotomization, coalition-building processes in which national delegations are persuaded to join one or another side in exchange for concessions in other fora, may reinforce it. To give an example, Egypt has a notably strong voice in WIPO IGC negotiations on traditional knowledge and folklore. Yet, in private conversation, one high-ranking Egyptian delegate made clear to me that his country has no interest in the protection of TK or TCEs whatsoever – it is not on the domestic agenda, nor does it play a big role in diplomacy. Yet, in negotiations, the Egyptian delegate makes drastic statements and demands, increasing the pressure on the stalling delegations as much as possible.
46The delegate explained this position by noting that Egypt regards the current UN system as unbalanced and disadvantageous to developing countries. So to increase the pressure on industrialized nations, negotiation tokens from WIPO's IGC are used to try to bring about changes in the UN system, including in neighboring fora like the WTO or CBD.
47The inclusion of human rights arguments is one way to add weight to the negotiating position of developing countries. The debate on TK is modified to make it compatible with broader discussions of the current UN system, the conflict between North and South globally, and to raise issues of global justice. By shifting the perspective on the substantive issues, traditional knowledge becomes no longer just knowledge of a special quality or type, but a potential right. Terminology and taxonomy are altered ever so slightly, and since there are no binding definitions of central terms, the subtle shift can have weighty implications. Similarly, questions of procedure are re-phrased. By conceptualizing the issue on the table as a matter of human rights, a relatively slow process is transformed into an urgent affair that needs to be taken care of immediately. The substantive questions about the global protection of TK and TCEs are taken out of the bounded negotiation room into a larger context of concern to civil society.
48The building of coalitions and the relation between speeding up and stalling delegations is thus a dynamic process that is negotiated both in front and back rooms in and beyond the IGC process. Some of the stages where it is negotiated are described in the next section, and some of the signaling mechanisms related to language use and regulating these processes will be explored later. However, the dichotomy between stalling and speeding up is constantly reinforced by actors referring to "we" and "them" as an expression of these basic stances.
49Member states are represented either by diplomats or by experts from ministries and institutions dealing with issues of GRTKF and the intellectual property system. As for diplomats, a distinct habitus and certain habits come with the profession of envoys and state representatives. Books have been written on this, most notably probably Albert Cohen's "Belle du Seigneur". Having worked as a diplomat in the Geneva UN apparatus himself, Cohen digresses over pages on the daily doings of his semi-biographical protagonist Solal, who is usually terribly busy, yet achieves nothing definite or conclusive at the end of the day. On another literary account by a Geneva based diplomat involved in the IGC, it reads:
And I won't tell about diplomats in meetings or cocktails which constitutes their natural habitat. I mean generally. Manners. Jargon. Odour. Gazes. It is true that every single profession has its own characteristics and vocabulary, but in the case of diplomats, it's like behaviour would precede them. You can smell them. They recognize each other as well, and behave accordingly. If they would just lost their diplomatic attitude in a distracted moment of normality; if they would just recover their humanity for a while, they would immediately recover their diplomatness at the simple observation of another of their kind.
50It is certainly true that there is a distinct habitus or set of competencies that is required to act on the diplomatic stage without causing any damage, and members of national delegations in WIPO's IGC are very frank when it comes to admitting that it takes a lot of time to accustom to these rules of behavior and, more importantly, language: initially, meetings are only observed by "newcomers", then statements are drafted and coordinated with superiors, passages are copied and pasted from previous documents, advice is sought by more experienced colleagues, and it is sometimes only after years that one is allowed to act on his own in the shaping of diplomatic events.
51Yet, not all members of national delegations in the IGC are professional "diplomats." While some live and work in the permanent missions in Geneva and attend numerous meetings in the UN system, many are send to Geneva by their ministry or agency in their capacity as experts on intellectual property. To name a few, there are physicists working in their national patent office, lawyers primarily dealing with industrial property issues, legal scholars or civil servants from ministries of justice. It is thus not only diplomats acting on this stage, but also a large number of professionals from other fields. This leads to an observable difference in competence: while some delegates are able to deliver their statements off-the-cuff and are well familiar with the committee's procedure, others take more time to draft their statements. To some extent, the experience of a delegate is indicative of how important the IGC negotiations are for a given country.
52International and intergovernmental organizations (UNESCO, SCBD, WTO, FAO, the African Union, ARIPO) participate in the IGC as observers. While they do not have the right to vote, from time to time they make statements, mainly pertaining to the work these organizations undertake that relates to cultural property. As the activities of some of these IGOs and WIPO overlap, such as the work of the CBD on TK or ARIPO's protocol on the protection of TK, their involvement reveals the interrelations between different fora and actors.
54Numerous indigenous and local communities are accredited as well, including the Tulalip Tribes of Washington Governmental Affairs Department, the Swiss Society for Ethnomusicology (CH-EM), the Russian Association of Indigenous Peoples of the North (RAIPON), the Inuit Circumpolar Council, the Grand Council of the Crees (Eeyou Istchee) (GCCEI) or the African Indigenous Women Organization (AIWO). Some, though not all, of these ILCs are also part of the indigenous caucus, a bloc of organizations coordinating the interests of indigenous groups. They hold meetings during the IGC sessions, communicate via email between sessions and sometimes give statements on behalf of their members in the main plenary.
55As holders of TK and TCEs, ILCs participating in the IGC deserve special attention. At the thirteenth session of the IGC in Oct. 2008, held in Geneva, approximately 30 representatives of indigenous and local communities were present. Prior to attending IGC meetings "on behalf" of an organization or community, be it non-governmental, indigenous, local or cultural, a mandate has to be given to the representative of that community or organization by their "constituency". To some degree, the WIPO administration has to ensure the validity of representational claims.
57The "enforced production" of goals of a group rigidifies value systems in written form, as this requires singling out certain aspects that appear to be especially valuable and leaving out others that might otherwise conflict with the consistency of the argument. Social and cultural conflict is "smoothed away" with a view to present oneself at one's best. These processes of inventing objectives and positioning values seldom have a direct effect on the communities. But as they draw on existing discussions and discourses about intellectual property and culture, and aim to create a nexus to global negotiating processes, they embed local practices in global discourses. They thus also strategically align communal interests with global policies. In some cases, this can give strategic leverage in national legislation when arguments from WIPO discussions are employed by ILCs in negotiating with state officials in their countries of origin. The IGC is thus at times used strategically to foster the ends of ILCs in other contexts. This particularism can be against the benefit of IGC discussions.
58At the same time, drafting such applications and objectives, and thereby conceptualizing the respective communities as political subjects requires actors who are competent to draw from these discussions both linguistically and in terms of content. Put differently, ILC actors need to be able to instrumentalize their arguments in the appropriate jargon. WIPO's IGC, the CBD, and the United Nations Permanent Forum on Indigenous Issues (UNPFII) all use distinct terminologies, and their participants all avail themselves of specific styles and patterns of argument. To communicate one's interests and perceptions of effectively, one has to be able to reproduce the requisite linguistic registers.
59The "self-presentations" of NGOs and ILCs are available in electronic form on WIPO's homepage. In terms of structure and outline, most are near-identical, as the WIPO secretariat provides a list of required information and edits the information received to fit their formatting of official documents. Looking at the content and length of descriptions, however, one finds very large differences. Some NGOs and ILCs only provide a one-sentence summary of their activities and objectives, others delineate their policy objectives and arguments in great detail. While it is unclear to what extent these descriptions and self-representations are read or have an impact on negotiations, the information provided reveals a great deal about differing levels of competency among these groups, as well as different self-perceptions and constructions of community as a subject in a global policy-making process.
61What can furthermore be observed are member states speaking for ILCs, arguing to represent their interests. Considering the problematic relation between the state and indigenous population in many countries, this position is critiqued by ILC participants at WIPO as well. Yet, many member states make use of this argument of representation to bolster their position in negotiations.
65At times, and then usually in critical or deadlock situations, regional group coordinators meet with each other and the session's chair for informal consultations to try to find solutions. In some cases, these meetings take place together with WIPO's Director-General, who facilitates the exchanges. In recent meetings, "friends of the chair" – a small group of regional group coordinators and other high-level representatives – have gathered to discuss procedural and substantive issues. While the purpose is to facilitate consensus, such informal consultation has been criticized, especially by ILCs. While the result of these meeting might be positive, the lack of transparency and access means that some views are not being heard.
66In more recent plenary sessions starting with IGC 14 in mid-2009, text has been edited in the main plenary. A document was projected onto the screen behind the dais and delegations commented on the listed issues. As this has proven rather inefficient, small and openly accessible drafting groups have been established in Room B of WIPO's main building instead. Due to the materiality of this room and a more crowded "feeling", the atmosphere observed during such drafting sessions was less informal than in the main plenary. There was more direct communication and a more vivid exchange of views and reactions on both the negotiated text and the activities of other delegations.
68The indigenous panel meets at the beginning of an IGC session. It is chaired by an indigenous representative, and a number of representatives of ILCs attend: its aim is to communicate examples of misuse and misappropriation in specific contexts. The format has been criticized by many IGC participants, as the quality and germaneness of presentations vary significantly. A central criticism heard especially from the delegations of member states is that the problems and grievances described in the indigenous panel are not related to what is being negotiated in the IGC. Instead, one observes and hears many lengthy statements about social and political inequalities, often without a direct connection to the intellectual property system at the international level.
69Additionally, other fora, venues and committees outside WIPO have to be mentioned, as well as the numerous cases of hallway and cafeteria talk. The latter sometimes facilitates exchanges that otherwise would not happen, as when a delegate of an openly stalling country finds himself by chance at a table together with a proponent of finding quick agreement on the protection of TK, TCEs and GR.
70To summarize, WIPO's IGC committee is closely related to other international fora, both with respect to the substantive issues and to the actors participating in negotiations. NGOs, ILCs, and representatives of member states often participate in more than one international organization. GR, or TK and TCE-related issues are negotiated in fora like the CBD or WTO's TRIPS committee. Discussions of "biopiracy" and "bioprospecting" as well as questions about "Access and Benefit Sharing" (ABS) and "Prior Informed Consent" (PIC) by ILCs are part of the policy environment in which cultural property is discussed. Political anthropologists have conducted micro-studies on these topics, connecting local processes with global discourses (Hayden 2003a, 2003b, 2005, 2007; Coombe 2008) and these feed back into IGC discussions. Studies of the role of NGOs in international negotiations (Fisher 1997, Abélès 2008) and at the local level (Schuller 2009) furthermore provide links for analyzing their influence on IGC processes. The anthropological debate on human rights, especially in the context of international law (Merry 2006a) and international organizations (Merry 2006b), also is part of this debate, as human rights are discussed in the IGC as well. The edited volume on "Cultural Heritage and Human Rights" (Silverman and Ruggles 2007) provides an overview of this connection. The notion of indigeneity as used in the IGC, and as reflected in the term "indigenous and local communities", is highly problematic, as Lee (2006) and Cadena (2007) describe. The term contested and has neither been defined in WIPO nor in the CBD or the Declaration on the Rights of Indigenous Peoples (UNDRIP). Yet, it is used frequently in negotiations.
71Political and linguistic anthropology also emphasizes the role documents play in negotiations and what their influence is on political and social realities (Riles 1999, 2006; Brenneis 2006). Unique to the WIPO process is a very extensive, and transparent, documentation of discussions, spanning from session reports and statements by member states to the written self-presentation of organizations.
72At the time of writing, WIPO's 49th GA in August 2011 is likely to renew the IGC's mandate, and state its intent to continue its efforts to draft texts for the protection of TK, TCEs, and GR. The drafts for TK and TCEs have, according to IGC participants, made substantial progress:
66

See http://www.ip-watch.org/weblog/2011/07/22/traditional-knowledge-folkore-treaty-texts-still-adv (...)

According to Committee Chair Philip Owade of Kenya, most of the substantive work on the texts has been done, as of this morning. After the first reading of the text early this week, Owade designated facilitators to conduct informal meetings on the three subject matters of the IGC. […] The texts issued by those facilitators still include options and policy issues, but "they are much cleaner," he said. Those texts are expected to be taken forward to the next session of the IGC. (IP Watch, 22.07.2011)66
Notes
20 This system is sometimes also used for live online broadcasts of WIPO sessions, such as of the General Assembly (GA) in 2010.
21 In another adjacent building is a second cafeteria primarily used by WIPO staff. Since 2011, there is a third cafeteria in a new WIPO administration building next to the main building.
22 See Chapter 4 for an analysis of opening statements.
23 The UN has fifteen specialized agencies which cooperate through the Economic and Social Council (ECOSOC). Notable UN organizations dealing with matters of traditional knowledge/traditional cultural expressions and/or concerns of Indigenous Peoples include UNESCO, the ILO, the WTO, the World Health Organization (WHO), the World Meteorological Organization (WMO), and WIPO. The WTO, the United Nations Permanent Forum on Indigenous Issues (UNPFII) – "an advisory body to the Economic and Social Council, with a mandate to discuss indigenous issues related to economic and social development, culture, the environment, education, health and human rights" (UNPFII 2011) – and the United Nations Human Rights Council (UNHRC) are three other important organizational bodies for the subject of traditional knowledge. All these organizations and their interrelation in negotiations about traditional knowledge will be dealt with in more depth in the course of this study.
24 See http://www.wipo.int/treaties/en/convention/trtdocs_wo029.html, last accessed 1 May 2011.
25 This, as well as the mission statement, include ideological presuppositions about the purpose of the protection of intellectual property as well as the basic notion of intellectual property as an individual right. It has been argued for good reason that the basis of the intellectual property system are Eurocentric notions of creativity and property (Hafstein 2004, Noyes 2006). Yet, WIPO argues that forms of intellectual property can be found in all cultures and that it thus is a universal characteristic of mankind.
26 WIPO/GA/26/6: para.14
27 WIPO/GRTK/IC/1/1 Rev.
28 The decision on this item included the accreditation of ad-hoc observers to the IGC. In contrast to other WIPO fora where only international organizations with close relations to both intellectual property and the specific issues of the committee are allowed to participate, the IGC is more open to the inclusion of other NGOs and ILCs. There has, however, been a change in the terms of participation. While observers at early IGC sessions had little opportunity to voice their concerns, it has become customary in the IGC that such participants be granted wide-reaching rights to speak and to contribute to the negotiation process, unlike in other, comparable fora. Yet, in the end only member states have the right to make decisions.
29 The rationale behind this change in terminology is to avoid using "folklore" since it can connote things regarded as outdated and of little or no value. This is given as a reason both by WIPO participants when asked about the reason for the new wording, and can also be found in the documentation of the WIPO process.
30 See WIPO/GRTKF/IC/5/12 and WIPO/GRTKF/IC/6/3 on this distinction; see also the list of member state comments on this issue noted in the footnotes in WIPO/GRTKF/IC/7/5:11.
31 The main interest of this study is to analyze negotiations on cultural property, and this chapter focuses on TK and TCEs. The topic of GR is mainly discussed in its relationship to TK and TCEs, and most discussions in the IGC focus on either TK or TCEs. The role of GRs, both in relation to TK and TCEs and in pragmatic strategies, is discussed in Chapter 4.
32 See also Halewood 1999:965–985 for an overview of conventions and committee concerned with TK and TCEs. They include the Convention on Biological Diversity and other documents approved at the United Nations Conference on Environment and Development (UNCED) in 1992, work done in the context of the ILO, and farmers' rights.
33 See http://www.wipo.int/tk/en/tk/ffm/report/final/, accessed 1 June 2011. The classification the nine regions is taken from this report.
34 http://www.wipo.int/export/sites/www/tk/en/tk/ffm/report/final/pdf/part1.pdf, accessed 1 June 2011.
35 See the discussions in documents WIPO/GRTKF/IC/7/6 ("Draft Outline of Policy Options and Legal Elements for the Protection of Traditional Knowledge") and WIPO/GRTKF/IC/7/3 ("Summary of Draft Policy Objectives and Core Principles for the Protection of Traditional Cultural Expressions/Folklore").
36 WIPO/GRTKF/IC/11/5(c):20.
37 WIPO/GRTKF/IC/7/6, Annex I:22.
38 WIPO/GRTKF/IC/18/5. This definition is taken from a "Glossary of Key Terms Related to Intellectual Property and Traditional Knowledge" (WIPO/GRTKF/IC/19/INF/8:23) that is also available for TCEs (WIPO/GRTKF/IC/19/INF/7) and GRs (WIPO/GRTKF/IC/19/INF/9). These documents gather comments and text passages from other texts produced by the IGC in order to give an overview of the key terms as used in the context of the IGC. It is, however, important to note that these are not consensual definitions agreed upon by member states.
39 WIPO/GRTKF/IC/7/3, Annex I: 4.
40 The involvement of anthropologists and folklorists in the committee, moreover, could have helped in drafting working definitions, were it not for a lack of willingness on the part of member states to accept such involvement.
41 WIPO/GRTKF/IC/7/5 for TK and WIPO/GRTKF/IC/7/3 for TCEs.
42 WIPO/GRTKF/IC/11/5(a) for TK and WIPO/GRTKF/IC/11/4(a) for TCEs.
43 See http://www.wipo.int/tk/en/igc/issues.html, accessed 1 May 2011.
44 The lists have been complemented by "factual extractions" gathering comments, notes and addenda by member states (WIPO/GRTKF/IC/12/5(B) for TK and WIPO/GRTKF/IC/12/4(B) for TCEs).
45 See http://www.wipo.int/tk/en/igc/gap-analyses.html, last accessed 1 May 2001.
46 WIPO/GRTKF/IC/13/5(b) Rev. for TK and WIPO/GRTKF/IC/13/4(b) Rev. for TCEs.
47 WIPO/GRTKF/IC/18/7 for TK and WIPO/GRTKF/IC/17/9 for TCEs. Currently, there are no such draft articles on GR.
48 The "Swakopmund Protocol on the Protection of Traditional Knowledge and Expressions of Folklore" prepared by the African Regional Intellectual Property Organization (ARIPO) and adopted by the Diplomatic Conference of ARIPO at Swakopmund (Namibia) on August 9, 2010, is one of such initiatives in national and regional contexts. The text of the protocol can be found at http://www.aripo.org/images/Swakopmund_Protocol.pdf, accessed 1 June 2011.
49 Author's notes from an interview with a WIPO staff member.
50 See http://www.wipo.int/members/en/, accessed 1 June 2011.
51 See http://www.wipo.int/ip-development/en/agenda/overview.html, accessed 9 June 2011.
52 NGOs, ILCs, and other participants can make proposals as well, but they have to be supported by at least one member state to be kept in the text.
53 As in the rest of the UN, WIPO only acts according to the will of its member states. For that reason, its secretariat only compiles documents or arranges fact-finding missions on behalf of member states. In voting procedures, each member state has one vote, and a simple majority is sufficient to take decisions – but in the IGC, no votes have been taken to this point. Rather, decisions in the committee are reached by consensus.
54 Especially the "Agreement on Trade-Related Aspects of Intellectual Property Rights" (TRIPS).
55 This is a decriptive distinction between different interests of member states and not a normative dichotomy.
56 For a full list of NGOs and ILCs accredited to the IGC, see http://www.wipo.int/tk/en/ngoparticipation/, accessed 4 May 2011.
57 This also entails processes of demarcation – creating boundaries between social groups by formalizing membership categories – and transformation – modifying social and political structures due to external requirements.
58 http://www.med.govt.nz/templates/MultipageDocumentTOC_40925.aspx, accessed 1 June 2011.
59 See http://www2.ohchr.org/english/issues/indigenous/fellowship.htm, accessed 15 April 2010.
60 See http://www.wipo.int/tk/en/ngoparticipation/voluntary_fund/, accessed 4 July 2011.
61 For fieldwork, this poses the problem of access to these meetings. While I had access to regional group coordination meetings of Group B and the EU at IGC 12 and to the meetings of the indigenous caucus, it was not possible to observe the meetings of the African or Asian group, nor to attend inter-sessional meetings by regional groups. In the latter case, however, interviews as well as document analysis and participant observation in the main plenary and in some group meetings allowed a broad picture to be drawn that was sufficient for the purposes of this study.
62 The case of the EU is special, as IP issues are generally coordinated on the EU level rather than on the national level.
63 WIPO/GRTKF/IC/13/9.
64 The chair of the indigenous caucus at IGCs 12 to 17 argued it is necessary to "play by their rules" in the plenary as well as in other communicative events in order to be heard (author's notes, IGC 14).
65 See http://www.wipo.int/tk/en/resources/, accessed 2 May 2011.
66 See http://www.ip-watch.org/weblog/2011/07/22/traditional-knowledge-folkore-treaty-texts-still-advancing-at-wipo/, accessed 29 July 2011. The facilitator's text on TCEs is available at http://www.ip-watch.org/weblog/wp-content/uploads/2011/07/IGC-Facilitator-text-TCEs-22-July-2011.pdf, accessed 29 July 2011; the text on TK at http://www.ip-watch.org/weblog/wp-content/uploads/2011/07/IGC-facilitator-text-on-TK-2nd-draft-22-July-2011.pdf, accessed 29 July 2011.
67 See http://www.ip-watch.org/weblog/2011/07/22/traditional-knowledge-folkore-treaty-texts-still-advancing-at-wipo/, accessed 29 July 2011. The text includes links to the three proposals.