Heritage Regimes and the State
|
,
,
Closing Commentaries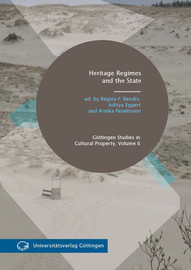 Discussion
p. 389-395
Texte intégral
1Four themes emerged as I listened to the papers on which this volume is based, which were presented at the Cultural Property DFG Research Group conference, Gottingen. These themes centered on the continued dominance of the Western Authorized Heritage Discourse (AHD), what might be called the colonial pathology of heritage collecting, the impact of tourism and the idea of heritage as a political resource. These are all issues that, to a lesser or greater extent, I have discussed or considered in previous work and publications (see, for instance, Smith 2006, 2011), however, I was struck anew by the degree to which the idea of the AHD, which I posited and critiqued back in 2006, is still so central within heritage practices.
2The first theme is that of the continuing prevalence of the AHD and the consequences it has for community inclusion in heritage practices. A wide range of case-studies that came from several regions of the world were discussed at the conference. One common issue that was raised across most papers was a sense of frustration that centered on issues of community participation. Authors often expressed concern over the difficulty of incorporating community concerns into management issues, or it became apparent that communities and heritage professionals often appeared to misunderstand one another. Community or civic engagement, or what Greer (Greer; Harrison; McIntyre-Tamwoy 2002) refers to as "community-based" work, has been a dominant academic and policy issue in heritage studies and associated disciplines for over a decade (see Moser et al. 2002, Derry and Malloy 2003, Little and Shackel 2007, Smith and Waterton 2009, Waterton and Watson 2010, Robertson 2012, among others). However, much of this community work is frustrated or complicated by the frameworks within which heritage practices tend to be undertaken. International heritage policy and practice tends, as I have argued elsewhere, to be framed by the AHD. Such a framing often poses significant obstructions for the inclusion of community values or aspirations into management and conservation agendas (Smith 2006).
3The AHD is a professional discourse that originated in 19th and 20th century European architectural and archaeological debates over the need to preserve what the discourse identified as the "fragile" and "non-renewable" past. This was to be preserved by experts for the benefit of "future generations," and advocates a conservation ethic that stresses the innate value or authenticity of original fabric. Age depth is valued, alongside monumentality, materiality and esthetic qualities. Experts are charged with a duty of care to look after the material remains inherited from the past, and to pass this on, unchanged, for the future (Smith 2006, Smith and Waterton 2012). It, therefore, privileges material heritage over the intangible, and expert knowledge and values over that of non-expert communities and other groups. Such a Eurocentric discourse has gained international authority as it has been mobilized by organizations such as UNESCO and ICOMOS (Smith 2006, Waterton 2010).
4The AHD has little conceptual room for the meaningful inclusion of community concerns, as non-expert values simply make no sense or are marginalized within the discursive framework it offers. The papers in the volume reveal the degree of emphasis that is placed on expertise in the World Heritage listing and management processes. They also revealed the degree to which the World Heritage nomination process tends to render sub-state or sub-national communities invisible in this process. The AHD ensures this by either creating a situation whereby expert interests and values come into conflict with those of local communities, or by ensuring that experts and community groups will "talk past" one another and fail to understand each other's concerns or aspirations (see Smith and Waterton 2009, chapters in Gibson and Pendlebury 2009). While there is often a very strong commitment by heritage professionals and academics to be inclusive, this aim is often unconsciously thwarted by the conceptual and policy frameworks with which heritage work is undertaken, which are established and maintained by the AHD. Thus, the need to continue critically examining and reflecting on the nature of heritage discourses is a key issue that emerges from this volume. Moreover, it also points to the need to be aware and receptive to the possibility of the existence of conflicting or alternative heritage discourses. Such discourses can occur not only at community and other sub-national levels, but at national levels as well, particularly as non-Western or non-European nations assert the legitimacy of their own particular understandings of heritage.
5The second issue is associated with another consequence of the AHD and may be expressed through what Tindill (1999) identifies as the "pathology of collecting" associated with the acquisitiveness of Western cultures. The UNESCO World Heritage List and Convention have been extensively criticized for their Eurocentrism, to the extent that, as Meskell (2002: 569) notes, "world heritage is underpinned by the globalising of Western values." Indeed, Lowenthal (1998) argues that propagating the assumed universal significance of European history and culture is an active project of the World Heritage List (for a fuller critique, see Byrne 1991, Cleere 2001, Labadi 2007, Arantes 2008, Labadi and Long 2010, Daly and Winter 2012). Tied up in this exercise is the colonial pathology of collecting, whereby the collected become transformed and defined by the cultural perceptions of the collectors. The World Heritage List, currently framed by the AHD, works to define human history and culture within the Western, and more particularly European, assumptions and values that are embedded in it. It is important to note at this point that the World Heritage List itself is an act of heritage making which constructs a particular understanding of the nature and legitimacy of global human experiences and cultural expression.
6Harvey (2001) notes that heritage is a verb not a noun or, as (Dicks 2000) suggests, a communicative act. I have argued that it is a performance in which historical and cultural meaning and social values are continually created and recreated (Smith 2006). Heritage is not a thing, and the division between intangible cultural heritage, material heritage and natural heritage is nonsensical. All heritage is intangible, in so far as heritage is a process of remembering and forgetting. Indeed, what we may call heritage places, sites, artifacts or even world heritage lists, are part of the range of cultural tools that are used to negotiate the meaning of the past for the present. This negotiation is inevitably done in the context of the cultural and political needs of the present. Thus, a further question that arose for me in considering the case-studies offered here is: If we accept that UNESCO is engaged in "heritage making" as I have defined it here, what and whose heritage is it making? The national and universalizing process of nomination and listing reflects the extent to which their remains, despite decades of critique and UNESCO's attempts to address this criticism through the recent conventions addressing intangible heritage and diversity, are subject to a continuing project of colonization that places European values as central to human history.
7The third theme revolves around the issues of tourism and the economic value of heritage. Through the AHD, heritage is sold as something inherently "good," offering educational opportunities to "the public," and as a force that will contribute to social well-being. As Waterton (2010) has demonstrated in terms of the English AHD, heritage is discursively constructed as something possessing its own agency – it has the power to not only solve poverty, recession and unemployment but will also, somehow, provide cultural cohesion. In this context, heritage takes on a peculiar contradictory relationship with tourism. On the one hand, tourism is facilitated and encouraged by the listing of heritage items on state and international lists. Heritage as something inherently "good," educational and culturally fulfilling is a legitimate visitor destination, and the oft-asserted educational value of heritage must mean that visitors to sites are actively attracted by heritage agencies and professionals. Sites on the World Heritage List become "honey-pot" tourist destinations. However, on the other hand, and in apparently contradictory moves, heritage agencies working within the confines of the AHD, UNESCO included, tend to denigrate tourism as highly suspect and problematic. Ashworth (2009) identifies the degree of suspicion often leveled at tourists and tourism by heritage organizations and professionals, which is often tied to the so-called "vulgarity" of the fact that travel is now not only reserved for the social and cultural elites – it has become "mass." The apparent contradictions offered by an uneasy relationship of heritage with tourism is one that is worth exploration, particularly the idea that tourism is often only considered as a management issue, rather than a specific heritage value, needs questioning and rethinking.
8Certainly, as Watson et al. (2012) argue, the time has arrived for a sustained and critical debate between tourism and heritage studies. In developing the debate on tourism, however, it may also be useful to consider what the contradictory discourse that UNESCO and many national heritage agencies propagate does and achieves. It may also be useful to consider what heritage is being made and remade by the interrelations of tourists – visitors and host communities. In considering this, it becomes useful to explore tourism, as much as heritage, as not simply an economic phenomenon, but as a process that also produces cultural products which do not always necessarily result in commodification or Disneyfication. Thus, it may be useful to ask what are the cultural or heritage moments that are generated by this interaction, and how are these moments initiated and framed by the World Heritage listing process and are, indeed, new forms of heritage.
9The final theme to be explored here is the idea of heritage as a political global resource. Heritage is a vital resource in the politics of difference and recognition. Although this is sometimes dismissed as "identity politics," heritage nonetheless can play an important role in legitimizing or bolstering claims to social justice, which are often based on appeals to a particular cultural or historical status, or the experiences of disenfranchised groups. This does not mean to say that all such claims are legitimate and not open to examination, rather to simply note that heritage sites, places and intangible events are intimately linked to struggles over the equitable distribution of resources of power and privilege (Smith and Waterton 2009: 78–81).
10Heritage as a resource in national and sub-national political conflicts has now been widely explored in the heritage literature (see, for instance, Silverman and Ruggles 2007, Langfield et al. 2010). However, what is often neglected is the degree to which the negotiations over the distribution of power are played out in the bureaucratic processes of listing, which occur not only at local and national levels, but also globally. Expertise and expert knowledge are continually mobilized as "technologies of government" to regulate or arbitrate over not only sub-state or sub-national interests, but also to regulate states themselves. As a technology of government, expert knowledge becomes mobilized by policy-makers to help them make sense of the social and cultural problems that confront them, making problems "tamable" and "thinkable" within bureaucratic frameworks (Rose and Miller 1992: 175). Heritage expertise is often mobilized to render social problems based on certain claims to heritage as apolitical managerial problems. Conflicts become reduced to disputes over the management of heritage sites and artifacts, conflicts that are, in turn, framed and resolved by heritage legislation and policy (see Smith 2004). This creates not only national, but also international mentalities of rule and governance which facilitate the defusing of conflicts over the interpretation of the past and certain contemporary expressions of culture. This ties back, of course, to the AHD, which both facilitates and is continually recreated and authorized in this process. Sometimes this governance can have highly positive outcomes for the interests involved, and sometimes it may not. However, the issue here is not so much the outcomes for specific cases or instances of conflict, but rather the fact that bodies of expert knowledge are used at all in these conflicts. The use of expertise, whether for radical or conservative political outcomes, may work to deny or marginalize the legitimacy of communities or other interests to have their own say and be listened to by public policy-makers. The issue that arises from these observations is the need to establish a framework for assessing the political and cultural consequences of UNESCO, state and individual expert action.
11All four themes are interrelated and revolve around the unconscious cultural and political work that the AHD does in legitimizing expertise and marginalizing other interests (community, tourist, etc.) when it frames the policies and practices of heritage agencies. This is not to say that a position whereby expertise is vilified needs to be adopted, rather to argue that a deeper critical engagement that examines the wider political, economic and social consequences of heritage conservation and listing practices is needed. Heritage matters, but it matters not necessarily because it is nice, pretty or an expression of so-called "universal" values, it matters because how it is used has consequences for the individual, community, national, and global understanding of self and "other."
Bibliographie
1 References
Arantes, Antonio A. (2008): Diversity, heritage and cultural politics. Theory, Culture and Society 47 (7–8): 290–296.
Ashworth, Gregory J. (2009): Do tourists destroy the heritage they have come to experience? Tourism Recreation Research 34 (1): 79–83.
Byrne, Denis (1991): Western hegemony in archaeological heritage management. History and Anthropology 5: 269–276.
Cleere, Henry (2001): The uneasy bedfellows: Universality and cultural heritage. In Destruction and conservation of cultural property. Robert Layton, Peter G. Stone and Julian Thomas, eds. Pp. 22–29. London: Routledge.
Daly, Patrick, and Tim Winter, eds. (2012): Routledge Handbook of Heritage in Asia. London: Routledge.
Derry, Linda, and Maureen Malloy, eds. (2003): Archaeologists and Local Communities: Partners in Exploring the Past. Washington, DC: Society for American Archaeology.
Dicks, Bella (2000): Heritage, Place and Community. Cardiff: University of Wales Press.
Gibson, Lisanne, and John R. Pendlebury, eds. (2009): Valuing Historic Environments. Farnham: Ashgate.
Greer, Shelley, Rodney Harrison, and Susan McIntyre-Tamwoy (2002): Community-based archaeology in Australia. World Archaeology 34(2): 265–287.
Harvey, David C. (2001): Heritage pasts and heritage presents: Temporality, meaning and the scope of heritage studies. International Journal of Heritage Studies, 7(4): 319–338.
Labadi, Sophia (2007): Representations of the nation and cultural diversity in discourses on world heritage. Journal of Social Archaeology 7: 147–170.
Labadi, Sophia, and Colin Long, eds. (2010): Heritage and Globalization. London: Routledge.
Langfield, Michele, William Longan, and Máiréad Nic Craith, eds. (2010): Cultural Diversity, Heritage and Human Rights: Intersections in Theory and Practice. London: Routledge.
Little, Barbara J., and Paul A. Shackel, eds. (2007): Archaeology as a Tool of Civic Engagement. Lanham MD: AltaMira Press.
Lowenthal, David (1998): The heritage crusade and the spoils of history. Cambridge: Cambridge University Press.
Meskell, Lynn (2002): The intersections of identity and politics in archaeology. Annual Review of Anthropology 31: 279–301.
Moser, Stephanie, et al. (2002): Transforming archaeology through practice: Strategies for collaborative archaeology and the Community Archaeology Project at Quseir, Egypt. World Archaeology 34(2): 220–248.
Robertson, Iain J. M., ed. (2012): Heritage from Below. Farnham: Ashgate.
Rose, Nikolas, and Peter Miller (1992): Political Power beyond the State: Problematics of Government. British Journal of Sociology 43(2): 173–205.
Silverman, Helaine, and D. Fairchild Ruggles, eds. (2007): Cultural Heritage and Human Rights. New York: Springer.
Smith, Laurajane (2004): Archaeological Theory and the Politics of Cultural Heritage. London: Routledge.
− (2006): Uses of Heritage. London: Routledge.
− (2011): El 'espejo patrimonial'. ¿ilusión narcisista o reflexiones múltiples? Antipoda 12: 39–63.
Smith, Laurajane, and Emma Waterton (2009): Heritage, Communities and Archaeology. London: Duckworth.
− (2012): Constrained by common sense: the Authorised Heritage Discourse in contemporary debates. In The Oxford Handbook of Public Archaeology. John Carman, Robin Skeates, and Carol McDavid, eds. Pp. 153–171. Oxford: Oxford University Press.
Tindill, Jackie (1999): When what's mine cannot be yours: Scientific constructions of heritage and the repatriation of human remains. Paper presented at the Fifth Annual Meeting of the European Association of Archaeologists. University of Bournemouth, UK, September, 14–19.
Waterton, Emma (2010): Politics, Policy and the Discourses of Heritage. Hampshire: Palgrave Macmillan.
Waterton, Emma, and Steve Watson, eds. (2010): Heritage and community engagement: collaboration or contestation? Special issue. International Journal of Heritage Studies 16 (1–2).
Watson, Steve, Emma Waterton, and Laurajane Smith (2012): Moments, instances and experiences. In The Cultural Moment in Tourism. Laurajane Smith, Emma Waterton and Steve Watson, eds. Pp. 1–16. London: Routledge.