Heritage Regimes and the State
|
,
,
States and their 'Thing': Selection Processes, Administrative Structures, and Expert Knowledge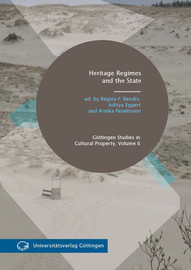 Identifying "Living Traditions" in Switzerland: Re-enacting Federalism through the UNESCO Convention for the Safeguarding of Intangible Cultural Heritage
p. 303-325
Texte intégral
8The first question raised by this inventory process concerns the artificial territorial divisions imposed by the fact that the federal administration was obliged to respect the subsidiary principle and general cultural sensitivity to intercantonal "balance." Each canton was asked to propose the same number of items for its inventory, regardless of its size, demography, landscape, or economic profile. As has already been mentioned, cantons had the choice of a civil-society "participative" approach or an expert-based methodology. Unsurprisingly, the 26 cantons proceeded in different ways with the result that the data collected were quite heterogeneous in nature, reflecting a variety of methods (bottom-up and top-down) and understandings.
10After discussions between cantonal and federal experts, more flexibility on the number and location of items was introduced into the guidelines, with the following results:
The number of propositions allowed per canton tripled (from 5 to 15);

items could be located on the border of cantons, such as paper-cutting (Vaud and Fribourg) or the Fête-Dieu (Fribourg, Wallis and Appenzell Innerrhoden), or over a larger area including two countries, such as woodcarving crafts (Wallis, Ticino and the Aosta Valley in Italy).
13Other important divisions related to landscape, economy and religion; for instance, urban, industrialized or Protestant cantons proposed fewer traditions than rural or Catholic ones. These "less touched" areas tended to be those with elaborate religious practices (the carnivals, processions, celebration days, and rituals studied by Swiss folklore specialists since the 19th century [Geiger and Weiss 1962, Hugger 1990, Waldis and Wendling 2002]), or with a higher exposure to tourism. They provided items more in accordance with a shared notion of folk tradition than the Calvinist or Zwinglist cities (Geneva or Zurich), which proposed more conceptual and unusual items (the "Spirit of Geneva," for example, or newspaper caricatures and comics, joke culture, contemporary dance [Ballet Béjart] and political cabaret [Dadaism], etc.).
15Finally, although flexibility allowed finding ad hoc solutions to reflect present realities and attested to the efficiency of the federal system, this national inventory also simply demonstrated the highly conventional notion of ICH that this exercise inherited. Apparently, heritage carries with it its own heritage!
18Establishing three types of lists is one thing, selecting items for each list (through inclusion and exclusion) is another (Khaznadar 2004, Hafstein 2009). Indeed, this tension reflects the permanent overlap between technical and political tasks inherent in Swiss cultural policy. In the second step of the process, for instance, on June 15, 2010, the FOC steering committee sent an official letter to the 26 cantons to inform them of the recommended items retained for the indicative list. Items were organized in three categories: of local/cantonal, of regional or of national importance, for each list proposed by the cantons. For the cross-cantonal items, the FOC steering committee instructed the cantons concerned to negotiate and find a "well-balanced" solution to satisfy all cantons concerned within a deadline of three weeks. Thus, the canton of Wallis had to enter into a discussion with the cantons of Appenzell Innerrhoden and Luzern in order to find a solution to the fact that these three cantons proposed exemplary representations of a Corpus Christi occasion called "Fête-Dieu à Savièse." Following this brief period of negotiation, federal recommended items were approved by the cantonal administrations, which were then charged with producing complete files for the national data bank by September of the same year, and in accordance with the criteria defined by the guidelines (Graezer Bideau 2011).
19Another example demonstrates well the entanglement between scientific and political tasks. During the second step of the process, experts from the FOC steering committee decided to reorganize the 367 cantonal propositions. Originally listed in alphabetical order with a short argument for its location and its exclusion or inclusion in the national list, each item was sorted into one of the five domains of the ICH UNESCO scheme (Art. 2): oral traditions and expressions, performing arts, social practices, ritual and festive events, knowledge and practices concerning nature and the universe, or traditional craftsmanship. These categories were to serve as guides for those items that had not been unanimously accepted in the first examination. They were also to help guide the expert committee in making recommendations to the cantons for further information they were to submit (more precision, historical documents, consent from the "bearers of culture") and for the constitution of intercantonal or regional items.
21Some propositions required re-arrangement within the process framework:
Twelve elements related to alpine culture (from cheese-making to Alpine transhumance to religious rituals) were combined to compose a category entitled "alpine economy." But in order to better represent the different parts of the territory and different exemplary practices, this global category was then reworked into three local propositions: Gruyère alpine economy (Fribourg), Alpine festivities during the summer ("älplerschilbli" in Central Switzerland) and Alpine lotteries for the right to organize transhumancerelated festivities ("Alpverlosung" in Obwald); and

seven practices related to textiles (artisanal or industrial lacework, silk, cross-stitch, embroidery) finally produced, after reorganization for the national list, just three items: lacework (Neuchâtel); embroidery (St-Gallen) and silk ribbon production (Basel-Stadt, Basel-Landschaft and Aargau, Solothurn).
22Other attempts to bring together local proposals into an overarching category were not as successful, however. This is particularly the case of two traditions with a significant symbolic importance to the Swiss.
27

Almost all of these festivities are Catholic.

Carnival festivals," practiced in many regions27 across the country, were not grouped into a general category. Arguments affirming the particularity of each of these expressions – the Basel city's carnival, the Carnival in Central Switzerland and in the Jura, the Rabandàn (Ticino), the Tschäggättä in Lötschental (Valais) – were convincing enough that the expert group decided to include each of these local expressions separately in the representative list of Swiss living traditions.

Experts also failed in combining different kinds of popular musical performance together into a single category of "yodeling." Instead of becoming a large, dominant item in the final Swiss inventory, two distinct categories resulted from negotiations between the FOC and cantonal experts: Popular music performance and yodeling ("juuz") in central Switzerland, and popular music performance and natural yodeling in Appenzell (Appenzell Innerrhoden and Aargau) and in Toggenburg (St-Gallen).
24More importantly, however, and somewhat ironically, the invention of new categories thought to be more useful in capturing the particularities of Swiss culture as a whole allowed for a better apportioning of items between the various cantons according to criteria such as "representativeness" or "exemplarity." Here again, the overlap between technical and political tasks resulted in a wide range of actors having to work together to produce, with the help of cantonal experts and local bearers of traditions, data about ICH that reflected neither the point of view of the cantons, nor that of the federal government, but a kind of compromise in the name of abstract notions, cultural stereotypes and an imagined community invented by the expert group for the purposes at hand.
25As appears from this example and has been attested in the literature on Switzerland's cultural policies (Moeschler 2003, Surdez and Pidoux 2007), Switzerland lacks a tool that many neighboring states have at their ready disposition: centralized expertise for cultural matters. While the history of this state of affairs is complex and goes beyond the purview of this paper, its consequences in this instance are clear: "Swiss culture" is characterized by heterogeneity, reflecting the socioeconomic and historical conditions of each of its cantons.
27From a bureaucratic point of view, the heterogeneity of the data could be seen as a limit of the process. One could argue, for example, that this heterogeneity does not allow coherent comparisons between the 387 cantonal propositions and the 160 items selected for the indicative list. This incoherence could resurface as a problem during the third and final stage of the process, the selection of 6–12 "representative" items of Swiss culture to be submitted to UNESCO. From a political point of view, however, this same heterogeneity can be characterized as a specificity: One could argue that it proves how successful the process has been, as it faithfully reflects the cultural and linguistic diversity that is preserved by the Swiss federalist system.
31Therefore, the in-depth study of this complex process raises new questions for our understanding of the role of heritage and tradition in the Swiss socio-political field. Does the implementation of the 2003 Convention re-enact federalism? Do experts really produce common knowledge? What are the repercussions of this process on Swiss culture as a whole if indeed we can still give credence to this notion after this exercise? This chapter demonstrates that the difficulty inherent in the enterprise of defining a homogenous notion of Swiss culture is compounded in a federalist system where cantons play a major role. Yet, paradoxically, the process becomes part of the outcome, and its very incoherence and "diversity" comes to stand in for a certain kind of legitimacy. This can be noticed, for example, in the reactions of non-Swiss observers when they learn of the procedures described in this paper. Generally, experts are both surprised and impressed by the fact that all of the 26 Swiss cantons worked together to produce their inventories simultaneously and in dialogue with one another. The consensual nature of the procedure seems to overshadow the ad hoc and contestable nature of the outcomes, such that a vague and largely intangible aura of "Swissness" seems to float over the entire enterprise.
32The process of inventorization, of course, is still on-going, as the final decision on the items for inclusion in the national and international lists will only be made in the fall of 2012. One of the questions left wide open for our study is the role that the approximately twenty ethnologists engaged as experts have played in the process. Will they manage to create opportunities to emphasize less reified, more dynamic and reflexive, even controversial expressions of Swiss culture, such as Swiss banking secrecy, or will the entire exercise finally reflect highly commercialized stereotypes of Switzerland's "living traditions" with which the population is presumed to identify simply because they reproduce popular stereotypes of the popular? The question at this stage remains open!
Bibliographie
8 References
Antonietti, Thomas, Bruno Meier, and Katrin Rieder (2008): Retour vers le présent. Culture populaire en Suisse. Baden: Hier + jetzt.
Assemblée fédérale de la Confédération suisse (2009): Loi fédérale sur l'encouragement de la culture (LEC), FF 2007-0244 (December 11, 2009). http://www.admin.ch/ch/f/ff/2007/4607.pdf <accessed September 26, 2010>
Bortolotto, Chiara (2007): From Objects to Processes: UNESCO's Intangible Cultural Heritage. Journal of Museum Ethnography 19: 21–33.
– (2008a): Les inventaires du patrimoine culturel immatériel. L'enjeu de la "participation". Rapport de recherche pour le Ministère de la Culture et de la Communication. Charenton-Le-Pont: IIAC/Lahic.
– (2008b): Les enjeux de l'institution du patrimoine culturel immatériel. Compterendu du séminaire organisé au Lahic (2006-2008). Culture et Recherche 116–117: 32–34.
Bourget, Albertine (2011): La Suisse, patrie des quilles, du chiffre 11 et des autostoppeuses fantômes. Le Temps, June 9.
Büchi, Christophe (2001): Mariage de raison. Romands et Alémaniques: une histoire suisse. Geneva: Editions Zoé.
Bundesamt für Kultur (BAK) (2012): Sélection définitive pour la liste des traditions vivantes en Suisse, adoptée le 5 septembre 2011 par le groupe de pilotage du projet, modifiée le 5 avril 2012.
Bundesamt für Kultur (BAK), and Hochschule Luzern (2011): Liste der lebendigen Traditionen in der Schweiz: Eingaben der Kantone (April 18, 2011). Document for internal use.
Camp, Marc-Antoine (2006): Die UNESCO-Konvention zur Bewahrung des immateriellen Kulturerbes.
http://www.gvs-smps.ch/html/img/pool/UNESCO-Konventionimmaterielles_kulturerbe.pdf <accessed July 10, 2012>
Centlivres, Pierre (1996): A propos des frontières intérieures de la Suisse. In L'Europe entre cultures et nations. Daniel Fabre, ed. Pp. 175-189. Paris: Editions de la Maison des sciences de l'homme.
Clottu, Gaston (1975): Eléments pour une politique culturelle en Suisse. Rapport de la Commission fédérale d'experts pour l'étude de questions concernant la politique culturelle suisse. Bern: Office central fédéral des impriméset du matériel.
Conseil fédéral suisse (2007): Message relatif à la Convention pour la sauvegarde du Patrimoine culturel immatériel du 21 septembre 2007: 07.076, FF 2007-1146.
http://www.admin.ch/ch/f/ff/2007/6837.pdf <accessed October 3, 2009>
Dufour, Nicolas (2011a): La Suisse dresse le répertoire de ses traditions vivantes: Un sanctuaire culturel. Le Temps, May 31. http://www.letemps.ch/Page/Uuid/e0877680-8bc4-11e0-b47e-9f06196f1c28/Un_sanctuaire_culturel <accessed July 17, 2012>
– (2011b): 387 fragments d'une Suisse en son miroir. Le Temps, May 31.
http://www.letemps.ch/Page/Uuid/e178bf68-8bc4-11e0-b47e-9f06196f1c28/387_fragments_dune_Suisse_en_son_miroir <accessed July 17, 2012>
Fournier, Anne, and Nicolas Dufour (2011): Yodel ou multimédia, de quelle culture la Suisse a-t-elle besoin? Le Temps, April 1.
Foucault, Michel (1969): L'archéologie du savoir. Paris: Gallimard.
Geiger, Paul, and Richard Weiss (1962): Atlas der Schweizerischen Volkskunde. Atlas de folklore Suisse. Basel: Société des Traditions Populaires.
Gonseth, Marc-Olivier, and Ellen Hertz (2008): Quelques réflexions anthropologiques sur unterritoire émergent. Bulletin SAGW/ASSH Immaterielles Kulturerbe – Patrimoineimmatériel 08 (2): 38–41.
Gradis, Diego (2008): Une mission en Suisse pour les acteurs du patrimoine vivant. Bulletin SAGW/ASSH 08 (2): 28–29.
Graezer Bideau, Florence (2010): Et après la ratification de la Convention de l'Unesco pour la sauvegarde du patrimoine culturel immatériel? Entretien avec David Vitali. Museums. ch 5: 22–25.
– (2011): La Svizzera: una buona allieva nel processo di inventorio del PCI? [La Suisse: bonne élève du processus d'inventaire du PCI?] In Identificazione partecipativa del patrimonio culturale immateriale transfrontaliero. P. Odi Cooperazione Transfrontaliera Italia Svizzera 2007-2013, (rapporto di ricerca per Regione Lombardia/Archivio di etnografia e storiasociale, 2010). ASPACI (Associazione per la salvaguardia del patrimonio culturale immateriale) and Chiara Bortolotto, eds. Pp. 124–138. Milan: Progetto E. C. H. I – Ethnografie Italo-Svizzere per la valorizatione del patrimonio immateriale.
– (2012): Inventorier les "traditions vivantes". Approches du patrimoine culturel immatériel dans le système fédéral suisse. Ethnographiques. org 24 ("Ethnographies des pratiques patrimoniales: Temporalités, territoires, communautés").
http://www.ethnographiques.org/2012/Graezer-Bideau <accessed July 26, 2012>
Hafstein, Valdimar (2009): Intangible Heritage as a List. From Masterpieces to Representation. In Intangible Heritage. Key Issues in Cultural Heritage. Laurajane Smith and Natsuko Akagawa, eds. Pp. 93–111. New York: Routledge.
Hemme, Dorothee, Markus Tauschek, and Regina Bendix, eds. (2007): Prädikat HERITAGE. Wertschöpfungen aus kulturellen Ressourcen. Studien zur Kulturanthropologie/Europäischen Ethnologie, 1. Berlin: Lit.
Hugger, Paul (1990): Histoire et situation actuelle de l'ethnologie de la Suisse. Terrain 15: 125–134.
Khaznadar, Chérif (2004): Patrimoine culturel immatériel: les problématiques. In Le patrimoine culturel immatériel: Les enjeux, les problématiques, les pratiques. Internationale de l'imaginaire – Nouvelle série, 17. Maison des cultures du monde, ed. Pp. 51–58. Paris: Babel.
Kirshenblatt-Gimblett, Barbara (2006): World Heritage and Cultural Economics. In Museum Frictions: Public Cultures/Global Transformation. Ivan Karp, Corinne A. Kratz, Lynn Szwaja, and Tomás Ybarra-Frausto, eds. Pp. 161–201. Durham NC: Duke University Press.
Leimgruber, Walter (2008): Was ist immaterielles Kulturerbe? Bulletin SAGW/ASSH 08 (2): 24–25.
– (2010): Switzerland and the UNESCO Convention on Intangible Cultural Heritage. Journal of Folklore Research 47 (1–2): 161–196.
Lipset, Seymour Martin (1959): Some Social Requisites of Democracy: Economic Development and Political Legitimacy. The American Political Science Review 53 (1): 69–105.
Moeschler, Olivier (2003): Enquêtesur les publics de la culture à Lausanne: chronique d'un mal entendu productif. In Le (s) public (s) de la culture: politiques publiques et équipements culturels. Olivier Donnat and Paul Tolila, eds. Pp. 51–63. Paris: Presses de Sciences Po.
Office fédéral de la Culture et Haute Ecole de Lucerne (HSLU) (2010): Guide pour l'établissement de la Liste des traditions vivantes en Suisse (June 2, 2010). Document for internal use.
Renz, Cyril (2008): Quefaut-il identifier par un inventaire pour assurer la viabilité du PCI?: Synthèse d'un concept opérationnel global. Bulletin SAGW/ASSH 08 (2): 32–35.
Smith, Laurajane (2006): Uses of Heritage. New York: Routledge.
Stevan, Caroline (2011): La Suisse en listes. Le Temps, June 1.
http://www.letemps.ch/Page/Uuid/e0a55bd2-8bc4-11e0-b47e-9f06196f1c28/La_Suisse_en_listes <accessed July 17, 2012>
Surdez, Muriel, and Jean-Yves Pidoux (2007): Expériences d'acteurs et expériences d'experts: antagonismes et proximités lors de l'évaluation d'une politique culturelle. In Les constructions de l'action publique. Fabrizio Cantelli, ed. Pp. 135–156. Paris: L'Harmattan.
Vitali, David (2008): Immaterielles Kulturerbe erfassen und sichtbar machen. Über die Vorarbeiten zur Erstellung einer Schweizer Inventarliste. Bulletin SAGW/ASSH 08 (2): 30–31.
Waldis, Barbara, and Thierry Wendling (2002): La Suisse, ses ethnologies et ses ethnologues. Ethnologie française 32 (2): 197–207.
Annexes
9 Appendix: List of Living Traditions in Switzerland compiled by the Federal Office for Culture (Bundesamt für Kultur [BAK] 2012)
Umsetzung der UNESCO-Konvention zur Bewahrung des immateriellen Kulturerbes:
Erarbeitung einer Liste der lebendigen Traditionen in der Schweiz
Finalisierte Auswahl für die Liste der lebendigen Traditionen in der Schweiz
von der Projektsteuerungsgruppe verabschiedet am 5. September 2011
Anmerkung: Die Titel sind teilweise noch Arbeitstitel.
Mise en œuvre de la convention de I'UNESCO pour la sauvegarde du patrimoine:
rédaction d'une liste des traditions vivantes de Suisse
Sélection définitive pour la liste des traditions vivantes de Suisse
adoptée le 5 septembre 2011par le groupe de pilotage du projet
Remarque: Dans quelques cas, les titres sont encore de titres de travail.
Attuazione della Convenzione dell'UNESCO per la salvaguardia dei beni culturali immateriali:
elaborazione di una lista delle tradizioni viventi in Svizzera
Selezione finale delle tradizioni viventi in Svizzera da inserire nella lista
approvata il 5 settembre 2011 dal gruppo di coordinamento del progetto
Osservazione: In alcuni casi, i titoli sono ancora provvisori.
Notes
1 This substitution was effectuated in order to promote better understanding amongst the media, the government officials involved and the population.
2 This research was carried out within the framework of a larger project entitled "Intangible Cultural Heritage: the Midas Touch?," funded by the Swiss National Science Foundation and coordinated by Professor Ellen Hertz, University of Neuchâtel, Switzerland.
3 Cantonal propositions were first submitted to the federal administration (September 2010–March 2011); the Federal Office of Culture (FOC) then made its recommendations to the cantons (March–September 2011); and, at the time of this writing, the federal administration is selecting a list of national representative items (September 2011–March 2012) (Office fédéral de la Culture et Haute Ecole de Lucerne 2010).
4 "Rösti" is the Swiss dialect term for hash browns, historically eaten as a breakfast food in German-Swiss areas. The "Röstigraben" (Rösti-ditch) metaphorically refers to the cultural division confirmed through cultural-geographic atlas documentation between the German and French Swiss area; it runs along the Saane river, through the bilingual canton Fribourg (Centlivres 1996, Büchi 2001).
5 "Office fédéral de la Culture" in French, "Bundesamt für Kultur" in German.
6 Assemblée fédérale de la Confédération suisse (2009): Loi fédérale sur l'encouragement de la culture (LEC).
7 The Swiss Arts Council, Pro Helvetia, a federally funded cultural foundation, also plays a key role in supporting original creation in theater, dance, literature, music, and the visual arts. Pro Helvetia has also participated in the protection and promotion of ICH since the beginning of 2012 within the frame of the revision of the LEC.
8 See in particular http://www.culturaldiversity.cioff.ch/index_suisse.html, initiated by the International Council of Organizations of Folklore Festivals and Folk Art (CIOFF), an NGO founded in 1970 that enjoys formal consultative relations with UNESCO. The Swiss branch was established in 1985 (see http://www.cioff.ch/) with the help of Traditions for Tomorrow, an NGO which has been supporting cultural initiatives by indigenous communities in Central and South America since 1986 and very active in Switzerland (see http://tradi.info/) <all accessed July 20, 2012>.
9 The Swiss Federal Council represents the executive branch of the federal government. It is composed of a college of seven ministers, elected by the Parliament, with a rotating presidency.
10 "Guidelines for establishing a list of living traditions in Switzerland," adopted by the FOC steering committee, June 2, 2010.
11 As of April 2011 (closure of the website), 102 propositions were posted on the website by Swiss citizens. See http://www.lebendige-traditionen.ch <accessed July 20. 2012>.
12 The German-and Italian-speaking parts of Switzerland were covered by colleagues, respectively Karin Janz and Andrea Jacot-Decombes.
13 These collective inventories are circumscribed in geographical areas, such as central Switzerland (Luzern, Nidwalden, Obwalden, Schwyz, Uri, and Zug) or eastern Switzerland (Appenzell Ausserrhoden, Appenzell Innerrhoden, Glarus, Graubünden, St-Gallen, Schaffhausen, Thurgau, and Zürich). In addition, Aargau and Solothurn, and Basel-Stadt and Basel-Landschaft decided to work in collaboration.
14 Individual inventories were submitted by Bern, Fribourg, Genève, Jura, Neuchâtel, Ticino, Vaud, and Wallis.
15 Note that the French expression for "original cantons" is "cantons primitifs."
16 Romansh, the fourth national language, was included within the German-speaking part of Switzerland due to the existence of only three working languages in the federal administration.
17 This first round of cantonal propositions applied the second version of the "Guidelines" published on February 18, 2010 (a first version was established on January 16, 2010). A third version was then produced (May 27, 2010) and discussed by cantonal and federal experts. It was finally adopted by the steering committee on June 8, 2010, see footnote 8.
18 In the minds of some commentators, the Napoleonic conquest (that created the short-lived Helvetic Republic lasting only a couple of years after the defeat of certain regional armies by the French revolutionary army in 1798) has left a mark on the French-speaking part of Switzerland.
19 The "Landsgemeinde" is a popular assembly of eligible men and, since 1971, women that directs the affairs of cantonal government. Although it has been abolished in all cantons except for Appenzell Innerrhoden and Glarus, in everyday discourse, it remains an icon of direct democracy.
20 For instance, Italian tradition (San Giuseppe-Tag in Laufenburg) and Jewish heritage are also proposed in Aargau, while Jenisch culture is mentioned as a national item.
21 See Bourget 2011, Dufour 2011a, 2011b, Stevan 2011.
22 Initiatives (100,000 signatures) allow citizens to petition for introducing amendments to the Constitution and referenda (50,000 signatures) to challenge any law passed by Parliament.
23 The notion of "social peace" ("paixsociale") is central to the Swiss political imaginary. It refers to the system for regulating conflicts between unions and management around wages and working conditions.
24 At the present time, very little discussion has occurred over the question of how this procedure will take place, particularly with respect to political and economic interest groups.
25 In May 2011, the steering committee decided to change the use of these cantonal "portraits." Nearly every canton produced a website to publicize their inventory and published the first results. The FOC steering committee, therefore, asked each of them to write a brief introduction to the cantonal propositions and a short methodology of the particular process used.
26 See the internal document of this meeting entitled Eingaben der Kantone (May 10, 2011).
27 Almost all of these festivities are Catholic.
28 "Jass" is a trick-taking card game and is played in most Alemanic-speaking areas of Europe.
29 For a better understanding of the Swiss case, I decided to choose the term of "ethnology" to identify disciplines studying societies, cultures and their collective expressions. I am aware of the fact that using this term "ethnology" could cast a shadow over other disciplines, such as social and cultural anthropology (in which I was originally trained) and folklore studies (which has concentrated on documenting the native culture of the nation within which the researchers work) that have different traditions and sometimes conflictual implementations in all parts of the country.
30 "Unus pro omnibus, omnes pro uno." This slogan has been used to symbolize the form that national solidarity and unity is thought to take in Switzerland, generally associated with the original myth of the founding of Switzerland through the union of its three original cantons in 1291. It circulated largely in 1868 during a campaign to raise money for alpine dwellers after massive flooding that year. It was inscribed in the cupola of the Federal Palace in Bern in 1902. Readers might, of course, also know it as the motto of Alexandre Dumas' Three Musketeers!
31 Of 12 inventories submitted by the 26 cantons, 8 were directed by anthropologists and 3 by anthropologically trained museum curators. Collective projects engaged a couple more anthropologists to cover large and diverse areas gathered within a geographical region (Antonietti; Meier; Rieder 2008).
32 For further reading regarding issues of the entanglement of economic, political and cultural interests, see Kirshenblatt-Gimblett 2006, Hemme; Tauschek; Bendix 2007.