Heritage Regimes and the State
|
,
,
States and their 'Thing': Selection Processes, Administrative Structures, and Expert Knowledge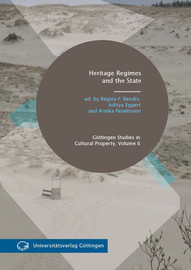 The Chinese Paper-Cut: From Local Inventories to the UNESCO Representative List of the Intangible Cultural Heritage of Humanity
p. 249-264
Texte intégral
Acknowledgments. I would like to sincerely thank Wang Li for her help in understanding the Chinese legal apparatus.
10It was only in August 2002 that the Ministry of Culture introduced an official law project to the National Popular Assembly. It was about to be approved in November 2002 when the UNESCO Convention was passed. The project was taken to incorporate the new principles of the Convention but without giving up certain items such as excellence which will be discussed below.
16

为

了

继

承

和

弘

扬

中

华

民

族

优

秀

传

统

文

化

促

进

社

会

主

义

精

神

文

明

建

设

,

加

强

非

物

质

文

化

遗

产

保

护

、

保

存

工

作

,

制

定

本(...)

17

保

护

费

物

质

文

化

遗

产

,

应

当

注

重

其

直

实

性

、

整

体

性

和

传

承

性

,

有

利

于

增

强

中

华

民

族

的

文

化

认

同

,

有

利

于

维

护

国

家

统(...)

Article 1. In order to carry forward the excellence of Chinese cultural traditions, to promote the spirit of the Chinese nation, to encourage the building of socialist spiritual and material civilization, to reinforce the protection of Intangible Cultural Heritage and preserve it, this law is formulated.16
Article 4. The protection of Intangible Cultural Heritage should respect its authenticity, its completeness and transmission; it is conductive to enhancing the Chinese national cultural identity, to safeguard national identity and national unity and to promote social harmony and sustainable development.17
13ICH also holds great importance for the national unity and identity, as stated in article 4 of the law. One expression is particularly accurate on this subject: the promotion of "social harmony." Obviously, this can be related to the important ideological concept of "harmonious society," developed by President Hu Jintao in 2005 and, since then, ubiquitous in political speeches. This corresponds to an ideal society where conflicts are absent and harmony reigns among all individuals. It is a discursive instrument in the construction of the Chinese nation, intended to unite all the nationalities around the idea of a large Chinese power (Frangville 2007, Boutonnet 2009). ICH is thus seen as a way to gather the entire Chinese population around its culture, and more precisely around its most remarkable elements.
14The paper-cut file is one of those elements of excellence. It was, indeed, chosen to be one of the Chinese practices on the Representative List of ICH of Humanity in 2009. However, before that, the file passed through several steps of selection. To reveal the compiling of the files, I chose the examples from the districts of Yanchuan 延 川 and Ansai 安 赛 in the north of Shaanxi province.
15The paper-cut of Shaanxi province, especially of the northern Shaanbei, was one of the first popular art forms valued by the government in the 1940s. The Communist Party took refuge there after the Long March in 1935 and was particularly interested in this type of art. However, the first inventories made during the 1950s revealed that farmers in every part of the country cut paper for decorative or ritual purposes with quite different techniques (scissors or knife) and designs. Exhibitions stopped during the Cultural Revolution, but the practice was never prohibited. The patterns changed and became more political.
18The first national and, thereafter, international exhibitions were organized at the beginning of the 1980s. In 1986, Jin Zhilin was appointed to the head of the Popular Art Chair at the Central Academy of Fine Arts at Beijing. He was also the first director of the Popular Art Research Center.
19Less than 20 years later, this very same Central Academy of Fine Arts was in charge of the application of Chinese Folk Paper-Cutting for the UNESCO Masterpieces of Oral and Intangible Heritage of Humanity list. The Masterpieces program was established between 2001 and 2005 in order to draw attention to the most outstanding examples of ICH. There were three proclamations (2001, 2003 and 2005) and 90 elements were elected. This program of Masterpieces was stopped in 2005 and all the elements were integrated in the Representative List and the Urgent Safeguarding List in 2008. Four Chinese practices were elected as Masterpieces of Oral and Intangible Heritage of Humanity and several other applications presented, like the Chinese paper-cut, were rejected. However, the preparation of the case took four years and the Yan'an region, particularly the population of Yanchuan district, was involved in it. A book containing the collective actions and many articles from local and national experts on paper-cut were even published to support this application (Qiao 2005). After the failure, the application file was completely revised and had to follow the procedures put in place by the Ministry of Culture: In particular, the organization of a new survey of the practice. From that time, artists and local experts were no longer involved in the case.
27As shown by the case-study of paper-cut, the ICH practices have to pass through several filters from the district surveys to the provincial and national commissions in order to be enhanced. The political and ideological importance of ICH concepts within the national policies were particularly taken into account at every stage. With the implementation of the 2003 Convention, the legal apparatus and administrative organization of the Chinese state have been modified, an extensive survey was made, and many events were organized to publicize and enforce the political importance of this new cultural concept. A big effort is actually being provided to study, publicize and promote the cultural and social practices of the whole country. This is not only to show the world that China holds important cultural resources, but also to strengthen the notion of unity and national culture within its own society.
29Although it is still too early to realize all the impacts of this new concept in the field, some aspects are to be carefully observed. Indeed, for the moment, the communities and groups are only superficially involved in the investigation and local development of the ICH practices. It is sometimes difficult to find information in the files presented for the UNESCO inscriptions on how the communities have participated in the nomination process and how customary practices governing access to specific aspects of the elements would be respected. Information is lacking to identify the bearers, practitioners and community concerned more clearly and to explain its current social functions, transmission methods and cultural significance to that community (UNESCO 2011b). The files available on the provincial and national websites do not put the practices back in the social, cultural and ritual context. The social interaction and tensions between the community members are not described nor are the divergences on practice interpretations.
30Another aspect that deserves to be watched carefully is how the practices are valued by provincial authorities, in particular by the tourism industry. In China, where the domestic tourism is the main source of tourism revenue (70% of the total in 2004 with 1 billion visitors) (Goi 2007), the development of festivals and cultural theme parks is a reality. The main question is how the ICH practices are presented to the public.
Bibliographie
5 References
Allès, Elisabeth (2011): Un orientalisme intérieur. Les nationalités minoritaires en Chine. In Après l'orientalisme. L'Orient créé par l'Orient. François Pouillon and Jean-Claude Vatin, eds. Pp. 245-252. Paris: IISMM/Karthala.
Baptandier, Brigitte (2001): En guise d'introduction: Chine et Anthropologie. Atelier 24: 9 – 27.
Bodolec, Caroline (1999): Current Tendencies in Yaodong, Shaanbei. In Proceedings of the 8th Conference of ACUUS. Associated Research Centers for Urban Underground Space. Pp. 232–242. Xi'an, China.
– (2005): L'architecture en voûte chinoise: un patrimoine méconnu. Paris: Éditions Maisonneuve et Larose.
– (2010a): Ershiyi shijie de yaodong: Shaanbei Yanchuan xian gongjiang chuantong jianzao jishu de xuexi yu chuancheng 二 十 一 世 纪 的 窑 洞: 陕 北 延 川 县 工 匠 传 统 建 造 技 艺 的 学 习 与 传 承 [Building yaodong Houses in the XXIth Century: Craftsmen Training and Transmission of Knowledge in Yanchuan County, China]. In Jishu, zhishi yu zhongguo jin xiandai xingye de shanbian 技 技 艺 、 知 识 与 中 国 近 、 现 代 行 业 的 嬗 变 [Transformation of the Craft, Knowledge and Professions in Modern and Contemporary China]. Christian Lamouroux 蓝 克 利, ed. Pp. 3–19. Beijing: Guojia tushuguan chubanshe.
– (2010b): Houses as Local Culture Identity: The Case of Yanchuan District, Shaanxi. In Along the Great Wall. Architecture and Identity in China and Mongolia. Erich Lehner, Alexandra Harrer, and Hildegard Sint, eds. Pp. 223–232. Vienna: Institute for Comparative Research in Architecture (ICRA).
– In press (2012): Décider ensemble du développement local: Le cas du musée des Arts et Traditions populaires de Nianpan (Shaanxi). In Agir ensemble en Chine contemporaine. Isabelle Thireau, ed. Paris: Éditions de l'EHESS.
Bortolotto, Chiara (2008): Les enjeux de l'institution du patrimoine culturel immatériel. Compte rendu du séminaire organisé au Lahic (2006-2008). Culture et Recherche 116-117: 32 –34.
– (2011): Le patrimoine culturel immatériel. Enjeux d'une nouvelle catégorie. Paris: Editions de la Maison des sciences de l'homme.
Boutonnet, Thomas (2009): Vers une "société harmonieuse" de consommation? Discours et spectacle dune Chine "civilisée" (1978-2008). Ph. D. dissertation. Etudes transculturelles, Institut d'Etudes Transtextuelles et Transculturelles, Université Jean Moulin, Lyon 3.
Chinese Government (n. d.): Chinese Government Public Information Online.
http://govinfo.nlc.gov.cn/jlsfz/zfgb/200816/201010/t20101009_443108.htm?classid=443 <accessed June 20, 2012>
Clark, Paul (2008): The Chinese Cultural Revolution: A History. Cambridge: Cambridge University Press.
Fei, Hsiao-tung (1980): Ethnic identification in China. Social Sciences in China 1: 94–107.
Frangville, Vanessa (2007): Construction nationale et spectacle de la différence en République Populaire de Chine. Ph. D. dissertation, Institut d'Études Transtextuelles et Transculturelles, Université Jean Moulin, Lyon 3.
Gladney, Dru C. (1994): Representing Nationality in China: Refiguring Majority/Minority Identities. The Journal of Asian Studies 53 (1): 92–123.
Goi, Isabelle (2007): Tourisme. In Dictionnaire de la Chine contemporaine. Thierry Sanjuan, ed. P. 257. Paris: Armand Colin.
Huang, Yanzhong, and Sheng Ding (2006): Dragon's Underbelly: An Analysis of China's Soft Power. East Asia 23 (4): 22–44.
King, Richard, ed. (2010): Art in Turmoil: The Chinese Cultural Revolution 1966–1976. Toronto: University of British Columbia Press.
Kurlantzick, Joshua (2007): Charm Offensive: How China's Soft Power is Transforming the World. New Haven: Yale University Press.
Li, Mingjiang (2009): China's Emerging Strategy in International Politics. Lanham: Lexington Books.
Liu, Lydia H. (2012): Translingual Folklore and Folklorics in China. In A Companion to Folklore. Regina Bendix and Galit Hasan-Rokem, eds. Pp. 190–210. Malden: Wiley-Blackwell.
Liu, Mingxin (2003): A Historical Overview on Anthropology in China. Anthropologist 5(4): 217–223.
Ministry of Culture of the People's Republic of China (2006): Temporary Measures for the Protection and the Management of the Elements on the National List. Guojia ji feiwuzhi wenhua yichan baohu yu guanli zanxing banfa 国 家 级 非 物 质 文 化 遗 产 保 护 与 管 理 暂 行 办 法. Edict No. 39 of November 26, 2006.
– (2009): Department of Intangible Cultural Heritage.
http://www.mcprc.gov.cn/English/jgsz/bjg/200904/t20090428_62711.html <accessed March 20, 2012>
Qiao, Xiaoguang, ed. (2005): Guanzhu Muqing he. Zhongguo feiwuzhi wenhua yichan. Minjian jianzhi Guoji xueshu yantaohui wenji 关 注 母 亲 河 。 中 国 非 物 质 文 化 遗 产 。 民 间 剪 纸 国 际 学 术 研 讨 会 文 集 [Keeping A Close Eye on Our Mother River. Collection of Essays from the International Symposium of the Intangible Cultural Heritage of China and Chinese Paper-cutting]. The text of China Folk Paper-Cutting for Applying for UNESCO's Masterpieces of the Oral and Intangible Heritage of Humanity. Taiyuan, Shanxi: Renmin Chubanshe.
Schein, Louisa (1997): Gender and Internal Orientalism in China. Modern China 23 (1): 69–98.
UNESCO (2011a): Intangible Heritage List.
http://www.unesco.org/culture/ich/index.php?lg=en&pg=00011#tabs <accessed December 5, 2011>
– (2011b): Report of the Subsidiary Body on its work in 2011 and evaluation of nominations for inscription in 2011 on the Representative List of the Intangible Cultural Heritage of Humanity.
http://www.unesco.org/culture/ich/doc/src/ITH-11-6.COM-CONF.206-13-EN.pdf <accessed June 27, 2012>
Wang, Jianmin, ed. (1997): Zhongguo minzu xue shi 中 国 民 族 学 史 [The History of Ethnology in China], 2. Kunming: Yunan Jiaoyun Chubanshe
Wang, Li (2010): La convention pour la sauvegarde du Patrimoine culturel immatériel et son application en droits français et chinois. Ph. D. dissertation, Droit public, Université Paris-Sud 11.
Xie Ninggao 谢 凝 高 (2004): Shijie yichan guanli tizhi zhi zheng de shizhi 世 界 遗 产 管 理 体 制 之 争 的 实 质 [Realities in the Management of World Heritage Sites]. Lüyou xuekan 旅 游 学 刊 [Tourism Tribune] 5: 35–37.
Zetong, Mao (1940): Qiqi zaopo, quqi jinghua 弃 其 糟 粕 取 其 精 华. In Xin minzu zhuyi lun 新 民 主 主 义 论 [The new democracy]. Speech on January 9, 1940. Jiefang 解 放 [Liberation], Yan'an, February 20: 198–199.
Notes
1 cf. UNESCO 2011a. 和 谐 社 会
2 Guowu yuan baogongting guanyu jiaqiang woguo feiwuzhi wenhua yichan baohu gongzuo de yijian 国 务 院 办 公 厅 关 于 加 强 我 国 非 物 质 文 化 遗 产 保 护 工 作 的 意 见 n° guoban 国 办 [2005] 18, March 26, 2005, published in Guowu yuan gongbao 国 务 院 公 报, n°4, 2005.
3 Guojia wenwu ju 国 家 文 物 局.
4 Feiwuzhi wenhua yichan baohu gongzuo bu jilianxihui yizhidu
非 物 质 文 化 遗 产 保 护 工 作 部 际 联 席 会 议 制 度.
5 Shehui wenhua chu 社 会 文 化 处.
6 Wenhua guan 文 化 馆.
7 Feiwuzhi wenhua yichan si 非 物 质 文 化 遗 产 司. This name was added to the Social Heritage Bureau in 2007 but without a special budget and without the creation of positions (Wang 2010: 187).
8 Guanli chu 管 理 处,baohu chu 保 护 处,bangong shi 办 公 室.
9 Minzu shibie 民 族 识 别.
10 Zhongguo minzu minjian wenyi jicheng zhi 中 国 民 族 民 间 文 艺 集 成 志.
11 Measures for the Transmitters of Intangible Cultural Heritage at the National Level guojia feiwuzhi wenhua yichan xiangmu daibiao xing chuangcheng ren 国 家 级 非 物 质 文 化 遗 产 项 目 性 传 承 人.
12 Chinese Arts and Crafts Treasury Zhongguo gongyi meishu zhenpin 中 国 工 艺 美 术 珍 品.
13 Zhonghua renmin gonghe guo feiwuzhi wenhua yichan fa 中 华 人 民 共 和 国 非 物 质 文 化 遗 产 法. The entire text of the law is available on the WIPO site
http://www.wipo.int/wipolex/fr/text.jsp?file_id=215504 <accessed December 20, 2011>.
14 Ministry of Culture of the People's Republic of China (2006).
15 The fourth article of the 2011 law was the third article of the Temporary Measures.
16 为 了 继 承 和 弘 扬 中 华 民 族 优 秀 传 统 文 化 促 进 社 会 主 义 精 神 文 明 建 设 , 加 强 非 物 质 文 化 遗 产 保 护 、 保 存 工 作 , 制 定 本 法.
17 保 护 费 物 质 文 化 遗 产 , 应 当 注 重 其 直 实 性 、 整 体 性 和 传 承 性 , 有 利 于 增 强 中 华 民 族 的 文 化 认 同 , 有 利 于 维 护 国 家 统 一 民 族 团 结 , 有 利 于 促 进 社 会 和 谐 和 可 持 续 发 展。
18 Jingshen jiayuan 精 神 家 园.
19 Many thanks to Wang Li for this reference.
20 This examination of the files is one of the task of the research group "Techniques et Patrimoine culturel immatériel en Chine (XVIe-XXIe siècles): formation, tradition, transmission" of the Centre d'études sur la Chine moderne et contemporaine (CECMC), UMR 8173 Chine, Corée, Japon (http://cecmc.ehess.fr/ <accessed June 25, 2012>).
21 Yan'an diqu wenhua guan 延 安 地 区 文 化 馆.
22 ianzhi nengshou 剪 纸 能 手.
23 Nongmin yishu jia de zhongzi xuanshou 农 民 艺 术 家 的 种 子 选 手.
http://www.trshw.com/art_show.asp?nameid=63&id=111 <accessed June 6, 2011>.
24 Circular from the Ministry of Culture on the Way to Carry out the Survey of Intangible Cultural Heritage Wenhua bu gongting guanyu kaizhan feiwuzhi wenhua yichan pucha gongzuo de tongzhi 文 化 部 公 厅 关 于 开 展 非 物 质 文 化 遗 产 普 查 工 作 的 通 知, n° wenbanshetu fa 文 办 社 图 法 [2005] 21.
25 In November 2008, only 40% of the provincial inventories were finished; but it is said that all of them were finished by the end of 2009 (Wang 2010).
26 Zhongguo feiwuzhi wenhua yichan pucha shouce 中 国 非 物 质 文 化 遗 产 普 查 手 册. Operational Manual was the official translation provided by Chinese delegation to UNESCO (Wang 2010).
27 Shaanxi sheng feiwuzhi wenhua yichan pucha gongzuo shishi fangan 陕 西 省 非 物 质 文 化 遗 产 普 查 工 作 实 施 方 案 [Shaanxi province survey work program for the Intangible Cultural Heritage], May 26, 2006. Shaanwenshe 陕 文 社 [2006] 22.
28 It is said that, ultimately, a general database should allow access to the survey data.
29 http://www.snwh.gov.cn/feiwuzhi/index.htm <accessed December 22, 2011>.
30 Dingbian jianzhi yishu 定 边 剪 纸 艺 术 [The art of paper-cut in Dingbian district].
31 Xunyi caitie jianzhi 旬 邑 彩 贴 剪 纸 [Paper-cut with color inclusion of Xunyi district]; Yanchuan jianzhi 延 川 剪 纸 [Paper-cut of Yanchuan district]; Yongshou minjian jianzhi 永 寿 民 间 剪 纸 [Popular papercut of Yongshou district]; Luochuan jianzhi 洛 川 剪 纸 [Paper-cut of Luochuan district] and Huangling jianzhi 黄 陵 剪 纸 [Paper-cut of Huangling district].
32 http://www.snwh.gov.cn/feiwuzhi/sjep/mjms/5/201112/t20111208_124620.htm As far as we know, the video space exists but no link with a video <accessed December 22, 2011>.
33 Temporary Measures for the Protection and the Management of the Elements on the National List, 2006, op. cit. art. 9, 12, 13, 16 and 17.
34 http://www.ihchina.cn/main.jsp <accessed December 22, 2011>.
35 District of Yu 蔚 县 in Hebei; Mandchous autonomous district of Fengning 丰 宁 满 族 自 治 县 in Hebei; District of Zhongyang 中 阳 in Shanxi; Yiwulü shan Mandchous region 医 巫 闾 山 满 族 地 区 in Liaoning; City of Yangzhou 扬 州 in Jiangsu; City of Leqing 乐 清市 in Zhejiang; Province of Guangdong 广 东; Dai nationality 傣 族 in Yunnan; and District of Ansai 安 塞, Shaanxi.
36 Temporary Measures for the Selection of Candidates on the National List of Representative Works of ICH Guojia ji feiwuzi wenhua yichan daibiao zuo shenbao pingding zanxing banfa 国 家 级 非 物 质 文 化 遗 产 代 表 申 报 评 定 暂 行 办 法, March 26, 2005, Art. 6.
37 Particularly the actions for the UNESCO Masterpieces applications that were mentioned above (UNESCO application).
38 http://www.mcprc.gov.cn/English/jgsz/bjg/200904/t20090428_62711.html <accessed March 20, 2012>.