Heritage Regimes and the State
|
,
,
Layers of Preservation Regimes and State Politics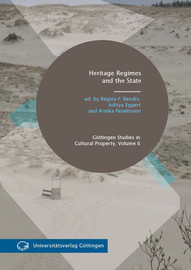 The Role of UNESCO and the Uzbek Nation Building Process
p. 213-226
Texte intégral
1In February 2010, French newspapers announced that the Uzbek government had forbidden rock and rap music because of the dangerous connections perceived with drugs and loose morals (Libération Network 2011). This measure seems less surprising when we look at Uzbek cultural policies and modern nationhood narrative, both of which are marked by an extremely national rhetoric. I will ask if this is perhaps unintentionally favored and encouraged by UNESCO's involvement in Uzbekistan.
4The commitment of UNESCO to Uzbekistan goes back to Soviet times when the project Silk Road was started in 1988:
3

According to Frederico Mayor, former Director-General of UNESCO, the first UNESCO initiative on the

(...)

UNESCO launched a ten-year project entitled "Integral Study of the Silk Roads: Roads of Dialogue". As part of the project, several expeditions were organized to retrace, by land and by sea, some of these routes, with the participation of experts from all the countries involved. The purpose of the project, which uses a multidisciplinary approach, was to carry out field studies of the scientific, technological and cultural exchanges which took place between the East and the West along these routes with a view to stimulating further research at the international and national levels and promoting the concept of multiple identities and a common heritage. (UNESCO 2002: 1)3
5Since then, political changes have made these intentions outdated. Instead of claiming the common cultural heritage of the Silk Road, the five nations (Uzbekistan, Kazakhstan, Kyrgyzstan, Tajikistan, and Turkmenistan) each emerged with wishes for separate support, insisting on focusing on cultural differences rather than what is shared in common. Hence, an analysis of UNESCO's role must take into consideration the particular historical and political situation from which these new Central Asian nations emerged.
6Uzbekistan obtained national independence in 1991 together with the four other Central Asian countries after the breakdown of the Soviet Union. However, differently from the countries of Northeastern Europe, Uzbekistan was not prepared for the new status of sovereignty nor had there been a real struggle for independence. Instead, some parts of the population would have preferred to stay under the great, protective roof of the Soviet Union. The romantic and Western idea of nationhood conveying a distinct entity connected with a fixed territory was alien to the population of Central Asia.
8What role can UNESCO play in this new geopolitical layout and what goals are to be implemented? The following goals concerning Central Asia were proclaimed in a 1996 issue of Sources UNESCO, and each of the goals was also elaborated in separate articles:
5

Akimbekov 1996: 9.

6

Kukushkin 1996: 10.

7

Hadlow 1996: 11.

8

Boccardi and Williams 1996: 14; Williams 1996: 15.

9

Otchet 1996: 16.

UNESCO a été appelée à la rescousse pour préserver l'environnement5 […], rénover les systèmes éducatifs6 […], développer des médias indépendants7 […], faire renaître l'identité de cette région à travers son héritage culturel8 […] ou aider à la découverte de ces pays de la Route de la soie qui servirent jadis – et veulent servir à nouveau – de pont entre l'Occident et l'Orient […].9 (Starr 1996: 7)
9Between 1992 and 1993, all five states had joined UNESCO, which first opened an office in Uzbekistan in 1996 which was headed by Michael Barry Lane until 2007.
11One goal of UNESCO is to encourage regional identities. Therefore, a good portion of the initiatives revolves around supporting traditional handicraft activities, in particular in the textile sector, with the concrete intention of revitalizing and restoring old techniques and handiwork items. This protection of folklore and ethnic features was also a concern of the Soviets in former times. Thus, Laura Adams argues that: "Soviet institutions, far from destroying traditional culture, acted to preserve traditional culture even as they transformed it, not just in a socialist way, but also by participating in the establishment on international cultural norms […]" (Adams 2010: 106). She goes on, adding that, in the case of Uzbekistan, we deal with a special Central Asian version of post-colonialism not comparable to other post-colonial situations. To the question how Soviet discourses and practices shaped the ways Uzbekistan's elite conceive culture, Adams answers that "the contemporary public expression of national identity in Uzbekistan gives us evidence that a Soviet version of Uzbek ethnic identity was successfully institutionalized and remains hegemonic among cultural and political elites" (Adams 1999: 356).
14During the Soviet period, certain traditional textile handicrafts were actively practiced but only for official, industrial or private purposes, whereas some crafts, such as the golden embroidery of Bukhara, were considered to belong to the feudal past and excluded. The Soviet government never allowed Uzbeks to exercise a handicraft profession on their own and for personal profit. One of my interviewees in Margilon reported that his father was punished with a five-year prison sentence for attempting to work independently.
Creative and successful alliance of traditional skills and innovation in material, form or design;

Expression of cultural identity and traditional aesthetic value;

Respect for the environment in materials and production techniques; and

Marketability of the craft products with potential for the world market.
(UNESCO Office Bangkok, accessed May 13, 2012)
17The following centers have profited from UNESCO support:
Bukhara Artisan Development Center is an association of artisans' "everlasting heritage" whose main goal is to receive and develop ancient handicrafts.16 Bukhara belongs to the Central Asian Crafts Support Association (CACSA) which has been a partner with the Seal program in Central Asia since 2004.

Marg'ilon (Margilan) Craft Center is supported by UNESCO (silk Ikat weaving center).17 A private, successfully working silk factory is also located in Margilon.
19The craft center in Margilon is quite impressive: It was supported by UNESCO between 2003 and 2007 with material equipment rather than financial support in an effort to ensure sustainability. The proclaimed goal was to encourage the development of all the traditional crafts of Uzbekistan and to reunite them in the center of Margilon. The director stressed in a personal communication the individual efforts of Michael Barry Lane, former director of the Tashkent UNESCO office, who, according to my source, confessed a strong personal interest in carpet weaving. Today, the center appears to be functioning well with 45 employees ranging from students to master craftsmen. Only highly skilled craftsmen are hired. Some, like the block printer, can look back on an old family tradition within their chosen craft. The center has also organized folklore festivals with the help of UNESCO. The carpets can be ordered via the internet. The craftsman I interviewed stated that the employees are able to earn a living as well as make a small profit. Another silk carpet workshop was successfully initiated in Chiva, one of the most touristic places in Uzbekistan, with the help of UNESCO and marketed via the Internet. Due to the suggestion of UNESCO, the weavers have developed a different design similar to that of the traditional wooden doors (field research October 2011).
22The purpose of the association is the coordination of activity and the protection of the rights and interests of the national foremen, handicraftsmen and experts in applied art.
23In some areas, such as the Fergana valley, the reinforcement and consolidation of handicraft industries seem to diminish the high degree of unemployment and, at the same time, encourage women in particular to become more economically independent. This was illustrated by a country woman I met near Namangan who specialized in the production of the traditional headgear Tubetejka. She had established a small, functioning and successful manufacturing plant with one hundred female employees. Another good working example was a small workshop comprised of two women who produced the very rare and expensive velvet, Ikat bakhmal, which has become fashionable. There are several other successful examples which improve the situation at the local level, such as bringing golden embroidery to the Bukhara folk market. In most cases, work is distributed on a "take home" basis and female family members provide labor. The products are targeted mostly at domestic consumers within the small middle class who still wear traditional dress on festive occasions, family gatherings, weddings, and so on.
25The situation becomes more complicated when looking at the fashion sector because of the diversity of the UNESCO support programs, the number of suborganizations and their connections with a multitude of competitors, such as the Seal program which organizes fashion shows for Central Asian participants – a welcome opportunity for Uzbek designers to go abroad. The Seal program was initiated in 2001 by the UNESCO Asia-Pacific Regional Office in Bangkok and the ASEAN Handicraft Promotion and Development Association (AHPADA), and has expanded into Central Asia. The Seal program's explicit intention is to raise the quality control and marketing of traditional crafts and allows Uzbek fashion designers to participate in international platforms (UNESCO, accessed May 13, 2012).
26Thus, the different programs also support efforts to build an independent fashion industry which is of vital interest for Uzbekistan's government.
27Fashion shows offering platforms for Uzbek designers operate on an international level and allow the representation of Uzbek fashion as a national brand. Fashion design is the particular concern of the fashion house Dom Stilya (House of Style) under the direction of the President's daughter, Gulnara Karimova. She also acts as a chairperson of the Board of Trustees of the Fund Forum which cooperates directly with UNESCO through joint projects.
28Gulnara's importance for fashion design and to the country is proved by the fact that until recently, she was considered as a successor to her father as president. The other daughter, Lola Tillyaeva, was nominated a Permanent Delegate of UNESCO in 2008. Gulnara, above all, is serving as an effective interface between different networks of fashion, fashion designers and the global Asian fashion market. She seems to thus be slowly gaining control of the fashion design sector, which also implies a strong influence in the educational sector, particularly within the design departments of universities. As director of the famous internationally known Dom Stilya, she organizes exclusive fashion shows. Small labels, in contrast, have difficulty surviving and competing successfully; perhaps this is the reason why small labels are concentrating more and more on internet marketing.
32The trend for the working classes to wear cheap print textiles with traditional oriental ornaments and colors from China or sometimes Arabian countries is completely excluded from this cultural policy. This reinforces and widens the already existing social and cultural gap between educated and non-educated parts of the population.
33The actors on the lowest level are the craftsmen, who are looking at UNESCO as a deus ex machina promising help and future, without any understanding of the mechanism of UNESCO procedures. They were surprised by the sudden interruption of UNESCO support to handicrafts which cut them off from new relations with festivals and exhibitions abroad (e. g. Santa Fe, Mexico).
35UNESCO's strategies to revitalize traditional crafts are, in some cases, also accompanied by intensive scientific research, as in the case of ethnographic field research in the Boysun district or the founding of the International Institute of Central Asian Studies in Samarkand (IICAS), which "was established under the aegis of UNESCO in 1995" (UNESCO 2009). UNESCO initiatives aim to forge a cultural identity through the exact historical knowledge of regional variety and to meet economic expectations and needs. However, these efforts remain ambiguous because they reinforce the tendency of present-day Uzbek society which is dominated by a dual mentality: "Uzbekistan's traditionalism and modernity" (Dadabaev 2004: 141-142).
36Given the actual political structures, regional networks combined with kinship affiliations, one can conclude with certainty that the major part of UNESCO initiatives within Uzbekistan are organized from the top and are kept under strict state control. This explains the lack of transparency which is reflected in the opinions of the craftsmen.
37The same impression is also shared by members of the cultural elite. In an interview with Laura Adams, a woman responded to the questions about her feelings on the new cultural politics: "Yes, I feel I'm part of a larger movement toward [sic] cultural renewal […] but it comes from the top […]" (Adams 2010: 113).
Bibliographie
6 References
Akimbekov, Sultan (1996): La mer qu'on voit mourir. L'aide internationale est décisive pour limiter les dégâts engendrés par la plus grave catastrophe écologique du XXè siècle. Sources UNESCO, Asie Centrale: À la Recherche du Temps Perdu 83: 9.
http://unesdoc.unesco.org/images/0010/001041/104122f.pdf <accessed February 12, 2012>
Aviabrok-CONSAUD Co. Ltd. (n.d.): PRAVO Legal Information System.
http://www.pravo.uz/eng/get_data.php3?topic=36213&sub=0#0 <accessed May 13, 2012>
Baldauf, Ingeborg (1991): Some thoughts on the making of the Uzbek nation. Cahiers du Monde russe et soviétique 32(1): 79–95.
Battes, John (2007): Cotton-Dependant Countries in the Global Context. In The Cotton Sector in Central Asia. Economic Policy and Development Challenges. Deniz Kandiyoti, ed. Proceedings of a conference held at SOAS University of London, 3-4 November, 2005.
Bell, James (1999): Redefining National Identity in Uzbekistan. Symbolic tensions in Tashkent's official public landscape. Ecumene 6(2): 183–213.
Boccardi, Giovanni, and Sue Williams (1996): Des joyaux en ruine ou sans âme.
La richesse et la diversité du patrimoine culturel de l'Ouzbékistan sont exceptionnelles. Mais le restaurer, et plus encore lui redonner vie, est ardu.
http://unesdoc.unesco.org/images/0010/001041/104122f.pdf <accessed May 13, 2012>
Boysun UNESCO Heritage Centre (2011):
Boysun Description.
http://whc.unesco.org/en/tentativelists/5300 <accessed May 13, 2012>
Bukhara Artisan Development Center.
http://signin.wiserearth.org/openid/v2/signin?token_url=http%3A%2F%2Fwww.wiserearth.org%2Fsingle_sign_on%2Freferer%2F,slsh,organization,slsh,view,slsh,fe3582a41f5f546d5f84569021b9c0eb>000 <accessed May 5, 2011> (Website has been closed; content downloaded as PDF)
Carter, Holly (2006): HRW letter to protest UNESCO award to Uzbek Presi-dent Islam Karimov. Human Rights Watch.
http://www.hrw.org/news/2006/09/12/hrw-letter-protest-unesco-awarduzbek-president-islam-karimov <accessed February 21, 2012>
Collins, Kathleen (2006): Clan Politics and Regime Transition in Central Asia. Cambridge: Cambridge University Press.
Dadabaev, Timur (2004): Post-Soviet realities of society in Uzbekistan. CentralAsian Survey 23(2): 141–166.
Eckert, Julia M. (1996): Das unabhängige Usbekistan: Auf dem Weg von Marx zu Timur. Berliner Studien zur Internationalen Politik, 1. Münster: Lit.
Hadlow, Martin (1996): Relais et témoins du changement. L'essor des médias prouve et accélère l'évolution des républiques nouvellement indépendantes. Mais il est jalonné d'obstacles et de périls, que l'UNESCO aide à surmonter. Sources UNESCO, Asie Centrale: Á la Recherche du Temps Perdu 83: 11.
http://unesdoc.unesco.org/images/0010/001041/104122f.pdf <accessed February 12, 2012>
Hiro, Dilip (2009): Inside Central Asia. A political and cultural history of Uzbekistan, Turkmenistan, Kazakhstan, Kyrgyzstan, Tajikistan, Turkey and Iran. New York/London: Overlook Duckworth.
Искусство Узбекистана на современном этапе социо-культурного развития. [Arts of Uzbekistan at the present stage of socio-cultural development]. http://cultureuz.net/analitica/coll/1/first.html <accessed 13 May, 2012>
Kaiser, Markus (2004): Auf der Suche nach Eurasien. Politik, Religion und Alltagskultur zwischen Russland und Europa. Bielefeld: Transcript.
Krebs, Melanie (2011): Zwischen Handwerkstradition und globalem Markt. Berlin: Karl Schwarz.
Kukushkin Andrey (1996): Autres Temps, autres fins, autres moyens. Commentréformer un système éducatif quand ses moyens sont divisés par deux etque la demande change du tout au tout? Le cas du Kazakstan. SourcesUNESCO, Asie Centrale: Á la Recherche du Temps Perdu 83: 10. http://unesdoc.unesco.org/images/0010/001041/104122f.pdf <accessed February 12, 2012>
Leshkowich, Ann Marie, and Carla Jones (2003): Introduction: The Globalization of Asian Dress: Re-Orienting Fashion or Re-Orientalizing Asia? In Re-Orienting Fashion. The Globalization of Asian Dress. Sandra Niessen, Ann Marie Leshkowich and Carla Jones, eds. Pp. 1–49. Oxford, New York: Berg.
Libération Network (2011): Le rock et le rap, «musique de Satan» pour le pouvoirouzbek. Libération Next, February 22, 2011.
http://next.liberation.fr/musique/01012321520-le-rock-et-le-rap-musique-desatan-pour-le-pouvoir-ouzbek <accessed February 25, 2011>
Massicard, Elise, and Tommaso Trevisani, (2000): Die Usbekische Mahalla zwischen Staat und Gesellschaft. Anthropos 95: 206–218.
Melvin, Neil J. (2000): Uzbekistan. Transition to authoritarianism on the silk road. Amsterdam: Harwood Academic Publishers.
Otchet, Amy (1996): Chronique de l'Asie centrale. En six volumes, dont trois déjà parus, l'Histoire des civilisations de l'Asie centrale est le premier ouvrage à couvrir toute la région. Sources UNESCO, Asie Centrale: Á la Recherche du Temps Perdu 83: 16.
http://unesdoc.unesco.org/images/0010/001041/104122f.pdf <accessed February 12, 2012>
Rezvan, Efim A. (2006): Oriental Dreams. Russian Avant-Guard and Silks of Bukhara. Saint-Petersburg: Engelska.
Silverstein, Ken (2009): Pay to Play at UNESCO. Harper's Magazine, January 6.
http://www.harpers.org/archive/2009/01/hbc-90004139 <accessed February 21, 2012>
Skov, Lise (2011): Dreams of Small Nations in a Polycentric Fashion World. Fashion Theory 15(2): 137–156.
Starr, Frederick S. (1996): Asie centrale: À la recherche du temps perdu. Sources UNESCO, Asie Centrale: Á la Recherche du Temps Perdu 83: 7–8.
http://unesdoc.unesco.org/images/0010/001041/104122f.pdf <accessed February 12, 2012>
UNESCO (2002): The Silk Roads Project. "Integral Study of the Silk Roads: Roads of Dialogue" 1988-1997.
http://unesdoc.unesco.org/images/0015/001591/159189e.pdf < accessed February 10, 2012]
– (2004): Handicraft products which received the 2004 UNESCO/CACSA Seal of Excellence (SEAL) were announced during the Crafts Fair in Almaty, Kazakhstan. http://www.unesco.kz/new/en/unesco/news/1102/ <accessed May 13, 2012>
– (2007): UNESCO presents the results of its 4th annual Handicraft pro- gramme in Central Asia http://www.unesco.kz/new/en/unesco/news/2089 <accessed May 13, 2012>
– (2009): International Institute for Central Asian Studies, Samarkand, Uzbekistan. http://portal.unesco.org/culture/en/ev.phpURL_ID=35410&URL_DO=DO_TOPIC&URL_SECTION=201.html <accessed May 13, 2012>
– (2011): Tashkent, Training on Improvement of quality and design of handicrafts in Uzbekistan http://www.tashkent.unesco.org/en/events/282 <accessed May 13, 2012>
– (n.d.): UNESCO. Building peace in the minds of men and women. http://www.unesco.org/new/en/unesco/ <accessed May 13, 2012>
UNESCO Office in Bangkok (n. d.): UNESCO Bangkok Culture in the News. UNESCO - AHPADA Seal of Excellence for Handicraft Products in Southeast Asia.
http://cms2.unescobkk.org/culture/resources/culture-asia-pacificresources/unesco-bangkok-culture-press-kit/seal-of-excellence/ <accessed May 13, 2012>
Uzbekistan National News Agency (2007): President Islam Karimov receives head of UNESCO office in Uzbekistan, August 10, 2007.
http://uza.uz/en/politics/9/ <accessed February 12, 2012>
Uzbekistan Today (2011): Advancing Sericulture.
http://www.ut.uz/eng/business/advancing_sericulture25.mgr <accessed May 13, 2012>
UZINFOINVEST the Information Support & Foreign Investments Promotion Agency (n.d.): Syrdaryo province.
http://www.uzinfoinvest.uz/eng/investment_opportunities/by_province/syr da <accessed May 13, 2012>
Williams, Sue (1996): Sur les routes de la soie. L'Asie centrale s'ouvre au tourisme culturel. Un moyen pour les cinq pays d'ancrer leur futur dans leur histoire... et de relancer leur économie! Sources UNESCO, Asie Centrale: À la Recherche du Temps Perdu, 83: 15.
http://unesdoc.unesco.org/images/0010/001041/104122f.pdf <accessed February 12, 2012]
Человеческая одежда. (n.d.)
http://www.humanhuman.net/ <accessed May 13, 2012>
Yurkova, Irina (2004): Der Alltag der Transformation. Kleinunternehmerinnen in Usbekistan. Bielefeld: Transcript.
Zernickel, Maria (1995): Textile Kultur in Usbekistan. In Usbekistan. Erben der Seidenstraße. Johannes Kalter and Margareta Pavalo, eds. Pp. 211–262. Stuttgart: Meyer.
Notes
1 Research project, 2010-2012, grant by VW-Stiftung
2 For advice concerning websites, I would like to thank Philipp Socha for his instructive remarks. See also the article of Sue Williams: Sur les routes de la soie (Williams 1996: 15).
3 According to Frederico Mayor, former Director-General of UNESCO, the first UNESCO initiative on the Silk Roads Project tended "to shed light on the common heritage […] that links the people of Eurasia" (UNESCO 2002: Introduction).
4 Nevertheless, the concept of nation was not alien to Soviet ideology but a basic category in their conception of collectivities. Concerning Uzbek nation formation, see Eckert 1996; Melvin 2000. For the conception of Eurasia, see Kaiser 2004.
5 Akimbekov 1996: 9.
6 Kukushkin 1996: 10.
7 Hadlow 1996: 11.
8 Boccardi and Williams 1996: 14; Williams 1996: 15.
9 Otchet 1996: 16.
10 Boysun UNESCO Heritage Centre 2011.
11 Aviabrok-CONSAUD Co. Ltd., accessed May 13, 2012.
12 However, Uzbekistan is number two for cotton export. See Battes 2007: 29-53, 36 (production), 32 (export).
13 For a good survey, see also Zernickel 1995; Rezvan 2006.
14 For example, by a study from 2010 entitled lИскусство Узбекистана на современном этапе социо-культурного развития (Eng. Arts of Uzbekistan at the present stage of social-cultural development), which was funded by the Swiss Agency for Development and Cooperation. http://cultureuz.net/analitica/coll/1/first.html <accessed 13 May, 2012>.
15 The SEAL of Excellence for Handicraft Products in Central Asia 2004 was jointly established by UNESCO and CACSA (Asian Crafts Support Association) in order to establish quality standards and to enhance regional and international awareness of traditional and innovative handicrafts; UNESCO 2004.
16 http://signin.wiserearth.org/openid/v2/signin?token_url=http%3A%2F%2Fwww.wiserearth.org%2Fsingle_sign_on%2Freferer%2F,slsh,organization,slsh,view,slsh,fe3582a41f5f546d5f84569021b9c0eb>000 <accessed May 5, 2011> (Website has been closed, content downloaded as pdf).
17 http://www.tashkent.UNESCO.org/en/tentativelists/5300 and the website of the UNESCO office in Tashkent; UNESCO 2011.
18 The founders of Human Wear were Lola Sajfi, Jurij Pak und Dina Malkova. At the beginning, the shop was organized as a Limited Liability Company (LLC) called Kischilar libosi. Today, the business is privately owned by Natalja Kim (Field research, November 2010). Since recently, the shop has concentrated more on internet marketing due to several reasons. For further information, see: Человеческая одежда <accessed May 13, 2012>.
19 Field research in handicraft centers confirmed that Uzbeks interested in handicrafts prefer to learn textile or fashion over other handicrafts techniques.
20 The association of handicrafts, Hunarmand, is a non-governmental, non-commercial, public organization set up according to the decree of the President of Uzbekistan from 1997. Resolution of the President of Uzbekistan (Body of legislation of Uzbek Republic 2006 г., № 46-47, ст. 456ic). See "UZINFOINVEST" accessed May 13, 2012 or Uzbekistan Today 2011.
21 Fourteen regional managements and ten departments in various regional areas are currently operating: More than 16,000 handicraftsmen and-women in 33 different fields of applied creativity are employed there and produce more than 1,000 brand products (field research October 2010).
22 Interviews in Namangan during field research in November 2010.
23 Collins' definition of clan: "[...] clans are rooted in the informal kin-based communities, tribal or non-tribal, of traditional society organized around extended family units that engage in social, economic, and political activities" (2006: 68). See also her remarks on the current situation in Uzbekistan (2006: 256).
24 The strong connection between craft and design is also confirmed by Yurkova 2004. See also the recent study by Krebs 2011.
25 This argument is put forward by Lise Skov on the basis of her research on national fashion designs operating on the global market (2011: 139).
26 Another example for the relationship between UNESCO and Uzbek President Karimov is his decoration with UNESCO medals Avicenna and Borobudur. The awarding was accompanied by the protest of human rights organizations, such as Human Rights Watch (Silverstein 2009; Carter 2006).