Heritage Regimes and the State
|
,
,
Layers of Preservation Regimes and State Politics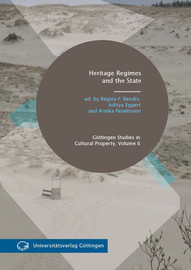 The Bureaucratic Texture of National Patrimonial Policies
p. 195-212
Texte intégral
1Heritage is not only a "project of ideology" (Kuutma 2007: 178), but also a project of bureaucracies. The broad ethnographic literature on heritage production and heritage consumption documents the various dimensions of bureaucratic logics and constraints that influence, for example, the ways traditional culture, transformed into heritage, is used and managed (e.g. Hafstein 2007, Bortolotto 2008, Smith and Akagawa 2009). Discussing the results of patrimonial interventions, Dorothy Noyes underlined the bureaucratic power of heritage regimes that create tensions in the understanding of culture and that change the uses of traditions (Noyes 2006: 35f.). Heritage as an ideological process is "a regime in rapid expansion" (Hafstein 2007: 76). However, this expansion cannot only be explained by the plausibility of the different cultural values that are reified in concrete heritage practices: democracy, cultural diversity, human rights, et cetera. Rather this expansion, one could assume, also depends on the specific institutional nature of heritage regimes that are organized according to western bureaucratic logics (cf. Bendix 2009: 184).
3UNESCO's 2003 Convention for the Safeguarding of Intangible Cultural Heritage led to enormous anthropological interest in this new category (cf. Kirshenblatt-Gimblett 2004, Hafstein 2007, Hemme; Tauschek; Bendix 2007, Bortolotto 2008, Smith and Akagawa 2009). The ethnographic literature discussing questions concerning the protection of material heritage and the birth of a politics of tangible and natural heritage is comparatively sparse; but there is a plenitude of researchers focusing on the (institutional) emergence of UNESCO's intangible heritage concept that resulted from international negotiation (e.g. Schmitt 2009). In his research of UNESCO's intangible heritage regime, Valdimar Hafstein also focused on the institutional agency and bureaucratic power in the process of installing a new concept (Hafstein 2007). This new key concept within the basket of global heritage conventions is, however, pre-structured by different patrimonial forerunners (cf. Tauschek 2010a: 89ff., Hemme 2007). If we want to understand the complex nature of today's heritage interventions and the bureaucratic structures connected with them, we have to take into account that the cultural life of heritage bureaucracies is shaped by national traditions devoted to the interpretation of history in general. One of these national traditions is the protection of historical monuments that also shaped the semantic field of heritage (cf. Swenson 2007).
4One of the central characteristics of UNESCO's heritage operations is the fact that the member states choosing to ratify a given convention have to translate the internationally binding legal instruments into concrete national heritage policy. This transformation has different impacts: States have to define legal parameters and create responsible governmental authorities and bureaucratic institutions. UNESCO's program addressing natural and tangible heritage could build on existing legal frameworks at national levels; the implementation of the new concept of intangible heritage required that new frameworks be established. An analysis of this complex process delivers insights concerning national heritage policies, as well as the embedding of these national policies into the global heritage system. In this context, it is not only important to ask how an internationally negotiated concept such as intangible heritage is implemented on a national level, but also how this implementation is brought into being in bureaucratic ways. From a cultural anthropological perspective, it is methodologically relevant to pursue the path of this unfolding implementation through concrete actors, taking in account what range of agency is allotted to them. Heritage interventions on international as well as national levels are realized by different institutional actors, such as ministries on a higher level and museums, for example, on a lower level; individual actors outside of or within different institutional settings may, depending on the political context, contribute as well. Ethnographic research on heritage as a practice, policy and concept thus has to consider concrete actors and their options and paths of action. Who, for example, represents governmental authority in the context of national heritage policies? Who are individual or institutional actors that deal with heritage issues in the context of national bureaucracies? From which perspective do they argue? What is their professional background? How does their often quite personal understanding of heritage influence professional definitions? What are the bureaucratic and political contexts that shape these dimensions?
5A first step into this direction is an understanding of patrimonial bureaucracies as cultural practices in their own right. In her reflections on the metacultural nature of Intangible Cultural Heritage, Barbara Kirshenblatt-Gimblett identified differences between bureaucratic heritage interventions and the traditional practices these interventions seek to protect (Kirshenblatt-Gimblett 2004: 55). Whereas traditional culture – or folklore – is dynamic, vibrant, creative, and, through its performative character, constantly remade, heritage bureaucracies can be circumscribed as persistent, slow or unidimensional. In the context of the circumscribed heritage regimes, these bureaucracies are situated in national or international legal and political frames of reference which may explain their persisting character. Hence, these frames – laws or lists concerning heritage – produce sustainable effects and realities that can only be reformed very slowly. In my case-study focusing on nominations in Northern Germany, I will argue that even within these persisting systems, conflict-laden negotiation processes unfold and show which concepts of cultural heritage are articulated within these conflicts.
6If heritage is always dissonant (cf. Tunbridge and Ashworth 1996), different actors that produce and use heritage in the context of the state may also act in a dissonant way. Even if the result of state interventions – materialized in texts, laws and so forth – can be described as an "authorized heritage discourse" (Smith 2006: 29), amore detailed look at the various actors shaping patrimonial fields in the context of the state is helpful. Within an authorized heritage discourse, actors can struggle for different interpretations of heritage. These interpretations emerge on different levels as ethnologist Beate Binder showed in her detailed analysis of Berlin's "Schlossplatz" debate (Binder 2009). Here, it was a political, national decision todemolish the Palast der Republik as an important monument of the German Democratic Republic in order to reconstruct the baroque castle in Berlin's city center. As Binder demonstrated, the negotiation process was about the nature and look of Germany's capital, but it was also about the relationship between the two German states during the Cold War, about collective memory and, finally, about divergent representations of history. Different actors were involved in the discussions about the reconstruction of the castle: politicians, members of local initiatives, curators of monuments, scientists of different disciplines, and so forth. All these actors produced urban textures of meanings. Binder understands the production of heritage as a cultural performance that reproduces significance and, at the same time, has an enormously transformative power. In Binder's case-study, the negotiation process was shaped both by political actors and actors of the civil society.
9A conflict arose surrounding the legal protection of the campus within which one can identify three dimensions characteristic for the making of cultural heritage more generally.
10Arguments articulated in the debate about the cultural values of the campus focused on its symbolic nature. The question was whether the campus buildings were outstanding examples of esthetic, architectural qualities that symbolize a certain period in Germany's university architecture – a period that bears testimony to the introduction of democratic structures in academia. The debating parties sought to represent "factual arguments" and the actors involved tried to objectify their interpretation of the future monument. Arguments that were elaborated in that context were based on scholarly knowledge focusing on art history or on the history of architecture. An important discursive strategy was legitimization of interpretations of the buildings concerned through a comparative perspective. The art historian compared the buildings – which is a typical approach in art history – with other universities built after World War II in order to underline their outstanding quality. Different opponents used comparisons to shape their argumentation, stating that the university buildings were simply functional mass products that could be found a hundred or a thousand times in similar form all over Germany.
11The nomination process delivered grounds for social conflict: The university's chancellor and president protested, as they felt ownership of the campus: They both responded with anger as the art historian responsible, representing the Federal Historic Preservation Office, visited the campus without having informed the university's administration beforehand.
12One could argue that this dimension of the conflict was based on different notions of property: The representatives of the Federal Historic Preservation Office interpreted the campus as a public space accessible to everybody. That is why they visited the buildings in order to prepare a nomination dossier. The university representatives held a different notion of "their" university and expected to be asked whether the buildings could be examined or not. These two concepts clashed when the university administration was informed that the representatives of the Federal Historic Preservation Office would visit different buildings. All the actors involved reacted quite emotionally instead of discussing the question whether the university was a public space or not.
13Different concepts of preservation, finally, brought the crisis to a climax. Different actors held equally different images in their minds for what constitutes preservation practices. The university's administration was afraid that the campus, as a consequence of the transformation into a monument, would be fossilized, that it would become a museum and that this would prevent future developments of the university (cf. Tauschek 2010b). These paradigms of conservation practices were not based on concrete experiences, but rather presumed uncompromising preservation instructions. The university's chancellor, especially, expected that the Federal Historic Preservation Office would embark on realizing restoration issues in a quite radical way, for example, concerning the usage of specific building material. However, the monument conservators involved underlined that compromises are a daily occurrence in their conservation practice and that even legal instructions had to be interpreted case by case.
15All three actors in this conflict – the prime minister, the state secretary and the art historian – represent the executive power of the state: That is, all three enact the same bureaucratic, institutional logic even if their agency is quite different. Thus, the results of the negotiation processes in the context of heritage regimes are all but coherent; rather they result from different scopes of action and different interpretations. That also means that national institutions of the state are heterogeneous formations. In the case of Kiel's university campus, the actors mentioned argued and performed within the same bureaucratic system which constitutes a frame and structures and organizes bureaucratic, formal interventions (e. g. the formal declaration of a building as a historic monument) and the symbolic function of these interventions (e.g. codification in preservation acts). At the same time, all the actors in this system compete relying on their competences and authority, causing the multivocal conflict described.
16This conflict can be further explained by drawing on the differentiation of the state's executive power discussed by social philosopher Johannes Heinrichs (2003). Heinrichs differentiated two forms of executive power, both depending on the relationship between authorized actors and the law. The first will execute laws in a formal bureaucratic – one could also say objective – way. The interventions of the Historic Protection Offices follow this path in transforming legal provisions into concrete conservation practices. The second variant of executive power draws on a wider scope of interpretation and acts more subjectively: This is the case with the ministry responsible whose interventions are directly influenced by the actual political will. The ministry's interventions are framed by scholarly or factual arguments only in a minor way, as the ministry needs to enact a particular political agenda. Consequently, heritage decisions that are influenced by the ministry are dependent on the given political landscape, which may change more rapidly (in particular after elections), whereas the executive institutions are charged with transforming heritage policy in a more enduring fashion.
20In June 2010, the Federal Historic Preservation Office heard about dramatic reconstruction work in Rantzau castle for the first time. Representatives of this office tried to get access to the privately-owned building in order to see whether these rumors were based on fact. Even before the preservation office officially asked to gain access, the castle's owner took legal action in order to forbid the authority concerned from entering the building. The lawyer entrusted with the case based his argument on article 13 of the German Constitution, which guarantees the privacy of the home. The legal institution responsible in this case was the higher administrative court. In its judgment, the court argued that article 13 could not be applied as the building was in such poor condition that one could not live in it. At this level of the conflict, the court thus did not argue with the federal heritage preservation act, but rather employed the legal frame concerning questions of privacy and the accessibility of the home.
21As a consequence of this judgment, employees of the Federal Historic Preservation Office could visit the castle during the summer of 2010 in order to see what had been done. A mountain of rubble in front of a window immediately announced what was to be expected inside: Ninety percent of the stucco walls and ceilings had been removed. Eventually, this incident stipulated reactions in another legal context; defined by the federal Preservation Act, questions of public interest were brought into play. If properties of public interest, protected under article 13, are destroyed or damaged, this is a punishable act under criminal law. Responsibility for judgment thus migrated to a criminal court of law (see Fig. 2).
22A core issue in this case thus concerns public and private property. If an owner of a historical monument destroys, for instance, protected historical decorations, this action can be punished, as the historical monument is of public interest even if the property is privately-owned. To understand this differentiation in the context of the protection of historical monuments, one has to turn to deeper historical dimensions: At the turn of the 20th century, German legislation concerning the protection of historical monuments, for the first time, also included private properties.
23When a systematic interest in historically important buildings and objects started in the second half of the 18th century in different German principalities, the sovereigns concerned tended to underline and legitimize their claims to power by dint of historical monuments (cf. Schmidt 2008). During the 19th century, the preservation of historical monuments became an important issue for the nation-state. Firstly, laws that were intended for the preservation of monuments were elaborated after 1900 (1902 in Hessen-Darmstadt, Hamburg in 1920, Schleswig-Holstein in 1958 as the first German state that ratified a preservation act after 1945). In 1880, the term "Denkmalpflege" – protection of historical monuments – was used for the first time in the context of Prussian bureaucracy. In the same context – the emergence of the modern nation-state – concepts for the protection of monumental heritage had to be rethought with regard to the state's relation to privately-owned properties. When monuments served to demonstrate absolutist power in the 18th century, this relation was irrelevant as conservation interventions only concerned properties of secular or ecclesiastic sovereigns. Later, however, states employed cultural logics to legitimize their symbolic appropriation of private property by evoking public interest of esthetic and historic values, a realm which requires further research (cf. Holtorf 2007: 35).
24Apart from the question of national legal regulations, in both cases – Kiel campus and Rantzau castle – concepts of property are legally defined but, nonetheless, required negotiation. In the case of Rantzau castle, it was the court that had to articulate and to assert the public interest.
25The case of Rantzau castle is paradigmatic for heritage conflicts as it demonstrates clearly which actors may declare a patrimonial field within governmental structures of the nation-state. Here, there were two important actors who influenced the evaluation of the castle as cultural heritage: Courts, as institutions of judiciary power, and bureaucratic institutions – the Federal Historic Preservation Office – as executive authorities. Both argue within different frames of reference and both shape their arguments by different bureaucratic and legal logics even if the object of negotiation is the same. It is quite clear that the employees of the Federal Historic Preservation Office employ scientific reasoning drawn from disciplines such as archeology, (art) history or architecture. Yet, how do judges discuss patrimonial qualities that lead to a public interest in a building? How do these actors define historical values as circumscribed in preservation laws, but which elude strict legal definitions? How do they weigh public and private interests?
28The linkage between the two cases and the concept of intangible heritage also unfolds on an institutional and organizational level. State policy concerning the protection of intangible heritage is in many instances pre-structured by the legal structure of tangible heritage. As Germany has still not ratified the 2003 Convention for the Safeguarding of Intangible Heritage of Humanity, my last examples are based on Belgium's official national, or better federal, heritage policy. Germany and Belgium can be compared insofar as both nations are federal states.
29In Belgium, the federal structure depends on three linguistic communities: the German-speaking, French-speaking and Flemish community; each community has its own cultural policy, as do the Bundesländer in Germany. In 2007, the Flemish community adopted a draft version of a law concerning cultural heritage – tangible as well as intangible – that was based on a former decree for the protection of popular culture dating from 1998 and a law concerning the organization and function of public archives. This reshaping of a national heritage policy was motivated by Belgium's ratification of UNESCO's Intangible Heritage Convention.
34The protection of tangible monuments in Western states has a long bureaucratic history. Bureaucratic experts have developed concrete practices and discursive strategies to transform objects into valuable monuments. The most relevant practice in that context is the listing of heritage, which is also a persisting practice (in the context of UNESCO's world heritage program, the cases of delisting heritage items are very rare). I also consider the instrument of "the list" as a patrimonial contact zone. It proved itself in the protection of historical monuments and was simply taken over for the task of safeguarding intangible heritage; this has been broadly discussed in the historical (Schuster 2002) and ethnographic literature (Hafstein 2009: 105). Listing heritage is an important bureaucratic and symbolic tool; it renders heritage manageable and translates it into bureaucratic organizational language. No wonder that bureaucratic experts, who during their whole professional life have dealt with such instruments, also try to make these instruments work in the context of the protection of intangible heritage on the international as well as on the national level: Listing heritage is a traditionalized practice itself, which may explain that the experts of the Belgian French community decided to safeguard their intangible heritage by making a list.
37What is predictable, however, is the fact that international and national heritage regimes bureaucratize the management and also the interpretation of tangible and intangible heritage. National heritage policies result from very different heritage interventions with various bureaucratic institutions and actors involved. Whereas the products of this process unfold long-lasting effects – once legislation is constituted, it cannot easily be changed; once heritage lists are installed, they will be constantly replenished – concrete nomination procedures as well as the concrete handling of heritage depend on constant negotiation processes.
38Cultural anthropologists usually hesitate to voice predictions. Yet the example of the implementation of UNESCO's Intangible Heritage Convention in Belgium suggests that similar processes will follow the same pattern when Germany ratifies this convention. In this case, the legislation concerning tangible heritage and monuments will serve as the legal and bureaucratic model that will be conferred on the concept of intangible heritage. In her feasibility study concerning the implementation of UNESCO's Intangible Heritage Convention in Germany published in 2011, Marie-Theres Albert, UNESCO Chair in Heritage Studies (university of Cottbus), underlined that Germany's tradition in the protection of historical monuments has established a well functioning bureaucratic system. Hence, a national committee for Intangible Cultural Heritage should be organized analogous to the "German National Committee for Monument Preservation."
39Albert's recommendations show that power, hierarchies and different interests will play a crucial role, as discussed in my two examples. If Albert suggests having representatives of all German UNESCO chairs, as well as representatives of all heritage studies programs in Germany, in the aforementioned commission, this proposal might be understood as the inscription of disciplinary interests in the proclamation and management of future intangible heritage. This will eventually cause new conflicts.
40It is evident that the ratification of UNESCO's Intangible Heritage Convention initiates debates about the relevance and the nature of popular culture. In contrast to the protection of historical monuments, this debate is not only about the esthetic or historical values of castles or other types of buildings, but is also about cultural identity and the value of performative culture. "Intangible" culture may be less easy to destroy than the historical interior of a castle. Perhaps popular culture considered for protection might, in its colorful, dynamic variety, mitigate the conflict potential inherent to the protectionist and managerial processes.
Bibliographie
6 References
Albert, Marie-Theres (2011): Feasibility Study: Implementation of the UNESCO-Convention for the Safeguarding of Intangible Cultural Heritage (2003) in Germany. BTU Cottbus.
http://www-docs.tu-cottbus.de/gradschool/public/Fachklasse_5/feasibility_study.pdf <accessed June 6, 2012>
Bendix, Regina (2009): Heritage between Economy and Politics. An Assessment from the Perspective of Cultural Anthropology. In Intangible Heritage. Key Issues in Cultural Heritage. Laurajane Smith and Natsuko Akagawa, eds. Pp. 253–269. New York: Routledge.
Binder, Beate (2009): Streitfall Stadtmitte: Der Berliner Schlossplatz. Alltag & Kultur, 13. Köln: Böhlau.
Bortolotto, Chiara, ed. (2008): Il patrimonio immateriale secondo l'UNESCO: analisi e prospettive. Rome: Istituto poligrafico e Zecca dello Stato.
Centre de documentation administrative: Secrétariat général (2002): Décret relatif aux biens culturels mobiliers et au patrimoine immatériel de la Communauté française.
http://www.patrimoineculturel.cfwb.be/fileadmin/sites/colpat/upload/colpat_super_editor/colpat_editor/documents/Decrets/Decret110702.pdf <accessed August 4, 2011>
Di Giovine, Michael A. (2009): The Heritage-scape. UNESCO, World Heritage, and Tourism. Lanham: Lexington Books.
Douglas, Mary (1986): How Institutions Think. London: Routledge and Kegan Paul.
Fédération Wallonie-Bruxelles (2011): Chefs d'œuvre du Patrimoine oral et immatériel de la Communauté française.
http://www.patrimoineculturel.cfwb.be/index.php?id=7301 <accessed August 4, 2011>
Hafstein, Valdimar (2007): Claiming Culture: Intangible Heritage Inc., Folklore ©, Traditional Knowledge™. In Prädikat HERITAGE. Wertschöpfungen aus kulturellen Ressourcen. Studien zur Kulturanthropologie/Europäischen Ethnologie, 1. Dorothee Hemme, Markus Tauschek, and Regina Bendix, eds. Pp. 75–100. Berlin: Lit.
– (2009): Intangible Heritage as a List. From Masterpieces to Representation. In Intangible Heritage. Key Issues in Cultural Heritage. Laurajane Smith and Natsuko Akagawa, eds. Pp. 93–111. New York: Routledge.
Heinrichs, Johannes (2003): Revolution der Demokratie. Eine Realutopie für die schweigende Mehrheit. Berlin: Maas.
Hemme, Dorothee (2007): "Weltmarke Grimm" – Anmerkungen zum Umgang mit der Ernennung der Grimmschen Kinder- und Hausmärchen zum "Memory of the World". In Prädikat HERITAGE. Wertschöpfungen aus kulturellen Ressourcen. Studien zur Kulturanthropologie/Europäischen Ethnologie, 1. Dorothee Hemme, Markus Tauschek, and Regina Bendix, eds. Pp. 225–251. Berlin: Lit.
Hemme, Dorothee, Markus Tauschek, and Regina Bendix, eds. (2007): Prädikat HERITAGE. Wertschöpfungen aus kulturellen Ressourcen. Studien zur Kulturanthropologie/Europäischen Ethnologie, 1. Berlin: Lit.
Herzfeld, Michael (1993): The Social Production of Indifference: Exploring the Symbolic Roots of Western Bureaucracy. Chicago: University of Chicago Press.
Holtorf, Cornelius (2007): What Does Not Move Any Hearts – Why Should It Be Saved? The Denkmalpflegediskussion in Germany. International Journal of Cultural Property 14(1): 33–55.
Huse, Norbert, ed. (2006): Denkmalpflege. Deutsche Texte aus drei Jahrhunderten. München: C. H. Beck.
Kirshenblatt-Gimblett, Barbara (2004): Intangible Heritage as Metacultural Production. Museum International 56(1-2): 52–65.
Kuutma, Kristin (2007): The Politics of Contested Representation: UNESCO and the Masterpieces of Intangible Cultural Heritage. In Prädikat HERITAGE. Wertschöpfungen aus kulturellen Ressourcen. Studien zur Kulturanthropologie/ Europäischen Ethnologie, 1. Dorothee Hemme, Markus Tauschek, and Regina Bendix, eds. Pp. 177–195. Berlin: Lit.
Lewinski, Silke von (2004): Protecting Cultural Expressions: The Perspective of Law. In Properties of Culture – Culture as Property. Pathways to Reform in Post-Soviet Siberia. Erich Kasten, ed. Pp. 111–127. Berlin: Reimer.
Ministerium für Bildung, Wissenschaft, Forschung und Kultur (2002): Durchführungsvorschriften zum Denkmalschutzgesetz (DSchGDV) des Landes Schleswig-Holstein.
Noyes, Dorothy (2006): The Judgement of Solomon: Global Protections for Tradition and the Problem of Community Ownership. Cultural Analysis 5: 27–56.
– (2010): Traditional Culture: How Does It Work? CP101: Concepts and Institutions in Cultural Property Working Paper 1/2010.
http://www.uni-goettingen.de/de/publikationen/213471.html <accessed August 3, 2011>
Sächsisches Oberverwaltungsgericht (2007): Urteil (Aktenzeichen 1 B 324/06).
http://www.justiz.sachsen.de/ovgentsch/documents/1B324_06u.pdf <accessed August 3, 2011>
Schmidt, Leo (2008): Einführung in die Denkmalpflege. Darmstadt: Theiss.
Schmitt, Thomas M. (2009): Global Cultural Governance. Decision-Making concerning World Heritage between Politics and Science. Erdkunde 63(2): 103–121.
Schuster, Mark J. (2002): Making a List and Checking it Twice: The List as a Tool of Historic Preservation. Working Paper, 14. Chicago: Cultural Policy Centre at the University of Chicago.
http://culturalpolicy.uchicago.edu/papers/workingpapers/Schuster14.pdf <accessed August 5, 2011>
Smith, Laurajane (2006): Uses of Heritage. New York: Routledge.
Smith, Laurajane, and Natsuko Akagawa, eds. (2009): Intangible Heritage. Key Issues in Cultural Heritage. New York: Routledge.
Swenson, Astrid (2007): "Heritage", "Patromoine" und "Kulturerbe"; Eine vergleichende historische Semantik. In Prädikat HERITAGE. Wertschöpfungen aus kulturellen Ressourcen. Studien zur Kulturanthropologie/Europäischen Ethnologie, 1. Dorothee Hemme, Markus Tauschek, and Regina Bendix, eds. Pp. 53–74. Berlin: Lit.
Tauschek, Markus (2009): "Writing Heritage" – Überlegungen zum Format Bewerbungsdossier. In Erb. gut? Kulturelles Erbe in Wissenschaft und Gesellschaft. Referate der 25. Österreichischen Volkskundetagung vom 14. – 17.11.2007 in Innsbruck. Karl C. Berger, Margot Schindler, and Ingo Schneider, eds. Pp. 437–448. Wien: Selbstverlag des Vereins für Volkskunde.
– (2010a): Wertschöpfung aus Tradition. Der Karneval von Binche und die Konstituierung kulturellen Erbes. Studien zur Kulturanthropologie/Europäischen Ethnologie, 3. Berlin: Lit.
– (2010b): Denkmal wider Willen? Kulturanthropologische Perspektiven auf einen Kieler Konflikt. Kieler Blätter zur Volkskunde 42: 5–22.
Tunbridge, John E., and Gregory John Ashworth (1996): Dissonant Heritage: The Management of the Past as a Resource in Conflict. Chichester: John Wiley & Sons.
Notes
1 It was in 1957 that sociologist and historian Cyril Northcote Parkinson published his reflections on the expanding nature of western bureaucracies. Bureaucratic structures grew and grew and grew even if their workload did not grow in the same way or even if this workload was on the decrease.
2 Kiel is the capital of the Bundesland Schleswig-Holstein in the north of Germany on the shore of the Baltic Sea. Almost 80% of the historic city was destroyed during World War II. Today, Kiel has nearly 240,000 inhabitants.
3 The different competences are defined in operational guidelines that complete Schleswig-Holstein's preservation act: Ministerium für Bildung, Wissenschaft, Forschung und Kultur 2002.
4 In contrast to this bureaucratic system, a declarative system exists in which the law also defines patrimonial qualities of a building, for example, and the executive institution only informs owners of historical monuments. Additionally, there are also mixed forms of both systems.
5 I put the word scientific in quotes as most of the employees of the Federal Historic Preservation Office have a scientific training in disciplines such as art history, archeology or even European ethnology. From this disciplinary background, they interpret historical materiality often in quite reflexive ways. However, their expertise is framed by legal prescriptions that – to a certain degree – contradict actual scientific approaches to heritage as they are, for example, based on the idea that cultural values simply exist as such.
6 The conflict is documented in the Historic Preservation Office's archive; register no. 16080.
7 A further and still broader context within which the management of the heritage status of the Kiel campus is to be understood is the composition of the federal government at the particular juncture in time: The government consisted of a coalition of the conservative Christian Democrats and the Liberal Democratic Party. Their members sought to protect the interests of house owners. The change in the preservation act thus had intended consequences far beyond Kiel university's potential heritage status.
8 This is also one the main results from my research about the production of intangible heritage in Belgium (Tauschek 2010a). If one looks at the processes of the implementation of UNESCO's 2003 convention in the French-speaking part of Belgium, one can observe that single actors shaped a federal heritage policy. Their motivation was not only to protect popular culture, but also to strengthen their own political position – heritage policy as a kind of personal biographical resource.
9 Since 1982, Rantzau castle has been officially listed as an important historical monument of Schleswig-Holstein.
10 An excellent example of the value of such source material is a judgment of the Saxonian higher administrative court dating from 2007. The court had to decide whether plastic windows in a 19th century building had to be removed and replaced by wooden windows. Beside the question if this change was economically reasonable, the court discussed whether the building was an outstanding representative monument or not. See the judgment in detail: Sächsisches Oberverwaltungsgericht 2007.
11 Riegls most important theoretical and programmatic texts are reprinted in Huse (2006).
12 Décret relatif aux biens culturels mobiliers et au patrimoine immatériel de la Communauté française. Centre de documentation administrative: Secrétariat général (2002).
13 Silke von Lewinski discusses the integration of new concepts into existing legal frameworks in the context of the protection of cultural property (Lewinski 2004). From the perspective of the law, she shows how existing intellectual property laws can be interpreted in a different way due to changes in the concept of property. Similar processes can be described in the realm of intangible heritage.
14 Chefs d'œuvre du Patrimoine oral et immatériel de la Communauté française (Fédération Wallonie-Bruxelles 2011).
15 Cf. field notes, April 2010.
16 Cf. contributions by Ballachino, Bodolec, Broccolini, and Fournier in this volume.
17 Cf. Kuutma, this volume. See also Dorothy Noyes' paper entitled "Traditional Culture: How does it work," where she discusses central terms of heritage policy as community, tradition or folklore (Noyes 2010).