Heritage Regimes and the State
|
,
,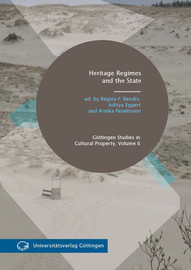 Contributors
p. 7-10
Texte intégral
1Nicolas Adell, Professor of Anthropology at the University of Toulouse Le Mirail, is currently conducting research on the anthropology of "heritage knowledge" in a culturally comparative perspective.
2Katia Ballacchino holds a PhD in Ethnology and Ethno-anthropology from the Sapienza University of Rome. She is an Adjunct Professor at the University of Molise and at the Academy of Human and Social Sciences, and also works as a cultrice della materia at the University Suor Orsola Benincasa of Naples and the Sapienza University of Rome. Her research focuses on popular traditions, the inventory of Intangible Cultural Heritage in central and southern Italy, visual ethnography, migration, social and cultural mediation, and human rights.
3Regina F. Bendix is Professor of Cultural Anthropology/European Ethnology at the University of Göttingen and leads the Göttingen Research Group on Cultural Property. Her research focuses on the intersection of culture, economics and politics.
4Caroline Bodolec is a junior researcher with the French National Scientific Research Center (CNRS) at the Centre d'études sur la Chine moderne et contemporaine (UMR 8173 Chine, Corée, Japon), Paris, France. Her fields of research are Intangible Cultural Heritage in China, especially in the Shaanxi province, and the history of construction and anthropology of techniques during late-imperial and contemporary China.
5Chiara Bortolotto is a Marie Curie Fellow at the Université Libre de Bruxelles (Laboratoire d'Anthropologie des Mondes Contemporains). Her research investigates the development of global policies of Intangible Cultural Heritage within UNESCO and their implementation in France and Italy.
6Donald L. Brenneis is Professor of Anthropology at the University of California, Santa Cruz. His current research involves an ethnographic study of peer review, scholarly publication, assessment practices, higher education policy, and the ongoing shaping of scholarly and scientific knowledge within and beyond anthropology.
7Alessandra Broccolini is an anthropologist and researcher at the Sapienza University of Rome, Italy. Her current research focuses on Intangible Cultural Heritage and UNESCO Conventions in Italy, Inventories of Intangible Cultural Heritage, traditional fishing in Bolsena Lake (Viterbo, Central Italy) as Intangible Cultural Heritage, and Urban Ecomuseums and participation.
8Rosemary J. Coombe is the Tier One Canada Research Chair in Law, Communication and Culture at York University in Toronto, Canada, and works on issues pertaining to cultural property, cultural rights, indigeneity, intellectual property, and human rights.
9Chiara De Cesari is an anthropologist and Assistant Professor of European Studies and Cultural Studies at the University of Amsterdam. Her new research focuses on the making of a European memory in relation to its blind spots, with particular reference to the carceral heritage of Italian colonialism in Libya.
10Aditya Eggert is a PhD candidate in Social and Cultural Anthropology within the Research Group on Cultural Property at the University of Göttingen. Her research focuses on the concept of Intangible Cultural Heritage and the politics of heritage implementation in Cambodia.
11Laurent Sébastien Fournier is a French social anthropologist, Assistant Professor at the University of Nantes and researcher at the CNRS (IDEMEC, UMR 7307, Maison Méditerranéenne des Sciences de l'Homme, Aix-en-Provence). As an anthropologist of Europe, he works on the revival of local festivals, traditional games and sports as Intangible Cultural Heritage.
12Florence Graezer Bideau is Deputy Director and lecturer at the Center for Area and Cultural Studies (CACS), College of Humanities, Swiss Federal Institute of Technology in Lausanne (EPFL) and SNSF post-doctoral researcher at the Anthropology Institute, University of Neuchâtel. Her research interests include cultural policy in China, heritage processes in Malaysia and the implementation of the UNESCO Convention for Safeguarding Intangible Cultural Heritage in Switzerland.
13Ullrich Kockel is Professor Emeritus of Ethnology, University of Ulster, Professor of Culture and Economy, Heriot Watt University, Edinburgh, and Visiting Professor of European Ethnology at Vytautas Magnus University, Kaunas. His current research focuses on cultural resource development, place memory and human ecology, especially in Germany, the Baltic region and the British Isles.
14Kristin Kuutma is Professor of Cultural Research at the University of Tartu, Estonia. Her research and teaching focus on cultural theory, cultural history and anthropology, ethnographic studies and knowledge production, and critical studies of cultural heritage and representation. She is the head of the UT program of the Graduate School of Culture Studies and Arts.
15Anaïs Leblon completed a PhD in anthropology at Aix-Marseille University focused on the process of heritagization of Fulani pastoral institutions in Mali. She is currently a postdoctoral fellow at Lahic (Laboratoire d'Anthropologie et d'Histoire de l'Institution de la Culture) in Paris, within the framework of a French research consortium: the "Labex CAP" (Créations, Arts et Patrimoines).
16Gabriele Mentges is a Professor at the Institute of Art and Material Culture, at the Technical University of Dortmund. Her current research interests include the Uzbek textile culture as a cultural and economic resource.
17Máiréad Nic Craith is Professor of European Culture and Heritage at Heriot Watt University in Edinburgh. Her research interests include cultural translation, cultural policy and Intangible Cultural Heritage in a European context.
18Arnika Peselmann is a PhD candidate in the field of cultural anthropology within the Research Group on Cultural Property at the University of Göttingen. Her research interests include a comparative approach to the implementation of UNESCO conventions (Czech Republic, Germany), civil society in post-socialist states, and border studies.
19Adelheid Pichler is currently working as a lecturer at the Department of Social and Cultural Anthropology at the University of Vienna, Austria. Her research covers memories of slavery in Afro-Cuban religions, education and adaptive capacity to climate change and the comparative study of social vulnerability patterns to hurricanes in Cuba and the Dominican Republic (within the IIASA – International Institute for Applied System Analysis, Laxenburg – Vienna).
20Cristina Sánchez-Carretero has been a tenured researcher in anthropology at the Institute of Heritage Sciences (Incipit), Spanish National Research Council (CSIC), since August 2008. Her areas of interest include processes of traditionalization, heritagization and memorialization, the intersection of migration and cultural heritage, and the politics of cultural heritage in conflict situations.
21Philip W. Scher is an Associate Professor of Anthropology at the University of Oregon. He is currently conducting research on the politics of heritage in the Caribbean.
22Maria Cardeira da Silva is a Professor at the New University of Lisbon and senior researcher at the CRIA – Center for Research in Anthropology, Lisbon. Mainly focused on Arabic and Islamic contexts, her research interests include cultural displays and political uses of culture, especially regarding international cooperation and diplomacy.
23Laurajane Smith is an Australian Research Council Future Fellow at the School of Archaeology and Anthropology at the Australian National University, Canberra. Her research covers the area of heritage and museum studies.
24Markus Tauschek is Assistant Professor of European Ethnology at Christian-Albrechts-University in Kiel, Germany. His main research interests concern the emergence of Intangible Cultural Heritage, tradition and performative culture in late-modernity and competitive logics and practices in everyday life.
25Jean-Louis Tornatore is a social anthropologist and Professor at the Institute Denis Diderot, University of Burgundy, Dijon, France. He explores two main issues together: The relationship with the past and the ways of living within time according to a pragmatist approach. He emphasizes the involvement of the researcher in a radical and non-authoritarian perspective.