World Heritage Angkor and Beyond
|
III. Heritage and Development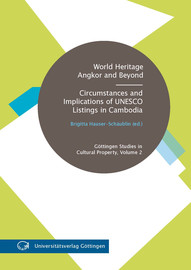 New Chances for Local Farmers and Artisans?
Efforts and Strategies to Change the Existing Structures of Tourism Supply in Siem Reap
p. 177-202
Texte intégral
1Studies on the implementation and the effects of monuments listed as UNESCO World Heritage Sites (WHSs) reveal that – with only few exceptions – the tourism industry rapidly develops (Hitchcock, King and Parnwell 2010). Tourism is located at the interface between economic development (boosting tourism) and conservation of cultural artefacts (keeping them intact and unaffected by visitors). This convergence is, in many cases, conflicting and paradoxical, and includes Angkor (see Miura 2004 and the chapters by Miura in this volume). Or, as Winter puts it: "Tourism looks in both directions: It restores and promotes the past while promising future prosperity" (2007:2). Behind the conflicting convergence of conservation and development are the diverging interests of different actors equipped with varying power according to their position. Therefore, the balance between "development" and "conservation" is continuously in motion and economy is often ahead of the game:
Nevertheless, tourism in Siem Reap is foundational to the economy on various fronts whether as a primary source for foreign currency or Angkor's status as a global and national icon.
(Esposito and Nam 2008: III-35)
2The effects of the UNESCO listing seem to be almost the same everywhere:
Private and public sectors worldwide […] are converting cultural heritage resources into destinations and attractions in a bid to obtain a piece of the lucrative global tourism pie. The money visitors spend on admission fees, souvenirs, transport, food, and accommodation contributes billions every year to the global economy and employs millions of people directly or indirectly.
(Salazar 2010:130)
4However, the particular ways in which the degree of tourism development has to be assessed when it transgresses the border of sustainability, and in which way and by whom excessive tourism can and will be efficiently "tamed", are difficult questions to answer in a general or even binding way. One of the main obstacles to such efforts consists of the fact that WHSs have an enormous socio-economic value, implying that they are targeted as commercial resources (Starr 2010:147). Salazar puts it even more sharply when he writes: "There is a striking complicity and circularity in the relationship between transnational tourism and (neoliberal) globalisation" (2010:132).
5Therefore, heritage preservation, social and ecological sustainability, and the economic exploitation of a WHS do not easily go together; they are agents in a conflicting relationship. The example of Angkor shows how difficult and complex this relationship is. The masses of tourists climbing on the monuments (often even in areas which are indicated as restricted) apparently do a lot of harm to the monuments (Califano 2005; Tyler 2007). Another consequence of mass tourism consists of the groundwater level which has drastically dropped over the past few years due to the abundant consumption of water. This led to the situation that the official water supply of Siem Reap had to be cut from one to three hours per day during the dry season (Kaliyann and Sloan 2011:11). Apart from the many other consequences this may have, even the monuments of Angkor Park – the WHS – seem to be endangered: The stone monuments gradually lose their stability because of the drop in ground pressure. Thus, tourism development, at least in this respect, seems to have already transgressed the boundary of sustainability since the natural resources, first and foremost water, are endangered (The Independent March 14, 2008; Doherty 2010; see also the paragraph on the ecosystem of Siem Reap-Angkor, especially with regard to water, in Esposito and Nam 2008: V-68-78).
9As several studies have shown, local agriculture is, for various reasons, not (yet) linked to the tourism economy (JICA 2006c; World Bank 2003).
10Yet, one could have expected (or perhaps just hoped) that a larger segment of society in Siem Reap Province should have benefited from tourism economy and its side effects over the past 15 years. But the data produced by a large number of studies carried out by different international and national organizations/agencies rather support the suggestions made earlier about the growing gap between the rich and the poor, and the larger context in which "poverty" is situated.
Currently […] development is unregulated and unplanned […]. The density of donor interventions in Siem Reap Province (consisting of 12 districts) is second highest in terms of official development aid after Phnom Penh.
(GTZ 2006a: 3)
15The extent of poverty in rural Cambodia (and the opposite: the rapid development of production and consumption in urban areas since the 1990s) is at least partly the result of its particular history since the late-1960s, mainly the civil war that continued in remote areas until the late-1990s. It is for this reason that the poverty, as well as the figures of in-destination revenues in Siem Reap cannot easily be compared with those of the WHSs in Laos, Luang Prabang, and in Vietnam, Dan Nang. Today's social and economic conditions are still coined by the Khmer Rouge regime (1975-1979) which left the whole country, the society and the economy shattered. The formal cadastral records of land, which covered only a minor part of the country, were destroyed by the Khmer Rouge when all land was collectivised and private ownership abolished. The aftermath of this period has had far-reaching effects with which Cambodia still struggles today. Land, land tenure and land use are a crucial issue, especially in agrarian states. Cambodia has been a predominantly agricultural country up to recently. Land constituted – and still constitutes – a major resource for a large part of the population since their livelihood was (and in rural areas still is) based on paddy rice. Most of the land under cultivation (88% in 2004) is used for rice production; the average size of a farm is around 1.3 ha.
16In the context of the exploding rapidly expanding tourism, land has additionally become a new form of resource very much sought after also as an object of speculation.
18Moreover, the likelihood of obtaining a legal land title is increasing with the growth of income, as the Word Bank poverty assessment of 2006 showed (GTZ 2006a: A14). This tendency points to another, related problem: Since the 1990s, speculators have extensively occupied or bought land at modest prices and are now selling them again at excessive prices with a high profit or keeping them for profitable (tourism) projects in the future (see below).
17

Khuon Khun-Neay stated in 2005 that APSARA had started to concentrate on the sustainable developmen

(...)

We visited a commune in Angkor Thum District, north of Angkor Park, and it struck us as remarkably poor, relying on unproductive, rain-fed agriculture.17 It was clear that people here have very little benefit, indeed, from the tourist dollars flowing into the Park.
(Gebert et al. 2007:8; see also Khuon Khun-Neay 2006a: 116)
20Thus, establishing new or expanding existing settlements has become illegal and the alternatives offered are not satisfying (see Miura's chapter "Sustainable Development in Angkor" in this volume). This question of land tenure and use in Angkor Park is a problem of its own and is a direct outcome of the requirements for a WHS as set up by UNESCO. Illegal settlements outside Angkor Park are, nevertheless, widespread, due to the as yet unsettled land tenure situation and land as a key resource also in the context of the tourism economy. Large tracts of land in the districts of Angkor Thom and Bantheay Srei (north of Angkor Wat), especially along the road to Kulen National Park, have been largely illegally occupied, apparently mostly for speculative purposes. As the GTZ report reveals, some farmers in this area indicated that they were caretakers for absentee landlords (GTZ 2006a: A15). Conflicts over land – as can be expected – are quite numerous.
21The insecure situation of land tenure with which families in many rural areas have to live impedes motivation and efforts to invest money (as well as receiving credits from banks) and labour into land (with soil often of poor quality) for future agricultural production. It is, therefore, not astonishing that agricultural productivity in Cambodia is the lowest in the region.
District

Average Prices USD/ha

Average Prices USD/m2

Puok

22,395

2.24

Communes in South and on NR6

5,500

0.55

North of NR6

Angkor Chum

1,687

0.17

Varin

381

0.04
Fig. 3: Average land prices per hectare and square metre for land of lower quality in three districts (source: after Makathy and Klork 2008:36).
24There are different reasons and consequences behind the sale of land mostly by small land holders. Makathy and Klork found three main reasons: Some people sold their land to improve housing conditions and/or purchased commodities such as motorcycles. Many families turned out to be poorer once the money from selling their land had been spent. Additionally, they no longer had agricultural land for their livelihood security and no land to be transmitted to their children. Others had sold their land to free themselves from debts (Makathy and Klork 2008:31).
25Thus, the rural population seems to be trapped between the outcome of the sinister history of their country and the ruthlessness of the rapidly developing capitalistic economy of which tourism is part and which threatens the powerless in several respects. The situation shows that an improvement of their structural situation without external aid would be difficult to achieve.
26To sum up this paragraph: Land is a crucial factor in determining the livelihood of the inhabitants of rural areas. The knowledge of how land tenure and land use are practiced in rural areas is essential to successfully implement the development schemes of the GIZ, especially for those which aim at increasing the market share for vegetable and fruit production from small and medium scale producers in Siem Reap.
28What tourists are looking forward to – apart from seeing the temples of Angkor – is accommodation that fits their expectations and their wallets (see Neth this volume), tasty and healthy food and, of course, souvenirs/handicrafts to take back home. The supply of vegetables, fruit and handicrafts that satisfy the expectations of the tourists from all over the world (the majority, however, coming from Asia, see Winter 2010 and Neth this volume) is therefore indispensible. Investigations into these aspects of tourism economy in Siem Reap have shown that most of the vegetables and fruit (50% and 85%, respectively) consumed in hotels and restaurants are imported from Thailand and Vietnam (GTZ 2006a: 2). Moreover, in contrast to local and regional producers, the foreign suppliers can react within a couple ofhours to the demands of the hotels and restaurants; vegetables and fruit of the desired quality and in the quantity desired can be ordered and delivered within one day. What makes competition for local and regional producers harder in relation to the suppliers in Vietnam and Thailand is the fact that agricultural subsidies in Vietnam and Thailand allow the aggressive pricing of produce in comparison to Cambodia (GTZ 2006a: 5).
N°

Name of market

In volume: kg/year

Total

Households

Food vendors

Hotels/Restaurants

Retailers in other markets

1

Phsar Chas

668,202

203,298

0

0

871,500

2

Phsar Doem Kralanh

454,941

128,160

0

0

583,101

3

Phsar Kroam

380,356

313,404

0

0

693,760

4

Phsar Samaki

107,447

0

39,266

5,674,489

5,821,202

5

Phsar Leur

2,251,861

337,363

659,070

3,000,154

6,248,448

6

Phsar Puok

894,757

274,873

0

3,137,556

4,307,186

7

Phsar Char Chhouk

269,797

28,100

0

0

297,897

8

Phsar Kralanh

409,954

259,651

0

98,190

767,795

9

Phsar Banteay

Srey

258,194

29349

0

0

287,543

10

Phsar Svay Leur

52,129

58,423

0

156,476

267,028

11

Phsar Dam Daek

192,507

46,323

0

568,717

807,547

12

Phsar Srae Noy

131,697

14,573

0

0

146,270

Total

6,071,842

1,693,517

698,336

12,635,582

21,099,277
Note: Total volume traded in the province also includes multiple-transactions.
Fig. 6: Demand structure by markets and consumer groups (in volume: kg/year). Markets N°s. 4, 5 and 6 are wholesale, and the others are retail markets (source: after CENTDOR 2008a: 33).
31The survey showed that there are three different main sources from where the vegetables sold at the markets come: local products (Siem Reap), products from other provinces and imported products. These imports came either directly, i. e. bought at markets near the border to Thailand or Vietnam, or indirectly, through wholesalers in Phnom Penh.
In value: USD/year

Overall-Sources

Total

N°

Name of commodity

Local producers

% of local products

Other provinces

Other countries

Other sources

1

Cauliflower

46,218

11

28,778

57,251

277,364

409,612

2

Pechay Caisin

71,086

14

75,930

0

351,256

498,272

3

Chinese Kale

58,847

21

40,888

0

179,638

279,373

4

Cabbage

13,858

1

125,724

762,490

780,543

1,682,615

5

Pokchoi

14,291

10

14,206

0

120,328

148,824

6

Local Lettuce

91,214

31

8,486

0

193,433

293,133

7

Tomato

10,510

2

15,656

240,487

171,681

438,334

8

Eggplant

94,452

36

17,944

0

149,262

261,658

9

Chili

14,568

2

27,061

172,768

409,602

623,998

10

Sweet Pepper

7,013

3

18,325

89,280

94,821

209,438

11

Long Bean

81,153

18

22,884

0

345,638

449,675

12

Spring Onion

81,764

37

15,971

0

122,373

220,108

13

Bitter Gourd

11,680

7

77,938

0

83,173

172,791

14

Cucumber

38,125

3

63.319

19,184

990,381

1,111,009

15

Green Papaya

0

0

117,447

7,619

274,378

399,444

16

Lime

50,666

8

20,803

242,633

312,589

626,690

Total

685,445

9

691,360

1,591,712

4,856,460

7,824,976
Fig. 7: Supply structure by commodities (vegetables; in value: USD/year) (source: after GTZ 2010b: 9).
32In total, the present market share of local vegetables is 11.97% in volume. If multi-transactions are considered, (that is, for example, the retailers selling from one market to the next), the amount of local produce is only 8.59% of the total volume traded.
In value: USD/year

Overall-Sources

Total

N°

Name of commodity

Local producers

% of local products

Other provinces

Other countries

Other sources

1

Jackfruit

20,776

11.4

0

130,973

30,748

182,497

2

Dragon Fruit

5,688

1.3

10,331

328,950

100,748

445,717

3

White Banana

4,860

0.5

736,668

0

154,902

896,430

4

Pineapple

15,540

3.3

423,825

15,750

18,902

474,018

5

Guava

2,367

1.1

13,230

9,450

182,430

207,477

6

Ripe Papaya

1,515

1.7

77,385

0

8,944

86,844

7

Ripe Mango

5,540

2.0

71,640

0

202,815

279,995

8

Green Mango

7,142

2.6

17,054

0

254,840

279,036

Total

63,428

2.2

1,350,133

485,123

954,330

2,853,014
Fig. 8: Supply structure by commodities (fruit) (source: after CENTDOR 2008b: 21).
34The survey also demonstrates that the demand for the fruit selected from the households, food vendors, hotels and restaurants, as well as retailers, is substantially higher than that which is supplied by the markets.
Overall-Customers

Total

N°

Name of commodity

Household

Food vendor

Hotel/Restaurant

Retailers in other markets

1

Jackfruit

70,441

80,064

7,605

130,000

288,110

2

Dragon Fruit

142,017

12,097

76,232

277,639

507,985

3

White Banana

289,927

64,660

36,282

679,544

1,088,413

4

Pineapple

81,041

78,245

83,495

411,170

653,951

5

Guava

46,189

73,546

0

170,739

290,474

6

Ripe Papaya

25,577

14.553

12.912

61,679

114,739

7

Ripe Mango

122,274

0

22,663

184,929

329,866

8

Green Mango

119,339

57,241

3,259

162,460

342,299

Total

896,805

380406

242,448

2,096,178

3,615,837
Fig. 9: Demand structure: Commodity-consumer in value (USD/year) (source: after CENTDOR 2008b: 30).
35Additionally, marked differences exist between the individual markets with regard to the amount of locally produced fruit sold (note Phsar Chas, Phsar Samaki, Phsar Leu, Phsar Puok, Phsar Kranlah, and Phsar Daem Daek also act as wholesalers).
Markets

Total traded value (USD)

Total value of local fruit (USD)

Market share of local fruit in traded value (%)

Other sources (%)

Main customer groups (%)

Phsar Chas

95.566

0

None

Phsar Leur 83, Thailand 17

Household 53, hotel 20. food vendor 18, retailer 9

Phsar Doem Kralanh

27,841

0

None

Phsar Leur 100

Household 100

Phsar Kroam

221.961

2,052

0.9

Plisar Leur 99, local producer 1

Household 84, food vendor 16

Phsar Samaki

246,710

5,688

2.3

Battanibang 52. Phsar Leur 46. local producer 2

Household 84, retailer 27, hotel 16, food vendor 8

Phsar Leur

1,725,431

7,763

0.4

Oilier provinces (Battambang, Kanipong Cliani & Preali Vihear) 55. imported sources (Thailand & Vietnam) 22. Phnom Penh 22, local producer 1

Retailer 76, food vendor 10,

hotel 7, household 7

Phsar Puok

224,124

0

None

Phsar Leur 44. Thailand 26. Kanipong Cham 20, Preah Vihear 10

Retailer 79, household 18, food vendor 3

Phsar Char Chouk

9,452

0

None

Phsar Pnok 100

Household 99. food vendor 1

Phsar Kralanh

38,928

0

None

Battanibang 74, Thailand 19. Plisar Leur 7

Retailer 61, household 39

Phsar Banteay Srey

8,464

4,504

53.2

Local producer 53. Phsar Leur 47

Household 100

Phsar Svay Leur

21,870

18,855

86.2

Local producer 86. Preali Vihear 8, Phsar Dam Daek 6

Household 90.

retailer 7, food vendor 3

Phsar Dam Daek

213,873

22,538

10.5

Kanipong Cham 64. Preali Vihear 14. local producer 11, Thailand 11

Retailer 50, household 29, food vendor 21

Phsar Srae Nor

18,790

2,028

10.8

Phsar Leoi 89, local producer 11

Household 100
Fig. 10: Summary of main findings of the 12 markets studied (source: after CENTDOR 2008b: 8).
36The market share of local vegetable and fruit products is indeed very poor and hopefully the development project's plan will significantly increase the local farmers' share in a sustainable way. The GTZ annual report of 2010 shows that the implementation of the RED capacity development and other support measures, such as improving the access to quality inputs (mainly through training, innovations, etc.) to markets and brokering more transparent and reliable business relations, had the impact that 5,900 households were able to improve their income in 2010 (GTZ 2010e: 5-6).
37A similar situation exists in the market share of handicraft sales in Siem Reap. The handicraft sector is considered to be one of the most important non-agricultural income opportunities for rural people (GTZ 2010c: 5). As the study on the artisan products for the tourist trade shows (GTZ 2006b), the market share of Cambodian products is dominant in the top quality and price market segment. However, the Cambodian share of the low and medium quality and price segment is small. The majority of these goods are largely imported from other Asian countries, and are often bought directly by retailers from importers (GTZ 2006a: 2; see also GTZ 2009).
38In contrast to the vegetable and fruit markets, an organization of artisans, who sell their high-quality products under a shared label "Artisans d'Angkor", already exists. However, there are many artisans residing in rural areas who have neither access to markets, nor are they linked to any association that could provide or assist them with raw material needed (except for basketry) or with marketing their products. Moreover, the selling of handicrafts to tourists (with different tastes) depends also on refined skill, as well as the knowledge of designs and materials favoured by tourists. As investigations have shown, the types of souvenirs bought by tourists change with their composition according to their country of origin. In the 1990s, the majority of tourists came from Western countries. In 2004, 75% of the foreign tourists came from different Asian countries (Koreans 29% and Japanese 25%); only 20% of the tourists came from Europe (GTZ 2006b: 6). Accordingly, as one large retailer pointed out, the type of products on offer had to be adapted; for example, Europeans like rough (raw) silk while Asian tourists do not appreciate it as much (GTZ 2010c: 11).
40The GTZ commissioned a study in 2006 and again in 2008 to gain more insight into the handicraft market (see GTZ 2006b, 2009). The objective of the 2006 study was to analyse income and job generation through the support of artisan production and value chains for the tourist trade in Siem Reap in the framework of a rural development program. The market size assessed for handicrafts, fine art and shopping in Siem Reap is more than USD 61 million (foreign tourists only), with an average of USD 3 per tourist per day spent on handicrafts and souvenirs (see also Neth, this volume). The local tourism market is estimated to generate between USD 2 and 4 million a year.
41As a statistic established by Lun et al. shows (GTZ 2009), the ranking of quantities of souvenirs sold at market stalls are not identical with the ranking of the quantities of souvenirs bought by tourists. The diagram (below) shows that the demand varies according to whether customers are local buyers or tourists.
| | | |
| --- | --- | --- |
| Rank | Market stalls most sold products | Tourist most bought products |
| 1 | Clothing (including fabric) | Scarves |
| 2 | Scarves (silk & cotton) | Clothing – Cambodian |
| 3 | Fashion, Jewellery | Posters/Postcards |
| 4 | Bags (sedge, cotton) | Stone sculptures – cultural |
| 5 | Silverware (bowls) | Wooden sculptures – culture |
| 6 | Wooden statues | Jewellery (fashion) |
| 7 | Stone statues | Key rings |
| 8 | Key rings, trinkets | Paintings – Cambodian culture |
| 9 | Bronze statues | Bags |
| 10 | Paintings - Cambodia culture | Bronze sculptures – cultural |
| 11 | Candles | Hats (straw hats) natural fibre |
| 12 | Musical instruments | Musical instruments |
| 13 | Incense | Fabric - traditional Cambodian silk |
| 14 | Hats made of fabric | Recycled funky products |
| 15 | Gems (many not real) | Home items − placemats |
Fig. 13: Ranking of the most sold and bought types of products (source: after GTZ 2009:31).
42As the 2006 report states, not only tourists are the potential buyers of artisan crafts, but also hotels, which need quite a lot of handicraft products for decoration and other purposes. Additionally, there are, of course, urban Cambodians who buy handicrafts (fashion, decoration, "traditional" goods) (p. 5). The investigators who produced the artisan products' survey, therefore, speak of three segments, the foreign tourists, the hotels, and the Cambodians, which constitute the artisan market. The hotel market segment (predominately high and luxury class hotels) often remains ignored in tourism/handicraft studies. However, according to their report, the hotel market segment, which comprises 20 to 25 hotels with an annual growth of 5 to 10 hotels of this class in Siem Reap, generates a total sum of about USD 3 million per year. The money spent on furniture, ceramics, wood, stone carvings, mats, paintings, silk cushions and bedcovers, fabrics, and other things amounts to about USD 2 million. One million USD is spent on what the authors call the "art of entertaining" (not further specified) and which includes goods made from silver, copper, ceramics, glass, and basket making. They note that all these needs are not satisfied by local supply. The local market segment is estimated between USD 2 and 4 million per year and comprises the following categories: home decoration, fashion and traditional consumer goods (such as baskets, dishes and utensils).
| | | | | |
| --- | --- | --- | --- | --- |
| Type of products | Origin | Origin in Cambodia | Origin in Siem Reap | Import origin |
| Silk, karma | Less than 10% from Cambodia | Takeo. Prer Veng. Kompong Cham, Phnom Penh, Siem Reap | No | Thailand, Vietnam. Laos 90% |
| Silver | 30% from Cambodia | Phom Penh. Siem Reap | Less than 1% | Thailand 70% |
| Copper/bronze | 50% from Cambodia | Plinom Penh, Preali Kdam. Kandal, Siem Reap | Less than 5% | Thailand 50% |
| Stone | 80% from Cambodia | Pursat (marble), Siem Reap | 30% | Vietnam 20% |
| Wood | 30 - 40% from Cambodia | Plinom Penh, Siem Reap | Less than 1% | Thailand, Vietnam 60% |
| Ceramic | 10% from Cambodia | Siem Reap, Kompong Clinang | Less than 1% | Thailand, Vietnam 90% |
| Basket making | 50% (rattan, palm leaf; from Cambodia | Siem Reap | 50% | Thailand, Vietnam (coconut, mised materials) 50% |
Fig. 14: Types and origin of the handicraft products (source: after GTZ 2006b: 14).
44The authors of the potential and intervention study see the highest potential for Siem Reap artists in the middle class tourism/medium quality/price market of goods (58% share of the artisan market). They estimate that 30% of this market could be supplied by local artisans. The products could be silk and cotton scarves, fabric, karma (chequered scarves), clothes, accessories, basket making, natural fibre work, and others. In the lower range segment (14% of the artisan market), competition with (often industrially produced) imports from other countries (70% low quality products) will leave local artisans and artists with much less opportunity.
| | | | |
| --- | --- | --- | --- |
| Classification | General name | Obstacles | Commentaries |
| 1 | Raw materials | Problems to ensure the supply of raw materials, especially for wood (precious wood), rattan, stone, silk, leather, quality clay, copper. | Raw material unavailability is the most important curb on local production development. |
| 2 | Market access | Problems to access to Siem Reap tourism market especially for small-village artisans. | Except for exportation of basket making craft, there are no middlemen in the value chain. |
| 3 | Credit access | Problems to access credit in order to modernize their production processes and techniques. | - |
| 4 | Design | Problems to interest the tourists in traditional and not varied designs or in classic designs never remodelled. | No information about market needs and expectations. |
| 5 | Seasonal Activity | Local artisans, especially in Siem Reap, have to develop a seasonal activity. During 6 months of the year, they fully exploit their production capacity. The 6 months of the low season, they try to survive. | To increase the production represents an investment and a risk. Local artisans are not always ready to take this decision considering the economic difficulties they can encounter during low season (especially for Siem Reap artisans focused on tourism and hotel market). |
Fig. 16: Difficulties and obstacles identified that impede production by local artisans (source: after GTZ 2006b: 26).
46The subsequent studies carried out on behalf of the GIZ showed that natural fibre products especially (mostly made by women) may have a high development potential for households in rural areas, since most of the raw material is easily available or can be collected by the artisans themselves. A corresponding program has already started. The materials used (and to be further promoted through GIZ development strategies) are lpeak (a small rattan species), romcheck (pandanus), pha ahv shrub, water hyacinth, sugar palm, and bamboo (see Lun et al. 2009). Some of these basket works have a long history and are said to date back to the times of Angkor; it is the most important handicraft industry in Siem Reap province. In 2009, there were about 4,000 active craftswomen (95% of these artisans are women) in the province.
48The authors name a couple of obstacles which would need to be overcome in order to increase the production and sale of local handicrafts produced for the three market segments (see Fig. 11), and it is clear that the solution to these problems cannot be solved by the artisans themselves but needs external assistance – and aid. Therefore, GTZ/GIZ has developed a multi-level support programme that aims at upgrading the handicraft sector in Siem Reap Province (GTZ 2010f).
Notes
1 "Mass tourism is overrunning the archaeologically fragile site, with millions every year climbing unabated on the monuments", said Global Heritage Fund executive director Jeff Morgan with regard to Angkor (quoted after Phnom Penh Post October 17, 2010).
2 "The poor are described as those with little or no land, with little or no livestock, especially large livestock, and a poor labour to non-labour ratio in the household (' too many mouths to feed'). This leads in turn to severe rice shortages (partially made up for by ' lesser'starches such as cassava), very poor quality housing, debts, distress sales of limited assets including land, and inability to recover from economic shocks such as major harvest losses and serious health problems. Households more likely to belong to the poorest category are women-headed, those with family members with disabilities (mine victims, for example) and child-headed (orphans)" (Gebert et al. 2007:9).
3 Though one has to add that the manifold motives behind these projects, the trajectories and means to achieve this goal, are different and need to be carefully assessed.
4 Siem Reap Province consists of 12 districts, 100 communes and 921 villages, with a largely rural population of 884,537. The number of households in the province is 163,803 with an average household size of 5.4 (GTZ 2010b: 6).
5 Differences exist within the province. The northern districts of Srei Suam, Angkor Chum, Varin, and Svay Len, all located quite a distance from the more prosperous area, such as Siem Reap town or the Angkor temples, appear to be the poorest due to poor soil and little occupational diversity beyond rice cultivation (Gebert et al. 2007:8).
6 Siem Reap town, with its approximately 150,000 inhabitants, is not a municipality, but an agglomeration of four communes without any central decision-making body or services (GTZ 2006a: 3).
7 The handling of the entrance fees into Angkor Park – granting the ticketing concession for Angkor Park without any previous competitive bidding to the hotel/petrol company Sokimex – is a good example to illustrate the relationship between (mis) management and the most powerful agents and their individual interests (see Starr 2010:153-154).
8 The pro-poor impact of in-destination tourism revenue in Luang Prabang (WHS in Laos) is estimated at 27% and in Da Nang (Vietnam) at 26% (Mitchell et al. 2007).
9 The program started in 2007, with a planned duration of eight years. In January 2011, the program extended into its second phase, which consists of the implementation of the strategies developed on the basis of surveys about the situation and the economic potential existing in rural areas of the Siem Reap Province. I am especially grateful to Heinrich-Jürgen Schilling, the country director of GIZ in Cambodia, Martin Orth, programme leader of the Regional Economic Development – Green Belt Programme, his deputy Katia Halabi, senior advisor Andreas Lewke, advisor Torsten Münther, and Franz-Volker Müller, team leader of the Land Management/Land Allocation Project for the information they made available and discussing it with me.
10 The project objective is described thus: "The Cambodian share of value creation resulting from the tourism economy of Siem Reap is increased and the income and regional distribution is improved" (GTZ 2006a: iii). The GIZ/DED is related to a number of other German projects, such as the Rural Development Project (RDP), the Private Sector Promotion (PSP), the Land Management and Administration Project (LMAP), and the Administrative Reform and Decentralisation Programme (ARDP). The GTZ/DED further cooperates with a number of other organizations and projects, such as the Cambodian Agri-Business Development Project (New Zealand), the Agriculture Market Information Project (CIDA, Canadian International Development Agency), the Natural Resource Management and Livelihoods Programme (Danida, Danish International Development Assistance/DFID, Department for International Development), and the project by the Worldbank, "Empowerment for the Poor in Siem Reap"(see GTZ 2006a: 12-17 ).
There are, of course, further fields of local production, such as fish and livestock, which are the concern of other development agencies (here not further considered).
11 For a critical evaluation of the ideological background of international aid in post-conflict societies such as Timor-Leste and Cambodia see Hughes (2009).
12 Since 2006, several of the projects mentioned have come to an end and a couple of new projects have started. Some of them, such as the EU and World Bank programmes, are of rather short term compared to those of GIZ.
13 There are ongoing newspaper reports of such incidents, for example, "illegal checkpoints" set up on Cambodia's major roads by ministry employees (Phann Ana 2011:14).
14 The governance system is still weak: Nepotism and corruption are problems encountered at all levels of society, and which affect the poor disproportionately (GTZ 2006a: 10).
15 "Lands where indigenous communities have established their residence and where they carry out their traditional agriculture are classified as Indigenous Community Properties" (Land law of Cambodia 2003). This might imply that as soon as a community changes its agricultural pattern, they may lose either their status as an indigenous community or their land rights.
16 Already in 1929, the French colonial power had stipulated that a preserved zone for the monuments had to be established with specific regulations – to the disadvantage of the existing villages there (Luco 2006:121).
17 Khuon Khun-Neay stated in 2005 that APSARA had started to concentrate on the sustainable development of the villages in Angkor Park (2006a: 115).
18 The reasons for these divergent assessments are unknown; perhaps the season in which these inventories were taken varied in such a way that the land was flooded or completely dried up and looked "abandoned" in one case, and the fields were flourishing in the other.
19 The investigators were unable to establish the range or categories of the size of land held by "traditional" land owners in the individual communities since no records existed. Nevertheless, the average land holding by villagers in these districts was estimated to be around 1.5-2ha/household (Makathy and Klork 2008:14).
20 The prices for land of "poorer quality" have reportedly increased from an average of USD 2,000/ha in 2004 to USD 50,000/ha in 2008, i. e., an increase of 2,500% (Makathy and Klork 2008:43).
21 Additionally, Pouk district has, in contrast to the other districts, abundant water resources (Western Baray).
22 There are, of course, exceptions of individual companies or establishments that are aware of their social responsibility and, therefore, try to improve the situation by different means, such as training and their own development programmes.
23 "Unofficial tax collection at various levels, specifically along roads" seems to exist which increases transport costs significantly (GTZ 2006a: 5).
24 One of the RED programmes successfully dealt with the improvement of the quality by introducing a new sort of cucumber and providing training for technical know-how for growing them (pers. comm. Andreas Lewke: March 21, 2011).
25 The fruit chosen were jackfruit, dragon fruit, white banana, pineapple, guava, ripe papaya, ripe mango, and green mango.
26 Organizations already exist which offer quality training and support in technical issues, such as Chantier-Écoles de Formation Professsionelle (CEFP), and the Foundation of Khmer Art Sculpture School (FOKASS), a NGO originally founded through a Japanese grant (GTZ 2006a: 43).
27 The organizations with integrated projects, their donors and number of artisans are listed in the study as follows: Artisans d'Angkor (private joint venture, self-financing; 700 artisans involved); IKTT (NGO; 400 artisans involved); Prolerng Khmer (a NGO, supported by Singapore Buddhist Community and Manjuiri Secondary School; 20 artisans involved); OSMOSE (NGO, Belgium Aid, FAO, Air France Foundation, Wildlife Conservation Society; 15 artisans involved); Samatoa (a self-financing fair trade cooperative and the French Embassy; 18 artisans involved); House of Peace (an NGO with German donations; 30 artisans involved); Community Learning Centre (a cooperative supported by UNESCO; 30 artisans involved); CEFP (a self-financing state organization, specialized in training); APDO (NGO, Cooperation ILO and Japan, 15 artisans involved); FOKASS (NGO with Japanese donations; 30 artisans involved); Bantey Srei Rachona II (a self-financing company; 20 artisans involved); and the Khmer Sculpture workshop (a self-financing company; 50 artisans) (GTZ 2006b: 16-17, 30).
28 Not all products on the tourist market sold as "handicrafts "are made by hand but are industrially produced; this applies first and foremost to products imported from other countries (pers. comm. Andreas Lewke: March 23, 2011).
29 In the 1990s, Thai traders recognized the existing lpeak industry and initiated a long-lasting boom. Since then most lpeak products have been traded mainly to Thailand. This traditional income source is currently threatened by inefficient production and increasing material scarcity. GIZ has, therefore, worked out a support strategy in order to promote this handicraft and the marketing of the products (Upgrading the lpeak value chain 2010:5).
30 "Chantiers-Écoles de Formation Professionelle (CEFP) is a Cambodian public establishment founded in 1992 under the common initiative of the Ministry of Education and the French League of Teaching and Permanent Education to teach stone-and woodcarving, lacquerware, furniture construction and silk-weaving. The activities of Chantiers-Écoles focus on vocational teaching which allows young, least-favoured Cambodians to acquire professional skills so that they can achieve social and economic recognition in Cambodia. Most of the apprentices are from poor rural families and have had no primary education", see http://www.culturalprofiles.net/cambodia/Units/312.html, accessed February 24, 2011.
Table des illustrations
Légende
Fig. 1: The construction boom of hotels and shopping malls is still continuing (2011).
URL
http://books.openedition.org/gup/docannexe/image/315/img-1.jpg
Fichier
image/jpeg, 264k
Légende
Fig. 2: Map of the location of the three districts of Siem Reap under study (source: Makathy and Klork 2008:2; see also GTZ Internal Paper 13, 2008).
URL
http://books.openedition.org/gup/docannexe/image/315/img-2.jpg
Fichier
image/jpeg, 212k
Légende
Fig. 4: The old market in Siem Reap (2011).
URL
http://books.openedition.org/gup/docannexe/image/315/img-3.jpg
Fichier
image/jpeg, 264k
Légende
Fig. 5: A substantial portion of fruits sold at local markets is imported (2011).
URL
http://books.openedition.org/gup/docannexe/image/315/img-4.jpg
Fichier
image/jpeg, 324k
Légende
Fig. 11: Origin of the products for market and souvenir shops (source: after GTZ 2006b: 14).
URL
http://books.openedition.org/gup/docannexe/image/315/img-5.jpg
Fichier
image/jpeg, 76k
Légende
Fig. 12: There are a great number of stalls at Angkor where souvenirs are sold, such as paintings (2008).
URL
http://books.openedition.org/gup/docannexe/image/315/img-6.jpg
Fichier
image/jpeg, 328k
Légende
Fig. 15: All kinds of baskets, which often originate from outside Cambodia, are displayed at stalls in the markets of Siem Reap (2011).
URL
http://books.openedition.org/gup/docannexe/image/315/img-7.jpg
Fichier
image/jpeg, 304k