World Heritage Angkor and Beyond
|
II. Implementation and Management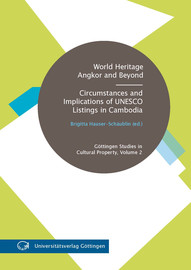 From Property to Heritage
Different Notions, Rules of Ownership and Practices of New and Old Actors in the Angkor World Heritage Site
p. 97-119
Texte intégral
1Notions of property in recent years have become more restricted in use in legal and financial terms. The main focus considering properties is now increasingly being shifted from viewing them just as "goods" or "objects" bequeathed from ancestors, former rulers, dignitaries, communities, or states to be safeguarded, to associations and relationships of individual actors, communities and the environment with properties. It is, therefore, no longer adequate that we consider properties in isolation, but viewing them as important parts of heritage which contain such associations, relationships and socio-cultural values is required.
2This wider view of properties is no doubt indebted to the popularization of UNESCO's World Heritage Program and advanced democratization of countries in many parts of the world. The promotion of universalising heritage since the adoption of the World Heritage Convention in 1972 has, however, come to challenge old traditional notions of property, rules of ownership and practices in a number of heritage sites. A heritage site, once nominated as a World Heritage Site, is considered as public goods, even though it might contain private properties. Several new actors, some collective and others individual, also emerge who may impose their claims on old actors. In this way, we have seen conflicts in a number of World Heritage Sites over what is heritage, who is the rightful owner, what can be practised and what not, what rules of ownership should be adopted, how much access to heritage various actors be allowed, who is to manage heritage, and how to do it. Some conflicts may occur based on different notions of heritage held by various actors, who may pursue different agendas of cultural, social, economic, legal, or political nature or some of these compounded.
5The legal status as a state property and the boundaries of the Angkor World Heritage Site 67 years later were modelled after those of Angkor Park (cf. Lloyd 2009:147-155). The Law on the Protection of Cultural Heritage (NS/RKM/0196/26) promulgated in 1996 also stipulates that "APSARA, is responsible for the protection, the preservation and the enhancement of the national cultural heritage" in Chapter 2 – Special Provisions, Article 5 (APSARA 1996:5). With more than two decades of time lag, APSARA inherited EFEO as the authority in charge of conserving and managing Angkor Park. Moreover, Article 15 of the Land Law, issued in 2001, lists the public property of the state and public legal entities, including archaeological, cultural and historical patrimonies (APSARA Authority 2005). Thus, the legal state of Angkor Park has always been state property from the French colonial period to the present. The legal status is one thing, but the actual sense of belonging, the notion and the ownership of heritage, and the use of heritage space by the local inhabitants are another.
6Under the French management of Angkor during the colonial period, most people, both lay and secular, who used to live in the Angkor temple or city grounds were expelled to live outside. According to the accounts of some local informants, the monks of Angkor Wat were allowed to live in the compound, but had to build temples further away from the ancient building mass, while villages located outside large monument sites, such as Angkor Thom, Angkor Wat, Banteay Kdei, and Ta Prohm, were allowed to remain there (cf. Miura 2004:121-127; Arahi 2001:168). Some practices of the local inhabitants were banned, including hunting, allowing animals to stray on the pavements and terraces of Angkor, extending agriculture beyond the existing areas, clearing forests, constructing/modifying roads, building new houses, tapping resin, and felling trees, while others, such as fishing, cattle-grazing or the land usage, were allowed. The enforcement of those bans and restrictions was, however, not very strict under the French reign. Rice farming in the West and East Barays (water reservoirs) and the moat of Angkor Thom was even encouraged by the French (Miura 2004:148; Luco 2006:121; Lloyd 2009:153). French restrictions on the traditional practices of the local inhabitants of Angkor were later emulated by the Cambodian authorities in the Angkor World Heritage Site restricting many of the local practices, but more restrictions and heavier enforcement were exercised, as we shall see later.
7The shift in attention from property (land, monuments, artefacts, forests, and others) to heritage has become salient worldwide, especially after the ratification of the World Heritage Convention of 1972. The majority of the Cambodian authorities and, to some extent, the international community represented by the ICC since 1993, however, have tended to hold on to the monument-heavy and conservation-centred views of Angkor and cultural heritage. The gap became salient between their approach and the changing notions of heritage. The Cambodian sub-decree of 1998 (No. 98), entitled "Respecting Implementation of Cultural Heritage Protection", defines cultural heritage in Article 2 of Chapter II as "the body of tangible cultural property with the exclusion of intangible cultural property" (ICC 2010b: 2). This definition does not take into consideration the traditional local notion of heritage or the sense of belonging to the particular places in the Angkor Site. The heritage management approach based on this older concept, with cultural property as the object to identify, number, restore, and display, is showing its limitations and causing enormous difficulties all around and contestation among various actors.
8Here, it is considered necessary to review what notions of heritage and rules of ownership held by which actors and when in order to locate the Angkor situation in the international debates and shifting notions and rules.
10The UNESCO definition is "equated with the term patrimony as used in France, i. e. those things that are inherited and provide cultural identity and continuity, or a link with the past" (cf. Brisbane and Wood 1996:15 in Parsons 2000:351). Based on the World Heritage Convention, UNESCO defines cultural heritage as referring to monuments, groups of buildings and sites with historical, aesthetic, archaeological, scientific, ethnological, or anthropological value (UNESCO 1983; UNESCO World Heritage Centre 2000a).
11By designating certain locations of national heritage as World Heritage, it is intended that it becomes "the duty of the international community as a whole to co-operate" in protection, and not just leaving it to the national authority. This is because "some sites with recognised cultural or natural value would deteriorate or, worse, disappear, often through lack of funding to preserve them" (UNESCO World Heritage Centre 2000b).
12The basic criterion for UNESCO's World Heritage Site is understood as "outstanding universal value". This term is, however, problematic; it connotes competition, comparison, grading, branding, and, most of all, universalising values. "Universal" is now considered by many a higher value than "local" or "personal", even though it is not intended so by UNESCO. Universalisation is in part the globalisation of values that is seriously challenging the preservation of local specificity and cultural diversity that UNESCO also aspires to promote. In addition, UNESCO's branding of sites as of "outstanding universal value" is increasingly leading to their conversion into popular tourist destinations, going beyond conservation and scientific research (cf. Du Cros and McKercher 2000:148; Cleere 1996:227-233). Compared with the universalizing and categorical tendencies of UNESCO's notion of heritage, emphasising protection and preservation, the Khmer notion of heritage is more inclusive and overlapping of values, as well as being linked to their everyday life (cf. Miura 2004:25-27).
14The term kermorodâk or kerdâmnael covers a wide range of materials and is used exclusively for tangible nature, including houses, land, trees, furniture, gold and silverware, lacquer ware, clothes, jewellery, equipment, implements, tools, and other household necessities, as well as Angkor temples and buildings. In the modern context, motorbikes, bicycles, and a variety of electrical appliances and audio-visual equipment may be included. Rural peasants, by and large, however, possess little gold or jewellery, let alone cars; instead, their family inheritance most often includes cattle, ox-carts and agricultural equipment. The term does not refer to intangible heritage such as folktales or legends, which are called collectively ruoeng, with various sub-classifications or theatre such as lakhaon (cf. Miura 2004:27).
15The sense of ownership is strong among the Khmer: even Angkor monuments and monasteries have mchas who are their founders; both human and spiritual owners. In addition, the ownership of property is strictly individual in nature, so that one can find owners of even the smallest items (cf. Ebihara 1968:343-344), and even rice fields are named after their owners – either ancient or present. Among peasants, land is the most valuable property and family heritage is passed through individual members. Land was traditionally the property of the king, who was in fact the ultimate owner of virtually everything within his domain. In 1884, private property holdings were introduced to Cambodia by the French administration (cf. Ebihara 1968:346).
17Economists' notion of heritage is more inclusive than UNESCO's, though specifically for cultural heritage, and seems to incorporate some of the Khmer notion of heritage in particular individuals. At the conference investigating the economic issues relating to the conservation of heritage organised by the Getty Conservation Institute (GCI) in Los Angeles in 1998, the economists' panel noted that the term cultural heritage
includes objects, structures, and other products of cultures and individuals that have been passed from previous generations to the present and are valued because they are representative of a particular culture and are, at least partly, valued because of their age.
(GCI 1998:25)
18It is also recognised that "[c]ultural heritage is a public good in that no one can be excluded from enjoying it, and everyone can enjoy it at the same time" (GCI 1998:24). Cultural economists' understanding of cultural heritage is all-inclusive in terms of categorised items and the people. In reality, however, it is difficult for this notion of heritage to be accepted by all: heritage with its high cultural and economic values is contested in most renowned sites (cf. Miura 2004:28).
20The new tendency of inter-disciplinary approaches in heritage studies and site management is enriching the discussion of issues related to heritage, as well as providing new dimensions on the controversy. The definitions and notions of heritage are changing their focuses and meaning through human experience, which, in turn, affects policy formulations and shifts in direction within the cultural agencies themselves (Miura 2004:29).
21Lowenthal (1998:3-4) notes that fifty years ago, heritage dwelt mainly on heredity, probate law and taxation; it now features antiquities, roots, identity, and belonging. As France has affected the cultural policies of both UNESCO and Cambodia, it may be useful to briefly study how the French notion of heritage might have changed over time.
22The French notion of patrimoine has also been progressively broadened in the last forty years (cf. Samuel 1994:210-211). As argued by Hoyau in Giscard d'Estang's France,
the contemporary emphasis on the national past derives less from a will to preserve and value a "monumental" and academic past than from the promotion of new values articulated on a largely transformed conception of inheritance and tradition.
(Wright 1985:251)
23Today, heritage includes both natural and artificial things and features, place, landscapes, trees, agricultural land, houses, temples, physical features, establishment, and others. The other, intangible heritage may include forms of knowledge, skills, technologies, genes, language, literature, history, music, songs, dance, ritual, magic formulae, religious beliefs, sports, and art (Miura 2004:29).
24Heritage is becoming all-embracing, incorporating more "living" intangible cultural heritage (cf. Prentice 1993:21-35) and even living persons. This makes sense because master artists are the bearers of expert knowledge and skilled performers (cf. Marchand 2001:3).
25The broader the notions of heritage become, the more questions are raised and the more intensively critical the debates on heritage become. The heritage industry has always been seen by critics as having a whiff of elitism about it (cf. Watson 2000:451), and an approach to cultural heritage in terms of sites nominated as World Heritage is certainly seen in this light (Smith 2000:404). At the same time, Wright (1985:48) argues that "[t] he impulse to preserve landscapes and buildings is an insistent cultural tendency with western modernity".
26The impulse to preserve cultural heritage is, however, not only confined to western modernity. Almost every country with heritage has tried to conserve it at one point in time or another in order to pay homage to the achievement of ancestors or their cherished goods, places or space, leave heritage for future generations, and perpetuate the symbolic meaning associated with it. According to two inscriptions from Angkor Wat, for instance, the temple was restored under royal patronage in 1577-1578 (Chandler 1992:84). A certain Queen Mother, whose son undertook the restoration of the temple, left inscriptions praising her son's devotion to restoring Preah Pisnulok (Angkor Wat) to its authentic ancient form (APSARA 1998: xvi).
27What Western modernity left to the world today is the institutionalisation of heritage conservation, maintaining its dominance in the ideologies and setting a standard for the legal framework of cultural heritage protection. It has been channelled through UNESCO and other cultural agencies concerned (Miura 2004:30).
28After more than three decades of conservation efforts of the World Heritage Sites since 1972, UNESCO admits some limitations on the criteria, and juridical and political dimensions of the Convention's application (Miura 2004:30).
29For one, the criterion of the integrity in natural sites poses serious problems because many such sites have living populations who have traditionally interacted with nature, which has often resulted in the landscapes we now find. Where can we draw the line between environmental protection and the human use of nature? The local population in many World Heritage Sites has primarily been seen as a threat to the integrity of natural rather than cultural sites, but many sites, such as those designated as cultural landscapes, have both natural and cultural elements and their interactions are deemed fairly important. Along with environmental change, people modify their practices. UNESCO acknowledges that this criterion refuses all anthropisation of nature, which could only apply in vast natural parks strictly and scientifically managed by a large team of specialists, such as those in the United States or Canada (Pressouyre 1996:14).
30That said, UNESCO has begun to vocalise its concern over the local ways of life and the residents who are often marginalised in their heritage sites and affected by the negative consequences of their transformation into parks and adaptation for tourist consumption:
Regulations intended to protect and preserve cultural monuments and sites, historic centres and cultural landscapes have often – if inadvertently – dispossessed local inhabitants of their ancestral homes. Their homes, neighbourhoods and land, imbued with the legends and legacies of the past, have been transformed into parks and tourist attractions.
(Khouri-Dagher 1999:10)
32A new term for heritage, petekaphoan, has come to be used in Cambodia since the 1970s in reference to national heritage. Family or personal heritage was excluded, hence the idea of individual mchas was no longer applicable (Miura 2004:32).
33While UNESCO's definition and those used by academics and people in general are broadening, reflecting changing social values, perceptions of life and the principles of how heritage can serve common human purposes, the official usage of the term in Cambodia is narrowing, distinguishing official heritage from personal or family inheritance. Nowadays, Cambodian authorities use a newer term – petekaphoan – to describe Angkor heritage in official speeches, documents and signs. The term refers to collective and often national heritage and does not include family inheritance. The word was translated straight from the French word "patrimoine". This account was given by the then-director of the Cultural Heritage Department of APSARA, who is a Khmer anthropologist trained in France. He emphasized that he would still use the term kermorodâk and kerdâmnael to refer to Angkor heritage, but would be obliged to use the term petekaphoan in official speeches and writings (Miura 2004:32).
34The Cambodian authorities have shifted not only the language, but also the usage and the meaning of the word, whereas local people hardly ever use this term. The discrepancy in understanding heritage by the locals and the state has become more evident when translated into action by the latter for the management of the Angkor Heritage Site since the 2000s. The Cambodian authorities often emphasise the public nature of Angkor heritage as petekaphoan with specific mention of monuments, land, forests, water (lakes and ponds), and air (space), which they consider as national and world treasures to be protected from all adversaries, including the use of natural resources or space by the local population. Thus, Angkor heritage, including monuments, forests, lakes, ponds, and land, is now very much divorced from heritage for local villagers, who have been restricted in their access to and association with it. In short, family ownership is mostly denied in the name of petekaphoan. The head of the Heritage Police argued that the local ownership of trees and rice fields as family inheritance and the customary rights of resin tapping and rice cultivation were against national and world interests. The discrepancy in the conceptualisation of heritage and the application of differing notions held by the Cambodian authorities demonstrate a huge distance from the philosophy and desire of UNESCO to "use" heritage for the culture of peace and reconciliation (Miura 2004:32).
35The Angkor villages around Angkor Thom and Preah Khan are considered as fairly old among villages in the region. They, in addition to other smaller Angkor monuments and temples around these villages, are familiar lived landscapes of the local inhabitants. The old inhabitants of other villages around the Angkor monuments all share the sense of belonging to the space with its forests and certain places where their family inherited properties, socio-cultural activities take place and memories of the past are embedded. Family inheritance passed through individual members, which is the social reality of the people living today, and has some of its origins in the domain of oral history related to both remembered and unknown ancestors. Thus, it inevitably links the life stories of the living with those of the dead. In a society in which the past is consecrated, and the ancestors exert almost unquestionable authority over the living posterity, heritage – both tangible and intangible – including family inheritance, becomes sacred property that cannot be touched or altered by anybody within the relevant group or community. Oral stories, in this sense, constitute an important part of the customary law in explaining one's position and rights within the relevant community in terms of the ownership of certain property (cf. Miura 2004:107).
37Many of those trees, especially yeang, were cut down illegally by both Cambodian and Vietnamese soldiers in the late-1980s. Local villagers witnessed the military conducting a large-scale operation of logging and transportation of logs from Angkor Thom during the night until about 4 a. m. In the same period, logging was also conducted outside Angkor Thom and Preah Khan, in the villages and around the farmland. Not only did the local villagers lose their family properties to the military, but they were also later blamed by the Heritage Police Chief for the destruction of petekaphoan – the national property (Miura 2004:144-145).
38Rice fields inside Angkor Thom, in the form of ponds and lakes, were used for rice cultivation until 2000, when many traditional practices of local villagers were banned or restricted. The reasons for ownership were three-fold; (1) their ancestors used to live in Angkor Thom; (2) some people began to cultivate with the permission of the French; and (3) a few people cleared forests to begin cultivation, which nobody stopped. It is said that civil servants, including Angkor restoration workers, were allowed to own land in the past if they cleared the forest, cultivated it and paid taxes (Miura 2004:108).
39Today, senior villagers of Angkor Krau remember the owners of rice fields and trees in Angkor Thom and its vicinity, most notably the direct descendants of Ta Nak (Grandfather Nak) and his siblings, who were known to have lived at Srah Srei (Women's Pond) in the royal palace compound of Angkor Thom. The best remembered people were Ta Nak and his two sisters – Yiey Suong (Grandmother Suong) and Yiey Kom (Grandmother Kom). They are said to have been expelled from Angkor Thom by the French.
40Ta Nak is a familiar eponym for landmarks in and outside Angkor Thom because of his forced removal from his residence. The clan of Ta Nak is said to have had exclusive rights to pick mangoes, sugar palm, coconuts, phnou (a kind of wild fruit), and tamarind from the area around Srah Srei. These mango trees, from which his children and grandchildren picked in their childhood, are called Svay Ta Nak (Ta Nak's mangoes). In addition, yeang trees near the Preah Palillay temple belonged to Ta Nak. He also inherited land in Srae Ta Tuot (Grandfather Tuot's ricefield), east of Prasat Ta Tuot (Ta Tuot Temple), and part of Baoeng Senthmea (Senthmea Lake), west of the royal palace inside Angkor Thom. There are also rice fields near Kôk Ta Nak (Grandfather Nak's Hill), called Srae Ta Nak, within the moat of Angkor Thom, which have been cultivated by his descendants until today. Some rice fields have, for one reason or another, been passed to villagers who are not directly related to Ta Nak or his siblings (Miura 2004:108-109).
41Ta Nak's relatives live in Kôk Beng and Kôk Ta Chan villages west of Angkor Thom. According to some of these relatives, Yiey Chap (Grandmother Chap) was either Ta Nak's real sister or first cousin, and her husband was Ta Meas. They were also said to have lived at Srah Srei, and their descendants had likewise cultivated part of the land in lakes such as Baoeng Ta Trau and Baoeng Senthmea in Angkor Thom until 1999. Two other families of Kôk Ta Chan cultivated Srae Ta Tuot until the late-1990s. Ta Nak's family and two families of Kôk Ta Chan were said to have cultivated large fields in front of the Royal Terrace and the Terrace of the Leper King in "the old days", but nobody alive now remembers having seen anybody cultivating them or knows the exact period of cultivation. Ta Nak's rice field, called Srae Ta Nak, is located in the north-eastern moat of Angkor Thom. A villager heard from old people that this section of the moat had been a royal rice field that was given to people by the king in exchange for 2 kg of gold. The other parts of the moat of Angkor Thom have also been cultivated by the people of local villages, including Angkor Krau, Kôk Ta Chan, Leang Dai, Kôk Doung, and Bakheng. Some villagers of Trâpeang Seh claim that Ta Riet – the south-eastern part of the moat of Angkor Thom – belonged to the monasteries of Angkor Wat (Miura 2004:109).
42Concerning Ta Nak's family inheritance, some senior villagers link him to the Cambodian royal family, while others attribute it to the excellent work of Ta Nak's ancestors who had been rewarded with privilege, property and status by the rulers in the past. In Angkor Krau, there is a legend of a prince who was expelled from Angkor Thom, because of a forbidden love, to live where a small Angkorian temple lies in the village (cf. Miura 2004:113-118). Another legend with various versions tells us of Ton Chey, a famous advisor of the king, known throughout Cambodia, who was so clever that he mocked the stupidity of the king and was expelled from Angkor to the area where Angkor Krau lies today. These legends have been transmitted to the generations of Angkor Krau villagers. Nobody knows whether the prince or Ton Chey is related to Ta Nak's ancestors, but it is intriguing that there are repeated connections between the ancestors of Angkor Krau and the royal palace and Angkor Thom through oral stories and family inheritance of certain properties. It overlaps in one's mind the rise and fall of Angkor (9th to mid-15th century CE) and the flourishing and disintegration of her socio-political systems with the turbulent history of Angkor Krau villagers (cf. Miura 2004:119-120).
43Spiritual heritage contains "cultural properties", such as Hindu or Buddhist statues, in Angkor. The understanding of heritage here requires more than just what is visible, since the invisible has the power over the spiritual lives of the people. The spiritual and cultural importance of religious beliefs is the very reason why such countless statues, carvings and temples were created in the first place. The religious and cultural dimensions of Angkor heritage might be the only shared values among various levels of social actors, local, national, regional, and global. Even though most Cambodians consider a strong sense of belonging to Angkor, this sense is no doubt the strongest among the local population.
44Angkor heritage has spiritual, economic and socio-cultural dimensions for the local inhabitants. Their practices are inter-related and difficult to separate from one another. In the first place, Angkor as a whole is considered sacred because of neak ta (tutelary spirits related to ancestors and nature), the Buddha and bâng bat (benign spirits of the forest). Hindu icons have often been appropriated as powerful neak ta. The grander the temple is, the more numerous the neak ta. Logically, Angkor Wat, as the largest temple in Angkor, contains more neak ta than any other temple, and thus is the most powerful. It also contains the royal neak ta called Ta Reach in the form of a Visṇụ that guards the main west gate from intruders. Ta Reach is the most powerful neak ta in the region, whose power radiates from Angkor Wat to the periphery. The world of neak ta in Angkor is hierarchical; a mirror image of Khmer society (cf. Miura 2004:93-94).
45A powerful neak ta tends to supervise and order minor neak ta under its command. In addition, pyramidal temples contain neak ta in the top central shrine, whereas more expansive temples (like Angkor Wat) tend to contain neak ta at the gates. Villagers not only pray to the Buddha, but also the neak ta. All the neak ta receive annual celebrations with offerings; the major neak ta, such as Ta Reach, may also receive music. Certain incidents in Angkor are considered as the workings of the neak ta, the Buddha or the bâng bat. In almost every village in Angkor there is at least one spirit medium who can be possessed by powerful neak ta to cure people who have become ill or find the property they have lost. Illnesses of both people and animals are often believed to have been caused by various spirits, which require consultation and propitiation through offerings.
46Neak ta can also be consulted for information about rainfall, good harvests and the general welfare of people. These spirit mediums inherit powerful kru (teacher) spirits from their ancestors. The neak ta Ta Reach of Angkor Wat is often invoked by local spirit mediums for their clients to determine the cause of troubles. In the past, it was the role of the king to mediate between the nature-ancestor world and that of human beings to maintain order in his kingdom (cf. Miura 2004:76-77, 93-94).
47Many local villagers worked with French conservators for the Angkor Conservation Office and are skilled conservation labourers. Generations of conservators are proud of their family tradition. Many of the senior local monks and abbots used to be conservation labourers. Some villagers also began voluntarily to clean Angkor temples and vihears (vihara or temple hall) in the 1980s, prior to the reorganization of maintenance work in the site by the Cambodian authorities (cf. Miura 2004:98-99).
48The Angkor site is, therefore, closely linked to the everyday life of local villagers, together with their memories and ancestors' practices. It is their homeland and an integral whole; religious and socioeconomic life is inseparable. The continued relevance of the site for local villagers, as well as the symbolic and inspirational importance for the nation, makes the site "a living heritage site" rather than relevant only because people continue to worship in Angkor. It has long been safeguarded by the local inhabitants as their personal and communal heritage which is now classified as a World Heritage Site.
49The nomination of Angkor as a World Heritage Site in 1992 brought about the new notions of heritage, spatial realignment, legal frameworks, rule changes, modified or new practices, and bans or restrictions of many former practices of the local inhabitants, as discussed in my chapter "World Heritage Making in Angkor" in this volume.
50The Parc d'Angkor, established by the French colonial administration in the 1920s, had been defunct for nearly two decades because of war and communist-socialist periods. Since 1992, it has been resuscitated and called a World Heritage Site. The familiar spatial arrangement was reorganized with zones and sets of old rules and regulations more strictly enforced, while new restrictions were introduced. Various notions of contested heritage soon emerged, i. e. local, provincial, national, regional, and international, whereby Cambodian government officials began to use this as a hierarchical ordering of importance and justifications to deny the private property of the local inhabitants.
51The Heritage Police, which was created to protect heritage in 1997, emerged as one of the dominant power players in heritage management. The Heritage Police Chief considered that the local heritage was unimportant, and should have been subordinate to a higher cause and to parties with wider concerns. In a meeting organized by APSARA in August 2000 with representatives of local villages, various levels of government officials, NGO workers, and researchers, he even quoted laws and regulations promulgating the protection of national cultural heritage prior to Angkor's World Heritage nomination. These are based on an old conservation philosophy and policies of freezing the past as it was found, almost completely eradicating human interactions in the core zone. While most recent laws are not respected, with the exception of limited religious practices, the old philosophy and approaches which deny any human interaction with the heritage site are followed (Miura 2004).
52As for the property rights of the local inhabitants, not only Article 15 of the Land Law stipulates archaeological, cultural and historical patrimonies as the public property of the State and public legal entities, but so also does the Decision of the Royal Government of Cambodia (No. 70/SSR) of 2004. The latter states that the land in Zones 1 and 2 is "State public property, which APSARA Authority has to manage, preserve, and develop in a sustainable manner" (APSARA Authority 2005). The residential rights of the old inhabitants in the zones are, at the same time, permitted, according to Article 2 which states that "the citizens who have been dwelling in the Zones may continue to live there without being subject to any evacuation".
53As mentioned briefly in my first chapter "World Heritage Making in Angkor" in this volume, the Heritage Police banned many practices of the local inhabitants in Zone 1 in 2000. Some of the restrictions were based on the model set for Parc d'Angkor, but new bans were imposed on the local inhabitants by the Heritage Police beyond the stipulated sphere of authority (cf. Miura 2004:153-185).
54The situation in the 1920s and that of the 1990s have a certain similarity in the sense that both periods marked the "saving" of the national integrity and unity from its disintegration or loss. In this kind of social context, the restoration of Angkor monuments and temples has become the essential symbolic and practical task of the government. Personal and private rights and the ownership of property there were to be sacrificed for a greater cause because at least their rights to live there were legally safeguarded. Being allowed to live is one thing, being enabled to survive is another. The strict enforcement of restrictions on traditional practices makes it highly difficult for many local inhabitants to make ends meet in the Angkor area.
55The old bans reintroduced since 2000 include hunting, clearing forests, felling trees, tapping resin, cultivating rice inside large monuments and Angkor Thom, extending cultivation beyond the existing areas, allowing animals to stray on the pavements and terraces of Angkor, and building new houses. During the French period, fishing, the land usage and cattle-grazing in the space of Angkor, except certain places as specified above, were permitted (Luco 2006:121). Newly added bans since 2000 include catching fish, cultivating rice in ponds and lakes in Angkor Thom, collecting all the other forest products, such as firewood, vines, insects, and beeswax, bringing cutting instruments or firearms into the forests, grazing cattle inside monumental sites such as Angkor Thom, Banteay Kdei or Ta Prohm temple, and releasing water buffaloes in the moat of Angkor Wat. The enforcement of bans has become much more severe and more systematic than during the French period.
56Some of the bans, however, contradict some articles in the zoning decree, which does not prohibit all the traditional activities, instead they even mention "[m]aintain[ing] traditional land use in the form of rice paddies and pasture" (APSARA 1998:218). The practices of the Heritage Police – the intimidation of and extorting money from the local villagers – have continued behind the scenes up to 2010.
57Some of the Heritage Police collaborated with several local villagers in illegal logging, and other times intimidated them in various ways to demand inducements. The Heritage Police collected money from caretakers of religious icons, sellers of souvenirs or drinks, collectors of edible ants' nests or firewood, and rice cultivators in the lakes and ponds of Angkor Thom and so forth. Even prior to the ban of 2000, when some cultivators of rice fields in Angkor Thom protested or refused to pay inducements to the Heritage Police, they were prohibited from cultivating rice. The rice fields were then cultivated by the Heritage Police to help supplement their meagre salary. Grazing cattle was banned for local villagers, but cows that belonged to the Heritage Police were seen grazing in Banteay Kdei by a foreign researcher (Tashiro 2001:238).
58In the Bayon temple, caretakers of religious statues used to be forced to give away a large portion of their donations to the Heritage Police stationed there, but these caretakers were removed by APSARA in 2008 on the grounds that they were making profits in a spiritual place. However, in recent years, a group of models in theatrical costumes await visitors in Bayon every day for joint photo-taking priced at US $ 10. In addition, some hotels organize a package of outdoor dinner and dance show for group tourists beside the temple on some evenings during the dry season. Later, another set of caretakers of Bayon were reappointed by APSARA; some submit all the visitors' donations to the abbot of the nearby monastery, while others share it with the Heritage Police or keep all themselves, which is apparently permitted by APSARA because of their poverty. APSARA's directions tend to be arbitrary and contradictory, which often causes mistrust and anger among the local population.
59Compared with the number of restrictions imposed on the local inhabitants, their economic activities which had been permitted in the Angkor Site without the harassment of the Heritage Police were limited in number, the amount of profit and scope. Their employment by APSARA as conservation and restoration labourers, temple guards, toilet cleaners, and forest guards in the Angkor Park seems to be the only official and definitely protected jobs open to the local inhabitants (cf. Miura 2004:149-151).
60In Angkor Wat, the New Year's games no longer take place; they were forbidden by APSARA. Instead, there were staged performances of dance and music, mainly for invited dignitaries and foreign visitors who paid for the tickets on these occasions. The local villagers were allowed to enter the compound, but only to sit on the grass well below the stage with a poor view (Miura 2004:101-102).
61Some religious practices were banned by APSARA in the two monasteries of Angkor Wat. A senior official of APSARA considers that some ceremonies disturb tourists (Baillie 2005:68). Monks were disallowed from organizing ceremonies or meditation within the central tower of Angkor Wat as before, and the rights of monasteries to organize ordination ceremonies were suspended (Baillie 2005:67-69; 2006:127), though monks can be ordained in other monasteries and serve in Angkor Wat. The organization of other religious ceremonies has been restricted in the Angkor Wat monasteries for several years, when local villagers were discouraged from entering the compound on motorbikes. Pilgrims had formerly been allowed to stay free of charge in Angkor Wat monasteries overnight, which was also forbidden by APSARA, even though Article 18 in the "Zoning Decree" makes exceptions for the monasteries of Angkor Wat, Lolei and Bakong.
63APSARA reorganized the stalls in the Angkor Site in 2010, and this was finally accompanied by cutting off the collection of dues from stall owners or itinerant sellers by the Heritage Police. Construction restrictions have been imposed on the local villages within Zones 1 and 2 in the most severe way since 2008, which has caused controversies and severe contestations between APSARA and the local inhabitants, as well as the former and the local authorities, from the village level to the provincial one.
64As discussed heretofore, the World Heritage nomination of Angkor has changed the notions of heritage held by almost all the actors involved. Many of the Cambodian authorities and individuals have begun to see the Angkor Site increasingly as the space of control, domination and economic opportunity, which is fundamentally the same as what the French colonial administration envisaged. On the part of the local inhabitants, while they mostly welcome the nomination, the prestige and tourists' visits, they realize that it also means their being forced away from their socioeconomic and cultural heritage, rights they use in association with the site. The restrictions on traditional practices and secular intervention in religious matters have naturally created antagonism among the parties concerned. All these measures taken by the Cambodian authorities are causing the spiritual decay of the heritage and the local and religious communities' sense of belonging to the heritage, coupled with considerable economic burdens landing on their shoulders. This is certainly not what UNESCO has aimed at on nominating a site as a World Heritage Site.
65The advanced modernization and popularization of UNESCO's World Heritage program requires us to study notions of property as associations, relationships and social values using interdisciplinary approaches, and not in isolation as "goods" or "objects" only from legal or economic viewpoints. Universalizing values of heritage is challenging in many World Heritage Sites where local specificity or traditional management systems are inadequate. The case of the Angkor World Heritage Site has shown discrepancies in the notions of heritage held by different actors in distinct historical times. The authorities managing the Angkor site tend to dwell on the old European approach of "freezing the past", laying a great burden on the practices of the local inhabitants. Rule changes are often imposed rather than persuaded on or negotiated with the local communities. The sense of ownership and the belonging of local inhabitants to heritage tend to be disregarded or restricted. The higher the social and global values of the "properties", the more actors appear in the heritage space. Because the space and the number of "properties" are limited, more conflicts occur. Notions of heritage and rules of ownership, and what practices are allowed, what not, who should manage them, and how to do them are all important issues concerning the old and new actors in Angkor. In order to reduce conflicts and have harmonious relationships among the social actors, it is considered necessary for the managing authorities to adopt a wider notion of heritage, flexibility in management and a respect of the local sense of belonging to and traditional local ownership of the heritage with their active participation in heritage discourses and management.
Notes
1 There are newly migrated people in the area, especially since the 1990s, however, this paper only deals with older established inhabitants. When Angkor villagers are mentioned, I also refer to native villagers or those who married into the native community and have been living in the site for a long time. De Lopez et al. who studied sustainable development in Angkor and obtained the total sample of 2,514 households in 59 villages for the household survey, write that "[s]ome 87% of households believed that they could trace their ancestry back to Angkorian times. Thus, the settlements of Angkor remain largely inhabited by descendants of the original builders" (De Lopez et al. 2006:13, 19).
2 See also Edwards (2007) and Winter (2007) for a detailed historical account of French "discoveries" of Angkor and its symbolic meaning for the French colonial rule of Cambodia.
3 In the French original, "Arrêté du 9 mars à la conservation en Indochine des monuments et objects ayant un intérêt historique ou artistique" (Lloyd 2009:149).
4 See Hitchcock and King (2003a), which introduces a broader concept of heritage.
5 In Headley Jr. et al. (1977:44), ker is derived from a Sanskrit term kīrti meaning "fame, renown, speech, and report". It can also mean heritage and inheritance, such as in kerdâmnael. Morodâk means heritage, legacy and inheritance, which is also derived from a Sanskrit word mṛtaka that means a dead person (Headley et al. 1977:722). According to Antelme – a French linguist of the Khmer language – dâmnael is derived from a Khmer word dael and daelkee – something used by someone else first, leftovers (personal communications).
6 Yeang (Dipterocarpusalatus) is also known as chheu teal. According to Dy Phon (2000:243), "[w]ood much valued in construction and in cabinetwork, when not exploited for its oily resin. Generally, resin is collected for different uses: wood lacquering, boat's draft proofing, and traditional medicine. Mixed with wax of bee, it is used in bandages ulcerated wounds. Barks of the young trees, provided with 2-4 leaves, are believed to have medicinal virtues: against rheumatism, diseases of the liver… They would also stimulate the appetite of cattle." They are the most common resin-producing trees in and around Angkor Thom and Angkor Wat. Trach trees (Dipterocarpusintricatus) (cf. Dy Phon 2000:245) can more commonly be found in the north around Phnom Kulen.
7 See Hutter (1997); GCI (1998) for representative economists.
8 Cited from http://portal.unesco.org/culture/ev.php?URL_ID=1549&URL_DO=DO_TOPIC&URL_SECTION=201&reload=1023453010 <accessed July 31, 2003>.
9 See Martin (1993) for her finding of the ownership of yeang trees by local villagers in the environs of Angkor.
10 The avoidance of direct confrontation and concerns about loss of face are widespread cultural norms in South East Asia (cf. Hitchcock and King 2003b: 162).
Table des illustrations
Légende
Fig. 1: Map of the central Angkor area (part of "Administrative Map of Siem Reab District. Siem Reab Province 2008-2010").
URL
http://books.openedition.org/gup/docannexe/image/310/img-1.jpg
Fichier
image/jpeg, 1,3M
Légende
Fig. 2: Angkor Thom and rice fields in the enclosure and moat (Miura 2004).
URL
http://books.openedition.org/gup/docannexe/image/310/img-2.jpg
Fichier
image/jpeg, 285k
Légende
Fig. 3: The statue of Vishnu-Neak Ta Ta Reach, which is located in one of the main gateways of Angkor Wat, is a sacred site especially for the inhabitants of Angkor Park. The statue is regularly decorated and worshipped, in spite of tourists passing by (2011).
URL
http://books.openedition.org/gup/docannexe/image/310/img-3.jpg
Fichier
image/jpeg, 1,3M
Légende
Fig. 4: Caretaker of the Buddha at Bayon (2006).
URL
http://books.openedition.org/gup/docannexe/image/310/img-4.jpg
Fichier
image/jpeg, 1008k
Légende
Fig. 5: After the removal of the caretaker (2011).
URL
http://books.openedition.org/gup/docannexe/image/310/img-5.jpg
Fichier
image/jpeg, 948k
Légende
Fig. 6: Dinner show in preparation beside Bayon (2009).
URL
http://books.openedition.org/gup/docannexe/image/310/img-6.jpg
Fichier
image/jpeg, 954k
Légende
Fig. 7: Photographic models with a tourist in Bayon (2011).
URL
http://books.openedition.org/gup/docannexe/image/310/img-7.jpg
Fichier
image/jpeg, 1,3M