World Heritage Angkor and Beyond
|
I. Nominations and their Histories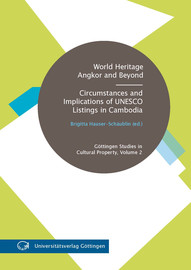 World Heritage Making in Angkor
Global, Regional, National and Local Actors, Interplays and Implications
p. 9-31
Texte intégral
1The study of World Heritage making is highly important today for World Heritage has become a global language, a world of its own, recreating and representing particular cultures, ethnic groups, and/or national icons to be shared universally. This trend has been accelerated through modern media, especially visual media such as TV, films, DVDs and the internet with highly developed technologies and its world-wide distributions and flows. It provides us with a variety of ways to reconstruct, present and represent the past and heritage with particular meanings, especially as World Heritage Sites. The media-production of World Heritage Sites has no doubt contributed to the increase in the interest and the number of tourists to visit and "gaze" real and reconstructed World Heritage Sites simultaneously. These global phenomena have consequently affected the countries possessing them in their ways of producing and displaying the sites. Waterton and Watson (2010) also stress the visuality of heritage based on a vivid materiality and its representations as dominant discourses in heritage studies, but that it is now moving towards more heterogeneous discourses to be debated.
2Because of the need for tourism revenue for conservation and at times conservation being required to tackle with negative consequences followed from excessive tourism development, the nexus of conservation and tourism development has become a highly important issue for heritage managers, which received much academic attention in the last two decades (e. g. Boniface and Fowler 1993; Robinson, et al. 2000; Harrison and Hitchcock 2005; Winter 2007; Timothy 2007; Prideaux, Timothy and Chon 2008; Timothy and Nyaupane 2009; Hitchcock, King and Parnwell 2010).
3The heritage making also involves recontextualizing, selecting, renaming, reframing, reorganizing and representing the existing space as heritage where we see an emergence of global, regional, national and local actors – both institutional and individual – who may interplay and mediate the process of heritage making. The process often entails negotiation, competition, compromise, coercion, actual fighting over, or giving away, whereby questions may rise such as whose heritage it is, how World Heritage status affects local communities and regional cultural politics, how tourism develops and how it affects socio-economic development of the country, how to balance between conservation, development and local ways of life, and what approaches of heritage management may be most appropriate (cf. White and Carman 2007). The influence of World Heritage making is multi-faceted, ranging from economic, social, cultural, or institutional dimension to the political, therefore, heritage studies are no longer adequate to be handled by archaeologists, architects, historians, conservators and legal experts alone, but to incorporate sociologists, anthropologists, and economists in a multi-disciplinary approach.
4Today there are 936 World Heritage Sites (UNESCO 2011a), out of which a number of the sites with living populations have increased. This may owe to the adoption of "cultural landscapes" for the nomination criteria in 1992. While the manifestations of particular problems in such "living" World Heritage Sites differ from one site to another, there is a recognizable commonality in the problems, i. e. those emanated from imbalance between conservation and development and the lack of local involvement in heritage management and development. Out of many such sites, exemplary cases have been reported such as Garajonay National Park in La Gomera, Canary Islands (Bianchi et al. 2000:47-62), the Elephanta Island in Mumbai, India (Chakravarty 2000:77-92; Walters 2005:176-180), Kakadu in Australia (Moffatt 2000:301-313), Vat Phou and Champasak in Laos (Nishimura 2005:15-24), Kathmandu Valley in Nepal (Thapa 2007:23-27; Wood 2007:55-61), Xidi and Hongcun in Anhui, China (Lu 2007:87-94), Abu Rawash in Egypt (Fushimi 2010) to name but a few. Because some of the above-mentioned papers were written more than ten years ago, situations might have changed from then on. The theme is however likely to continue to be relevant today and for the future as the conditions of World Heritage Sites dictate on-going conservation in parallel with development or making use of the sites.
5Angkor World Heritage Site in Cambodia was and still is considered as one of the largest archaeological working sites (cf. Lemaistre and Cavalier 2002:125), which also has had serious problems of balancing conservation and development as well as the ownership and presentation. The study of World Heritage making in Angkor therefore may provide useful reference for the management of other World Heritage Sites, or the future direction of World Heritage making.
6This paper first illustrates the outline of Angkor World Heritage Site and key issues. Secondly, it examines the nomination process of Angkor as a World Heritage Site and its particular socio-political background and objectives as well as the main actors emerged in the process. Thirdly, it studies the initial implementation stage of the World Heritage making in Angkor, with a particular focus on the emergence of new legal and institutional frameworks, regulations, actors and its implications and consequences. The section also explores what problems appeared in this period. Fourthly, it considers the second implementation stage with a policy change accompanied by institutional changes, other sets of new regulations, shifting actors and power balances within the national authorities. The section also examines what new issues appeared and its implications. The conclusion will accompany the lessons learnt from the case of Angkor.
7Angkor, a designation of Angkor civilization (802-1431) and the monuments constructed during this period, was inscribed on the World Heritage List in 1992. In the process of the World Heritage making in Angkor global, regional, national and local actors emerged who have actively interplayed and influenced over power politics between the state and the international community, among individuals within the state, between the states in the region, and increasingly between the state and local actors. Interactions between these actors have influenced not only on politics, but more on cultural representations and economics over heritage. Through such interactions what has been revealed are different heritage notions and interests held by different actors, which resulted in making or modifying heritage policies and regulating heritage management. The important point in this process is the reorganization of space as public for representing the glorious past for visitors rather than the space for domestic use. The whole process has enhanced traditional top-down approach of management and created tensions all around.
8Concern over Angkor after the World Heritage nomination has clearly shifted from the salvage mission of monuments in danger of decay and destruction, to the cultural representation of the selected pasts of the nation and the commodification of heritage for visitors to induce economic benefits, mostly for the rich and powerful Cambodians and foreigners. While the salvage mission is considered as a success, there emerged new actors, contestations among them and with old actors, and the issues of ownership, the use of heritage space for tourism and the local communities' everyday living, and continued need for conservation.
9The issue of conservation also moved or rather developed from emergency conservation of monuments to sustainable development, along with the conservation of the old "villagescape", i. e. to conserve traditional village landscape as a fixed landscape. The "traditional" ways of living are "rediscovered" as another asset for promoting cultural tourism and its diversifications, thus modernization is fairly restricted, and "traditional" houses and landscapes containing them are to be maintained for the visual consumption of the others. This issue will be discussed in my chapter "Sustainable Development in Angkor" in this volume.
12The political settlement of war-devastated Cambodia and the national reconciliation was one of the most important UN missions as well as for ASEAN countries at that time in order to achieve peace and establish a Cambodian state which is accountable. During the 1990-91 periods, UNESCO also took part in a number of assessment missions organized by various governmental and non-governmental agencies, which enabled to further knowledge of the conditions of Angkor heritage. Two international round tables of experts on Angkor were organized; one in Bangkok in June 1990 and the other in Paris in September 1991 to prioritize field-based activities in Cambodia. Japan funded the Bangkok meeting from a Funds-in-Trust with UNESCO as well as UNESCO to commission to Sophia University of Japan a survey of the Angkor monuments and the development of a computerized site inventory form. In addition, Japan financed the École Française d'Extrème Orient (EFEO) to computerize and microfilm the major reports and graphic documents recording EFEO's restoration and research work at Angkor from 1909 to 1972 (UNESCO 1993:18-19).
13The Paris meeting was attended by Sihanouk as the chairman of the Supreme National Council (SNC) of Cambodia. There Sihanouk reiterated his request for UNESCO co-ordination of all international assistance to Angkor. In this meeting one of the recommendations specifically mentions
[f] or UNESCO to assist, in co-operation with ICOMOS and the World Heritage Committee, the Cambodian authorities to prepare the necessary formalities to ratify the World Heritage Convention and submit an application for the inscription of Angkor on the World Heritage List.
(UNESCO 1993:19)
14It was one month before the signing of the Paris Peace Agreement on Cambodia. As the Agreement followed the lifting of the embargo on international assistance to Cambodia, the path was paved for peace and the World Heritage nomination process for Angkor hand in hand (UNESCO 1993:20).
15In November 1991 Federico Mayor made an official visit to Cambodia, at the request of Sihanouk, when they jointly
launched, from Angkor Wat, an appeal to the international community to support Cambodian people in their efforts to save Angkor – symbol of national unity for the Cambodian people and the heritage of Humanity as a whole.
(UNESCO 1993:19-21)
16At this moment "save Angkor" became one of the most important UNESCO missions in the culture sector, which became at the same time its moral obligation to save "the heritage of Humanity". In the same month SNC ratified the World Heritage Convention (UNESCO 1993:22). It led Cambodia to actually head towards the preparation for the inscription of "Angkor Archaeological Park" on the World Heritage List. A financial grant from the World Heritage Committee enabled UNESCO to commission French experts from EFEO and the École Pratique des Hautes Études as well as a UNESCO legal consultant to assist the Cambodian authorities in this endeavour. At the World Heritage Committee held in Santa Fe, U. S. A. in 14 December 1992 Angkor was nominated as a World Heritage Site (UNESCO 1993:22-23).
17The nominated site covers approximately 401km ², consisting of three separate groups, namely Angkor, Roluos and Banteay Srei. At that time the population of Siem Reap province was noted as 555,000 (ZEMP Expert Team 1993: Chap. IV. p. 1), out of which 22,000 people were reported as living in the site according to the source of the United Nations Transitional Authority of Cambodia (UNTAC) (Khuon 2005:14). The criteria used for the nomination are as follows:
Angkor represents a unique artistic achievement, a masterpiece of creative genius:
it has exerted great influence over a span of time, within a cultural area of the world, on developments in architecture, monumental arts, and landscaping;
it bears a unique exceptional testimony to a civilization which has disappeared; and
it is an outstanding example of an architectural ensemble which illustrates a significant stage in history.
(UNESCO 1993:22)
18The decision was made with an exception of waiving a number of conditions required under the Operational Guidelines "in response to a unique situation" in Cambodia, i. e. the urgency of protecting the monuments while needing time to fulfil all the necessary conditions. It was warned that "[t] his action is not to be taken as setting a precedent for inscription but as a response to a unique situation" (UNESCO 1993:22). Cambodia was then in the preparatory stage of the national elections of 1993, the first to be held in three decades and the socio-political situation was tense and unstable. Angkor was therefore further declared a World Heritage Site in Danger. Cambodia was given three years (1993-95) for a special in-depth study of the Angkor site and to establish an authority to take charge of the protection and conservation of the sites. The authorities concerned were also to take the necessary measures to satisfy the following conditions:
Enact adequate protective legislation;
Establish an adequately staffed national protection agency;
Establish permanent boundaries based on the UNDP project3;
Define meaningful buffer zones
Establish monitoring and coordination of the international conservation effort.4
(UNESCO 1993:22)
19In sum, the World Heritage nomination process of Angkor depended very much on political settlement and peace-building in Cambodia. The advanced political settlement in the early 1990s facilitated UNESCO to assist Cambodia as well as Angkor monuments in response to Sihanouk's appeal. The signing of the Paris Peace Accord was the concrete first step towards the nomination process. The main actors emerged at this stage were Sihanouk, UNESCO represented by Federico Mayor, Japan and France. "Save Angkor" became one of UNESCO's important international campaigns at that time, which had both moral and practical dimensions. For Cambodians "save Angkor" was to become the symbol of national reconciliation, peace, recovered past glory, and national prestige and hope.
20In much of the 1990s the Cambodian authorities had been very busy reconstructing the war-devastated country, trying to deal with the problem of prevalent land mines and insecurity among other things. Logically, the safeguarding operation of Angkor had to go hand in hand with the government's overall scheme of the country's rehabilitation and rebuilding.
21The initial implementation stage necessitated Cambodia to establish the legal and the institutional framework of protecting Angkor monuments and site and where and how to develop. It also meant to fulfil the five conditions put forward by the World Heritage Committee. In the process new actors, mostly institutional and academic, emerged.
22The first condition met was e) through the formation of the International Coordinating Committee for the Safeguarding and Development of the Historic Site of Angkor (ICC) in Tokyo Conference in October 1993 (UNESCO 1993; Chau Sun 2006:148). ICC has two co-chairs, i. e. France and Japan, and UNESCO acting as a standing secretariat. Since then on it has served for the Cambodian government as an international body of assistance on Angkor and Siem Reap as well as offering advice and critiques at times. UNESCO assisted the Cambodian authorities to take the necessary measures requested by the World Heritage Committee.
23The second and third conditions met were c) and d) in May 1994 through the promulgation of the Royal Decree establishing Protected Cultural Zones in the Siem Reap/Angkor Region and Guidelines for their Management (001/NS) (the so-called Zoning Law) (cf. Chau Sun 2006:148-149). The Zoning Law was based on the findings by the Zoning and Environmental Management Plan for Angkor (ZEMP) which offered the framework of protection and development of Siem Reap/Angkor region. In 1993 UNDP and Swedish International Development Agency (SIDA) financed the ZEMP project with in-kind contributions of technical assistance and equipment from the Angkor Foundation of Hungary, the World Conservation Union (IUCN), EFEO, United States National Park Service, and the Thai Fine Arts Department. UNESCO executed the project, organizing a multi-disciplinary group of 25 experts from 11 different countries led by Jonathan Wager (UK). Fields of experts ranged from resource mapping, Geographic Integrated System (GIS) and data management, prehistoric and Khmer history and archaeology, architectural conservation, hydrology, ecology and wildlife conservation, agronomy, forestry and rural development, social anthropology, tourism development, urban and transport planning, park planning and administration, and legal and regulatory frameworks (ZEMP Expert Team 1993).
24The Zoning Law established five zones, namely Zone 1: Monumental Sites (core zone), Zone 2: Protected Archaeological Reserves (buffer zone), Zone 3: Protected Cultural Landscapes (along rivers), Zone 4: Sites of Archaeological, Anthropological or Historic Interest (sites not included in Zone 1 or 2), Zone 5: The Socio-Economic and Cultural Development Zone of Siem Reap Region.
25The main purpose of zoning is to clarify the boundaries of areas to protect while intending to prevent rampant development ventures or urbanization where monuments are concentrated. The natural environment surrounding the monuments and "riverscapes" are also designated to be protected. The Zoning Law also specifies the methodologies of management of land, water, landscapes, local residents, pagodas, training, development, et al (APSARA Authority 2008:212-220; Chau Sun 2006:148-149). In addition, the Hotel Zone (79/ANKR/PK) was established in the city of Siem Reap in 1995 (APSARA Authority 2008:230-232).
26The fourth condition met was b) the establishment of a National Authority for the Protection and Management of Angkor and the Region of Siem Reap, shortly APSARA Authority (hereinafter called APSARA) (NS/RKT/0295/12) in 1995. It was accompanied by the establishment of Special Police Corps for the Protection of Cultural Heritage, the so-called Heritage Police (60/ANKR/PK) in 1997 (APSARA Authority 2008:224-229, 246-249; Chau Sun 2006:149). The French-trained Heritage Police under the authority of the Ministry of Interior was to co-operate with APSARA to protect the monuments and sites from illicit excavation and destruction, theft of artefacts or any other activities considered harmful for the heritage.
27The fifth and final condition to be met was a), through the enactment of Law of the Protection of Cultural Heritage (NS/RKM/0196/26) in 1996. As with other conditions met, UNESCO provided assistance; in this case a legal advice in collaboration with UNTAC to draft legislation (APSARA Authority 2008:233-245; Chau Sun 2006:149).
28In four years after the World Heritage nomination all the conditions were satisfied with basic frameworks, laws, zoning and the managing authority established, with which new institutional frameworks and actors emerged. The following section will study the implication of all the new management set-up and partitioning of existing spaces.
30The primary problem with the Zoning Law was that the publicity on the zoning was not sufficiently made so that the boundaries were unclear to many. During the 1990s no boundary stone or a sufficient number of signboards had been set up to publicize the respective zones and their boundaries. This caused some confusion, and at times feigned ignorance was employed as a tactics on the part of some Cambodian authorities other than APSARA to issue permits to build hotels or other structures in protected zones.
31In Zone 2 along the main road from Siem Reap to Puok, an Angkorian canal was also narrowed by the owner of a hotel because a car park was made above. Some high-ranking military officers also ignored the Zoning Law to build private houses or karaoke establishments in Zones 1 and 2. Illegal land transactions in those zones have also taken place to a considerable degree, often with government personnel involved.
32In 2000, selective articles in the Zoning Law as well as the past laws were used by the Heritage Police to impose restrictions on the local inhabitants on the access to their former socio-economic resources and traditional practices such as harvesting forest products, cultivating rice, grazing cattle, and releasing water buffaloes in the moat of Angkor Wat (Miura 2004). Moreover, building restrictions imposed on the houses of inhabitants of Zones 1 and 2 began to create enormous problems, which will be discussed in my chapter "Sustainable Development in Angkor" in this volume.
33The Zoning Law is either completely ignored or arbitrarily interpreted by the relevant authorities and powerful individuals for their own conveniences. While the purpose of the law to protect cultural heritage and surrounding natural environment is widely accepted, it still causes great many problems because Angkor has long been the space used by human populations for living and the area coverage is extensive. The zones have become invisible barbed wires for them to restrict their practices and access to their former socio-cultural and economic resources in Angkor, because it was designated as a World Heritage Site.
34Up to the end of the 1990s, the protection of monuments and sites had been the issue of utmost importance on Angkor for both the international community concerned and the Cambodian authorities in general. Because ICC was fairly strict on any attempt of development in the protection zones, it had often been taken place behind the scene, involving military personnel and business sectors closely associated with government officials.
35In the case of the Hotel Zone it turned out to be unpopular with hotel developers despite the fact that it is close to Angkor Wat. The construction of hotels was most popular along the main road from the city of Siem Reap to Angkor Wat and National Road No. 6 connecting the airport to the city, and along the Siem Reap River. In addition, many local people claimed the legal ownership of the land in this zone. The amount of compensation demanded was far exceeding what was expected. With financial and legal quagmire APSARA could not take action immediately, and the zone is still fairly underdeveloped.
36Under normal circumstances a body of managing a World Heritage Site exists prior to the nomination. In the case of Angkor as explained above, it did not follow this path. It was the Angkor Conservation Office (hereinafter referred to as ACO) under the Ministry of Culture and Fine Arts that used to manage all the national heritage sites in Cambodia. For specific reasons not known publically, this ministry was not entrusted of the task to safeguard and develop Angkor World Heritage Site, but was a newly created national body – APSARA.
37APSARA started off with a few Cambodian professionals returned from Europe, mainly France, and a few foreign experts as consultants. In the early years APSARA experienced growing pains, "resulting from an overall lack of means – human, technical, and financial" (Chau Sun 2006:149). A small body of APSARA was headed as the chairman by a powerful senior minister who was also a confidant of the former king Sihanouk. This APSARA chairman was a well-known architect who designed prominent national buildings.
38There also emerged competition between APSARA and ACO formerly under the Ministry of Culture and Fine Arts. ACO was placed under APSARA, which caused quite a commotion among ACO staff. In addition, there soon emerged competitions between the chairman of APSARA and the representative of UNESCO Office in Cambodia over matters on Angkor, resulting in the change of UNESCO team on Angkor, both in Phnom Penh and Paris.
especially with regard to the very sensitive issues involving the abandonment and acquisition of illegally occupied land for the development needs of tourist facility infrastructure.
(Chau Sun 2006:150)
40The military that used to control the space of Angkor was replaced by the Heritage Police, so there emerged silent competitions between both parties. The military and the Heritage Police also came into competition on the illicit traffic of artefacts from Angkor because the former had been involved with a number of large scale operations, which were cut short by the latter. Soon within APSARA, there emerged rivalries at the top management level, which finally came to an end with the removal of the said chairman in 2001.
41There had also been a competition between the Heritage Police and APSARA, with the former imposing bans of many of the traditional practices of local inhabitants in 2000 without prior consultation with APSARA (Miura 2004:149). The Heritage Police also organized and charged stall owners and vendors of souvenirs, food and drinks, rice-field owners in large heritage areas as well as care-takers of statues in Angkor World Heritage Site (Miura 2004:150). The relationships between the Heritage Police and local inhabitants grew tense during this period.
42The competitions within different authorities of the Cambodian government and individual players have the implication of party politics as well as the discrepancy in priority, i. e. protection or development among them. Ultimately, the one who controls Angkor is considered as the most powerful who would be able to receive the highest honour and prestige. After all, Angkor has historically been regarded as the seat of "legitimate" power in Cambodia.
44The collection of entrance fees by a private company, Sokha Hotel Corporation, brought about controversies to ICC, especially with the international community that tended to consider the method inappropriate. For the latter, especially the Japanese government, all the entrance fees, together with all state revenue and expenditure should be administered only through the National Treasury, from which APSARA should receive its share (ICC 1999:12) in order to finance the restoration and conservation of monuments and sites as well as the rehabilitation of infrastructures in Angkor-Siem Reap City.
45In the 1990s because APSARA was busy dealing with enormous tasks of protecting the monuments and sites with a few human, financial, material and technical resources, the local communities were not overtly challenged on the issue of heritage ownership. It was first made in the most influential way in 2000 by the Heritage Police when many of the traditional socio-economic practices conducted by the local inhabitants in the space of Angkor were denied. The then-chief of the Heritage Police claimed that Angkor belonged to the nation and the world, not just for a few people who had lived there, categorically denying the local inhabitants' cultural rights (Miura 2004:153-185; Lloyd 2009:147-292). This issue will be discussed more in my chapter "From Property to Heritage" in this volume.
46The competition over heritage ownership of Angkor was also expressed in a drastic way between Thailand and Cambodia. In January 2003 a Cambodian paper reported that a Thai actress had allegedly said that Cambodia had stolen Angkor Wat, so that unless it would be returned to Thailand, she would not come to Cambodia. This incited a Cambodian mob to destroy and burn down a newly constructed Thai embassy in Phnom Penh as well as attack other prominent Thai business establishments. The Thai government responded to this event by sending a military aircraft to evacuate Thai nationals from Cambodia and closed temporarily the borders with Cambodia for Thai and Cambodian nationals, while the Thais demonstrated in front of the Cambodian embassy in Bangkok (cf. Guardian January 31, 2003; Phnom Penh Post January 31 – February 13, 2003:1-2).
47The strengthening of CPP as the sole ruling party since 1998 has influenced the way how Angkor World Heritage Site would be developed and managed. Formerly FUNCINPEC or other party members had assumed the top offices related to culture, tourism and Siem Reap provincial authorities as mentioned before. CPP's target was economic development, for that Angkor was going to be fully utilized. Probably in relation to the political stability enhanced since 1998 and economic development enjoyed by urban populations Angkor saw more domestic visitors than international tourists whose number had rapidly increased since 2000 with an annual growth rate of 36 per cent (Hing and Tuot 2007:33).
48As for the transition from conservation to development, a crucial year was 2001 when the cabinet openly expressed its frustrations over the slow process of tourism-related development in Angkor in a number of international venues in Cambodia. As mentioned before, the protectionist Director-General cum chairman of APSARA was then removed from his positions that year: both positions were transferred to his deputy. APSARA's restructuring and strengthening with human resources and equipment is stated as to undertake a new stage in its agenda, i. e. sustainable development (cf. ICC 2001:8-9). The Cambodian government declared that
the period 2002-12 was ' Angkor Development Decade' with three challenges to be met: the first focusing on combating poverty, the second on stable economic growth, and the third on quality of life.
(Lemaistre and Cavalier 2002:123)
49The official phase shift from ten years of emergency conservation to sustainable development was declared in Paris Conference, marking the tenth anniversary of ICC in November 2003. The Cambodian government still had to wait for the World Heritage Committee to remove Angkor officially off the List of World Heritage Sites in Danger in 2004.
50The first implementation stage of heritage making in Angkor caused confusions and competitions among all the actors because of the introduction of new institutions and regulations, the emergence of new actors, partitioning of spaces, and somewhat contradictory laws and arrangement. Implementing laws and regulations was also irregular and arbitrary, which caused to influence negatively the effectiveness of Angkor management. The restoration and conservation work proceeded steadily, and the number of tourists increased. The clash between the local communities and the Heritage Police revealed the different understanding of heritage and its ownership and the problem of conservation and development. While the activities of the Heritage Police often exceeded their stipulated duties, the number of illicit excavations and traffic of artefacts decreased because of their presence. The political change between 1997 and 1998 also had affected the Cambodian government to move from emergency conservation to economic development through the institutional change of APSARA's management team.
512004 marked the year of a great change in Angkor management for it was officially declared the year before that the policy would shift from emergency conservation to sustainable development. Incidentally, this year saw a great leap from the previous year in the number of international tourists to Siem Reap-Angkor, i. e. over a million. The top nationality of international visitors in terms of the number also shifted from Japanese to Korean in 2004. From this period on Korean developmental aids and investment has become prominent in Siem Reap/Angkor region. The total revenue from tourism in 2005 was some US $ 1,078 million, or over 10 per cent of the GDP, and generated some 200,000 jobs (ICC 2006a: 106). In 2007 tourism receipts amounted nationally to US $ 1.4 billion, which accounted for 16% of GDP. By 2007 the number of international arrivals to Siem Reap-Angkor reached 2 million (Esposito and Nam 2008:40-41). While tourism development obviously brought about enormous wealth to Cambodia, Siem Reap is the third poorest province in Cambodia in 2007 with about 52 per cent of its population living below the poverty line, i. e. less than 50 US cent a day (Hing and Tuot 2007:27, 39; De Lopez et al. 2006:6; Esposito and Nam 2008: III-36). It means that benefits from tourism development have not adequately been channelled through to the local communities at large or linked to community development. In order to deal with the new phase of sustainable development, another Ad Hoc group consisting of three experts was set up in 2006, which began to work in 2007. Two were designated by co-chairs, hence a French and a Japanese, and the other selected by APSARA. Together they were to cover sustainable development from the view-points of environment, economy and tourism (ICC 2010a: 38-39, 86, 132). It is notable that the Group lacks an expert on community development.
52In order to achieve this new management policy, APSARA had an increase of three departments with professional Cambodians, two returning from Europe. In September Sok An, the top of ten vice-prime ministers, assumed the office of APSARA chairman (cf. ICC 2004:11). In 2003 the Cambodian government passed the Instruction on the Prevention of Anarchic Activities on the Angkor Site (BB 02) and the Decision on the Definition of Standards for Land Use in Zones 1 and 2 of the Angkor Site (SSR 70), both of which were integrated in 2004 as Royal Decree on the Zoning and Management of the Siem Reap/Angkor region. By the decree the government strictly prohibits any other authorities to intervene with the sphere of the authority of APSARA and warns against any act of illegality vis-à-vis land use or heritage (APSARA Authority 2005). While heritage protection was still considered as an on-going obligation, Sok An emphasised at the plenary session of ICC in 2004 that UNESCO, all partners and decision-makers in the area of economics were in agreement to make cultural heritage as the engine of development (ICC 2004:13). In the same session the Director-General of APSARA said, "Due to the constant concern shown by its chairman, HE Mr SOK An, the APSARA National Authority is becoming increasingly solid" (ICC 2004:25). This shows how APSARA finally came to be fully in control of the management of Angkor, and that the Cambodian government's determination to deal with any form of "illegality" more strictly than ever, targeting both civil servants and ordinary citizens.
53In order to deal with developmental issues three new departments were established in APSARA, namely the Department of Monuments and Archaeology II (DMA-II), Department of Water and Forest (DWF) and Department of Demography and Development (DDD). DMA-II took over the former Department of Cultural Heritage and became responsible for establishing a land use plan to control construction in the ancient villages inside Angkor Park (ICC 2004:24-25, 2006b: 33). In addition, Mixed Intervention Unit (MIU) was newly created, comprising representatives from Military Police, Provincial Police, Heritage Police, Provincial Department of Land Registration and Provincial Department of Forest. This unit was to deal with "land grabbing, illicit constructions and anarchic activities in the Angkor Park". Communication Unit (CU) was also established in the Administrative Department (Khuon 2006b: 3).
54CU's primary role is to improve communications between the local communities, monks and APSARA which organized campaigns concerning heritage and sustainable development and coach training on the same theme among APSARA staffs, Heritage Police, provincial police, tourist police, MIU, Buddhist monks and students. At the same time CU established zone-markers, sign boards of zoning and description of rights of residential population and prohibitions, 11 mail boxes in all five districts in Angkor World Heritage Site and two mobile phones as hot lines for communications between APSARA and the local villagers. In addition, mass media such as radio, television and newspapers were fully utilized to propagate APSARA's policies and progress made. Moreover, monthly magazines have been published and distributed to the local authorities and communities on the directions taken by APSARA since September 2006 (Khuon 2005, 2006b; ICC 2006b: 33-34).
55All the new departments and units deal with local communities to a certain extent, among which DMA-II has come to play the key role in the lives of the local residents. Upon designation, the director of DMA-II, an architect, vigorously began to deal with local communities and often represents APSARA in international venues. At Phnom Bakheng Workshop on Public Interpretation held in June 2006 he expressed the determination of APSARA as expanding "its focus to embrace sustainable development, which includes working with the local population" and
[t]o ensure that these populations can continue to live in accordance with their religious practise and customs, it is necessary to solicit the input of locals in making decisions for sustainable development and tourism in this region and to consider their values in plans for managing the social and natural environment.
(Khuon 2006a: 116)
56At the international conference on Angkor held at the University of Sydney in the following month, he expressed his concern about the rapid growth in population around the temples with the growth of existing villages, and the setting up of new temporary settlements causing additional stress to the ecosystem and the cultural environment as well as impacting on the lifestyle of the original villagers' (Khuon 2006b: 2).
57His determination to conserve the ecosystem, the cultural environment and the lifestyle of the "original" villagers was to be realised in two ways; first to move "voluntarily" local villagers to Run Ta Ek, an area of 1,012 hectares provided by the Cambodian government outside the World Heritage Site (cf. APSARA Authority 2008) to reduce population pressure within the park and second, to restrict the building of new, "untraditional" or unauthorized houses, while maintaining the lifestyles of the original villagers and landscapes. This department's partner in sustainable development is New Zealand's International Aid (NZAID). It also launched "The Living with Heritage Project" in association with the University of Sydney, EFEO and UNESCO to consult the local communities about the values and issues of the places they live at in order to establish a cultural map of the Angkor Park (Khuon 2006b: 7; Mackay and Sullivan 2008).
58DWF manages water networks and the forest resources for the needs of the temples as well as those of some local villagers living in the Angkor Site. Knowing the impossibility of complete banning the local inhabitants to use trees for fuel and fruits, the department provided some areas as Temporary Zone within Zone 2 with plantations of fruit trees and trees for fuel, situated between the village and forest zone, for domestic consumption. Local inhabitants were also employed for reforestation, cleaning forest and canals, composting, the botanical garden, the nursery and water management (APSARA Authority 2004; Hang 2006).
59As regards water, it collaborated with Japan International Cooperation Agency (JICA) that had completed a Master Plan Study from 1996 to 2000, in which sources for the Siem Reap town's water supply system had been evaluated. In the Master Plan JICA points out the current tourism and urban development will not be sustainable in the future because of excessive pumping of underground water, causing land subsidence and recommends the policy-makers to shift the direction from quantity-oriented (or mass) tourism to the quality-oriented and make compatible with conditions of natural environment (JICA 2006a).
60DDD has mainly two activities, the first dealing with the population census and its updating, the information of which will be used for the second one for improving socio-economic situation of the inhabitants of Angkor Park. DDD dispatched an agronomist to each of the five districts to train the inhabitants to adopt new techniques using biological fertilizer for rice cultivation. It is reported that the rice harvest of 2005 was excellent. DDD also established an experimental farm to develop techniques to produce western vegetables to cater for international hotels and restaurants (cf. Khuon 2006a: 115, 2006b: 4). Siem Reap is seriously short of such vegetables and fruits, many of which are imported from neighbouring countries.
61The problems of zoning and restrictions on every-day living were felt by the local inhabitants even after 2005 when sign boards and boundary posts began to be set up with the zoning map and the description of regulations. Many local villagers were unaware in which zones their villages were located and "these signs did not indicate in which zone the individual signboards stand" (cf. De Lopez et al. 2006:26-27). This created a serious problem because some local inhabitants were accused of having done something "illegal" without knowing the restrictions clearly. The clear partitioning of the ancient space with multiple long-standing activities and interests beyond the zone boundaries is something that needs to be carefully reconsidered, discussed and rearranged.
62In 2008 APSARA was again reorganized with sub-decree No. 50 ANK/BK. With this APSARA's number of departments increased from eight to fourteen. DMA-II was renamed, reflecting its mandate more precisely as the Department of Land and Housing Management in the Angkor Park (DLHMAP), DDD to Dept. of Agriculture and Community Development (DACD), and DWF split into two, i. e. Dept. of Water Management (DWM) and Dept. of Forest Management, Cultural Landscapes and Environment (DFMCLE). MIU became Department of Public Order and Co-operation (DPOC). CU was also upgraded to Department of Communication (DC) (Royal Government 2008). Further increase of departments means the expansion of the organization and the increase of politically appointed staffs rather than professionals of specific fields. APSARA since this time on has become a huge bureaucratic body staffed with far more financial, human and technical resources than ever before.
63In the same sub-decree, APSARA missions and tasks are listed. It includes sustainable management of natural resources, development and implementation of sustainable tourism as well as economic and social development projects for the park's population and co-operation with relevant institutions (Royal Government 2008:2-3). APSARA also rearranged stalls to sell food or souvenirs in the site in 2010, removing finally the Heritage Police's practice of illegal collection of "fees" from sellers or shop owners.
64DACD and DFMCLE that deal with agriculture and forestry have provided positive inputs to the local communities, in terms of bringing the increase in agricultural productivities and employment opportunities such as forest guards introduced in 2008. Their projects have been helping the local inhabitants to improve their livelihood without causing serious contestations. The development work however needs time to bear fruits, and the employment opportunities are limited as compared to the number of population increased to more than 120,000 people (APSARA Authority 2008:4).
65APSARA today with so many departments and layers of ranks became divisive and the communications among departments have become more complicated and difficult. APSARA furthermore overshadowed traditional local authorities at all the levels from the village to the province. The intensified enforcement of building restrictions since this period on created enormous grievances among the local inhabitants because DPOC is much more powerful than the Heritage Police alone. DPOC appears in the local villages as a demolition team in a large number; some with guns to forcefully destroy houses constructed "illegally". The local inhabitants at large are feeling stress and fear of APSARA's "absolute power", which we shall see in more details in my chapter "Sustainable Development in Angkor" in this volume.
66The second implementation stage is from the viewpoints of APSARA that it finally came to consolidate its authority to take full charge of managing Angkor World Heritage Site, reducing the residue of other authorities' attempts of sabotage. It however appears no longer an independent authority staffed with professionals, but was converted to a miniature version of Cambodian government itself.
67Conservation experts and ICC on the whole are however, highly satisfied with restoration and conservation work done in Angkor so far. Giorgio Croci, one member of Ad Hoc Group, is happy to express in "ICC-Angkor: 15 Years of International Co-operation for Conservation and Sustainable Development "(ICC 2010a: 98) that
Angkor can be considered as the most important World Heritage Site in terms of a general coherent methodology, flexibility applied in relation to different local situations, also with regards to the scope of projects and operations.
68Azedine Beschaouch, Scientific Secretary of ICC-Angkor, who has been involved with the issue of Angkor nearly two decades through UNESCO, affirmed in the same document, "My first – and last – word, unhesitatingly and determinedly, is: Angkor has been saved!" (ICC 2010a: 19). Indeed the conservation of monuments and sites is considered as one of the most successful cases of World Heritage Sites. Yet, a sustainable development of economic, social, and environmental fields seems to require different kinds of expertise, methodology and consideration, for people's lives are entangled within all these fields and are not fixed in certain locations like monuments.
69The World Heritage making in Angkor from the process of World Heritage nomination to that of formulating and implementing regulations, indeed has brought about new actors, meanings, perspectives, and challenges. In the process global, regional, national and local actors have come to actively interplay and compete as have been old and new meanings, perspectives and methodologies of implementation and management.
70Attention paid to the process of World Heritage making in Angkor shows us how it has significant influence on power politics and open an arena for competition all around, rather than it is just about preserving heritage. While there is also a danger of turning Angkor into an icon for economic development, there is a renewed concern over what to preserve, to which extent the heritage can be used, and by whom it can be decided.
71What lessons we can learn from the World Heritage making in Angkor is that for a successful nomination and management of a World Heritage Site, before placing a site on a candidate list, it is important to identify main stakeholders, collect sufficient data as to how the local people make use of space, what kind of knowledge they may have on their cultural and natural environment. ZEMP was used to serve for this objective, however, the research findings were not necessarily fully incorporated into the Zoning Law in a coherent manner. After all, Angkor World Heritage Site is not just a collection of ancient buildings and forests, but the local knowledge and the way the local inhabitants have lived in and associated with the environment and Angkor temples may also be considered as valuable "intangible" heritage. It is therefore important to integrate their concerns and wishes into policy-making and the mechanism of heritage protection and development. In a sense Angkor's management policy shifted at the right timing from emergency conservation to sustainable development, however, development requires more time, consultation and sensitive approaches for effective implementation.
72Managing authorities and personnel may also benefit from appropriate training from the onset concerning the concepts of heritage, heritage management and dealing with local communities. Representatives of the local communities may be part of the bodies such as ICC and any committees concerning heritage policy-making and management. The third-party monitoring of management may help improve the situation, and the contents of the evaluation be discussed with all the members at those committees and international forums concerning heritage protection and development.
Notes
1 A unified anti-Vietnamese resistance or a shadow cabinet formed in 1982, consisting of three groups led by Sihanouk, Son Sann (KPNLF) and Khieu Samphan (PDK) (Gottesman 2004:139-141).
2 Association of South-East Asian Nations established in 1967.
3 UNDP project means Zoning and Environmental Management Plan (ZEMP).
4 See also APSARA 1998: xvii; Chau Sun 2006:148; Lemaistre and Cavalier 2002.
5 Main conservation/restoration teams were EFEO, Japanese Government Team for Safeguarding Angkor (JSA), Sophia University (Japan), Royal Angkor Foundation (Hungary) sponsored by the German government, Italian Structural Engineers, German APSARA Conservation Project (GACP), Indonesian Technical Assistance for Safeguarding Angkor (ITASA), Chinese Government Team for Safeguarding Angkor (CSA), World Monuments Fund (American NGO), Archaeological Survey of India (ASI), and Swiss Agency for Research and Co-operation (SDC). See ICC (2010a: 24-26) for the entire restoration, conservation and research projects conducted or still on-going till 2010. ITASA's restoration project of the gates of the Royal Palace and Royal Angkor Foundation's restoration project of Preah Ko temple are not included as completed projects in this document.
6 For the relationship between APSARA and provincial authorities, see Chau Sun (2006:150).
7 FUNCINPEC stands for the United National Front for an Independent, Neutral, Peaceful and Co-operative Cambodia.
8 See Luco (2006:128-129) and Lloyd (2009:302-306) for similar recommendations, focusing on community participation in heritage "making".