Between Imagined Communities of Practice
|
,
,
,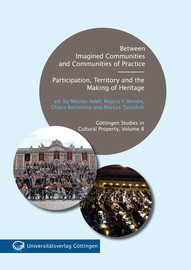 Contributors
p. 313-315
Texte intégral
1Nicolas Adell is Professor of Social and Cultural Anthropology at the University of Toulouse and leads the Department of Sociology and Anthropology. His research focuses currently on the scientific and artistic ways of shaping one's life.
2Noël Barbe is advisor ethnology to the Regional Office of Cultural Affairs of Franche-Comté and researcher with the Interdisciplinary Institute of Contemporary Anthropology. His work focuses on heritage action, the politics of the art and the history of anthropological knowledge
3 Regina F. Bendix is Professor of Cultural Anthropology/European Ethnology at the University of Göttingen and leads the Göttingen Research Group on Cultural Property. Her research focuses on the intersection of culture, economics and politics.
4Chiara Bortolotto is a research associate at the Institut interdisciplinaire d'anthropologie du contemporain (IIAC). She is the principal investigator of the project "UNESCO frictions: Heritage-making across global governance" at the École de hautes etudes en sciences sociales. Her research focuses on global heritage governance.
5Christoph Brumann is Head of Research Group at the Max Planck Institute for Social Anthropology, Halle, and Honorary Professor of Anthropology at the University of Halle-Wittenberg. Following on a past project on the townscape conflicts of Kyoto, his current research groups focus on urban World Heritage sites and on Buddhist temple economies in Asia.
6Marina Chauliac is an Anthropologist, Ethnological adviser (conseillère pour l'ethnologie) to the Regional Office for Cultural Affairs of Rhône-Alpes and researcher with the IIAC-Centre Edgar Morin (Paris). Her research focuses on memory, heritage and migration.
7Michael A. Di Giovine is Assistant Professor of Anthropology at West Chester University of Pennsylvania (USA) and Honorary Fellow in the Department of Anthropology at the University of Wisconsin-Madison. The author of "The Heritagescape: UNESCO, World Heritage, and Tourism", and co-editor of "Edible Identities: Food as Cultural Heritage"; "Tourism and the Power of Otherness: Seductions of Difference"; and "The Seductions of Pilgrimage: Sacred Journeys Afar and Astray in the Western Religious Tradition", he is a member of the American Anthropological Association's Task Force on Cultural Heritage and the co-editor of Lexington Book's series, "The Anthropology of Tourism: Heritage Mobility and Society".
8Stefan Groth is a European Ethnologist working on cultural heritage, innovation and everyday culture, sports, and multilateral negotiations. He is post-doctoral fellow at the Käte Hamburger Kolleg/Centre for Global Cooperation Research at the University Duisburg – Essen.
9Ellen Hertz is Professor of Anthropology at the University of Neuchâtel and has led a large-scale research project on the implementation of the 2003 UNESCO Convention for the Safeguarding of Intangible Cultural Heritage in Switzerland, financed by the Swiss National Science Foundation.
10Cyril Isnart is an anthropologist at the CNRS (IDEMEC, UMR 7307 Aix Marseille University CNRS) and co-founder of the Respatrimoni network. He works on religion, music and heritage practices in Southern Europe.
11Monika Salzbrunn holds a full professorship in Religion, Migration, Diaspora Studies at Lausanne University. She is Director of the Research Institute for Social Sciences of Contemporary Religions (ISSRC) and currently leads several research projects on festive events and carnival, cultural and digital resources of (undocumented) migrants and on (religious) diversity in urban spaces.
12Markus Tauschek is Assistant Professor of European Ethnology at Christian-Albrechts-University in Kiel, Germany. His main research interests concern the emergence of Intangible Cultural Heritage, tradition and performative culture in late-modernity and competitive logics and practices in everyday life.
13Jean-Louis Tornatore is an anthropologist, Professor at the Institute Denis Diderot, University of Burgundy, Dijon, France. His research focuses on the relationships with the past and the ways of living within time according to a pragmatist approach.
14As from the concept of " citizen heritage ", he questions the operativity of the heritage today, namely to the Anthropocene.
15Benedetta Ubertazzi, Aggregate Professor of International Law, School of Law, University of Macerata, Italy; Fellow, Von Humboldt Foundation Fellowship for Experienced Researchers: host Institute Max Planck Institute for Competition and Innovation, Munich, Germany; Fellow, Institute for Culture, Media, and Entertainment Laws of Chung-Ang University, Seoul, Korea.
16Sabrina Urbinati is currently a Postdoctoral Fellow in international law at the School of Law of the University of Milano-Bicocca, Milan, Italy. She obtained her PhD in International Law under a joint tutorship program between the University of Paris 1, Panthéon-Sorbonne, Paris, France and the University of Milan, Milan, Italy. Dr. Sabrina Urbinati's main areas of research are the international protection of cultural heritage and of environment. She has been involved in several national and European research projects and she published several articles and a book (Les mécanismes de contrôle et de suivi des conventions internationales de protection de l'environnement (Giuffré, Milan, 2009)) on these topics. Since 2002, she has acted as legal expert of the Italian Ministry of Foreign Affaires, in several negotiations and international meetings at UNESCO, and of ACCOBAMS Secretariat.
17Lauso Zagato is Professor of International Law, EU Law, Human Rights Law at Ca'Foscari University-Venice. Since academic year 2004-2005 he teaches also International and European Law of Cultural Heritage at the Advanced Master Degree in Economia e Gestione delle arti. Since 2000, he is mainly working on cultural rights'issues, with particular focus on the emergence of the notion of ICH and on the role of heritage communities in the ongoing process of patrimonialization. Main publications: La protezione dei beni culturali in caso di conflitto armato all'alba del secondo Protocollo 1999 (2007), Le identità culturali nei recenti strumenti UNESCO (ed. 2008), Le culture dell'Europa, l'Europa della cultura (ed. 2011, with Marilena Vecco), Il patrimonio culturale intangibile nelle sue diverse dimensioni (ed. 2012 with Tullio Scovazzi and Benedetta Ubertazzi), Citizens of Europe. Cultures and Rights (ed. 2015, forthcoming, with Marilena Vecco).