Between Imagined Communities of Practice
|
,
,
,
Community Conundrums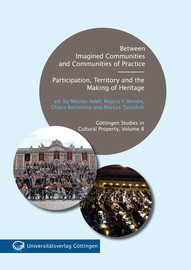 Bottoms, Genuine and Spurious

1
p. 25-57
Texte intégral
2By all accounts (Seitel 2001; Blake 2009; Bortolotto 2011; Urbinati 2012; Berliner and Bortolotto 2013; Brumann in this volume), the brandishing of bottoms in the area of heritage policy began with the 2003 UNESCO Convention for the Safeguarding of Intangible Cultural Heritage (hereinafter: ICH Convention), for it is the ICH Convention and the discussions leading up to its formulation that led UNESCO into a full-body embrace of the participatory paradigm. Eschewing expert-based determinations of the content and value of cultural heritage, the ICH Convention promotes a "bottom-up" approach in which "communities, groups or, if applicable, individuals" (UNESCO 2003: passim) are held to be the principal actors in decisions about what is important, endangered and worth safeguarding in the area of ICH. Without resolving all of the questions raised by this new paradigm, the UNESCO Secretariat has given considerable thought to what "participation" means in the context of ICH, soliciting the impressively complex document entitled "Expert Meeting on Community Involvement in Safeguarding Intangible Cultural Heritage: Towards the Implementation of the 2003 Convention" (hereinafter: Expert Report on Community Involvement) (UNESCO and Asia/Pacific Cultural Centre for UNESCO 2006).
4As I probed these questions, my discomfort became more systemic. Switzerland can rightly pride itself on the multiplicity of its democratic institutions. In this context, adding another layer of "participation" to the repertoire of political procedures, particularly as applied to the safeguarding of heritage and traditions, could seem unnecessary. What does the ICH Convention mean by "participation" over and above the many ways in which Swiss citizens are already encouraged by law and by their political institutions to participate in the governing of their country? The constant references throughout the ICH Convention, as well as their guidelines, publicity material and working papers, to "the community, group or, if applicable, individuals" only make things more complicated. Who are these people if not simple citizens? What are the differences between these collective entities and individuals, and, since human beings are all individuals in the end (or at the beginning), what does "applicable" mean in UNESCO-speak? Do these communities-groups-or-if-applicable-individuals (hereinafter: CGoiaIs) represent a different kind of "bottom," more legitimate than mere inhabitants empowered to vote, sign initiatives, oppose new construction, create associations, or request money from cultural authorities?
5In this chapter, I will explore some of the conceptual and procedural conundrums that the ICH process has made visible in Switzerland, for I believe that this small and peculiar country represents an ideal case for shedding light on the political and ideological blindspots of the participatory paradigm. My guiding question is the following: What is the relation between the participatory paradigm and good-old-fashioned citizenship? Put otherwise, by encouraging the participation of CGoiaIs in the constitution and management of ICH, is Switzerland simply encouraging more citizen involvement in cultural activities, or is it empowering entirely new political entities to play a key role in the cultural governance of this country? I hope to answer these questions empirically, but they clearly suggest another, normatively oriented question that I will leave open for further discussion: If the ICH Convention has the effect of creating and legitimating new cultural actors, is this a desirable outcome, and has it been arrived at through procedures that respect the "free, prior and informed consent" of Swiss citizens?
6In exploring these questions, I will draw on the analysis of "the social base of folklore" proposed by Noyes (2012) in her useful entry in A Companion to Folklore (Bendix and Hasan-Rokem 2012) for, I argue, the implicit conceptual framework that guides our understanding of "the bottom" is largely identical to folklore scholars' centuries-old attempts to understand where and what "the folk" is or are. Following Bauman (1971), Noyes identifies three main paradigms for conceptualizing the folk. The first of these – call it the "foundational conception" – locates the folk at "the deepest stratum of social life, flattened and superseded by the historical, hierarchical, or institutional overlay of modernity" (Noyes 2012: 14). Foundational folk are essentially innocent: Unsullied by institutions or other mediating forms, uncontaminated by self-consciousness, they are always already there, simply going about the business of being.
8Finally, more recent scholarship has argued for a "performative conception," defining the folk as that which is produced through its diverse vernacular expressions and performances in the "contingencies of a situation it seeks to transform" (Noyes 2012: 15). Performative folk represent another kind of innocence, the innocence of fluidity, dynamism and evanescence, in which doing has ontological priority over being. However, as Noyes points out, the "contingency" of the performative turn in folklore studies has called into question the notion that there exists "[a truly] isolable object", a collectivity that is simply "out there," independent from practice or performance itself (ibid.). In sum, performative folk may not be folk at all, a problem I will return to below.
9As I hope to demonstrate, the confusion and ambiguities in the administration of ICH reflect vacillating engagements with each of these conceptions. Furthermore, none of them quite explains how ICH actually plays itself out in Switzerland. As intimated, I argue that it is only by introducing another, non-folkloristic figure of "the bottom" – the citizen, in all her interest-based, ill-informed partiality (Lippmann 2009 [1927]) – that we can gain purchase on the form and function of ICH in democratic societies.
10I begin with a brief overview of UNESCO's embrace of the "bottom-up" paradigm, highlighting, as others have before me, some of the difficulties it raises, both conceptually and practically. I will then propose a (scandalously) schematic analysis of Switzerland's deep structural attachment to "bottoms," outlining two related but different semantic fields historically evoked by this idea, one "foundational," the other "relational." When applied to our analysis of how the ICH Convention was implemented in this country, we find traces of these "bottoms" but few fully fledged materializations. I will demonstrate this through an in-depth examination of how ICH inventorization was accomplished in a canton that is said to have undertaken a genuinely "bottom-up" approach. What emerged in this process was rather a mixture of "relational" and "performative" bottoms, and more importantly, collectivities of just plain old citizens. I will conclude by examining the implications of this surprise encounter with citizenship for ICH administration in democracies.
12The fixedness of the phrases "community, group or, if applicable, individuals" and "with their free, prior and informed consent" – no synonyms, approximations or shortcuts are in evidence – and the repetitive and mechanical quality of their use within both the ICH Convention and the Operational Directives for the Implementation of the Convention for the Safeguarding of the Intangible Cultural Heritage (hereinafter: ODs, see note 8) suggest that the reader of these documents is face-to-face with a real live legal fiction, a phrase that has been "coined" over the course of laborious negotiations between State parties and UNESCO staff so that it can circulate as currency in international exchange, allowing its users to gain purchase on certain kinds of entities legitimated by the international normative framework (Hertz 2010: 5, note 8; see also Groth 2012). These phrases are notably central in the ODs, suggesting that they are crucial not only to the conceptual scheme set forth by the ICH Convention but also to its operationalization. CGoiaIs must be the object of "functional and complementary cooperation" (ODs Article 79), their participation must be facilitated by a "consultative body or a coordination mechanism" allowing them to identify, define, and draw up inventories of ICH, elaborate and implement programs, projects and activities, prepare nomination files, remove elements from lists and transfer them from one list to another (ODs Article 80). CGoiaIs must be "sensitized" to the value and importance of their ICH (ODs Article 81); they should have their capacities built (ODs Article 82); their access to research on ICH facilitated (ODs Article 85); and they should be encouraged to form networks amongst themselves (ODs Article 86). Indeed, they may even be invited to participate in meetings of the Intergovernmental Committee within the limit of available resources (ODs Article 89). However, a closer look at the ODs, taken in conjunction with the interpretation provided by the Expert Report on Community Involvement (UNESCO and Asia/Pacific Cultural Centre for UNESCO 2006), the product of a series of meetings convened in Tokyo in 2005–2006 in order to prepare the ODs, brings to light a number of important discrepancies between this conceptual framework and its operational mechanisms.
13As mentioned above, the functional equivalent of experts in the ICH paradigm are explicitly CGoiaIs. Notably, however, the ODs also mention two other types of actors (beyond State parties, Commissions and the Secretariat) who have a role to play in the operationalization of this paradigm: On the one hand, "experts, centres of expertise and research institutes" (ODs Articles 79–89); on the other hand, nongovernmental organizations (ODs Articles 90–99) which, while they are not themselves "communities" in the sense outlined above, nonetheless possess "a regular active membership", which forms "a community linked by the desire to pursue the objectives for which [the NGO was] established" (ODs Article 91 (e) i). This is the clearest sign that the ICH Convention is not, strictly speaking, a purely CGoiaIs-based affair. Rather, as Bortolotto has pointed out (Bortolotto 2012), while its legitimating ideology and many of the operational mechanisms of the ICH Convention may be "bottom-up" in tone, the ICH Convention allows for and even requires a number of "top-down" interventions that it does not thematize as such. This is confirmed by the Expert Report on Community Involvement, which explicitly concludes that while "the practitioners and custodians of ICH must play a central role in safeguarding measures, […] top-down and bottom-up approaches are equally indispensable for designing and implementing measures at the national and the international level." (UNESCO and Asia/Pacific Cultural Centre for UNESCO, 2006: 8).
16The Expert Report on Community Involvement begins by emphasizing the importance of avoiding "fixist" or essentialist definitions of CGoiaIs, in keeping with its view that "ICH safeguarding is to focus on practices and processes rather than on products" (UNESCO and Asia/Pacific Cultural Centre for UNESCO 2006: 8), and that it is important to avoid "static" (ibid.: 9) definitions of terms that fail to take into account the dynamic nature of ICH. Accordingly, the experts suggest "focusing on the ICH as the common element for defining community, group and individual for the purposes of the Convention. The resulting definitions were to be flexible tools." (ibid., emphasis in the original). Importantly, this approach implies that CGoiaIs have no existence independent of the particular item of ICH under consideration, an approach that reflects a performative conception of CGoiaIs in which cultural expression, practices and know-how have ontological priority over the group. However, this conception clearly runs counter to other key formulations in the ICH Convention that are foundational in nature, as exemplified by the reference to CGoiaIs' "environment, their interaction with nature and their history" in Article 2. And the contradictions do not end here, as becomes obvious when the Expert Report attempts to probe the precise nature of CGoiaIs and provide a way to understand the structure of the "bottom."
18Apparently, two different logics of legitimacy are at work here: The community is legitimate because it is the locus of the "sense of identity" that stems from "shared ICH" (a foundational or relational conception of the bottom); groups and individuals draw their legitimacy, on the other hand, from their special skills, experience and knowledge (a performative conception). Which form of legitimacy trumps the other in cases of conflicting interpretations of ICH remains an open question: The Expert Report on Community Involvement hints that communities are "higher" than groups or individuals, but in a situation emphasizing the importance of the "bottom," perhaps height is a disadvantage.
19And the picture is even more complicated than this already complicated analysis suggests. If we imagined that the relations between communities, groups and individuals could be understood through a standard territorialized matryoshka image of social organization (Gupta and Ferguson 1992) – a community includes but is larger than a group, which is in turn larger than and includes the individual – we would have been mistaken. Communities are defined as a social form: "Networks," potentially linking people from different territories, with different interests and who occupy very different roles in relation to a given item of ICH. Groups, on the other hand, are defined functionally: They are comprised of "people" (individuals?) from a single or many communities ("across communities," or networked communities?) who "perform specific roles" in relation to the item of ICH under consideration. And individuals, it turns out, far from being the building blocks of these collective forms, are simply one-man groups.
20Aside from the ad hoc nature of these definitions, a number of difficulties are in evidence. For example, how are these different social entities related to the key concept of the "environment" mentioned in Article 2 of the ICH Convention, which would seem to link these social units to specific territories and/or ecosystems? Does the ICH Convention have concrete territories in mind, or are the "environment," "nature" and "history" mentioned in Article 2 to be understood as socially constituted, a non-"fixist" social space within which the particular item of ICH is practiced? In other words, are CGoiaIs rooted in history, ethnicity and historically constituted relations to land and natural resources (a foundational or relational conception), or are they ephemeral communities of performance and practice that need not lie within historically determined boundaries between historically determined groups (a performative conception)?
21These questions might seem nit-picky or theoretical, but they have concrete implications for who decides what in a given situation. If it is the ICH that defines the community and its "environment," then mere spectators, tourists for instance, have a major role to play in its constitution. But most likely, these tourists have come to watch a demonstration of ICH, and to marvel at the community that practices it, precisely because they do not consider themselves to be a part of it, because it is practiced by "others?" Are tourists then a "group" or "individuals" who accomplish the rather important function of watching but do not belong to the "community" as such? Similar questions can be raised about NGOs, which, we should remember, the ODs define as another kind of "community." Is the cultural NGO who brings these tourists to the middle of the Amazon a "community" or a "group," or none of the above, particularly if its statutes state that its primary purpose is to promote the sustainable development of the "community" it is urging people to visit?
22It would seem that only an implicitly territorialized, ethnicized and fixist framework could allow us to assert that the NGO is not a "group" comprised of "people within or across communities [imagine, as is often the case, that their staff are indigenous activists living in the city] who share characteristics such as skills, experience and special knowledge [is running a tourist business none of these?], and thus perform specific roles in the present and future practice, re-creation and/or transmission of their intangible cultural heritage" (UNESCO and Asia/Pacific Cultural Centre for UNESCO 2006: 9). And yet, were they a "group" like any other, then their definition of the content of the ICH under consideration would have equal weight with that of other participants. If we picture this scenario in the Amazon, where tour guides regularly instruct indigenous peoples on the best way to perform their rituals in order to attract Western tourists, we must conclude that something has gone oddly off.
23Put starkly, the ICH Convention and the Expert Report on Community Involvement propose what are in effect contradictory understandings of CGoiaIs: While the ICH Convention seeks to grant if not rights at least claims to ethnicized, historically constituted minority groups and populations, the Expert Group defines CGoiaIs as networks, contingent, practice-or performance-based collectives, similar to Lave and Wenger's "communities of practice" (Lave and Wenger 1991). Thus, the difficulties encountered when it comes to pinpointing the relation between cultural expression and its practitioners – what Noyes calls "the visibility of the cultural and the elusiveness of the social" (Noyes 2012: 15) – lead the Expert Group to take away with one hand what the ICH Convention has granted with the other. Anthropologists and folklorists can appreciate the problem; indeed, as mentioned above, we have been a driving force in the move away from fixist notions of communities or groups and towards performative, contingent, network-based models for understanding collective action in the area of cultural heritage (see Noyes 2003, for an excellent review of this history). However, we might hesitate to condone the solution. In adopting a performative conception of the social base of ICH, the Expert Group has in essence deprived these (relationally constituted) social actors of the (strategically reified) grounds on which to assert their foundational claims against others.
24If we are not simply to wag ivory-tower fingers at hardworking people whose job it is to fulfill concrete institutional missions, we must then ask the following question: Could the Expert Group, or UNESCO for that matter, have done otherwise? In order to answer this question, we needed a better understanding of the stakes – of the various performative effects (or absence of effects) – underlying this normative framework. For the time being, a troubling mixture of descriptive and prescriptive conceptions characterizes the various documents whose purpose it is to move ICH from abstraction to application: The ICH Convention sets forth a series of principles and summons into existence new legal fictions (CGoiaIs) to live them out. It leaves to the ODs, and to the experts mandated to help elaborate them, the difficult task of making these new legal entities correspond with something that can be observed in the real world. Experts rightly turn to anthropological and folklore studies of expressive culture for enlightenment, only to rediscover the same forms of confusion, for these disciplines, in their various ways, have also made something of a living brandishing, celebrating, taxonomizing and mobilizing "bottoms."
25Admittedly, over the course of disciplinary history, our various attempts to refine our conceptual tools have moved us further and further away from romanticized vision of foundational folk with which we began, both because of our increased critical perspective on the negative, even catastrophic, side-effects of some of these formulations over the course of 20th century history and, I would suggest, because of our increasing irrelevance to contemporary policy formation within the international and national arenas. However, today, if we are to contribute usefully to this debate, we need to launch a process that moves in the opposite direction: From empirically grounded description and analysis of popular expressive culture, social practices and vernacular skills and knowledge creation (an enterprise already largely under way, with felicitous results) to normative conceptualizations that are capable of promoting the goals of socio-cultural inclusion, recognition and diversity that the UNESCO framework sets out to attain. Switzerland, I argue, is a good place to start.
26Switzerland may picture itself – both literally and figuratively – as a land of heights, but it is, by consequence, also a land of bottoms. Indeed, Switzerland has been inventing and experimenting with "bottoms" since its foundation as a nation, conventionally dated to the "Federal Charter," a pact of mutual protection against political imposition and economic exploitation by the Holy Roman Empire that was signed in 1291 by representatives of what were to become the three cantons of Uri, Schwyz and Nidwald. In the founding mythology of the Swiss nation, this pact is associated not with the legalistic signing of an agreement in Latin, but rather with a highly romantic moment, the encounter between three free men, representing their respective cantons, who are said to have met in 1307 to swear mutual alliance in the meadow known as the Rütli (or Grütli), in a stirring demonstration of what would today be called "free, prior and informed consent."
27For our purposes, this foundational myth is important for what it reveals about the contrasting conceptions of "the bottom" in the Swiss political context. In one conception – the relational – the bottom can be seen as a position, the oppressed half of a power relationship, in which the top is represented by a foreign state or power. An external pressure creates putative community, which, as fractious and fragile as it may be when viewed from within, is accepted for the strategic purposes of the moment in relation to an aggressive outsider. That these three brave men from Uri, Schwyz and Nidwald were land-owning, serf-employing local power holders – and thus, in a sociological sense, in no way "representative" of their respective "peoples"– drops out of the analysis precisely because they were granted the political legitimacy to represent their cantons against foreign oppressors. It is barely an exaggeration to say that we have here the successful transformation of local populations into a "First Nation," as the current indigenist vocabulary would call it: A historically constituted group resisting encroachment by colonial powers.
28The second way in which our three heroes are at "the bottom," conceived foundationally as a place and not a position, becomes clear when one looks at the iconography of this mythical moment, particularly prominent in romantic efforts to shore up Swiss nation-building in the 18th and 19th centuries. In two famous paintings of the Rütli Pact reproduced below, the contracting parties are clearly "under" something, but that something is not a human institution. Rather, in the painting by Füssli their upward gaze is directed towards the sky, and the light that emerges looks suspiciously as if it emanates from God. The painting by Renggli echoes this depiction, but adds another element in the form of the Alps – literally naturalizing, or rather, "naturizing," their foundational act, unmediated by anything but glaciers and the Lord himself, with which their uplifted hands appear to be in direct contact.
29The combination of these two conceptions, or rather the slip from the former to the latter, denotes a fundamental ambiguity in the way in which Switzerland understands its own political structures. On the one (raised) hand, Switzerland as a nation is conceived relationally, as an act of resistance to foreign exploitation and influence. On the other, the founding of the Swiss nation appears in all of its ur-innocence, an unmediated allegiance of equals, uncontaminated by any superior human institution and sanctioned only by the benevolent forces of God and/or Nature. This second foundational interpretation is, of course, in direct resonance with the romantic nationalism associated with Herder's concept of the Volk, and it is no surprise to find it popping up, or should we say popping down, here. What is important for my demonstration is the way in which these two conceptions blend together, creating what I will call the "downward pull" of the Swiss political imaginary, which affects everything from the constitution of the Swiss Federal Counsel to the composition of the Fribourg Federation of Costumes and Customs.
31This history is reflected in numerous institutions that deflect, delay and complicate, but also consolidate, decision-making processes: A constant attention to what is called "cultural diversity" (guaranteeing the presence of representatives of the three main national languages that are German, French and Italian in all political bodies); innumerable procedures for consensus-building and consultation amongst cantons, regions and the Confederation; a multiplicity of intermediary institutions (the Swiss Conference of Cantonal Ministers of Education, for example, or Conference of Governments of Central Switzerland, or the umbrella organization, the Foundation for Federal Co-operation). These principles, procedures and mechanisms go far beyond the presence of representatives of each canton in the (bi-cameral) federal parliamentary system.
33Following this spirit of popular involvement in policy-making all the way down to the town, village or neighborhood levels, one finds procedures for consultation in, appeal against and opposition to zoning decisions about construction and infrastructure, one finds the militia-system that governs the lowest level administrative units in very small communes, and one find the dense web of NGOs, associations, clubs and groups (frequently operative at the local level linked to other local levels through federations) that make Swiss "civil society" one of the most densely populated in the world (Helmig et al. 2011). And not coincidentally, this constant downward drift is associated with a deep and invested (both emotionally and economically) history of folklore studies and promotion of tradition, making Switzerland an ideal setting for the deployment of the ICH "bottom-up" framework, to which we now turn.
34As mentioned above, cultural policy in Switzerland is subject to the principle of "subsidiarity," which means that the Federal Office for Culture (hereinafter: FOC) and other federal entities play a secondary role in the promotion and financing of cultural activities in this country. In the context of Switzerland's ratification of the ICH Convention, this had precise and concrete implications. By signing the ICH Convention, the federal state committed itself to the creation of a national inventory of ICH in Switzerland, but following the Swiss Constitution, the responsibility for the content of this inventory lay with the cantons. Upon the signing of the ICH Convention, therefore, the FOC drew up a set of general procedural guidelines for the cantons in order better to centralize information, but left cantonal governments a large margin of freedom to interpret these guidelines in conformity with their own laws and procedures.
36In contrast to Fribourg, most Swiss cantons chose to follow what Graezer Bideau calls a "variety of methods" (2012: 307), combining "top-down" and "bottom-up" procedures. Concretely, this meant that cantonal authorities used experts to draw up a preliminary list of "living traditions" and then, or simultaneously, provided information to and consulted with local cultural associations already identified as active in the area of tradition. Frequently, this approach also involved communication and collaboration with the level of administration directly below the cantonal level, the commune. As mentioned above, communes in Switzerland can be very small, sometimes representing as few as a couple of hundred inhabitants, in which case they are governed through a semi-militia system of administration in which civil servants work half-time (or less) at their administrative positions while occupying other jobs elsewhere.
40This history helps explain why, when the Neuchâtel Service for Cultural Affairs received the FOC's request to constitute a cantonal inventory of "living traditions," the immediate reaction was reluctance, indifference and confusion. The director of the Service contacted the Anthropology Institute (that is to say, me), in the hopes that I could help her devise a strategy for creating an inventory of ICH in a canton that, in her words, "has no traditions." In her view, the canton's policy in relation to culture was limited to offering support to new creations and emerging activities, though it did subsidize some established associations active in the area of popular culture. Its conservation arm operated uniquely in the area of material and monumental heritage, and she did not have the legal basis to reorient its activities into the area of intangible culture. Finally, she told me, the cantonal government was not particularly interested in cultural policy in general, and particularly indifferent to the question of cantonal "traditions." Thus, she had received virtually no political or economic support for the task that the FOC had thrust upon her. Given my own involvement in the large research project at the origins of this paper, that is to say, in studying the process she hoped I would help design, I expressed hesitation at the idea of participating directly in the creation of the cantonal inventory. However, I did join the ad hoc expert group that she constituted to reflect on the best way to proceed.
41The group was composed of seven civil servants responsible for material heritage preservation, cantonal archives and local museums, of two university professors (myself and a historian), of a civil servant working directly for the Service in question and of the director herself, who presided. Its initial discussions were conducted in an atmosphere of mixed curiosity and consternation. Trained as a historian, the Service's civil servant directly responsible for the constitution of the inventory was manifestly reluctant to follow UNESCO in recognizing as ICH practices and activities that were not, in his view, genuinely traditional, for "traditional" signified for him cultural expressions whose origins could be dated back to at least before 1848, the moment when Neuchâtel entered the Swiss Confederation as a modern, independent Republic, and ideally to before the Protestant Reformation. As for the other cantonal and communal civil servants in the group, they also expressed some reluctance to take up what they felt to be a highly charged and confusing political initiative. Some of them, active in international circles and structurally suspicious of federal cultural bureaucracy, were wary of the right-wing, populist overtones of the ICH Convention, quickly identifying the dangers of reifying and romanticizing "communities." Others, more rooted in local settings, wondered how they were to go about thinking up new activities or exhibitions above and beyond the programs they regularly put in place to encourage more popular participation in the identification of intangible culture (the international Journées du patrimoine, for example, or in local promotional efforts such as the Journées du patrimoine horloger). The archivists saw their role as one of back-up; they were more than willing to help with documenting the living traditions that were to figure on the cantonal inventory, but they had no great desire to participate in choosing them.
42As for myself, I had a number of hidden agendas. In a negative vein, over and above my discomfort at the idea of playing an active role in a process I was supposed to be simply observing, I wanted to avoid two impossible tasks: Defining what was an authentic "living tradition," and identifying real-live CGoiaIs associated with them. On a more positive note, I was curious to see how a thoroughly non-interventionist stance would work itself out in practice. What if, I wondered, we took UNESCO ideology at its word? What would happen if we "at the top" did virtually nothing – sat back, folded our arms and simply waited for "the bottom" spontaneously to express itself?
44Eight propositions came bubbling up from the wellspring that is "living tradition" in the canton of Neuchâtel. They represented a hodge-podge of practices and festivities that surprised the expert group, and amused and perplexed the press in its (minimal) coverage of events (Droz 2011). As mentioned, the most noteworthy aspect of this procedure for the press was the absence of watch-making heritage from the list, for watch-making, and micro-and nanotechnologies generally, are signature activities for the canton, both economically and symbolically. But apart from this sorely missed guest, who were the CGoiaIs that were invited to the party and with which ICH communities, groups and individuals was the canton newly populated? What follows is a brief description of each of them, in all of their heteroclite normalcy. If this description is meandering and "random," as young people say, well, tradition is meandering and random, and CGoiaIs, or what stood in for them in Neuchâtel, are diverse, unpredictable and not particularly communicative.
46In their content, these festivities are similar to the national celebration that takes place every year to commemorate the "Grütli Pact" in so-called "Primitive Switzerland," the mythical moment of nation building that supposedly took place on the plain of the same name. In all three celebrations, a temporarily united, politically determined "us" comes together to display its opposition to an absent "them," an oppressive foreign powers whose overthrow demonstrates the essentially democratic spirit of the Swiss, respectively Neuchâtel, people. At first glance, therefore, these traditions seem to be based on the foundational-relational conception of the bottom as described above, in which villagers can celebrate their community by invoking a common enemy. However, it does not take much fieldwork to discover that participants are not particularly preoccupied with shoring up the boundaries of a foundational-relational "us."
47Indeed, examined through the lens of the performative conception of the bottom, it is easy to identify the "contingent situation" that these rituals seek to transform: For the commemorative march, rejuvenating the bonds between the "higher" and "lower" parts of the canton through an active demonstration of openness, fun and collective effort; for the Fountain Festival, creating a moment of intergenerational solidarity and perhaps (though this argument is only implicit) drawing attention to the revolutionary history of the Val-de-Travers, the region where these two villages are located, traditionally excluded from the "high/low" dichotomy that divides the canton into two (see Hertz & Wobmann 2014b).
49Like the revolutionary traditions, the grape harvest festival presupposes a place with an identity, and more importantly, an audience. The other four traditions on the cantonal list are all more inward-looking, centering on the activities of a small, non-homogenous group of practitioners who are not promoting much. With reference to the "sense of identity and continuity", the "environment, […] nature and […] history" referred to in Article 2 of the ICH Convention (UNESCO 2003), they can be arranged on a scale running from "based-in-a-historically-orgeographically-constituted-sense-of-collective-identity" to "none-of-the-above," with "more-or-less-popular-in-the-region," and "that's-where-the-river-runs" falling somewhere in between.
54Summing up this series of propositions, what do we find? As the table below suggests, there are three institutional forms that enter into play in Neuchâtel's living traditions: associations, communal administrations, and in one case, an individual standing in for a research institute, standing in for an expert group, standing in for the entire cantonal population. While most of these traditions are practiced simply for the sake of it, they are all loosely related to regional history, geography or topography. Two of them also refer to the political events that led to the creation of the political entity that is Neuchâtel, celebrating not so much what Neuchâtel was or is as what they thought it should be. While pride was in the air, so was irony; while specialized skills were in evidence, so were simple activities such as walking, drinking, skating, eating and watching. None of the "bearers" of this "ICH" justified themselves or their practices with reference to the notion of "community," nor were they particularly comfortable with the phrase "intangible cultural heritage," preferring the term "tradition." Most importantly, none of them saw his or her group or activity as exclusively neuchâtelois, nor did they accord particular legitimacy to their status, or take themselves to be "bearers" of some form of cantonal identity.
| | | | | | | | |
| --- | --- | --- | --- | --- | --- | --- | --- |
| | Revolutionary commemorative march | Fountain festival | Grape harvest festival | Neuchâtel lace-making | Neuchâtel skittles | Skating on the Doubs river | Outdoor barbecue (torrée) |
| associations or federations | X | | X | X | X | | |
| communal administration | | X | | | | X | |
| individual (proxy) | | | | | | | X |
| Foundational-relational folk | kinda + | kinda | kinda – | nope + | nope + | nope + | nope |
| performative folk | yup + | yup + | kinda – | nope | nope + | kinda | nope – |
| regular folk, going about their business | nope | nope + | kinda | yup | yup + | yup + | yup |
Figure 4: Analytics of Neuchâtel's "living traditions"
Legend: "yup" signifies the clear presence of the particular logic of belonging listed in the left hand column; "nope" signifies its absence; and "kinda" signifies something between the two. As for the plusses and minuses, they are there to indicate whether these logics of belonging were explicitly articulated (+), latent, not mentioned or ambivalent (no indication) or downplayed (–). Clearly, this whole exercise in table-making demonstrates that fieldwork data does not fit neatly into boxes. My point is neither does ICH.
55In sum, the foundational and relational conceptions of the bottom so prominent in the ICH framework seem to play at best a secondary role here. Indeed, I would be comfortable claiming that the "communities" that are hearty citizen marchers, singing school children out too late, gals on floats and drunken partiers, lady-like lace-makers, aging bowlers, happy ice-skaters or family picnickers are a pure artifact of the ICH framework and the ICH Convention's obsession with CGoiaIs. But does this mean there's actually nobody "down there," nobody at "the bottom" at all?
56In 2012, to celebrate the Swiss Year of the Forest, the canton of Neuchâtel organized an enormous torrée in a communal field in which each commune was given a spot near a fire, and massive amounts of Neuchâtel sausage and wine were made available for purchase. The weather was clement, the cars lining the forest path numerous, and the celebration was a huge success. The torrée had been listed on the cantonal list of Intangible Cultural Heritage, and everyone seemed to agree that this move was appropriate; it was even part of the celebratory sub-text leading up to the organization of this event. But what were the bonds that linked the couples, individuals, families and politicians that came to roast their meat in these multi-sited cinders? Were they primordial, ethnic or created in the heat of performance? Yes, there were traces of these sentiments in the air: Jokes, usually depreciative, about how such-and-such was typically neuchâtelois; playful disputes about the right way to wrap one's sausage (with the well worn tension between people from the "high" and "low" parts of the canton expressed through the question of which newspaper – "high" or "low" – one wrapped with); a low-intensity sense of communitas created by the smoke, the smells and the sunlight. Attached through professional, social or kinship relations to the various communes organizing communal campfires, the participants came to partake in the giant picnic: Nothing more, but certainly nothing less. However, if push came to shove, they might well have affirmed their desire, if not assert their right, not to bother with the "community" of picnickers hailing from different communes in the canton, not to share ideas, values or tastes with their neighbors, not to join hands in a massive cantonal dance through the wooded pastures, etc.
Bibliographie
References
Arnstein, Sherry R. (1969): A ladder of citizen participation. Journal of the American Planning Association 35(4): 216–224.
Barth, Fredrik (1969): Ethnic Groups and Boundaries. The Social Organization of Cultural Difference. New York: Little Brown & Company.
Bauman, Richard (1971): Differential Identity and the Social Base of Folklore. Journal of American Folklore 84 (331): 31–41.
Bendix, Regina (1992): National sentiment in the enactment and discourse of Swiss political ritual. American Ethnologist 19 (4): 768–790.
Bendix, Regina, and Galit Hasan-Rokem, eds. (2012): A Companion to Folklore. Chicester: Wiley-Blackwell Publishing.
Berliner, David and Chiara Bortolotto (2013): Le monde selon l'Unesco. Gradhiva 18: 4–21.
Blake, Janet (2009): UNESCO's 2003 Convention on Intangible Cultural Heritage. The implications of community involvement in 'safeguarding.' In Intangible Heritage. Laurajane Smith and Natsuko Akagawa, eds. Pp. 45–73. London/New York: Routledge.
Bortolotto, Chiara (2011): Le trouble du patrimoine culturel immatériel. In Le Patrimoine culturel immatériel. Enjeux d'une nouvelle catégorie. Chiara Bortolotto, ed. Pp. 21–43. Paris: Maison des sciences de l'homme.
– (2012): The French Inventory of Intangible Cultural Heritage: Domesticating a Global Paradigm into French Heritage Regime. In Heritage Regimes and the State. Göttingen Studies in Cultural Property, Vol. 6. Regina Bendix, Aditya Eggert, and Arnika Peselmann, eds. Pp. 265–282. Göttingen: Universitätsverlag Göttingen.
Botchway, Karl (2001): Paradox of Empowerment: Reflections on a Case Study from Northern Ghana. World Development 29(1): 135–153.
– (2013): Comment le patrimoine mondial de l'Unesco devient immatériel. Gradhiva 18: 23–48.
Cooke, Bill and Uma Kothari, eds. (2001): Participation: The New Tyranny? London/New York: Zed Books.
Cornwall, Andrea (2008): Unpacking 'Participation': models, meanings and practices. Community Development Journal 43(3): 269–283.
Dewey, John (1927): The Public and its Problems. New York: Holt Publishers.
Doyen, Audrey and Grégoire Mayor (2014): Comme des experts dans un jeu de quille. In Complications neuchâteloises: histoire, tradition, patrimoine. Ellen Hertz and Fanny Wobmann, eds. Pp 187–195. Neuchâtel: Editions Alphil.
Droz, Daniel (2011): La torrée inscrite à l'UNESCO? L'Express/L'Impartial, June 3, 2011.
Eden, Sally (1996): Public participation in environmental policy: considering scientific, counter-scientific and non-scientific contribution. Public Understanding of Science 5(3): 183–204.
Graezer Bideau, Florence (2012): Identifying 'Living Traditions' in Switzerland: Re-enacting Federalism through the UNESCO Convention for the Safeguarding of Intangible Cultural Heritage. In Heritage Regimes and the State. Göttingen Studies in Cultural Property, Vol. 6. Regina Bendix, Aditya Eggert, and Arnika Peselmann, eds. Pp. 303–325. Göttingen: Universitätsverlag Göttingen.
Groth, Stefan (2012): Negotiating Tradition. The Pragmatics of International Deliberations on Cultural Property. Göttingen Studies in Cultural Property, Vol. 4. Göttingen: Universitätsverlag Göttingen.
Gupta, Akhil and James Ferguson (1992): Beyond 'Culture': Space, Identity and the Politics of Difference. Cultural Anthropology 7(1): 6–23.
Hafstein, Valdimar T. (2012): Cultural Heritage. In A Companion to Folklore. Regina Bendix and Galit Hasan-Roken, eds. Pp. 500–519. Chicester: Wiley-Blackwell Publishing.
Helmig, Bernd, Markus Gmür, Christoph Bärlocher, Georg von Schnurbein, Bernard Degen, Michael Nollert, Monica Budowski, Wojciech Sokolowski and Lester M. Salamon (2011): The Swiss Civil Society in a Comparative Perspective. VMI research series Vol. 6. Fribourg: University of Fribourg. Available at: http://www.vmi.ch/upload/forschung/forschungsreihe/The_Swiss_Civil_Society_Sector_in_a_Comparative_Perspective_-_VMI_research_series_-_Volume_6_mit_Cover.pdf <accessed April 20, 2014>
Hertz, Ellen (2010): Excessively up at the International Labour Organization. Notes on "Note on the Proceedings TMITI/2007/10". MAPS Working Paper Series 9. University of Neuchâtel. Available at: https://doc.rero.ch/record/20724/files/Hertz_Ellen_-_Excessively_up_at_the_International_Labour_Organisation_20101005.pdf <accessed April 20, 2014>
– (2015): La Suisse et la Convention de l'UNESCO pour la sauvegarde du patrimoine culturel immaterial: plaidoirie pour une interpretation cohérente et courageuse. In Lebendige Traditionen ausstellen. Bundesamt für Kultur, Verband der Museen der Schweiz, Museum für Kommunikation, eds. Pp. 33–40. Baden: Hier und Jetzt.
Hertz, Ellen and Fanny Wobmann, eds. (2014a): Complications neuchâteloises: histoire, tradition, patrimoine. Neuchâtel: Editions Alphil.
– (2014b): "Introduction" In Complications neuchâteloises: histoire, tradition, patrimoine. Ellen Hertz and Fanny Wobmann, eds. Pp. 11-26. Neuchâtel: Editions Alphil.
Hinton, Rachel (1995): Trades in different worlds: listening to refugee voices. PLA Notes 24: 21–26.
Lavanchy, Anne (2014): The circulation of people. How does 'race' matter in Switzerland? MAPS Working Paper Series 7. University of Neuchâtel. Available at http://doc.rero.ch/record/210431?ln=fr <accessed February 26, 2015>
Lave, Jean and Etienne Wenger (1991): Situated Learning: Legitimate Peripheral Participation. Cambridge: Cambridge University Press.
Lévi-Strauss, Claude (1971): Race et Culture. Revue internationale des sciences sociales XXIII (4): 647–666. Available at: http://www.unesco.org/bpi/pdf/courier042008_levy_strauss_race_culture.pdf (no pagination) <accessed April 20, 2014>
Lippmann, Walter 2009 [1927]: The Phantom Public. New Brunswick: Transaction Publishers.
Lucas, Jean-Michel and Kasimir Bisou (2012): Le PCI à l'épreuve de l'universalité. Paper given at the colloquium "Le patrimoine oui, mais quel patrimoine?" organized by the French National UNESCO Commission and Centre français du patrimoine culturel immatériel – Maison des Cultures du Monde. April 3–4, 2012 (Paris).
Michener, Victoria J. (1998): The participatory approach: Contradiction and cooption in Burkina Faso. World Development 26(12): 2105–2118.
Munz, Hervé (2011): Les (im)mobiles frontières du patrimoine horloger dans l'Arc jurassien. Géo-regards 4: 43–58.
Noyes, Dorothy (2003): Group. In Eight Words for the Study of Expressive Culture. Burt Feintuch, ed. Pp. 7–41. Urbana: University of Illinois Press.
– (2012): The Social Base of Folklore. In A Companion to Folklore. Regina Bendix and Galit Hasan-Roken, eds. Pp. 13–39. Chichester: Wiley-Blackwell Publishing.
Sapir, Edward (1924): Culture, Genuine and Spurious. The American Journal of Sociology XXIX(4): 401–429.
Seitel, Peter, ed. (2001): Safeguarding Traditional Cultures. A Global Assessment. Washington D.C.: Center for Folklife and Cultural Heritage, Smithsonian Institution.
UNESCO (2003): The Convention for the Safeguarding of Intangible Cultural Heritage. http://www.unesco.org/culture/ich/index.php?lg=en&amp;pg=00022 <accessed April 20, 2014>
UNESCO and Asia/Pacific Cultural Centre for UNESCO (2006): Expert Meeting on Community Involvement in Safeguarding Intangible Cultural Heritage: Towards the Implementation of the 2003 Convention. http://unesdoc.unesco.org/images/0014/001459/145919e.pdf <accessed April 20, 2014>
Urbinati, Sabrina (2012): The Role for Communities, Groups and Individuals under the Convention for the Safeguarding of the Intangible Cultural Heritage. In Cultural Heritage, Cultural Rights, Cultural Diversity. New Developments in International Law. Silvia Borelli and Federico Lenzerini, eds. Pp. 201–221. Leiden/Boston: Brill Publishers.
White, Sarah C. (1996): Depoliticising development: the uses and abuses of participation. Development in Practice 6(1): 6–15.
Wobmann, Fanny (2014): La torrée ou comment s'ancre une tradition dans un canton recalcitrant. In Complications neuchâteloises: histoire, tradition, patrimoine. Ellen Hertz and Fanny Wobmann, eds. Pp. 231–240. Neuchâtel: Editions Alphil.
Wobmann, Fanny and Ellen Hertz (2014): Patinage sur le Doubs: le paradoxe de la patrimonialisation. In Complications neuchâteloises: histoire, tradition, patrimoine. Ellen Hertz and Fanny Wobmann, eds. Pp. 221–229. Neuchâtel: Editions Alphil.
World Bank (1996): The World Bank Participation Sourcebook. Washington D.C.: The World Bank.
Wuhl, Simon (2008): La démocratie participative en France: repères historiques. Institut de recherche et débat sur la gouvernance. http://www.institut-gouvernance.org/fr/analyse/fiche-analyse-418.html <accessed May 30, 2014>
Notes
1 Younger readers might not recognize this reference to Edward Sapir's famous article "Culture, Genuine and Spurious" (1924). In it, Sapir characterizes culture as one of a set of concepts that "label vague terrains of thought that shift or narrow or widen with the point of view of whoso makes use of them, embracing within their gamut of significance conceptions that not only do not harmonize but are in part contradictory" (Sapir 1924: 401). Much the same proviso applies to the concept of "the bottom," as I hope to demonstrate. The research for this article is based on a grant from the Swiss National Science Foundation, Interdivisional co-ordination and co-operative research (CORE), grants n° CRSII1-141927 ("Intangible Cultural Heritage: the Midas Touch?") and CRS111-127570 ("Intangible Cultural Heritage in Switzerland: Whispered Words"). I extend my thanks to the FNS and to the fine team of scholars who have worked with me on this project. I would also like to thank the colleagues at the Trilateral Villa Vigoni Workshops on "Institutions, Territories and Communities: Perspectives on Translocal Cultural Heritage", and in particular Nicolas Adell, Regina Bendix, Chiara Bortolotto and Markus Tauschek for organizing these fruitful encounters.
2 In the interests of reflexivity, I should state at the outset that I have been both actor and observer in Switzerland's implementation of the ICH Convention. How this double role has affected my conclusions should become clear over the course of this article. However, as a general statement, it would be fair to say that my initial reaction was hostility, and while that position has been largely softened by my appreciation of the complexities and ambiguities of this process, I have not entirely shed my initial doubts about the ICH Convention's legitimacy, intellectual coherence and usefulness (see Hertz forthcoming).
3 On this point, it is to be feared that the post-colonial, UNESCOesque celebration of "cultural diversity" has blinded us to the problematic relationship between ethno-cultural differentiation and social conflict, even warfare. In his famous talk "Race et Culture", commissioned by UNESCO in 1971 to inaugurate the "International Year for Action to Combat Racism and Racial Prejudice", Lévi-Strauss (1971) made this point in no uncertain terms: "on doit reconnaître que cette diversité culturelle résulte pour une grande part du désir de chaque culture de s'opposer à celles qui l'environnent, de se distinguer d'elles, en un mot d'être soi." For a vigilant, universalist approach to ICH that attempts to avoid this trap, see Lucas and Bisou 2012.
4 Brumann (2013) argues that the participatory paradigm of the ICH Convention has had spillover effects on the entire architecture of heritage protection at UNESCO. He focuses on the changing administrative practices surrounding the 1972 Convention concerning the Protection of the World Cultural and Natural Heritage, in which an increasingly anthropological understanding of world heritage has led to greater attention paid to the intangible aspects of material heritage, sites and landscapes, and thus to the groups who practice or are affected by this heritage in various ways.
5 "Article 15 – Participation of communities, groups and individuals. Within the framework of its safeguarding activities of the intangible cultural heritage, each State Party shall endeavour to ensure the widest possible participation of communities, groups and, where appropriate, individuals that create, maintain and transmit such heritage, and to involve them actively in its management." (UNESCO 2003).
6 For the full text of the Convention, see http://whc.unesco.org/en/conventiontext/ <accessed April 20, 2014>.
7 The requirement of "free, prior and informed consent" appears in four places in the UNESCO Operational Directives for the Implementation of the Convention for the Safeguarding of the Intangible Cultural Heritage (for full text, see http://www.unesco.org/culture/ich/en/directives <accessed April 20, 2014>).
8 For a touching example of an apparently "bottom-up" procedure, consult the documents listed under the rubric willfully entitled "consent of communities", to be found at http://www.unesco.org/culture/ich/index.php?lg=en&amp;pg=00011&amp;RL=00400 <accessed April 20, 2014>. For a glimpse into something that feels quite different (though a "reception" study would be necessary) see http://www.unesco.org/culture/ich/index.php?lg=en&amp;pg=00011&amp;RL=00437 <accessed April 20, 2014>.
9 This is true also of the complicated relations between state, experts and CGoiaIs in the series of articles concerning "raising awareness" about ICH (ODs Articles 101–102), intellectual property rights (ODs Article 104) and public information (ODs Article 105).
10 These meetings were headed up by Rieks Smeets, who was to become the first Chief of UNESCO's Intangible Cultural Heritage Section. However, as Chiara Bortolotto points out (personal communication), the role of experts in suggesting how Conventions are applied is complicated by the fact that States are not bound by the recommendations that these cultural experts elaborate. The influence of this Expert Report thus remains unclear: while it most probably influences the understanding of the UNESCO Secretariat, it is not necessarily referred to or used by the Intergovernmental Committee for the Safeguarding of Intangible Cultural Heritage, the only body authorized to make decisions about the Convention's application.
11 The full definition is as follows: "Communities are networks of people whose sense of identity or connectedness emerges from a shared historical relationship that is rooted in the practice and transmission of, or engagement with, their ICH." (UNESCO and Asia/Pacific Cultural Centre for UNESCO 2006: 9).
12 "Groups comprise people within or across communities who share characteristics such as skills, experience and special knowledge, and thus perform specific roles in the present and future practice, re-creation and/or transmission of their intangible cultural heritage as, for example, cultural custodians, practitioners or apprentices." (UNESCO and Asia/Pacific Cultural Centre for UNESCO 2006: 9).
13 "Individuals are those within or across communities who have distinct skills, knowledge, experience or other characteristics, and thus perform specific roles in the present and future practice, re-creation and/or transmission of their intangible cultural heritage as, for example, cultural custodians, practitioners and, where appropriate, apprentices." (UNESCO and Asia/Pacific Cultural Centre for UNESCO 2006: 9).
14 Cantons are regularly called pays or "countries" in political discourse, and there is a corresponding tendency towards the ethnicization of differences between them, loosely associated with differences in accent and with stereotypes linked to their respective socio-economic positions (the canton of Fribourg is reputedly "smelly" because it was long rural; citizens of Zurich are necessarily "snobs" because their canton is an important global financial center, etc.).
15 Of course, this omnipresent reference to "the People" harbors both democratic and antidemocratic (populist) potential, as the recent history of anti-immigration political parties has demonstrated. In an early article, Bendix (1992) argues that the complex layering of Swiss political mythology works against the emergence of a racialized notion of the nation. Sadly, this emphasis on internal political diversity and federalism is under considerable strain today, as immigration increasingly appears to a large proportion of the Swiss population as the main political problem to be resolved. Though Switzerland has been caught up in the whirlwind of cosmopolitan thought, capitalist circulation and labor migration for centuries, the presence of dark-skinned immigrants in this snow-and-milk-based imaginary has created the impetus for the shoring up of national boundaries, and the intensification of a racialized notion of the "Swiss nation" (see Lavanchy 2014).
16 In order to facilitate popular comprehension of the thrust of the ICH Convention, the FOC translated the UNESCO concept of "intangible cultural heritage" from "bureaucratese" (Hafstein 2012: 504) into German, French, Italian and Romansh, as lebendige Traditionen, traditions vivantes, tradizioni viventi and tradizuns vivas, respectively.
17 http://www.lebendige-traditionen.ch/index.html?lang=en <accessed April 20, 2014
18 I would not wish to be misunderstood here: The commune is not a "community" in the 19th century sense attributed to this word by social theorists such as Tönnies or Durkheim. Communes vary greatly in size and social composition, from the commune of Zurich, with a population of nearly half a million, to the commune of Corippo in the Ticino, with a population of approximately 15. More importantly for our purposes, even the smallest, most rural communes are networked into cantonal, national and international systems of law and regulations, their inhabitants are as much a part of the global economy as are the inhabitants of Singapore, and they are as linked to regional, national and global cultural flows as their city-dwelling compatriots. Nonetheless, forms of social control based in residence – through the local service economy, through the school system, through kinship and neighborly ties – do exert pressures on communal political authorities that are both more diluted and more mediated at the canton and national levels, with the result that communal authorities in smaller communes can and do take up the posture of the "regular guy," representing his or her constituencies against government while simultaneously downplaying and mobilizing the fact that they are themselves political actors.
19 http://www.immaterielleskulturerbe-ag-so.ch/die-liste-2010-11/ <accessed April 24, 2014>.
20 The enormous differences in the responses of these three cantons have been made invisible through the FOC's decision both to limit significantly the number of items to appear on the federal list of ICH and to "balance out" the number of propositions retained per canton – out of respect, ironically, for "cultural diversity" and "representativeness." Thus, the more than 1000 propositions welling up from Aargau and Solothurn were winnowed down to 15 and 11, respectively, while seven of the eight propositions from the canton of Neuchâtel were retained for the national list, as we shall see.
21 Caveat lector: the capital city of the canton of Neuchâtel is also called Neuchâtel.
22 For an analysis of Neuchâtel's complicated relation to tradition, see Hertz and Wobmann (2014a).
23 The cantonal website is a masterpiece of ex post justification, highlighting the "courageous choice" to "respect the spirit and the letter of the Convention" by "refusing to draw up an a priori theoretical list so that bearers [of tradition] could better manifest themselves". It also explains that because of its strict interpretation of the "participatory model," certain "important local customs" were left out of the inventory, since no one came forward to present them. It then proceeds to give a list of these absent traditions, with an entire paragraph devoted to watch-making. It concludes by remarking that the question of living traditions "met with little response" in Neuchâtel as compared to other cantons and that the Anthropology Institute (that is to say, me again!) was busy thinking about how to deal with Neuchâtel's living traditions under these conditions. See http://www.ne.ch/autorites/DJSC/SCNE/traditions-vivantes/Pages/inventaire-neuchatelois.aspx <accessed April 24, 2014> (my translation).
24 http://www.ne.ch/autorites/DJSC/SCNE/traditions-vivantes/Pages/accueil.aspx <accessed April 24, 2014>.
25 For a description and documentation of this living tradition, see the FOC website at http://www.lebendige-traditionen.ch/traditionen/00164/index.html?lang=en <accessed April 24, 2014>. Typical of the lukewarm welcome that the canton reserves for its traditions, the headline of the first newspaper article to cover the event in 1985 reads: "Nothing particularly 'revolutionary'!" (L'Impartial. March 2, 1985).
26 For a description and documentation, see http://www.lebendigetraditionen.ch/traditionen/00162/index.html?lang=en <accessed April 24, 2014>. Alert readers will have noticed that the canton of Neuchâtel was, for a brief moment between 1814 and 1848, simultaneously part of two encompassing political entities: the Swiss Confederation and the Prussian Empire, another mark of distinction.
27 For description and documentation, see http://www.lebendigetraditionen.ch/traditionen/00159/index.html?lang=en <accessed April 24, 2014>.
28 For description and documentation, see http://www.lebendigetraditionen.ch/traditionen/00161/index.html?lang=en <accessed April 24, 2014>.
29 As can be imagined, even touching the oversized wooden pins at the end of this lane is difficult, and knocking down all seven of them virtually impossible, creating excitement for seasoned members, and nothing but frustration for newcomers. For description and documentation, see http://www.lebendige-traditionen.ch/traditionen/00166/index.html?lang=en <accessed April 24, 2014>.
30 In French, "nous sommes tous des privés ici". This phrase is virtually untranslatable into English, but signifies at a minimum that they have nothing to do with the State (interview with the author, May 2014).
31 For description and documentation, see http://www.lebendigetraditionen.ch/traditionen/00158/index.html?lang=en <accessed April 24, 2014>. See also Wobmann and Hertz 2014. Another proposal by the same administrator concerned an annual festival organized by the village, but this idea was rejected by the national expert group on the grounds that every commune in Switzerland organizes at least one communal festival and there was therefore no reason to list that of Les Brenets and not all the others.
32 For description and documentation, see http://www.lebendigetraditionen.ch/traditionen/00168/index.html?lang=en <accessed April 24, 2014>. See also Wobmann 2014.
33 Many of the ideas in this conclusion are directly or indirectly inspired by exchanges with Jean-Louis Tornatore, although they may be unrecognizable to him. May he be thanked and relieved of all responsibility simultaneously.
34 The question of whether the canton should construct a series of windmill parks on the mountain tops was indeed put to popular vote through a popular initiative in May of 2014, and a majority of "the People" said "yes;" no concept of "community" can account for the fact that there were necessarily winners and losers in this process, that the result divides as much as it unites.
35 For a useful history of the concept of "participatory democracy" in France, see Wuhl 2008.
Table des illustrations
Légende
Figure 1: Le Grand Muveran, Ferdinand Hodler (1912), obtained via Wikimedia Commons
URL
http://books.openedition.org/gup/docannexe/image/210/img-1.jpg
Fichier
image/jpeg, 476k
Légende
Figure 2: Die drei Eidgenossen beim Schwur auf dem Rütli, Johann Heinrich Füssli (1780), obtained via Wikimedia Commons.
URL
http://books.openedition.org/gup/docannexe/image/210/img-2.jpg
Fichier
image/jpeg, 196k
Légende
Figure 3: Schwur auf dem Rütli, Jean Renggli (1891), obtained via Wikimedia Commons.
URL
http://books.openedition.org/gup/docannexe/image/210/img-3.jpg
Fichier
image/jpeg, 280k
Légende
Figure 5: La Grande Torrée de Neuchâtel, 2012 (© Fanny Richard)
URL
http://books.openedition.org/gup/docannexe/image/210/img-4.jpg
Fichier
image/jpeg, 553k