Adat and Indigeneity in Indonesia
|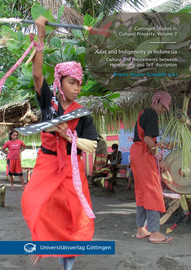 Mobilities of Indigeneity: Intermediary NGOs and Indigenous Peoples in Indonesia
p. 115-131
Texte intégral
1"Together, we're working towards one vision: A just and sustainable world." With these lines the foundation, Global Greengrants Fund, presents its mission. This US-based charity provides funds to indigenous groups in Indonesia through co-operation with a Southeast Asian non-governmental organisation (NGO). To make claims for recognition in the name of masyarakat adat seems to require more than self-determination. Fund-raising and coalition-building with international and national NGOs have helped nurture indigenous activism in Indonesia and continue to provide pivotal financial but also ideational resources until the present day. The largest actor in this adat movement, the Indigenous Peoples' Alliance of the Archipelago (AMAN), for example, lists about two dozen collaborations with international donor organisations and more than 30 national non-governmental allies.
2But with so many parties involved – how can and do such coalitions work? What motivates organisations from different political, institutional and regional fields to join forces for indigenous issues? Why is it that indigenous peoples may contribute to a "just and sustainable world"? Do these external actors take part in shaping the political discourse on indigeneity in Indonesia?
4I argue that merely aligning to this perspective would lead to one-sided assumptions in the Indonesian case. I do not intend to estimate whether NGOs are "doing good" or not (Murdock 2003), nor does the critical constructive perspective explain the fact that AMAN does not resist, but instead establishes ties within the field of development.
5Therefore, I will not only look at the discursive sphere of official texts and policies, but also at an unofficial sphere of practices "beyond policies". These are, first and foremost, dynamics of interaction between individuals behind the formal structure of international development. This interaction has consequences for the internalisation of particular norms and modes of action for both practitioners and activists. They endorse a conceptual mobility of policies by reinterpreting and reproducing those norms. I adopt the conceptual frame of "order and disjuncture" (Lewis and Mosse 2006) to grasp both the official and unofficial sphere and its interrelation. In this frame, order is meant to be the official sphere in which the organisations co-operate. It is formed by policies and programmes. Disjuncture then occurs within or through the informal sphere, as different goals, meanings and interpretations can be traced there. Constructivists often regard the latter as potentials to break the official order. My findings will show a more differentiated, less dichotomic picture instead. Interaction enables actors to follow different interests, while upholding order at the same time.
7The paper begins with a description of visions and programmes to illustrate the official order into which the organisations embed their assistance. This is complemented with insights from the rather unofficial sphere of dispositional meaning that lies behind the statutes. What follows are examples of recent support for AMAN along two common topics which demonstrate the reproduction or embeddedness of policies. Together, normative programmes and reworked policies reflect certain notions of indigeneity which will be subsequently outlined. The last part of the chapter focuses on the lifestyles of practitioners and activists to trace the unofficial arena of interaction and its establishment. Thereby, another crucial dimension of mobility will be revealed: social mobility. I argue that these conceptual and social mobilities balance the encounters of order and disjuncture and bridge the official and unofficial sphere of international collaboration.
8The Samdhana Institute (hereafter Samdhana) is a transnational NGO focusing on mainland and insular Southeast Asia. It has a representative office in the Philippines and another one in Indonesia. Founded in 2003, the Samdhana Institute is an "Asian Centre for Social and Environmental Renewal" made up of "a community of practitioners" who work in different fields, such as conservation, international development, law, education, and human rights activism (The Samdhana Institute 2013a). Beyond the official definition, respondents added a personal intention to establish a "post-institutional" space where the expertise of its members can be congregated and oriented towards agendas to which they are personally committed rather than just for which they are employed. Another major motivation is to pass this expertise on to the "following generation" by mentoring it; so, as the Sanskrit term samdhana indicates: "a peaceful coming together, a giving back" exists (The Samdhana Institute 2013a). Samdhana officially envisions
a region where natural, cultural and spiritual diversity are valued and environmental conflicts are resolved peacefully, with justice and equity for all parties. Achieving this requires that communities who directly manage their local natural resources have clear rights, ready recourse to justice, strong and skilled leadership, stable financial resources and access to appropriate technical support.
(The Samdhana Institute 2013a)
9Samdhana's main issue is "Sustainable Natural Resource Management". Although this broadly addresses nature conservation, Samdhana's members also emphasise people's rights and benefits in the context of social justice and human rights. As mentioned above, this focus is not only reflected in official formulations, but it also constitutes the personal commitment of many members, which is based on shared values. Apart from these outward-oriented goals, Samdhana has another rather internal purpose which, in the official sphere, is articulated as follows: "To offer [its members] opportunities as well as support […] to remove themselves from their immediate environment and reflect upon and communicate their experience and ideas" (The Samdhana Institute 2013b). Therefore, Samdhana wants to promote its members by offering them a shared, almost private space for contemplation and the exchange of views. This idea is based on a rather spiritually interpreted work ethic and a personal "bond" between the members, which is expressed and performed by occasionally practicing yoga together. Therefore, team meetings are sometimes held in a yoga centre in Bali. Many Samdhana members, who generally call themselves Samdhana Fellows, informally identify the organisation as a form of "family" or "home" and underline their feeling of togetherness. However, their engagement is predominantly part-time in addition to their main employment in institutions such as international organisations, Indonesian NGOs or research institutes. More than a third of all members are Indonesian and also live in Indonesia, while others come from or are working in other countries. The organisation comprised 59 Fellows at the time of the field research. As Samdhana's work is transnationally spread throughout Southeast Asia, an International Board of Directors was installed as the highest governing body and policy-maker. The office in Bogor is run by seven to nine Indonesian employees together with some Fellows. Their tasks include grant and general finance management, human resources and project coordination. The whole functioning of the organisation (administration and projects) is based on funds granted by international donor organisations, such as the Ford Foundation and the International Union for Conservation of Nature.
10Samdhana has three official "priority themes" (The Samdhana Institute 2013c), namely
Natural Resource Conflict Resolution,
Leadership Development, and
Community-Led Natural Resource Management.
11To realise these themes, the organisation primarily provides financial support to "local NGOs and community-based organisations (CBOs)" (The Samdhana Institute 2012). Therefore, Samdhana established a so-called Small Grants Programme in 2005. Via this programme, applicants can receive financial grants ranging from USD 100 up to USD 20,000. The importance and benefit of such small-scale funding is warranted in official statements as an approach that focuses on beneficiaries "where other support is not available" (The Samdhana Institute 2013d) because donors find them "too small to fund" (unpublished document). Thus, the Small Grants Programme attempts to bridge the gap between donors and local initiatives through Samdhana's ties to both parties. Considering the informal sphere and internal ideology behind the small grants approach, this focus on local initiatives seems to derive from the personal commitment of Fellows with the "grass-roots". This provides evidence of a rather unconventional, activist orientation, which Samdhana aims to integrate into the official and conventional frame of project mechanisms. This orientation can be further identified within the ideology of Samdhana's main funding organisation of the programme, which has specialised in small grants to support rights-related and environmental issues: the Global Greengrants Fund mentioned already. The charity states on its website: "Our strategy is to support local leaders – primarily outside the United States and Western Europe – in fighting [social] injustices. Through activist-led grantmaking, we find these leaders and provide seed funding for grass-roots action on the front lines of social change" (Global Greengrants Fund 2013).
12Besides financial support, Fellows also provide direct assistance to local actors around the three priority themes. In the context of Conflict Resolution, Samdhana's lawyers offer legal support and conflict mediation for communities in situations of land seizure or detention. Beyond this reactive assistance, Samdhana's work also addresses conflict prevention for both multi-actor disputes and internal conflicts within communities. Importance is given here to critical, political education as assistance in policy analysis and development.
13Local Leadership Development is another priority theme within Samdhana on which members perceive it necessary to work because large-scale development and conservation projects would neglect such direct assistance at the grass-roots. Therefore, Samdhana, with its small-scale approach, intends to strengthen the long-term functioning of local organisations in order to make them self-reliant, for example, in fund-raising. This again unconventional approach seems to be strongly connected with the personal identification of Fellows as "mentors".
14The third official priority theme, Community-Led Natural Resource Management, usually called Community-Based Natural Resource Management (CBNRM) among conservation experts, is regarded by Fellows as an appropriate approach for a realisation both of social justice and biodiversity preservation. Therefore, Fellows advocate for and support communities' traditional ways of environmental use.
15After the fall of the Suharto regime in 1998 and the elections in 1999, international donor organisations together with Indonesian representatives from governmental and non-governmental fields jointly took measures to foster the democratisation process in the country. Based on an initiative by the World Bank and the United Nations Development Programme (UNDP), the Partnership for Governance Reform (hereafter Partnership; the Indonesian name is Kemitraan) was founded as a UNDP programme in March 2000 (Mallarangeng and van Tuijl 2004: 924). Two years later, the project-based programme was registered as an independent "non-profit civil law association" managed by Indonesian-led bodies (Partnership 2012a). However, it retained its status as a UNDP programme until 2009.
18Another indicator for the Partnership's orientation towards international development are the UN Millennium Development Goals, into which activities are embedded. At the time of my research, the Partnership focused on four programmes which serve as clusters for different projects and give evidence of the importance of the concept of "good governance".
19These were:
Democratic Governance,
Public Service Governance,
Security and Justice Governance, and
Economic and Environmental Governance.
(Partnership 2012a)
20These headings comprise projects such as "Corruption Eradication", "Dezentralisation", "Poverty Eradication", and "Human Rights Promotion" (Partnership 2012a). The Partnership provides a huge portfolio of assistance for the implementation of such projects, including workshops, policy analysis, technical supports, and grants (Mallarangeng and Van Tuijl 2004:921). Until the end of its status as a UNDP programme, members in the Partnership's main governing bodies were also appointed from international donor organisations. These members had a supervisory role (Crawford 2003:146-148; Mallarangeng and Van Tuijl 2004:921). Since its establishment as an independent association, the Partnership has been governed by two completely Indonesian-managed bodies. Its executive office is situated in Jakarta and the organisation's administration and activities are funded by foreign money. The major funding organisations are national governments, such as the government of the Netherlands and the United States of America, international organisations, including the Asian Development Bank and the World Bank, and internationally operating companies from the private sector, such as Siemens, a German technology enterprise. In contrast to Samdhana, the Partnership's official programme and statutes do not indicate a critical positioning of the organisation in regard to conventional or rather unconventional development work. However, these texts comprise only one domain to analyse NGOs. In order to understand how universal concepts are, in fact, understood by practitioners, I will analyse in the following chapter how these organisations support indigenous peoples in practice.
21Samdhana and the Partnership support AMAN in manifold ways. The Partnership and Samdhana often operate on similar topics, which is, I suggest, the impact of international policies concerning indigenous issues.
25"Participatory mapping" is another topic or instrument which Samdhana and the Partnership support. In contrast to REDD +, this topic partially originates from an international arena of large-scale conservation, but was brought forward by activists and has to be seen against the political background of the New Order regime that did not recognise the land claims of indigenous peoples. As land conflicts with the state and companies have been a major issue of the indigenous movement since its beginning in the 1990s (see the chapter by Steinebach in this volume), participatory mapping has become an important instrument for indigenous activism. Indigenous peoples can identify and visualise their knowledge about the boundaries of their customary territory by themselves with the help of modern technology, such as GIS systems. Proponents of this instrument regard it as an important entry-point to empower adat communities to fight for their land claims. According to Peluso (1995), early forms of participatory mapping had already entered Indonesia in the 1980s via international conventional projects for conservation. At that time, ideas that local peoples and their knowledge could contribute to biodiversity conservation began to enter international organisations, such as the World Wildlife Fund (WWF), based on experience in the field (Alcorn 2005:52-53). In Kalimantan, for example, traditional management systems were documented to improve the long-term management of a nature reserve (Peluso 1995:395). Indonesian activists then took the opportunity to adopt this kind of mapping and to spread it to local groups. As Peluso states, they reinterpreted it as a sort of resistance and counter-movement to state mapping, which did not consider people's rights but instead was a basis for exploitive development projects of the Suharto regime (1995:398-400). Thus, by "stealing the master's tools", (Tsing et al. 2005) participatory mapping could "cut through the labyrinth of Indonesia's elite politics that never really touches upon the lives of 'small people'" (Natalia 2000:75).
27The Partnership supports the participatory mapping projects financially. Funds do not go directly to AMAN but to its partner JKPP, which is implementing the mapping. It is interesting that this endorsement of actors who originally countered development is not contradictive for the Partnership. This could be due to the fact that mapping activists changed their oppositional position to a more approachable one after the fall of Suharto, which is in line with the Partnership's concept of "applying pressure from without". Thus, one aim of the Partnership is to accelerate the process of registering customary maps with the National Land Agency, because the MoU between AMAN and the latter has apparently not yet led to a concrete outcome producing common maps. Therefore, the organisation also provides special advisers who help AMAN, JKPP and the Indonesian government to link their respective mapping activities.
28These two examples, REDD + and participatory mapping, demonstrate that an official "discursive" dominance or order of certain topics within civil society collaboration does not automatically lead to one-sided meanings or interests, which are imposed by donors and implemented by intermediaries. Instead, all the organisations rework these universals in their own way. Moreover, the Partnership's assistance to AMAN shows that the intermediary also makes room for the ideas and goals of activists. This is due to a shifting positioning of Indonesian NGOs and, not least, of the Indonesian government.
29Although Samdhana and the Partnership officially refer to indigenous peoples' self-determination, diverse notions of indigeneity can be identified when looking more closely at both the official order of the institutional collaboration, with its policies and programmes, and a more informal arena in which practitioners reinterpret official policies according to personal values and specific political contexts.
30In addition to conservation, Samdhana focuses on "people", namely "communities". Communities are not defined in the official texts of Samdhana, but project reports indicate the image of an organised, small-scale group of people who reside in some villages or a whole district. Different terms are applied to them, such as "local peoples' organisations", "local communities", "local groups", "local peoples", or "community-based organisations". Hence, indigenous peoples constitute just one type of community among Samdhana's target groups; but all of them are conceived and promoted as caretakers of the environment. Accordingly, the terms "indigenous peoples" or masyarakat adat seldom appear in official policies, whereas the terms above are used frequently. Samdhana supports what Alcorn (2005: 39) defines as "little conservation", i. e. small in scale, community-based and oriented towards the communities' benefit. Looking closer at the policies of Samdhana's donors, conceptional similarities become apparent. The Climate and Land Use Alliance (2013), for example, strives towards "supporting locally-driven innovation", such as "community forest management", because "[p]rotecting and enhancing the livelihoods and rights of indigenous peoples and rural communities is an essential part of the solution".
32These governmental schemes are based on a definition of community in terms of spatial administrative entities, i. e. villages (desa). In this context, the land-use schemes officially contradict perceptions which AMAN represents in general. AMAN's understanding of masyarakat adat is based rather on an ancestral origin than on administrative regulations. Furthermore, instead of land-use rights, AMAN focuses on land ownership that is based on the recognition of customary or adat rights. However, the NGOs promote the governmental schemes on the local level and respondents stated that some AMAN members adopt these schemes.
34As seen above, Samdhana's main support of AMAN is currently funded through a REDD-related project addressing forest management. Consequently, indigenous peoples living in and around forests are officially targeted by Samdhana and AMAN. However, forests are not clearly defined within REDD policies, so that their definition leaves NGOs room for interpretation and local groups options for the strategic use of indigeneity.
35The ecological classification "forest" also plays a major role in the Partnership's objective for supporting indigenous peoples. Indigenous issues entered the Partnership's agenda only after the establishment of its Forest Governance Programme in 2007. Therefore, AMAN receives financial and other support mainly in the context of improving the management of forested areas. Thus, assistance for indigenous peoples living in coastal or urban areas is not provided in terms of indigeneity in the official policies of the Partnership. It is interesting that interviewees stated that some international funders actively took part in integrating forest and, at least, "indigenous" issues into the Partnership's programme. When looking more closely at the contexts behind these policies, an interrelation between the Partnership's focus on forests and international political dynamics seems obvious. Environment-oriented projects started in 2008, right after the 13th UN Climate Change Conference had been held in Bali in December, 2007, where UN member nations decided on direct actions for climate mitigation – including the implementation of REDD +.
36The focus on REDD in the agenda of both the Partnership and Samdhana indicates that an overarching topic officially determines international support for indigenous peoples at the moment: climate change. Some of the names of Samdhana's funding organisations, for example, the Climate and Land Use Alliance or the Climate Works Foundation, already point to the official dominance of this topic. Such donors endorse the thematic symbiosis of combating climate change and people-oriented development in policies. The Ford Foundation (2013), which funds the activities of both Samdhana and AMAN, intends, for example, to "contribute to mitigating climate change, while improving livelihoods of rural populations, particularly indigenous groups and ethnic minorities". Thus, in the case of Samdhana, Indonesian activists together with foreign practitioners propagate indigenous knowledge as a contribution to climate change mitigation.
37Climate change is also a major issue within the Partnership's programme. Nevertheless, since the organisation is more focused on socioeconomic and political development than on conservation, climate change is always contextualised within political reform measures towards good governance and democracy. By following their so-called "multi-stakeholder approach", (good) "forest governance" has to be accomplished first to achieve climate change mitigation. Based on democratic principles such as participation, transparency and equality, the Partnership intends that all "stakeholders", i. e. all relevant parties, are recognised, their rights legally secured and their voice given room in the public sphere. Therefore, AMAN, which is seen by the Partnership and its donors as the only and legitimated representative of the indigenous peoples in Indonesia, receives support as a "stakeholder" from this NGO in the context of natural resource management. Whereas Samdhana is officially guided by the assumption that indigenous peoples already possess methods to use the environment in a sustainable way, the Partnership backs efforts to "make these actors sustainable". According to Samdhana, rural communities, including indigenous peoples, exert stewardship over the environment through "traditional knowledge". Fellows even want to learn from these local communities and, thereby, aim at changing conventional conservation; they follow the ideological notion of social change "from the bottom up".
38When practitioners from the Partnership told me about assets in regard to indigenous peoples, they mainly referred to people's traditional skills in agriculture, which indigenous groups once possessed but lost due to modernisation processes, such as industrial agriculture. The Partnership wants to revive this knowledge and these skills and combine it with market-oriented, economic thinking. Following this line, traditionally cultivated products could form an economic niche, which people could then use for sustainable economic development and poverty reduction. Moreover, statements of the Partnership suggest that they understand knowledge and skills, first and foremost, in terms of the quality of soil and its improvement, and less in human agency in general; they understand customary territories as fertile ground for sustainable agriculture.
39Benefits for and protection of indigenous peoples are nowadays often expressed as "safeguarding" in international policy frameworks for development measures. Socalled "safeguard policies", thus, form a major official frame through which indigenous peoples become integrated into technically-oriented development theory and practice. In these policies, the need for the protection of indigenous peoples, to which development agencies should adhere, is based on their cultural distinctiveness. These actors, therefore, are characterised as a "cultural group" equipped with a special "cultural life" that needs to be preserved.
41These identical notions used in international policy papers as well as in Indonesian NGOs' working papers demonstrate the interrelation of official and unofficial collaborative arenas in regard to policies and practices of the NGOs. Ideas travel from the official, often internationally formed strategies of conservation and development through Indonesian contexts and become adopted by practitioners. On the other hand, ideas taken over from international or even Indonesian indigenous activism re-enter official discourses. The diffusion of these concepts is, I think, a consequence of the informal interactions and communications of actors working in different institutions and organisations. Thus, different ideologies or interpretations can prevail side-by-side as governmental and rather critical activists' concepts. They do not break the discursive order of official policies in a disjunctive way, but instead coexist behind the texts where different interests are negotiated. This is made possible as practitioners strategically adopt dominant international topics to uphold this order so that they can gain resources.
42Samdhana's Fellows and the Partnership's practitioners are professionals in the fields of conservation, development practice and law. Professionalism implies technical expertise and know-how of methods and theories based on long-term experience. Professionalism in this domain, however, implies more than that, namely a mutual, historical understanding of indigenous issues which arise in various political, economic and social contexts in Indonesia. This understanding derives from long-lasting joint work between Indonesian and foreign practitioners and nationally and locally engaged activists, which had already started within the New Order era.
43During that oppressive era, environmentalism was the only channel open to NGOs to mobilise people on the local, national and international level to fight for democratisation and social change (Gordon 1998; Hirsch and Warren 1998; Okamoto 2001; Moniaga 2004; Peluso et al. 2008). Thus, many now "professionalised" Fellows became engaged with conservation and activism simultaneously, as they intended to stop environmental and human exploitation, discrimination or harassment. Similarly, leading activists of AMAN and other mass organisations started to commit themselves to social change by supporting and establishing "indigenous", "agrarian" or "peasant" movements (Peluso et al. 2008). Significantly, Indonesian and even some of the foreign Samdhana Fellows took part in the birth of these movements at the beginning of the 1990s. They were students, young scientists or members of NGOs at that time. An intense exchange between activists from local communities and outsiders who studied and lobbied for the grass-roots took place. This resulted in nationwide networks and shared visions on how to improve local communities' living conditions (Afiff and Lowe 2007).
44Moreover, studies about traditional land use and conservation in rural areas conducted by Indonesian and foreign scholars contributed to the argumentative ground of activism. It fuelled or even formed issues as Community-Based Natural Resource Management, participatory mapping and indigeneity, which, nowadays, are part of the official, political discourse. This discursive order was complemented with elements from the international indigenous movement through networking and coalition-building by Indonesian activists (Afiff and Lowe 2007; Peluso et al. 2008; see also the chapter by Steinebach in this volume). Up to the present day, shared lines of argumentation, which I have partly outlined above, are jointly advocated by what Peluso et al. in reference to Hajer call "discourse coalitions" (2008:379). Hence, a discursive professionalism has developed among practitioners, activists from mass organisations, such as AMAN, and within affiliated communities (see the chapter by Grumblies in this volume). It connects the actors both personally and institutionally in the official as well as unofficial arenas of co-operation.
45From an analytical stance, mobility constitutes itself as a crucial element for these interrelational processes; however, it does so, I argue, in more than one dimension. Following Urry's (2007) concept of mobilities, my findings reveal that the social mobility of individuals also becomes a crucial element for coalitions and providing indigenous actors with financial and political resources from national and international organisations.
46Most of the practitioners and activists literally "passed through" many institutions in the course of their personal career. They worked for national NGOs, international donors and/or research institutes, often on a project basis. Consequently, some people had been working simultaneously for AMAN and the Partnership, or Samdhana and the Partnership. In this way, the actors developed professional ties on an institutional level, which are essential for the intermediaries and especially for AMAN as a mass organisation until the present day. In addition to their changing employment, Indonesian activists and foreign professionals also developed personal relationships that developed into complete interpersonal networks. Driven by common interests and goals, friendships evolved with "the categories of friend and workmate cross [ing] from one to another" (Elliott and Urry 2010:57).
47At the same time, the various engagements of experts in different localities led to a geographical mobility which contributed to a multi-sited understanding of local situations. Indonesian activists, who had become more and more professionalised over time, could thereby uphold connections to local, rather unprofessional activism. Foreign practitioners, on the other hand, became sensitised to local needs, and thus, in a way, "activists" within their professional, technically oriented environment. These processes, I argue, nurtured the ideological ground of social justice, which, nowadays, binds Samdhana internally and also externally with AMAN. Moreover, these shared arenas of interaction bridge actors with different approaches, such as the Partnership and AMAN. The professionalisation through mobility and personal ties is, in turn, crucial for the functioning of AMAN, since activists need such know-how to manoeuvre in the international development scene, which requires project management or fund-raising.
48With the establishment of Samdhana, some of these personal and professional ties were gathered together and combined. Moreover, common visions are framed through the organisation. This can be traced within Samdhana's organisational culture. In this regard, the Fellows' similar mobile ways of life characterise organisational procedures: As their engagement for Samdhana as "advisers" or "mentors" is voluntarily conducted in addition to their main occupation, many of the practitioners are working in different places to realise Samdhana's and other projects in, for example, conservation, community development or mapping. They literally hop from one place to the other, while their families and homes are often based in Jakarta, Bogor or even in another country. Those who work full-time for Samdhana, similarly travel within Indonesia or abroad, meet or skype with Fellows, partner organisations or donors in other countries to run the organisation.
49Friendship as a result of social mobility is, therefore, part of Samdhana's organisational culture. Besides the bonding effect on a personal level, actors also use these ties strategically in the institution in which they work, but rather in an informal way. While "friends" from donor organisations hold fellowship, befriended AMAN activists become advisers for projects within the Small Grants Programme. Even Fellows employed at state institutions are Samdhana members. Hence, plans for collaboration are often discussed in an informal way, based on mutual trust. In this way, the interests of funders and AMAN can be negotiated, while AMAN is given space for interests and ideas, which leads to a mutual adjustment of official programmes and policies.
50It becomes clear that the coalition-building of NGOs for indigenous peoples in Indonesia is determined by an interplay of processes between official and unofficial arenas of interaction. The examples of Samdhana and the Partnership illustrate different forms of "intermediaries" and contest the image that they are more or less just implementing their donors' goals, as some critical constructivists within the Anthropology of Development assume (e. g. Petras 1999; Crawford 2003). The Partnership seems to be dominated by international, normative ideas at first sight. However, by looking more closely at both its policies and activities, it becomes evident that the organisation, in fact, supports concepts and issues derived from the indigenous and other social movements. Samdhana already demonstrates its rather "unconventional, activist approach" in the official arena of policies. Samdhana, nevertheless, adopts overarching issues such as climate change and REDD in a similar way to the Partnership. This shows that Samdhana is also part of the discursive order or "knowledge regime" into which NGOs are embedded. However, the presence of this order does not lead to a levelling or homogenisation of meaning and action. Instead, individuals make room for manoeuvring through interaction in an informal way under the surface of policies. Therefore, different interests of actors ranging from socioeconomic development over nature conservation to land rights are simultaneously advocated and negotiated between donors, NGOs and the indigenous peoples' movement.
51Supporters of indigenous peoples and some of their representatives have established a space which constitutes a distinct social milieu of professionalism, knowledge and personal commitment between official and unofficial domains. This space encompasses international "professional" arenas, the indigenous peoples' movement and even governmental institutions. In fact, it produces disjuncture; however, not so much in regard to the order of international development, but rather in terms of the dichotomic image of international development imperialism and oppositional social movements, as some constructivists such as Escobar (1992, 2012) or Veltmeyer (2005) assume. AMAN undertakes strategic endeavours by engaging with international development to acquire resources, which is a "disjunctive" behaviour as, officially, it may not always be in line with AMAN's own ideology.
52The interaction between individuals from development work and activism leads to a mobility of concepts within the official arena of co-operation and produces different notions of indigeneity. Thus, the notions do not simply resemble international concepts, but rather contain meanings which derive from distinct social contexts of these individuals. Such reworked ideas travel informally along personal ties of friendship or "fellowship" and shared experience. They are, therefore, very dynamic in meaning, but can also become normative through strategic advocacy of "discourse professionals", entering dominant discourses.
53Thus, the space of non-governmental support for indigenous peoples in Indonesia emerges as an unrestrained melting pot of interests, strategies, arenas, and interaction, coated by universalism but shaped by mobilities.
Notes
1 The term refers to developing countries and is an alternative to existing terms, such as "Third World". It is considered as less judgmental and less subjective in academic literature than "Third World", which indirectly ascribes negatively connotated backwardness to nations and defines development as an inevitability that has to be imitated by these nations.
2 My fieldwork was part of the project "Cultural Heritage Between Sovereignty of Indigenous Groups, the State and International Organisations in Indonesia", led by Brigitta Hauser-Schäublin, and is part of the interdisciplinary research unit on "The Constitution of Cultural Property", funded by the German Research Council (DFG). I would like to thank Brigitta Hauser-Schäublin and Francesca Merlan from the Australian National University for helpful comments and criticism on earlier versions of this paper.
3 For a complete list of the good governance principles which the Partnership pursues, see www.kemitraan.or.id/main/content3/21/22/24 < June 3, 2013 >.
4 The usage of the term "partner" or "partnership" is highly debated among scholars within the anthropology of development. Constructivist critics argue that these terms conceal unequal power relations which, in fact, would determine donor-NGO relationships. For a critical discussion of The Partnership of Governance Reform, see Crawford (2003) and Mallarangeng and Van Tuijl (2004).
5 REDD stands for "Reducing Emissions from Deforestation and Forest Degradation" and generally describes the idea of a payment mechanism for forest conservation. The term REDD + indicates concrete measures to practically introduce and finally realise this idea (Clements 2010).
6 REDD policies in the Indonesian context are based on a weak definition of forests, which is due to the absence of a globally accepted definition. The current UN definition only puts emphasis on the territorial size and tree cover of an area and does not refer to characteristics such as primary or secondary forest (see FAO 2013; Hein 2013).
7 "Free, Prior and Informed Consent" (FPIC) is a guiding but not binding principle, institutionalised within the UN framework. It is also part of the United Nations Declaration on the Rights of Indigenous Peoples (UNDRIP). In sum, it implies an unmanipulated consultation of indigenous peoples before project implementation in order to reach the consent of all parties involved, which is based on equal knowledge (see also Barelli 2012).
8 The Forest Governance Programme is part of the Partnership's Economic and Environmental Governance Cluster.
9 Further partners are the Indonesian non-governmental organisations Telapak, Sawit Watch and Konsorsium Pendukung Sistem Hutan Kerakyatan (KpSHK).
10 The schemes Hutan Kemasyarakatan and Hutan Desa were adopted in 2007 and 2008, respectively. They guarantee local communities the management of and benefits from forested areas.
11 PNPM stands for Program Nasional Pemberdayaan Masyarakat (National Programme for Social Empowerment). The term peduli literally means "care". PNPM Peduli was established in 2011. It is managed by the World Bank and funded by various international development agencies.
12 The Indigenous Peoples Planning Framework (IPPF) is one of the World Banks' Social Safeguard Policies. These are guidelines for the Bank and borrowers concerning project planning and implementation. Borrowers are obliged to formulate a project-related IPPF in order to guarantee sustainability within projects by defining stakeholders and stating their participation and benefit sharing (World Bank 2013a, 2013b).