Missions d'évangélisation et circulation des savoirs
|
,
,
,
IV. Circulation et usages des savoirs missionnaires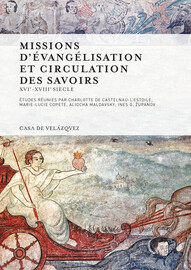 The concept of gentile civilization in missionary discourse and its European reception
Mexico, Peru and China in the Repúblicas del Mundo by Jerónimo Román (1575-1595)
p. 311-350
Texte intégral
4We could argue that, in effect, the intellectual impact of the history and ethnography of exotic civilizations was quite distinct from the conditions of production of empirical knowledge. Was the production of "knowledge" entirely unconnected from its consumption, or should we rather re-assert the ultimate unity of the European process of discourse-formation about other cultures, from exotic research and observation, to European reflection and debate? Can we perhaps explain the varying fortunes of the new images of gentile civilizations by looking for particular interactions between contexts of production and contexts of reception, or were the outcomes more casual?
5One often neglected work that I believe can throw light on this issue is the cosmographical synthesis written by the Spanish Augustinian Jerónimo Román, Repúblicas del Mundo (2 vol. Medina del campo, 1575; 2nd ed. 3 vol. Salamanca 1595), since it incorporated missionary material which might in some contexts be considered controversial. In this article I will explore the concept of gentile civilization developed by Román from the writings of Bartolomé de Las Casas on Mexico and Peru and by Martín de Rada on China, with comparisons to the materials produced by Alessandro Valignano (who used the letters of Matteo Ricci), Juan González de Mendoza, and José de Acosta. That is, I will consider texts produced in overseas missions, but often edited for publication in Europe (although without excluding circulation in colonial settings, as we have seen in the case of De Missione, printed in Macau for a Japanese Christian audience). My first concern will be to contrast different views of the relationship between idolatry and civility: Was there a unique missionary perspective on this? How important were the differences between America and Asia? Finally, were the intellectual strategies adopted by Augustinian and Dominican writers different from those followed by the Jesuits, who perhaps too often get most of the attention from scholars? My second concern will be to assess the extent to which the idea of a gentile civilization became problematic, or not, in the early reception of these writings in Spain and elsewhere in Europe.
12Considering the various examples it might be possible to accuse Philip II of a contradictory policy, but it seems more fruitful to emphasize the complex motivations behind his selective suppression of certain books. As king of Castile he had inherited a policy of secrecy in relation to the circulation of geographical knowledge and maps against the very real threat posed by many European rivals, a policy that made sense for as long as those foreigners lagged behind in their knowledge; hence the systematic cosmography by Juan López de Velasco (1574) was for internal use only (although it would be eventually publicised by Antonio de Herrera in 1601, under Philip III). Philip II was also concerned with supporting the Inquisition and the missionary orders in their struggle against heresy at home and idolatry in the colonies. We might perhaps add that in general he was a conscientious ruler and liked to control information, systematically placing his own needs as monarch (assisted by his Councils) above any idea of a national reading public. He was also suspicious of any international republic of letters, occasionally for political reasons, but mainly because of a very real fear of heresy. However, Philip II did not systematically suppress all ethnographic or even antiquarian works, and in fact he commissioned some, and supported the publication of others.
22

D.

Durán

, Historia, I, p. 70 (it is to be noted that the English translation published in 1994 by (...)

… whilst in their rites and idolatries they showed blindness and that they had been deceived by the Devil, at least in those things relating to government and social order, subjection and reverence, greatness and authority, courage and strength, I can find no-one who could surpass them, nor in wanting to excel in all things so that the memory of them would last forever22.
20An antiquarian dimension was also crucial to Jerónimo Román, who as we noted inherited the Apologética Historia by Las Casas. However, by the time he was writing the model by which the urbanized American Indians were found to be equal to the civilized gentiles of the European past, and the use of force to preach Christianity had been thoroughly questioned, was under strain. Few dared openly to challenge the narrow limits imposed by Vitoria and his followers in Salamanca to the legitimacy of conquest, and in that respect the net effect of the debate between Las Casas and Sepúlveda (which culminated a series of official discussions that had started as early as 1512) had been to force the imperialist camp to accept this. The Dominicans had defined the theological and legal terms of what had now become a quasi-official Crown position. However, as the Chinese project proposed from the Philippines soon demonstrated, those who desired conquests still found room to maneuver. In the heated debates of the 1570s and 1580s it became increasingly necessary to do what Las Casas had first attempted some thirty years later, that is, to offer an empirical application of this official position. It was at the same time necessary to moderate its radical edges, those that could challenge the legitimacy of the Spanish empire altogether, for example by adopting a more Augustinian theology of salvation. This was precisely the need met by José de Acosta's synthesis, and a fact which may explain why it was published at a time of restrictions. Acosta defended the need to distinguished between savage barbarians and civilized barbarians whilst defending the superiority not only of Christianity, but also of European civility. He also resolved some of the doubts about the early history of mankind that the naturalist and antiquarian dimensions could raise, for example by tackling the origins of the American Indians as a natural historian. Acosta thus defined a hierarchy of civilizations firmly contained within a Biblical narrative of origins.
21However, the assumption that the most civilized would also be most amenable to conversion —as had happened in the empire of ancient Rome from the times of Augustus to those of Constantine— was challenged by missionary practice, especially in Asia: the psychological strategy to displace hopes towards the next land ended in China, the most impressive gentile kingdom but also the most difficult to penetrate. Throughout the 1580s Alessandro Valignano defined a hierarchy of civilizations which was a mirror image of Acosta's contemporary hierarchy of barbarism: the difference was that when Acosta emphasized European superiority over even the most civilized of the gentiles, Valignano wrote to support a generous approach to Chinese culture. It was in this context that, making a momentous strategic choice, Matteo Ricci declared Confucianism to be a rational system of civil morality, in its original version based on a non-idolatrous natural theism, hence compatible with Christianity (although not by itself sufficient for salvation). Through Jesuit efforts, late Ming China became the greatest but also the last chance for the evangelical principle that the most civilized, as the most rational, would embrace Christianity through peaceful means.
22None of this, however, was part of the intellectual horizon of Jerónimo Román, or indeed of his sources. For him, China in the East stood like Mexico and Peru in the West as an example of the compatibility of idolatry and civilization. The standard was set not by Christian Europe, but rather by the classical world. Should we conclude that in this discourse there was no tension between civilization and idolatry? Let us then take a closer look at Román's use of his key ethnographic sources, Las Casas and Rada. My aim here is to measure the distance between the missionary contexts of ethnographic analysis (where a cross-cultural interaction shaped the production of "historical" knowledge) to the European contexts of reception (where a practical historiography could be transformed into a philosophical and polemical historiography).
24Jerónimo Román did not simply mine Las Casas for information, when summarizing his extensive descriptions he also accepted to a large extent his theses. Because Román had discussed the ancient republic of the gentiles separately, he did not maintain the systematic comparative framework used by Las Casas in the Apologética, who section by section proved that both Mexicans and Incas met all the Aristotelian criteria of civility, that is, the existence of urban life, agriculture, artisans, professional armies, trade, a religious cult with temples and priests, a government that administered justice, and a strict moral education. In this respect, Román's coverage was selective, and his intentions were obviously less polemical. Yet the comparability with ancient Greece and Rome, the key to the attempt by Las Casas to circumscribe the negative connotations of the image of the Indians as barbarians, remained implicit in his extracts, and was occasionally made explicit.
45

J.

Román

, Repúblicas del Mundo, 1575, II, "República de las Indias Occidentales", book 2, ch. 4 (c (...)

… regarding the good governance of this people, it seems to me that they were not in any way different from a very good republic, because in all things they followed a natural order and in all things showed an excellent understanding of political life45.
30Whilst in his presentation of matters relating to the Indias Occidentales Román was aware of many previous published writers, and could only claim originality in his description of native religion, he felt especially proud to be able to include a systematic description of China largely derived from the account by his fellow Augustinian Martín de Rada (although, at the same time, he remained bitter that the same materials had been used in advance by another member of his order, Juan González de Mendoza). It is true that there already existed a significant tradition of published accounts of China generated by the Portuguese, from the third Década by the humanist historian João de Barros (1563), which incorporated amongst other things the observations of a few captives, to the rather substantial account by the Dominican Gaspar da Cruz (1569-1570), which had been made known in Spanish in the version (amplified with materials from Barros) by Bernardino de Escalante in 1577. Some of the Jesuit materials synthesized by Valignano —including a few important early writings by Ricci— had also been publicised in 1588 by Gian Pietro Maffei in the sixth book of his Latin history of the Eastern missions of the order, but Román shows no sign of knowing these (the only Jesuit writer he mentions is Francis Xavier), nor of course had he read Sande's more ambitious but rather obscure dialogue De Missione Legatorum of 1590, which was also based on Valignano's materials. By contrast, Román knew that Rada's Spanish account incorporated important and original insights by a first-hand educated observer who had some knowledge of Chinese, and that it was thanks to this that he was able to go beyond the less penetrating materials that Gaspar da Cruz had made available. It was a pity therefore that Román found himself in competition with a successful work that had synthesized all the same materials, although he did not give up the hope that his version in some ways was more faithful to Rada's manuscripts —he was certainly eager to proclaim so.
33In his exposition, Román changed the order of a similar list of topics. After discussing name and situation, he placed the sections dealing with religion (defined as idolatry and superstition) ahead of the chapters dealing with civility, following the same practice he had chosen when dealing with Mexico and Peru; by contrast, he sent the section on Chinese warfare towards the end. He expanded the analysis of justice, and broke down the massive chapter on technology, the economy and learning into various sections. His chapter on marriage and burial customs (not in Rada) was modelled on Gaspar da Cruz or perhaps Mendoza (Cruz, through Escalante's version, had been Mendoza's source for this topic). It seems clear that Román was, despite his critical tone, influenced by Mendoza, a better organiser; Román however only acknowledged as complementary sources Cruz, Escalante, and the letters from Francis Xavier.
57

Rada in C. R.

Boxer

, South China, p. 282. Rada counted 2257 years from the first king to the build (...)

They say that it is some two-hundred years since they expelled the Tartars, to which if we add the 2,257 years of the kings who ruled before the wall was built [by "Ciucion" of the Ch'in, third century B.C.], it is a wonderful thing to think that this kingdom has lasted so complete and independent of foreign peoples, save for the short time that the Tartars ruled it; if this history is true, they began to have kings shortly after the Flood, and they have been without any intermixture with foreigners since then57.
36Another issue that required attention were Chinese technological achievements. Both Gaspar da Cruz and Martín de Rada had recognized the prior invention of the art of printing in China, and Román, like Mendoza, gave prominence to this, although he watered down his enthusiasm with the surprising argument that the technique had also been known by Greeks and Romans in ancient times. Mendoza was also keen to add artillery to this appreciation of Chinese inventions, but Rada, followed by Román, seemed more eager to emphasize its poor quality. Román was nevertheless full of admiration for Chinese porcelain and craftsmanship, and he could not believe that men could make some of the objects he had seen in Lisbon. He interpreted this skill, a worthy source of Chinese pride, in relation to their industriousness: economic necessity had taught the Chinese to excel, although, because they lacked a true knowledge of God, in their dealings they were far from honest.
This people have very little care of the things of religion, as can be seen by their lack of a great priest or festivals dedicated to a principal idol, nor does the state spend money in any of these things74.
40What the Jesuits would later take as a positive sign of Confucian rationality that accorded with their good opinion of Chinese civility, was here used as further evidence of the imperfection of Chinese culture.
45From our point of view, Acosta's key proposal in the sixth book of his Historia Natural y Moral de las Indias was that whilst it was proper to distinguish several levels of civility, Europeans must be placed at the top not only because of the truth of Christianity, but also because their civilization was the most sophisticated of all (something with which Román would have generally agreed). His argument however, as far as China was concerned —he was more hesitant about Japan— hinged almost entirely on his assessment of the superiority of the European system of writing:
86

J. de

Acosta

, Historia, p.395. Acosta devoted chs. 5 and 6 of that book explaining how the Chinese (...)

Not one single nation of Indians discovered in our times uses proper letters or writing, but only the other two types, which are images or figures, and I understand this to be true not only of the Indians of Peru and New Spain, but also in part of the Japanese and Chinese86.
47Writing from the East rather than the Americas, and with better sources at his disposal, Valignano pursued a very similar argument about the need to establish European superiority as a civilization, but he was able to offer a more wide-ranging analysis of why this was so. The last two chapters of the De Missione Legatorum are invaluable in this respect. Dialogue thirty-three —the one Hakluyt would translate— offered the Jesuit view of China, concluding however that
50By inviting the Japanese to distance themselves from the "savage" Blacks, Valignano was also inviting them to convert to Christianity, the religion of the superior races.
52This is the racialist context which allowed Valignano to fully domesticate the idea of a gentile civilization for the case of China. Mainly following Ricci's early letters for his description, the dialogue explained that the country was very fertile, prosperous and abundant in people; the inhabitants were industrious and extremely skilled in the mechanical arts. They were also given to letters, although these were difficult to learn. The Chinese practiced natural and moral philosophy, and unlike Rada and Román, who had ignored Confucius, the Jesuits acknowledged that in this moral field the Chinese had obtained some excellent results: so much so that "nothing better could be expected of men without the light of faith". However, the dialogue did agree with the Augustinian critics in emphasizing that Chinese natural science was full of errors, although (unlike Rada) recognizing that some knew astronomy very well. It was also in agreement with Jerónimo Román's analysis that the art of government was presented as the main concern of the Chinese, in such a way that they ruled according to the law of nature, giving authority to the most learned (a meritocracy of literati was of course quite close to the Jesuit ideal of promoting talents in a centralized hierachy). This vast hierarchy of prudent magistrates dedicated to justice ensured general peace and tranquillity, which offered an obvious contrast with the continuous wars of Christian Europe. In accordance with this, their best religious sect —the one closest to Truth— was that of Confucius, who, guided by nature, taught much that was praiseworthy; however, his cult of ancestors was idolatrous:
97

Ibid., p.395. This passage on Confucius, albeit still insisting on an idolatrous element, reflecte (...)

If only Confucius had made a reference to God, and to future life, and had not attached so much importance to celestial fatality, and finally had not occupied himself so much with the statues of ancestors! On this matter he can hardly free himself from the accusation of idolatry97.
56Anthropological arguments and ethnographic support for those arguments were decisive in shaping the colonialist debate in sixteenth-century Spain. However, one could argue that the imperial and missionary debate in Spain in the sixteenth century was entirely different from the antiquarian and religious debate in Europe in the seventeenth century. The debates in Spain or within the context of the missions operating under Spanish and Portuguese patronage were conducted in the royal Councils and within the religious orders, occasionally at the university or at the papal court. Their spillage into public debate through publication was naturally limited, and when necessary, restricted. Books did of course have power, but what was printed was tiny compared to what was written. In other words, they were not debates primarily intended for a cosmopolitan republic of letters. Hence Jerónimo Román, who acted as a bridge between missionary ethnography and the skeletal republic of letters that existed in Catholic Spain, was quite exceptional in his national context, and his international impact was even more limited. Moreover, despite provoking the intervention of the Inquisition for his account of Judaism, his account of the gentile civilizations of America and China was not perceived to be problematic. By contrast, the European debates of the seventeenth century about the history of gentile peoples might have still originated, but could no longer be contained, within any institutional limits, national or religious. The libertine turn of the debate in effect coincided with the increasing domination of a public sphere (however tentative the notion) constituted by the republic of letters, an international community of learning of humanist origins but with novel scientific and philosophical pretensions. It was a public sphere in which the religious orders, for example the Jesuits, conducted rearguard operations, but where the Spanish and the Portuguese, successfully insulated against heresy yet bankrupt in terms of political economy, had become almost entirely marginal. In these circumstances, the impact of missionary knowledge outlasted the force of missionary discourse.
Notes
1 The authorship of the treatise is disputed, with the editor of a recent Portuguese translation, Américo da Costa Ramalho, arguing against various Jesuit historians that Duarte de Sande was the main author, on the basis of what Valignano and Sande declared in their prefaces, and of the many references made in the Dialogues to Portuguese history. See A. da Costa Ramalho, "O padre Duarte de Sande". However, in the light of Valignano's private letters to General Claudio Acquaviva in 1588, where he explained that he was involved in the writing of this book, and of the similarity of contents of some key chapters (such as the one on China) with his Historia del principio y progresso de la Compañía de Jesus en las Indias Orientales of c. 1583, I am inclined to believe (with Henri Bernard, Joseph Moran and Derek Massarella) that a detailed draft of the contents was supplied by Valignano, apparently in Spanish; Sande, as he himself explained in a letter to General Acquaviva in September 1589, had composed the dialogue from Valignano's materials (probably including a summary of the diaries kept by the Japanese travellers) rather than just translating a text. From this perspective, it seems safe to consider the work as co-authored. The printing in Macau was in fact made possible because the envoys, on their return, brought with them the movable types that Valignano had requested. A new translation in English by Joseph Moran †, edited by Derek Masarella, is due to be published by the Hakluyt Society.
2 The embassy was most successful at Rome. On the Japanese embassy and Valignano see J.A. Pinto, Y. Okamoto and H. Bernard S. J., La Première Ambassade; F. Schütte, Valignano's mission principles, 2, pp.257-266; D. F. Lach and E. J. Van Kley, Asia in the Making of Europe, pp.688-706; J. Álvarez-Taladriz (ed.), Apología; J. Moran, The Japanese, pp.6-19; D. Massarella,"Envoys and illusions". For a recent overview of Valignano's career see A. M. Üçerler,"Alessandro Valignano". Let me note briefly that due to Hideyoshi's sudden turn against the Jesuits in 1587, the impact of the embassy was more muted in Japan.
3 Sparke used the Madrid edition of 1586, which included additional materials.
4 Gentiles were those nations who were not Christians, Jews or Muslims, that is, although descendants of Noah, they stood outside the Biblical Revelation. Originally a Jewish concept, it was taken up by the early Christians (sometimes the less rigorous "pagans" was used). It was a crucial category for early-modern missionaries and ethnographers —for example, Jerónimo Román discussed the concept extensively in his Repúblicas del Mundo, under "República gentilicia".
5 Besides the historical syntheses by writers like Mendoza, Maffei and Acosta there was also an extensive missionary propaganda in Catholic Europe, but these collections of letters only offered a limited access to detailed ethnographic information, and rarely engaged with the more problematic aspects of the image of a gentile civilization.
6 For my analysis of the 1575 edition I have been fortunate to be able to consult three copies of the rare volumes without the excerpted passages crossed out, although in one case with marginalia noting the problematic passages. The first copy is in the Library of Congress. Two further unexpurgated copies are in private collections. I am extremely grateful to the antiquarian bookseller Anthony Payne, formerly of Bernard Quaritch Ltd in London, for alerting me of their existence, and allowing me to consult them at length in the bookshop before they were sold (one complete set in July 2006, another copy of volumeI only in March 2008). All subsequent quotations specify the year of publication to distinguish the two editions. On Román, see also F. Villarroel, "The life and works".
7 R. Adorno, "Sobre la censura".
8 As his formal submission to the authority of the Church (signed 17 April 1575) shows, included at the last minute in the first edition of the book, Román had been anxious about his detailed discussion of the Hebrew Republic. In the body of the work he expressed traditional opinions such as that the Jews were everywhere mistreated because God permitted it, including modern Spain, where even after their conversion to Christianity they were everywhere hated (because, Román insinuated, "I believe that few are good Christians"). His final sentence was: "Forgive me those of this nation, but in truth I say less than I could when speaking badly of them" (1575, I, fos 67vo-68ro). This passage was censored by the Inquisition (a reader noted that it was forbidden to say this although it was true), and the new version of 1595 briefly noted how the Jews, once loved by God above all nations, were now disliked above all others because of their sins. Strangely, Adorno reads the original passage as a criticism of the Spanish (rather than the Jewish) nation, and by contrast emphasizes the profound respect and sympathy that the friar showed towards the Jews. Another problem is how she reads marginalia. In p.49 she quotes a marginal note to the 1595 edition (from a copy in the Lilly Library) which asserted that "at the time when the inquisitors expurgated my books, they saw that this one did not have to be expurgated", noting the difference between the two editions, and adding that "I did not find here any of those things that are expurgated from the [1575] edition of Medina". All this makes perfect sense as a note from an owner of that copy of the book, someone obviously relieved because the 1575 edition alone had been censored, and his copy of the new edition already had been suitably modified. Adorno however reads this as a marginal note written by Jerónimo Román himself, and presents it as evidence of how the friar evaded censorship!
9 J. Román, Repúblicas del Mundo, 1595, III, fos 210vo-211ro: "Nunca los Portugueses uvieran descubierto tantos puertos ni islas, si frayles con zelo de predicar no se adelantaran y entraran por entre gentes bárbaras sin miedo; ni nuestros españoles tuvieran ánimo a acometer empresas, si los religiosos no ablandaran las gentes indómitas con ponerles delante la lumbre de la fe… bástenos lo que vemos en las Indias Occidentales y Orientales que nuestros españoles han conquistado y traýdo a la obediencia de sus reyes, lo qual [es] cierto ni se uviera conquistado ni conservado si no estuvieran de por medio los religiosos que yvan a las empresas, para que la furia de los soldados y la avaricia de los demás tuviesse templança con sus reprensiones y avisos, dándoles a entender cómo no yvan a robar ni a matar".
10 On Sahagún see L. Nicolau D'Olwer, Fray Bernardino, which remains one of the best books on the subject despite its many years (it was first published in Spanish in Mexico in 1952). See also G. Baudot, Utopía e historia, and more recently J. Bustamante García, "Retórica". On Zárate see M. Bataillon, "Zárate ou Lozano?".
11 "Estaréis advertido de no consentir que por ninguna manera persona alguna escriba cosas que toquen a supersticiones y manera de vivir que estos indios tenían, en ninguna lengua". On the prohibition of the letters of Cortés see M. Bataillon, "Hernán Cortés". In her recent discussion of the cosmographer Juan López de Velasco, Maria Portuondo suggests that the 1577 cédula was simply motivated by the cosmographer's efforts to collect all works that would inform his own work, but this interpretation is obviously reductive —there was more to Sahagún's controversial work than one mere source for the Council of Indies's "archive of secrets". See M. Portuondo, Secret Science, pp.169-170.
12 On Sahagún's criticism of Motolinía see J. Bustamante García, "Retórica", 290-308. The congregaciones were seen by many friars as a means of aiding evangelization through control of the population, but the policy had also an economic logic as it helped structure the native workforce (for example in New Spain displaced Indians often became vagabonds rather than accept a position as macehuales). It became especially important after the epidemics devastated traditional towns and villages (after the 1540s in New Spain for example). For details see E. Roulet, L'évangélisation, pp.122-130.
13 The criticisms of Sahagún and his works are discussed by L. Nicolau D'Olwer, Fray Bernardino, pp.72-73, who identifies Fray Francisco de Ribera as the main culprit. Sahagún was not alone in his position during these years. We might consider the Dominican Diego Durán, who in 1581 justified his vast ethno-historical research in a very similar fashion: "They made a big mistake those who at the beginning, with good zeal but without much prudence, burnt and destroyed all the paintings that they had about their antiquities, because they left us so much without light, that they idolize in front of our own eyes, and we do not understand them when they dance, or are in the market, or bathe, or when they sing their songs lamenting their old gods and lords, or when eating and feasting; and when we look closely, in all these things there is idolatry and superstition…", D. Durán, Historia, II, 16.
14 The climate would change during the reign of Philip III: consider the publication of the works by Antonio de Herrera, Juan de Torquemada and Inca Garcilaso.
15 Besides M. Bataillon, "Zárate ou Lozano", see also P. Duviols,"La Historia del descubrimiento", on how Zárate modified his account of the Incas to make it fit with the historiographical thesis on Inca tyranny sponsored in the 1570s by Viceroy Francisco de Toledo. More recently, see also the introductory material by F. Pease and T. Hampe Martínez in A. de Zárate, Historia del Descubrimiento, who offer a good summary and biographical sketch. Zárate was a well-connected man and always eager to pre-empt criticisms, for example he also changed the details about the rebellion of Gonzalo Pizarro against Viceroy Núñez Vela in order to distance himself from any anti-royalist sentiment. The licence to reprint the book, dated September 1576, notes that "Having been seen by those in our Council, because in this book care has been taken to comply with what the recent order about the above matter requires [se hizo la diligencia que la pragmática agora nuevamente sobre lo susodicho fecha dispone], it was agreed that we should issue this new licence". This seems to refer to the fact that the book had to be seen by the Council before publication.
16 The license was issued by Juan Vázquez in the name of the king in El Escorial on 24 May1589, and made reference of the fact that the book had been examined in accordance to the "pregmática por nos últimamente hecha sobre la impresión de los dichos libros". It had been previously approved by the Jesuit provincial Gonzalo Dávila, and for the Church by fray Luis de León. Acosta also obtained approval from the king to dedicate the book to the infanta Isabel Clara Eugenia (having already dedicated his Latin De Procuranda Indorum Salute to him).
17 "Trata muchas cosas en deshonor de los primeros conquistadores, y poniendo dubda en el señorío, y otras cosas indecentes…", Archivo General de Indias, Indiferente General, n. 738, 1575, consulta of September 1575, quoted in G. Baudot, Utopía, p.484. Here "cosas indecentes" does not refer to sexual or religious morality but rather to social decorum, in relation to the aristocratic honour of the Spanish conquerors whose appalling behaviour was being described. For an earlier discussion see J. Friede, "La censura Española", 61-63, still valuable despite some errors concerning Román's biography.
18 G. Baudot does note that the issue here was the legitimacy of pre-Hispanic sovereignty; however, he presents the evidence in the context of illustrating "the deliberate aim to make disappear any writings that referred to Amerindian cultures", a view which I consider exaggerated. It is possible that the reason why this complaint had no effect was that the book had been previously approved by the Royal Council of Castile, whose jurisdiction was superior to that of the Indies, and where Román probably had sympathizers.
19 J. Román, Repúblicas del Mundo, 1595, III, fo 190vo. The Pizarro brothers were in fact a national disgrace: "más deshonra ganaron los reyes de España con ellos y sus compañeros, que lo que les interessa de tan grandes reynos". There was also some criticism of Cortés in relation to his cruel treatment of Cuauhtemoc.
20 Ibid.
21 Francisco de la Cruz, a Dominican preacher and visionary active in Peru, developed the views of Las Casas in a direction considered heretical by the Inquisition when he argued for a positive valuation of the religiosity of the New World, suggesting among other things that the American natives, who represented the lost tribes of Israel, might have been saved through their implicit faith. He was condemned for this and other radical apocalyptic views by the likes of José de Acosta (who believed that fray Francisco was under demonic influence), and, after a long process, burnt in 1578. See M. Bataillon, "La herejía de fray Francisco de la Cruz".
22 D. Durán, Historia, I, p. 70 (it is to be noted that the English translation published in 1994 by Doris Heyden contains errors). It was on the basis of Durán's extensive history of the Mexica following a detailed native chronicle that Acosta composed his influential account of the same subject a few years later, albeit through the version prepared by the Jesuit Juan de Tovar. Durán finished his work in 1581 but seems to have started writing in 1578.
23 For the debate about the American Indians see L. Hanke, All mankind, and A. Pagden, The fall.
24 J. de la Peña, De Bello, pp. 70-84.
25 This position of a moderate appreciation of the moral capacities of the American Indians was more common than rare, and not special to the Spanish. In the 1580s the English would adopt a very similar attitude in Virginia, as exemplified by the work of John White and Thomas Harriot.
26 J.-P. Rubiés, "New Worlds". The importance of this distinction has often been echoed; see for example L. Millones Figueroa, Pedro de Cieza de León; E. Van Den Boogaart, Civil and corrupt Asia; N. Standaert, The interweaving.
27 The Spanish intellectual appropriation of China began with Bernardino de Escalante, who in 1577 published in Seville a work of synthesis, Discurso de la navegación que los portugueses hazen a los reinos y provincios del Oriente, y de las noticias que se tienen de las grandezas del reino de la China, primarily based on the accounts by Barros and Cruz. It was subsequrntly used by both Mendoza and Román. For the Iberian image of China in this period see R. M. Loureiro, Fidalgos and M. Ollé, La invención de China.
28 The new viceroy who stopped the embassy was the Count of Coruña, but he sought the advice of the former Governor of the Philippines, Francisco de Sande, a leading proponent of a military conquest. Mendoza had previously spent most of his youth in the Augustinian monastery of Mexico City, from where he followed with interest Spain's Pacific enterprise.
29 In his prologue of 1575 Román explained that he had a separate work on "monarchies", thus justifying the emphasis on religion of the seven books of his "república Christiana". He also explained his choice of the term "republic" as referring to the "various things", divine and human, that are necessary to the cosa pública, and claimed originality in his method, distancing himself from his first model, Aulus Gellius, who dealt with these varied matters in a less systematic manner. What is most obviously incoherent is that Román published the smaller Christian republics, with their focus in government, almost as an appendix to the history of the Church, rather than alongside the monarchies, as for example Botero would do.
30 For a summary of the Spanish debate on the conquest of China see M. Ollé, La empresa.
31 A perfect example of how the idea of conquest was sustained by a negative misrepresentation of China is given by the long letter and relation to Philip II written by Governor Francisco de Sande in June 1576 (Archivo General de Indias, Seville, Filipinas, 6, 28). Alonso Sánchez continued in the same vein a decade later —see for example the "Relación de las cosas particulares de la China" prepared for Philip II in the spring of 1588 (Biblioteca Nacional, Madrid, 287, 198-226), at a time when, closely supervised by José de Acosta, he had been forbidden by General Acquaviva to openly defend the conquest of China. M. Ollé, La empresa, pp.209-215 offers a contextual analysis of this text as part of the debates of the Junta that discussed the Philippines and China, leading to a dispute between Sánchez and the Dominican Juan Volante that the Jesuit chronicler Francisco Colín compared to the famous debate of 1550 between Las Casas and Sepúlveda.
32 D. F. Lach, Asia, I, 742-751, offers a good discussion of Mendoza as editor.
33 The existence of Castilian critics of the conquest in various religious orders, and the differences between Acosta and Sánchez within the Spanish Society, make it necessary to qualify the idea of a "Castilian party" within the Catholic Monarchy of the 1580s systematically opposed to the "Portuguese" Jesuits and their Roman universalism. For an account along these lines see J. Martínez Millán, "La trasformazione". Although the tensions between Castilians, Portuguese and Aragonese certainly existed, the debate also took place within Castile. The case of Sánchez in any case must be analyzed as quite peculiar.
34 See J.-P. Rubiés, "Theology", for the way these two tendencies affected the history of the concept of idolatry.
35 The extent to which classical models were used is discussed in D. A. Lupher, Romans and S. MacCormack, On the wings of time.
36 It is a matter of some contention the extent to which Vitoria influenced Las Casas in his formative years. Some recent revisionist interpretations emphasizing the latter's originality remain within the tradition of apologies for Las Casas. See for example V. Abril Castelló, "Los derechos" and L. Iglesias Ortega, Bartolomé de Las Casas.
37 On Las Casas' careful discussion of the notion of barbarism (in his arguments against Sepúlveda and at the end of the Apologética) see A. Pagden, The fall, pp. 123-145. In the Apologética (ch. 264-267 and epilogue) Las Casas agreed that the Indians were barbarians in the sense that they were foreign strangers, but of course from their own perspective the Europeans were equally barbarians. He rejected that the Indians were in any way savage or incapable of an ordered life, and emphasized that, after the trauma of the Spanish conquest, the standards of civility had declined, hence the present realities of New Spain and Peru offered a misleading image of Indian capacities. He conceded that Mexican pictograms were not entirely equivalent to European letters (an idea Acosta would later develop), although he referred to the English at the time of Bede as an example of how once Europeans had not been any different; Finally, and interestingly, he also noted that the notion of oriental despotism from Aristotle's Politics could also apply to the civilized American Indians, because due to their humble nature they obeyed their kings in all things and accepted great impositions: but as Aristotle had made clear, this was no ordinary tyranny, but a legitimate form of voluntary subjection to royal power suited to a particular national temperament.
38 The 1595 edition (III, fo 127ro) maintained the same expressions: "naturalmente los hombres nos inclinamos a reverenciar a Dios, aunque no sepamos qual sea… conocían a Dios y le reverenciavan, aunque no conocían qual fuesse".
39 Compare B. de Las Casas, Apologética, ch. 122 (1992, pp.878-881) to J. Román, Repúblicas del Mundo, 1575, II,"República de las Indias Occidentales", book 1, ch. 2, fos 353ro-380vo (also in Repúblicas, 1595, III, fos 127ro-129vo; the reference to emperor Caligula in fo 128vo).
40 B. de Las Casas, Apologética, ch. 121.
41 Ibid., ch. 122. Compare to J. Román, Repúblicas del Mundo, 1595, III, fos 128vo-129vo.
42 B. de Las Casas, Apologética, ch. 73, 74 (1992, pp.640-650). In particular, Las Casas followed Aristotle's ethics in arguing that habits created by custom generate natural inclinations; in that respect, the natural tendency to worship God had been historically corrupted (with help from the Devil) over thousands of years into a natural inclination to idolatry (pp.648-649). It was this passage that led Román to his own controversial formulation in 1575 (vol. II, book 1, fos 1-2). The new edition of 1595 (vol. II, fos 1ro-5vo) no longer claimed in a simple sentence that idolatry was natural, but continued to argue that whilst all men rationally tended to believe in a supreme being, and naturally worshipped that which was superior, they were led by sin to ignore God (unless God himself enlightened them), and were tempted by the Devil to worship creatures. In a peculiar passage, interpreting the book of Genesis, Román attributed the origins of this degeneration to the descendants of Cain before the Flood.
43 Ibid., ch. 214 and 215 (1992, pp.1356-1365). Las Casas explains (p.1365) that he obtained this legal code from a friar "who best learnt the Mexican language", and that it was taken from an authentic native codex. This friar probably was Andrés de Olmos, who together with Motolinía was one of the key ethnographic sources for Las Casas on New Spain. The document has in fact been preserved in a miscellany collected by Ramírez de Fuenleal in Valladolid and is dated 1543, albeit signed by one Fray Andrés de Albiz. It remains unclear whether this Andrés de Albiz or Dalviz was Andrés de Olmos himself by another name, a mere copyist in Valladolid, or a contemporary Dominican friar who also was an expert in Nahuatl, as argued by J. Bustamante García, "Las Fuentes"; however, in ch. 213, where the same topics are discussed, Las Casas declares that he took these materials from the Franciscans. He certainly seems to be following Motolinía in a very similar discussion.
44 B. de Las Casas, Apologética, ch. 216 (pp. 1366-1368).
45 J. Román, Repúblicas del Mundo, 1575, II, "República de las Indias Occidentales", book 2, ch. 4 (compare B. de Las Casas, Apologética, ch. 214). Also ch. 5 (the Mexican legal code, following Las Casas, ch. 215).
46 The Maya of Yucatán were also presented in glowing terms as "más politicos que otras [gentes] de que avemos contado" (J. Román, Repúblicas del Mundo, 1595, III, fo 161vo), because of their supposed monogamy. In addition, Román —always following Las Casas— defended them from the accusation of having practiced sodomy, cannibalism or human sacrifices.
47 J. Román, Repúblicas del Mundo, fo 170vo.
48 Ibid., fo 171ro.
49 Moreover, their expedition to China took place in June-October 1575, whilst a copy of Román's book, printed the same year, could not have reached Rada in Manila without many months of travel.
50 To determine the exact relationship between the two relations will require a more systematic comparison of the relations by Rada and Loarca. For Loarca's account I have used the version kept in Paris, BnF, Fonds espagnol, 579, fos 1-56, compared by the transcription of a copy in Madrid, Real Academia de la Historia, Colección Salazar, N IV, fos 113-150. In a future edition the Madrid text should be used as base, since it is more complete; the Paris manuscript has lost some pages and is often less detailed, although some of its readings are more precise and need to be taken account of. It was dedicated to the new Governor of the Philippines Francisco de Sande (May 1st, 1576) and might have been a presentation copy that had been revised and summarized.
51 Paris, BnF, Fonds espagnol, 325, fos 14ro-30ro (hereafter Rada, Paris). This is part of a contemporary miscellany that contains a great deal of missionary documents of the 1560s and 70s, including some original letters by Rada that seem to be autographs, but also a great deal of material from Las Casas. The collection probably was assembled in an Augustinian convent in Mexico or perhaps Spain (since it also has matters concerning Andalusia or Aragon). Gregorio Santiago Vela believed that the compiler had been Alonso de Veracruz, an Augustinian friend of Rada mainly based in Mexico, to whom he addressed some important letters. See G. Santiago Vela, Ensayo, VI, pp.454-455. An almost identical copy of Rada's relation was used by the Augustinian chronicler fray Gaspar de San Agustín in the seventeenth century, who found it in the Convent of San Pablo in Mexico (G. de San Agustín, Conquistas, pp. 313-323; p. 362 for the detail of the location of the papers). A third copy of the relation, made in Manila c. 1590, was in the possession of Charles Boxer in 1953 and was the basis for his English translation (C. R. Boxer, South China, p. lxxxiii).
52 Or perhaps a preliminary report, as Charles Boxer suggested. He in fact noted that Rada must have circulated this preliminary report in 1576 before he embarked upon a second expedition to China (C. R. Boxer, South China, p. lxxxi). My hypothesis is that during his journey Rada kept a detailed travel account, on his return to Manila in 1576 wrote the synthetic relation we know, and subsequently continued to work on translating Chinese books and expanding the relation, until his untimely death in 1578.
53 Deve se dar mucho crédito a este religioso en lo que dize, assí porque en el término del proceder muestra no poner nada de su cabeça, como por ser hombre religiosíssimo, lo qual yo pude provar algún tiempo viniendo en Toledo juntos, adonde mostró lo que avía de ser en lo venidero" (J. Román, Repúblicas del Mundo, 1595, III, fos 212vo-213ro). Román therefore had met Rada personally in Spain, probably in the late 1550s, after Rada's studies in Paris and Salamanca, but before he left for Mexico (c. 1560) and eventually the Philippines (1564-1565). Román also gave him credit for the nobility of his family (his father León de Rada was of the Council of the kingdom of Navarre, and his brother Juan maintained a position there as alcalde of the High Court). By contrast, Román might have been unfair to Mendoza. Modern critics such as C. R. Boxer (South China, p. lxxx) and D. F. Lach (Asia, I, pp. 791-793) have defended Mendoza as editor for example against the accusation of mendacity by Juan Fernández de Velasco, Condestable the Castilla, writing from Naples as early as 1585.
54 I have consulted the Parisian manuscript, as well as Loarca's similar text, and many other letters by Rada contained in the same miscellany. I am grateful to the librarians of the BnF for allowing me to consult the original, which is superior to the microfilm. This text was published in Revista Agustiniana, vol.VIII-IX, in 1884-1885. There now exists a digitalized version of many of these texts at a webpage created by the Universitat Pompeu Fabra of Barcelona under the direction of Dolors Folch, although regrettably many of the transcriptions lack punctuation and are poorly edited.
55 See J.-P. Rubiés, "The Spanish contribution", for a discussion of how this genre was applied by Antonio de Morga to the Philippines.
56 Loarca offered a very similar account, but more detailed, although in the manuscripts that I have been able to consult the names are often spelt differently. It seems very likely that Loarca here as elsewhere relied on the same set of translated materials as Rada. As he explains (Loarca, RAH, N IV, ch. 10, fo 149vo), they bought many books freely in various bookshops and found them cheap (although books about Ming history were more difficult to obtain).
57 Rada in C. R. Boxer, South China, p. 282. Rada counted 2257 years from the first king to the building of the Great Wall (Loarca rounds this figure to 2250), 1641 years from the beginning of the Wall until the "Tartars" [the Mongols] were expelled by the Ming, and two-hundred more years until his mission in 1575. Hence, had he added up, the first king would have been dated 2523 BC. In this light, it made no sense for Rada to conclude that "si esta historia es verdadera, no muchos años después del diluvio començaron a tener reyes". Loarca was even more circumspect, not mentioning at all the Bible (Loarca, RAH, N IV, fos 144ro-146ro).
58 J. Román, Repúblicas del Mundo, 1595, III, fos 226vo-227ro. Román's numbers are not exact. His numbers would suggest that he was writing in the year of 1555. However, if we assume that this passage was written closer to 1590, then he should have calculated 185 years before the Flood.
59 That was also the patristic solution offered for example by Eusebius of Caesarea in his important Chronicle (or Chronicon) to establish the chronological priority of the Bible over any gentile (Egyptian or Babylonian) dates.
60 J. González de Mendoza, Historia, pp. 128-130.
61 Rada had simply asserted that "La letra es la más bárbara y difícil que se ha descubierto, porque más son caracteres que letras, que para cada palabra o cosa tienen letra diferente, de manera que aunque uno conozca diez mil letras, no sabrá leer todas las cosas…" (Paris, fo 28ro). Cruz had noted very much the same thing, but also saw the advantages in a system of writing that could be understood by people speaking different tongues. It is not clear that Acosta influenced Román. By 1595 Román had probably read J. de Acosta's Historia Natural y moral de las Indias (Seville, 1590). However, the chapter on China sems to have been written c. 1590, since he added 25 years to Rada's calculations about the age of the Chinese monarchy.
62 J. Román, Repúblicas del Mundo, 1595, III, fo 223vo.
63 "Except medicine, where they know as herbalists by experience the virtues of plants and have them drawn as we do in the book of Dioscorides, in all their other sciences there is nothing valuable [no hay que echar mano], since they have nothing more than the smell or shadow of the substance [que no tienen más del olor o nombre dello]. For they do not know anything of geometry, nor do they have or use compass-dividers [ ni tienen compás ni usan de él], nor can they reckon beyond simple addition, subtraction and multiplication. They think that the sun and the moon are human, that the sky is flat, and that the earth is not round". I have modified Boxer's translation (C. R. Boxer, South China, pp.295-296) according to the Paris text (fo 28ro). Earlier Rada had written that the Chinese have a compass-needle (aguja de marear) which was a little different from those used in Europe, so with Boxer here I interpret ni tienen compass —also used by Román— to mean that they lack compass-dividers.
64 J. Román, Repúblicas del Mundo, 1595, III, fo 231vo: "Lo mejor que tiene la China y de que se pueden aprovechar las otras repúblicas es de la rectitud que ay en guardar justicia".
65 Román's emphasis on lack of poverty is in contrast with Rada's judgment that "most of the people are poor", by which he meant not that the workers had nothing, but that they obtained relatively little for their efforts. He also wrote about seeing many beggars and the lack of a fully monetarized economy, points omitted by Román.
66 However, Román also believed that in China only men of noble origin studied letters, and compared that practice with the prevailing principle in the modern European system of education, where some of the best students were from the humblest social backgrounds (J. Román, Repúblicas del Mundo, 1595, III, fo 224ro).
67 J. Román, Repúblicas del Mundo, 1595, III, fo 227vo: "La potencia del rey de la China necessariamente ha de ser grande, porque no hay hombre que en el reyno sea señor de una almena, ni vasallo, ni imperio, ni jurisdición de un palmo de tierra".
68 Román did not however appeal to Aristotle's concept of despotism as a distinct type of monarchy. For an analysis of the relationship between political theory and exotic ethnography in the evolution of the concept of oriental despotism in this period, including a detailed discussion of Botero's views, see J.-P. Rubiés, "Oriental despotism".
69 J. Román, Repúblicas del Mundo, 1595, III, fo 214vo: "para cada cosa tienen dioses, casi a ymitación de los antiguos Romanos".
70 Ibid., fo 214vo: "tienen por supremo Dios al cielo".
71 Ibid., fo 215ro: "Ningún conoscimiento tienen de Dios verdadero, y si algo hay es rastreando, y assí dizen que de lo alto dependen todas las cosas criadas y la conservación y gobierno de ellas, sin saber decir en particular quién sea el autor y principio".
72 Ibid., fo 216ro.
73 Ibid., fo 215vo: "Como el demonio los tiene ganados, no cura de ocuparlos en los sacrificios de hombres ni otras cosas crueles de que usaron otro tiempo diversas gentes".
74 Ibid., fo 216vo.
75 "A lo cual ayudaría mucho ser todos ellos hombres de buenos entendimientos, dóciles, y que se sujetan a la razón". J. González de Mendoza, Historia, p. 62.
76 Rada thus participated in the famous expedition led by Tomás López de Legazpi and the Augustinian Andrés de Urdaneta by which the Crown of Castile first discovered the return navigation across the Pacific and began colonizing the islands, despite the suspicion that the archipelago fell within the agreed Portuguese sphere of influence.
77 Archivo General de Indias, Seville [AGI], Filipinas, 79, 1, 1. The letter is also available in www.upf.es/fhuma/eeao/projectes/che/s16/rada1569, and in English in E.H. Blair and J. A. Robertson (eds.), The Philippine Islands, 34, pp. 223-228. In Mexico in the early 1560s Rada had displayed a similar commitment to the mission to the natives, and for example he learnt the Otomí language, notably difficult, in the space of a couple of years.
78 AGI, Patronato, 24, 1, R. 22. Available in www.upf.es/fhuma/eeao/projectes/che/s16/rada2.
79 Not only the right to preach, but also the ius peregrinandi (right to safe travel) and the protection of innocents, justified the conquest of the Philippines. Rada to Alonso de Veracruz, Provincial of the Augustinians in New Spain, letter of 16 July 1577, Paris, BnF, Fonds espagnol, 325, fo 42ro. This extensive letter offers both an ethnography of the Philippines, and a summary of Rada's mature missionary thought.
80 The letter of July 1569 (AGI, Filipinas, 79, 1, 1) is in this respect a remarkable document. Writing to the new viceroy Martín Enríquez and seeking to impress him with a particular missionary agenda, Rada did not question that the Spanish could legitimately seek gold in the Philippines, but argued that a new colonial model was needed, one not based on soldiers greedily looking to enrich themselves at the expense of the natives, but rather on settlers conducting their own business whilst the natives were looked after by the friars. These natives were understood to be "like monkeys very desirous to imitate us in dress, speech and in everything else", hence they would readily become Christians. The flaw of the current model was that the leader (Legazpi) had not punished many abuses by the Spanish, hence the whole land was being destroyed. So far the echoes of the standard Dominican denunciation of the conquest of Hispaniola, Cuba and mainland America are unmissable. It was only at the end that Rada argued that "if your majesty seeks the conquest of China", before anything else the control of the Philippines needed to be consolidated, for strategic reasons. The undertaking would otherwise be relatively easy given the cowardice of the Chinese (despite their high level of civility, or "gran policía"). However, even while the conquest of China for the first time, as some have suggested (M. Ollé, La empresa, pp. 41-42, who is offering a plan for mistaken in asserting that the letter was addressed to Philip II) what Rada was doing here was to seek to change the priorities of a new viceroy already keen on the idea ("si vuestra majestad pretende…"), so that the care of the Philippines took precedence. Another letter he wrote to Philip II in July 1570 attacking the colonial model in the Philippines and its governors, but not mentioning China, is entirely consistent with this reading, as is also a subsequent letter to the viceroy of New Spain in June 1573, declaring that "unless this is sorted out, our presence in this land is injust".
81 Yet again in his letter of 1577 to Alonso de Veracruz (fo 43vo), Rada suggested that the natives of the Philippines "no es gente para poder constituyr razonable república", an additional title to the Spanish right to dominion, but immediately went on to denounce the manner of the actual conquest of the Islands, with many abuses and violence. The king and his council had been lied to, and existing encomiendas had to be revised.
82 Letter of 15 July 1577. Paris, BnF, Fonds espagnol, 325, fo 31vo. Rada's death in 1578 deprives us from the opportunity to see how he could have shaped the fierce debate that took place in subsequent years, when the Jesuit Alonso Sánchez, working closely with the Governors Gonzalo Ronquillo and then Diego Ronquillo, manipulated the Bishop of Manila Domingo de Salazar into an aggressive stance towards China, purportedly on evangelical grounds, because the Chinese were not allowing the peaceful preaching of the gospel or any other type of free communication. (Obviouly the permissions of residence granted to the Italian Jesuits Ruggieri and Ricci in 1582 and 1583 weakened these arguments and eventually led Salazar to change his mind).
83 J. Román, Repúblicas del Mundo, 1595, III, fo 231ro.
84 In fact Mendoza had declared that the conquest of China was undesirable rather than impossible, referring to some secret advice that he had offered. He acknowledged that Chinese soldiers lacked courage: "Los cuales, si igualaran en el valor y valentía a las naciones de la Europa, eran bastantes para conquistar el mundo; pero aunque en el número exceden y en los ingenios le son iguales, en los ánimos y valentía quedan atrás" (J. González de Mendoza, Historia, p.99)
85 In his preference for conversion without conquest, Mendoza was closer to Valignano's mainstream Jesuit position than to Alonso Sánchez. This accommodation however only concerned the case of "civilized gentiles".
86 J. de Acosta, Historia, p.395. Acosta devoted chs. 5 and 6 of that book explaining how the Chinese mandarins had to spend years learning thousands of characters (as now the Jesuits in China had to do, charitably, in order to conduct their mission). However, Acosta misunderstood some aspects of the system of writing. For a discussion see A. Pagden, The Fall. For Acosta's orientalism see also F. del Pino Díaz, "El misionero".
87 Ibid., p. 398.
88 Ibid., pp. 397-398. Acosta relied on Alonso Sánchez as his main authority, so his Jesuit sources were given a negative slant. In effect Acosta came to share the negative interpretation of China of the faction whose plans of conquest he was nevertheless instrumental in derailing.
89 E. de Sande, De Missione, p. 398: "Quanuis igitur regnum in toto hoc oriente sit celebratissimum, non dubium tamen est, clarissimae orbis terrarum parti, Europae molto inferius esse". I have relied on the facsimile published in Tokio in 1935. I have also consulted the Portuguese version: A. da Costa Ramalho (ed.) Diálogo.
90 Ibid., p. 407: "Quo sit, ut caeli natura, nationum ingeniis, industria et nobilitate, vivendi gubernandique ratione, multitudine bonarum artium, inter omnes alias regions praestet". Giovanni Botero, who in his Relationi universali (1591-1596) developed a similar argument for the superiority of Europe, relied on Jesuit missionaries (including Acosta) and might have been influenced by Valignano's writings.
91 Ibid., p. 407: "Unde fit, ut quanuis aliqui albo colore praediti ingeniosiqui dici possent, reliqui tamen omnes qui subnigri sunt, rudi admodum impolitaque sint natura".
92 Ibid., pp. 35-46 (fifth dialogue).
93 The key distinction was between albo colore and nigro colore. Africans were nigri, South Asians and American Indians subnigri.
94 E. de Sande, De Missione, p. 44: "We can say that, generally speaking, all these peoples have no law or religion… but that like animals that nature inclined towards the earth and to obey their stomachs, they live largely devoted to their low desires and vices, without any cultivation or human feelings; and with reason a European philosopher said that these peoples were born to serve".
95 Ibid., pp. 39-42. Valignano was not the first to consider the issue of why climate could not fully account for colour differences. Already Vespucci, in his correspondence with the Florentines (the "Ridolfi fragment" of c. 1502), had been obliged to justify his observations of skin colour, noting that the American Indians in Brazil were not as dark as Africans in the same latitude, because the climate was not identical, and that in any case, through miscegenation nature and custom could trump climate (A. Vespucci, Il Mondo Nuovo, pp. 95-96). We lack a comprehensive study of ideas of race and skin colour in the European Renaissance, but for stereotypes of Black Africans see T. F. Earle and K. Lowe (eds.) Black Africans. On climatic theories C. J. Glacken, Traces, remains important.
96 Ibid., p.41.
97 Ibid., p.395. This passage on Confucius, albeit still insisting on an idolatrous element, reflected the increasingly positive views of Matteo Ricci, and went beyond Valignano's more superficial assessment of the literati as mere atheists in his report of 1584, which had relied on Ricci's first impressions (in 1584 Ricci had written to Philip II's official Juan Bautista Román that the sect of the literati did not believe in the immortality of the souls and made fun of the supernatural beliefs of Buddhists and Taoists; in a letter of October 1585 to General Acquaviva, he referred to them as "Epicureans").
98 Lino, one of the minor speakers, expressed the idea radically: "No nation for whom the light of Christian truth has failed to shine can truly and perfectly flourish in just government, virtue and the other goods" (E. de Sande, De missione, p.409).
99 One may wonder what the Japanese young really thought. It is interesting that Miguel, Valignano's Japanese mouthpiece, rejected joining the service of Toyotomi Hideyoshi in 1590, staying with the Jesuits. However, a few years later he abandoned not only the Jesuit order, but also Christianity.
100 E. de Sande, De missione: "The Chinese are ahead of us for the size of their country, its peace and tranquillity, its method of government, and its wealth and abundance of goods; on the other hand, we are superior for our military knowledge and greatness of spirit, and for our observance of etiquette and the degrees of nobility". Interestingly, at that time the Japanese were often perceived as "the Spanish of Asia".
101 J.-P. Rubiés, "The concept of cultural dialogue".
102 On the impact of Martini's Historiae sinicae decas prima (1658) in particular see E. J. Van Kley, "Europe's 'Discovery' of China"; more generally, V. Pinot, La Chine, remains largely valid.