Missions d'évangélisation et circulation des savoirs
|
,
,
,
III. Savoirs indigènes, savoirs missionnaires : interactions et appropriations réciproques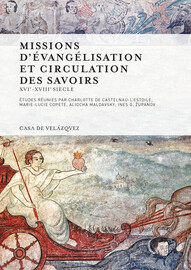 Language Acquisition and Missionary Strategies in China, 1580-1760
p. 211-229
Texte intégral
Il ne faut point de gens qui se laissent dominer à leur naturel; une humeur trop vive feroit icy d'étranges ravages. Le genie du pais demande qu'on soit maistre de ses passions… Les Chinois ne sont pas capables d'écouter en un mois ce qu'un François est capable de leur dire en une heure. Il faut suffrir sans prendre feu et sans s'impatienter, cette lenteur et cette indolence naturelle; traiter, sans se décourager, de la Religion, avec une nation qui ne craint que l'Empereur, et qui n'aime que l'argent, insensible par consequent, et indifférente à l'excès pour tout ce qui regarde l'éternité.
3Chavagnac was not the only French Jesuit to find Chinese a hard language to master. His fellow Norman, Joseph Prémare (1666-1736),-who arrived in Guangzhou on the same ship, the Amphitrite, reported in 1702 to his superior in the French Jesuit mission on the difficulty of learning Chinese:
4

The citation is from the report of P. de Prémare from the missions in Kien-tchang and Nanfang from (...)

Je puis assurer qu'il n'y a point de travail plus difficile ni plus rebutant que celui-la. C'est un grimoire que ces caracteres Chinois, qu'il paroist d'abord impossible de déchiffrer. Cependant à force de regarder et de se fatiguer l'imagination et la memoire, cela se débrouille, et l'on commence à y voir clair. Les difficultez qu'on y trouve, sont incomparablement plus grandes par rapport aux Europeens, que par rapport aux naturels du pays ; ceux-cy s'effrayent moins de ce qu'ils ont vu cent fois, et ils n'ont pas ces grandes vivacitez d'esprit, qui rendent un peu ennemi d'une geste constante4.
11

Archivum Romanum Societatis Iesu (hereafter cited as ARSI), Jap-Sin, 101 I, "M. Ruggiero Relacione (...)

L'origine et principio d'entrar gli Padri nostri nella Cina fu questo modo, essendo nell'India il P. Alex. Valignano visitator della Compania in quelle parti havendo notizia delle cose della Cina, et considerando il gran servicio che si potteva far a nostro Signore con la conversione di tanta migliara d'anime, si se potesse permetter'il piede in quel regno, comincio pensar il modo che percio potesse haver et buttar i fondamenti: per questa cagione nomino in Goa alcuni Padri che fussero inviati a quel posto della Cina nominato Maccao per imparar la lingua degli Cinesi, et provare quel che Dio nostro Signore circa questa e'trata de Padri disponesse. Fu mandato a chiamar dal P. Provinciale il P. Michele di Ruggiero che all'hora si ritrouava nella christianita del malauar et cominciava a confessar in quella lingua, che si partesse subbito imbargasse nella nave della Cina che si partiva da Cacciu, co' la patente pero in bianco, cioè che se il P. Ruggiero arrivasse a tempo per imbarcarse in quella nave che lui andasse, quando altrimente occorresse fusse per la China il P. Giovanni Battista de Ferrariis che all'hora era Rettor di ql Collegio, et il P. Roggiero ViceRettor restasse in quello collegio, et cossi arrivando a tempo tocco a lui ad imbarcasse, questo era dottore nell'una et nell'altra legge nel secolo, et era filosofo et theologo de gra'nde virtu et sincerita per il che divenne molto accetto a quella gente11.
8Years later, Ruggieri recalled this experience. At the college of the Jesuits, he wrote:
Venivano dalla terra firma molti giovani di bello ingegno per curiosita di sapere la nostra doctrina et conferire con la loro, et finalmente restavano per si dall nostra et bruggiavano la loro, per il che si convertirono da vesti et si battizzarno, resta'do nella casa ch'era comoda per tutti a modi di seminario; in breve imparano la lingua portoghese, et diventarono buoni maestri per imparar a me la lingua Cinese con le lettere. E la lingua Cinese tanto difficile a imparar quanto ogn'altra del mondo in tanto che gli stessi Naturali alle volte tra loro no' s'intendono per l'equivocazione delle parole que no' sono ben pronunciate et col lor suono. Tutte le parole di Cinesi hanno quattro difficili suoni et co'segmente quattro diverse significazioni14.
9In spite of the difficulties, Ruggieri persisted. In a letter to General Acquaviva, dated 7 February, 1583, Ruggieri reported on the ridicule the Portuguese in Macau regarded his linguistic enterprise:
It was necessary to use pictures to teach me Chinese letters, and even the language, for example, when he [the master] wanted to teach me how to say "horse" in that language, and how to write it, he painted a horse and above it painted the character that signifies horse, and is pronounced "mai", something certainly ridiculous for the Portuguese15.
11Given to exaggerations of his own achievements, Ruggieri's account is not entirely reliable. We have another picture of this initial linguistic enterprise in the journal of Matteo Ricci, who was called subsequently to assist Ruggieri in the China Mission, and who would eventually eclipse the older man in linguistic competence and fame:
17

FR I, N. 207, pp. 154-155.

Having arrived at our residence [in Macau], Father Michele Ruggieri followed the orders of Father Valignano and fervently studied Chinese letters, and the most universally used language called Mandarin. However, the Chinese who came from the interior [Guangdong province] were not so learned that they could read many of their texts, nor were the Chinese who had converted to Christianity and who dressed like us, in order to serve as interpreters for the Portuguese merchants, knowledgeable of Chinese texts and just as little of the Portuguese language. In any case, to make the best of the situation, [Ruggieri] began his training, learning from a Chinese painter, who knew little of the Portuguese language. And it often happened that, in order to explain a character to the father, he would paint the figure on a piece of paper to represent what he wanted to say17.
14The Jesuit missionary, in other words, was schooling himself in the image of a Confucian scholar, learning the canonical texts requisite for the imperial civil service examination and speaking in Mandarin and not the many dialects of the empire, used by the majority of the populace. Partly pre-determined by their linguistic program, the Jesuit mission aimed at the educated elites, the literati and mandarins, and accommodated itself to the Confucian culture of the bureaucratic-literati elites of the Chinese empire. Ruggieri put it well when he wrote:
Et perche chi desidera entrar nella Cina, et esser accetto a gli governanti et gente cinesi, et no' sia tenuto barbaro et rustico che per tali tengono gli rimanenti che non sanno quelle lettere, e necessario che sappia loro lettere et lingua, et non di qualsivoglia lingua, ma pulita, et cortegiana la quale ancor gli naturali l'imparano da fanciulli con grande difficolta23…
18The initial pattern of language training, established in Zhaoqing, would become standard for the Jesuit China Mission for the next decades: an older priest, with more experience in the field and with a knowledge of Chinese, would train recent and younger missionaries. With the assistance of a Chinese tutor, hired from the large ranks of unemployed or underemployed literati struggling to succeed at the Imperial Civil Service Examination, the Jesuit missionaries would learn Chinese in the way of Chinese boys: acquiring a basic vocabulary of characters by studying thoroughly the Four Books, learning to pronounce characters in mandarin and not in the local dialect, copying characters and notating their sounds and meanings in Portuguese or Latin, and doing translation exercises from the Confucian texts. After the arrival of the Italian Lazzaro Cattaneo in Shaozhou in 1594, Jesuit language training achieved a breakthrough for the musically trained Cattaneo succeeded in devising a tonal system to differentiate the numerous homonyms in Chinese, vastly facilitating the acquisition of conversational and comprehension skills. This trend of development culminated in the publication in 1626 of the Xi ru er mu zhi (A Source For the Eyes and Ears of the Western Literati) by the Belgian Jesuit Nicolas Trigault, which was a dictionary and language tool with Chinese characters arranged by vowels, consonants, and diphthongs.
21The ideal of a mini Jesuit College in the manner of the Latin schools of Europe, as envisioned in the Ratio Studiorum, simply could not be institutionalized, except for a few years in Jiading between 1628 and 1632, due to the enormous and rapidly growing demand on Jesuit manpower. Dispersed throughout the many residences, most newly-arrived Jesuit missionaries continued to learn Chinese as apprentices to an older missionary, with the help of Chinese tutors and Chinese Jesuit brothers.
24The older missionaries felt and lamented the decline of linguistic training. Above all, they felt the continued need to engage the Chinese literati through an ongoing Christian-Confucian dialogue. Criticizing the attitude of the new missionaries, the Visitor Francisco Nogueira (1632-1696), issued an order in 1699:
34

Ba Ja

, 49-V-23, "Ordens para as Residencias da China que deixou o P. Visitador Francisco Nogueira v (...)

There is a complaint that the padres who have newly entered in China do not apply themselves to the study of Chinese letters from whence today there are very few —who can write a letter or compose Chinese books, with such prejudice for the Christian community that was augmented more by means of books than by way of preaching. Good example was given us on this particular point by our old padres that one finds only one who did not write and compose… Therefore, I highly recommend all to not content yourselves with only learning the language, but that you also apply yourselves to the study of letters34.
25One of the signs of this transition from classical to colloquial Chinese is in the Jesuit press: for the first time, the Society published more works written in colloquial rather than classical Chinese, reflecting a new emphasis on evangelizing to the popular classes among a new generation of missionaries. Classical learning, however, was not altogether abandoned, but only a few enjoyed the leisure to pursue prolonged textual studies. The Jesuits at the imperial court of Beijing, in both the Portuguese Vice-Province and the autonomous French Mission, could boast of erudite men steeped in the Confucian classics as well as conversant in Manchu, the native language of the Qing ruling class.
26One of the very few Jesuits with experience in both China and Japan, João Rodrigues (1576-1629), the author of the first western grammar of Japanese, stated there were two ways for Europeans to learn the difficult languages of East Asia. One could either learn in daily use with the native speakers, or learn through an arte, namely
35

J.

Rodrigues

, Arte da Lingoa de Japam; see L. M.

Brockey

, Journey to the East, pp. 253-254.

… grammatical precepts with good masters, listening to lessons from books in which the pure and elegant language is contained, composing and doing other appropriate exercise, in the manner of those who learn Latin, Greek, and Hebrew35.
27While both approaches were involved in the learning of Chinese, the Jesuit Mission clearly privileged the latter approach. An interesting contrast is provided by the other religious orders that established missions in China. For the first fifty years of the Catholic Mission in China, the Society of Jesus represented the sole order. In the 1630s, in spite of the strong opposition of the Jesuits, Dominicans and Franciscans from the Philippines penetrated what the Fathers had hitherto considered their exclusive missionary field. It is instructive, therefore, to examine the programs for language study of the two mendicant orders.
30More adventurous geographically than their mendicant brethren, the Franciscans maintained mission stations in several provinces: in the northern province of Shandong, the interior northwestern province of Shaanxi and Shanxi, and in the southern coastal province of Guangdong. Unlike the Jesuits, we have relatively few sources on the linguistic training of the mendicant orders. There is no evidence that the friars provided for the systematic training of their own in the Confucian canon, although individual missionaries became quite proficient as demonstrated by their Chinese publications, and at least one Commissioner (the head of the Franciscan China Mission) voiced his strong support for it.
He necessario che'l ministro apostolico impare la lingua generale de quell regno, alla quale chiamano mandarina, acioque con essa possa predicare et essere intesso per tutto il regno; e di piu ogni una provincia tiena la sua particolare lingua. Ancora debe imparare le letere chine per convincere a li literati con le sententie de suoi libri43.
32Ibañez reckoned three years to be the minimum for learning Chinese. In a letter to the provincial in Manila, dated 18 January, 1676, he wrote:
Para que un missionario pueda aprender esta lengua china lo precisamente necessario para predicarles a estos gentiles en su lengua la ley de Dios, ha menester tres años continuos de studio y exercicio, poniendo en ello todo cuydado y sentido; que como tenga esto, aunque sea de poca memoria, vendra a ser grande lengua, porque en esta lengua solo hay mil quarto cientos y 64 vocablos, y no mas; y assi poco tiene que trabaxar la memoria; solo el entendimiento y la voluntad y buen sentido44.
34Not only were memory and diligence necessary for learning Chinese, more important perhaps was the attitude of the student. Ibañez reported on a particularly difficult case to the Provincial in Manila; it concerned the friar Juan de S. Frutos (1656-1693), whom I have already mentioned at the beginning of this paper. In his letter dated 30 November, 1685, Ibañez reported that
46

SF, vol. 3, pp. 282-283.

… el hermano predicador Fr. Juan de S. Frutos, que V. C. nos embio el año passado de 84, el qual ha un año que esta aca, y aun no ha aprendido los rudimentos de la lengua chinica, y, si no muda de carretilla, tarde o nunca llegara a ser lengua, y, sin ella, ni a ser ministro. Es lastima haverle sacado de essa santa comunidad de Manila, donde con su buen exemplo haria mucho fruto; mas para el officio de missionario apostolico no basta el dar buen exemplo para sacar a los gentiles de sus errors, para lo qual no solo deve el missionario aprender su lengua, mas tambien sus letras o caracteres, para enterarse por sus libros de sus errors para sacarles de ellos. Ha sido muchas vezes exortado para que con efficacia estudie esta lengua, mas no ay sacarle de su estilo. El por la mañana, en disponerse para reconciliarse y en confessarse, va de vagar, y antes de vestirse para dezir missa, puesto de rodillas se esta el tiempo que otro en dezir missa; luego se viste muy dispacio, y assi mesmo dize su missa como la dizen los demas missionarios, solo que en los mementos gasta mas tiempo que el espacio de toda la missa. Acabada su missa, se recoje y no sale hasta bien tarde; y en esto gasta la mañana hasta cerca de hora de comer. Todo esto es cosa loable, puesto en essa santa comunidad; mas para el officio de missionario no basta el ocio santo de Maria a los pies de Cristo, si que ha dejuntarle con el de Marta, si quiere ganar estas almas gentilicas para Dios; y esto no se puede hazer estandose recogido en su celda, sin estudiar la lengua46.
42Learning Chinese was not merely a necessary tool for the missionary; the origins of the bitter Chinese rites controversy, which pitted the religious orders against one another and led directly to the conflict between Beijing and Rome, hinged on the understanding of a Chinese character, pronounced either as ji to denote sacrifice or zhai to mean worship. The Dominican Morales, one of the instigators of the controversy, recalled:
61

Ji in the pinyin system of Romanization.

62

J. M.

Gonzalez

, O. P., Historia de las misiones, vol. 1, p. 115.

Desde la entrada del P. Angel [Cocchi] en este reino, transcurrieron mas de dos años, sin que él ni yo supieramos cosa alguna de lo que en China pasaba acerca de lo que se dirá luego. Dijele un dia al P. Antonio de Santa Maria [Caballero]: Vaya usted a la iglesia de Fogan, que yo me estaré en la de Tingteu. Estaba a la sazón dicho padre estudiando un libro impreso en caracteres chinos. Y como topase con una letra, cuya voz es Chy61, no supo su significado ni podia entenderlo por más que se esforzaba en explicárselo un cristiano llamado Tadeo, que le estaba enseñando. Por fin, Tadeo, no pudiendo dárselo a entender, le dijo: "Padre, esta letra significa sacrificar, y explica lo que vosotros decís en la Misa." Preguntado luego por el Padre si los cristianos en China tenían aquellos sacrificios, respondió que sí. Con esto quedó confuso el Padre, y me escribió que averiguase lo que era aquello62.
43Together, the Franciscan Caballero and Dominican Morales then challenged the Jesuit latitude in allowing Chinese Christians to continue participation in rites the friars deemed superstitious: the annual ritual honoring Confucius required of all scholars, and the private rituals to honor departed ancestors crucial to familial and lineage maintenance in Chinese society.
67

BA JA, 49-V-23, fo 172ro.

O Senhor Cononense [Maigrot] tinha de satis annos quasi confimos de assistencia en Fochey com larga experiencia e infimo conhecimento da quelles Christaons, tem tal sciencia de lingoa e letra e livras sinicos, e tal eminencia em todas a letras europeas, que chegou a dizer por escrito o Illm Senhor Atruz de Leone Bispo de Rosalia, que podia o ditto Senhor disputar e convincer aquelles padres da Companhia de Jesus havia em todo o mundo tinha confucimento etrato intimo (como elle diz) com os Mandarins mais supremos da provincia, couza que muito costuma grangear a authoridade com os Christaons67.
47According to Maigrot, a doctor of the Sorbonne, Gozani had only been in China for 6 years and did not know enough Chinese language or books; and Sá had only been in China for one year. Maigrot told the Chinese Christians that Gozani had been suspended for teaching idolatry and superstitions.
48To settle the bitter controversy between religious orders, Carlo Maillard de Tournon, legatus a latere appointed by Clement XI, departed Europe in May 1703, bearing a papal bull condemning the purported superstitious practices in Chinese rituals. Tournon reached Beijing in the winter of 1705-1706; he was granted two audiences with the Kangxi emperor but failed to make a good impression. At the end of June Maigrot arrived at the imperial capital; on 22 July he was summoned to the imperial palace at Rehe. During the audience Maigrot, conversant only in the Fuzhou dialect, was unable to speak mandarin with the emperor, and had to rely on the Jesuit Dominique Parennin as interpreter. At one point, Kangxi asked Maigrot to identify the four Chinese characters painted on a scroll behind his throne, of which Maigrot only recognized one. Kangxi then demanded Maigrot to expound on the differences between Confucianism and Christianity. Again, Maigrot failed to answer, to the visible displeasure of the emperor. On 2 August, Kangxi wrote out his judgement: "[Maigrot is] ignorant and illiterate, how dare he venture an opinion on the philosophy of China". The next day, the emperor wrote to Tournon:
68

On Kangxi's audience with Maigrot see H.

Fang

, Zhungguo Tianzhujiao; here vol. 2, pp. 323-324.

Yendang [Maigrot's Chinese name] does not know characters; he speaks Chinese badly and needs an interpreter. People like him who dare to discuss the meaning of Chinese texts are like those who stand outside a house, never having set foot inside, and discussing its domestic affairs. Their arguments have no basis68.
49Shortly after Tournon's departure from Beijing, Kangxi issued an edict requiring all European missionaries to subscribe to the "way of Father Ricci" and promising never to leave China if they wished to receive an imperial certificate of residence. The Chinese Rites Controversy, which began with the meaning of a Franciscan missionary's encounter with a Chinese character, found its denouement with the failure of another missionary's ignorance of other Chinese characters.
Notes
1 Letter of P. de Chavagnac to P. Le Gobien, 30 Dec. 1701, Cho-tcheou, in Lettres edifiantes et curieuses, écrites des missions Etrangères, hereafter LEC, vol. 3, pp. 147-167.
2 P. de Chavagnac to P. Le Gobien, LEC, vol. 3, p. 156.
3 P. de Chavagnac to P. Le Gobien, 10 Feb. 1703, Fuchou, LEC, vol. 9; quotation on pp. 333-334.
4 The citation is from the report of P. de Prémare from the missions in Kien-tchang and Nanfang from February to August of 1702 reported in the letter of P. Fouquet. S.J. to duc de la Force, Pair de France. Nanchang, Kiangsi, 1702 Nov. 26, LEC, vol. 5, pp. 129-238; here pp. 229-230.
5 Paris, BnF, Manuscrits chinois (hereafter BnF chinois), 7047, work by Chavagnac. BnF chinois, 7164, 7165, 7166 three works by Prémare.
6 G. Mensaert, F. Margiotti and S. Rosso (ed.), Sinica Franciscana, vol. 7, Relationes et Epistolas fratrum minorum hispanorum in Sinis qui a. 1672-81 missionem ingressi sunt, part 2, p. 1125 (here-after cited as SF).
7 SF, vol. 7, part 2, pp. 1274-1275.
8 Ibid., p. 1125.
9 F. Margiotti (ed.), SF, vol. 8, part 1, Relationes et epistolas fratrum minorum hispanorum in Sinis qui a. 1684-92 missionem ingressi sunt, pp. 4-5.
10 M. Ricci, Fonti Ricciane, 3 vol., here vol. I, pp. 144-145 (hereafter cited as FR).
11 Archivum Romanum Societatis Iesu (hereafter cited as ARSI), Jap-Sin, 101 I, "M. Ruggiero Relaciones 1577-1591", fos 18ro-vo.
12 For Jesuit martyrdoms in India, see I. G. Županov, Missionary Tropics, pp. 147-171.
13 ARSI, Jap-Sin, 101 I, fos 11vo-12.
14 Ibid., fos 12ro-vo.
15 Ibid., fo 137.
16 Ibid., fo 96.
17 FR I, N. 207, pp. 154-155.
18 ARSI, Jap-Sin, 101 I, fo 13.
19 Ibid., fo 28vo.
20 Ibid., fos 15, 26ro-vo.
21 The text of the Tianzhu shilu is reproduced in N. Standaert and A. Dudink (ed.), Chinese Christian Texts, vol. 1 (hereafter cited as CCT).
22 ARSI, Jap-Sin, 101 I, fo 29.
23 Ibid., fo 20.
24 ARSI, Jap-Sin, I 198. This is published by J. Witek, Dicionário Português-Chines. Portuguese-Chinese Dictionary.
25 The wording is similar to the formula published in the Tianzhu shilu, CCT, vol. 1, pp. 78-79.
26 This incident is mentioned in Ricci's journal. See FR I, p. 242, n. 6.
27 A. Chan, S.J., "Michele Ruggieri", pp. 129-176.
28 See my paper "The Jesuit Encounter with Buddhism in Ming China".
29 The full title is "Ratio Studiorum para os Nossos que ham de estudar as letras e lingua da China feyto no anno de 1624, pelo Padre Manuel Dias Senior…, etc. (1624)", Biblioteca Ájuda, Jesuítas na Ásia (hereafter cited as BA JA), 49-V-7, fo 310vo. This document has been analyzed at length in L. M. Brockey, Journey to the East. pp. 256-263. The subsequent discussion draws on Brockey's work.
30 N. Standaert, Handbook, p. 382.
31 Ibid., p. 307.
32 Ibid., p. 313.
33 Discussed in L. M. Brockey, Journey to the East, pp. 282-285 and in L. M. Brockey and A. Dudink,"A Missionary Confessional Manual", in N. Standaert and A. Dudink (ed.), Forgive Us Our Sins, pp. 183-239.
34 Ba Ja, 49-V-23, "Ordens para as Residencias da China que deixou o P. Visitador Francisco Nogueira visitando esta Provincia no anno de 1699", fos 337ro-340vo. The instructions regarding language training appear on fos 340ro-vo. See also L. M. Brockey, Journey to the East, pp. 285-286.
35 J. Rodrigues, Arte da Lingoa de Japam; see L. M. Brockey, Journey to the East, pp. 253-254.
36 See P. van der Loon, "The Manila Incunabula", pp. 2-8.
37 Ibid., p. 19.
38 J. M. Gonzalez, O. P., Historia de las misiones dominicanas de China, vol. I, pp. 88-90.
39 Id., Misiones Dominicanas en China, here vol. 1, p. 147.
40 Id., Historia de las misiones dominicanas de China, vol. 5, pp. 63, 74, 153.
41 The Dominicans established scholarships for Chinese boys in Manila for seminary training in the early 18th century.
42 SF, vol. 3, pp. 3-5.
43 Ibid., p. 59.
44 Ibid., p. 153.
45 Letter to the Provincial Francisco a S. Joseph de Mondéjar, 3 March, 1685 in SF, vol. 3, pp. 273-274.
46 SF, vol. 3, pp. 282-283.
47 Ibid., p. 282, n. 2.
48 Ibid., pp. 296-297.
49 Ibid., p. 138
50 P. van der Loon, "The Manila Incunabula", pp. 97-98.
51 N. Standaert, Handbook, p. 268.
52 Ibid., p. 871. This work has been edited and published by W. S. Coblin, Francisco Varo's Glossary. Vol. 1 presents Varo's manuscript with English translations for the Spanish and Chinese characters for Varo's romanizations; vol. 2 consists of pinyin and English indexes supplied by Coblin.
53 BnF chinois, 7046.
54 This number is compiled from the Chinese collection of the Manuscripts orientaux of BnF. SF, vol. 7, pp. 1273-1279,"Opera sinica fratrum Hispanorum", lists 17 titles in Chinese by Ibañez, Piñuela, Paschale, and Peris, but leaves out Antonio Caballero de Santa Maria, Manuel de San Bautista, and Eugene Piloti.
55 BnF chinois, 7148.
56 BnF chinois, 7154.
57 Xu Zongze, Ming Qing jian Yesuhui shi yizhu tiyao. Beijing: Zhonghua Shuju, 1989. The problem of calculating the exact number of Jesuits active in China is complex but not insurmountable. The comprehensive list compiled by J. Dehergne, Répertoire des jésuites de Chine, contains 920 names. However, the actual number active in China was far lower than this figure. The 920 names collected by Dehergne were compiled from lists in Roman and Portuguese archives of Jesuits who had ostensibly left for the China Mission. In fact, some died en route; others were diverted to the missions in India, Japan, or Southeast Asia; still others spent only a few weeks visiting China, but not in a missionary role, such as the famous Spanish Jesuit Alonso Sanchez. In my initial tally, I have come up with 415 names of European Jesuits who were involved in the China Mission, either as active missionaries in the field (including those who spent only a short time there), those affiliated with the Vice-Province of China but operating out of Macau (those Jesuits based in Macau but affiliated with the Japan Province are excluded, except for those evangelizing in Hainan and in Guangdong and Guangxi, areas which were arbitrarily taken from the China Vice-Province to re-assign to the Japan Province after the suppression of Christianity in Japan.) To this figure must be added Jesuits of Chinese and Macau provenance, and the handful of Vietnamese and Japanese Jesuits who worked in the China Mission.
58 N. Standaert, Handbook, p. 307.
59 Figures compiled from J. M. Gonzalez, O. P., Historia de las misiones, vol. 5.
60 N. Standaert, Handbook, p. 307. BnF chinois, 7023, 7042, 7326, 7426.
61 Ji in the pinyin system of Romanization.
62 J. M. Gonzalez, O. P., Historia de las misiones, vol. 1, p. 115.
63 SF, vol. 7, pp. 146-156:"Malleus, scriptum Latinum de ritibus sinicis a. 1680 in provincia Shantung confectus", pp. 146-156, here p. 148.
64 W. S. Coblin, Francisco Varo's Glossary, p. 505.
65 BA JA, 49-V-22, fos 88vo-89ro: Letter of Abbot de Lionne (MEP) to P. Fillippuchi, Fuzhou, 12 April, 1692. Lionne has been studiously reading controversial literature composed by the missionaries for his Chinese language studies since his arrival in China.
66 Maigrot was praised by Joseph Francisco Boccardo de Langasco (1665-1712) (Lu Jo-se), an Italian reformed Franciscan who arrived in China in 1698. He stayed with Maigrot in Fuzhou for several months learning Chinese and later praised Maigrot's learning. See SF, vol. 9, Relationes et Epistolas fratrum minorum hispanorum, p. 745.
67 BA JA, 49-V-23, fo 172ro.
68 On Kangxi's audience with Maigrot see H. Fang, Zhungguo Tianzhujiao; here vol. 2, pp. 323-324.