Entre civitas y madīna
|
,
II.3. — Enfoques temáticos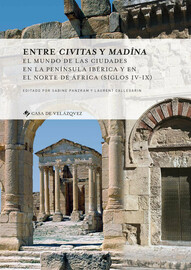 Urban Decor and Public Spaces in Late Antique North Africa
p. 275-283
Texte intégral
1The transformation of cities during Late Antiquity in North Africa developed in parallel with the process of Christianisation, although the diffusion of the new religion was not principally responsible for the changes that took place.
4This paper aims to follow the various steps of the transformation of cities in Late Antiquity in North Africa, giving specific attention to the urban fabric and decoration of both marble elements and statuary. The main focus will be on public monuments, with evidence of private contexts highlighted occasionally. North Africa is an important case study, because of the extensive amount of excavations. On the other hand, the nature of these excavations, primarily carried out during the colonial period and including large amounts of destruction of the later occupation phases, limits our understanding of the processes of transformation but allows the identification of trends that will have to be tested in future excavations and projects. From this perspective the paper focuses primarily on well-dated materials, and it will discuss exclusively data for which detailed and reliable stratigraphic information is available.
5The structure of the paper is in chronological order (starting from the 4th century and concluding with a short overview of the 8th century) so that it will be apparent how the maintenance and urban décor of the city was treated differently (or similarly) in different historical moments.
11Overall the pattern shown in the 4th century is of North African cities struggling to maintain their urban monumentality and in many cases the centre of urban life shifting from the fora into the baths. It is clear that city councils, in attempts to maintain urban decorum, often reused the marble available within a city. Statues were seen as an easy way to refurbish a site, because no new marble was supplied. Laws in the Codex Theodosianus indicate that come city governors were even looting other cities to redecorate their own. It is possible that cities themselves were selling parts of their statues and marbles in order to survive.
16Other parts of the Anthologia Latina refer to buildings that continued to be characterised as substantially Roman, and included marble and statuary decorations.
20These cities must have been characterised in the 4th century, as in the Byzantine period, by the presence of workshops that were particularly active in re-working marbles to support both private and public building activities. This process of recycling materials to decorate public buildings took place in three distinct ways: by recycling marbles in place, by accessing warehouses which already existed at the end of the 4th century, or by taking the marbles from elsewhere.
26In this context, wealth and marble supply appear to have been the driving economic forces in the transformation of late antique North African cities. The transformation of public buildings was affected on one side by the attempt to respond to the criteria of monumentality, which characterised the concept of the city in the first centuries of the Roman Empire despite the reduction in wealth, and on the other side by the progressive change in marble supply that affected North Africa from the end of the 3rd century. These two elements combined gave a boost to the first substantial change in the urban setting that started in the 4th century.
27The response to the need to maintain monumentality in the absence of resources was firstly to recycle what was in place. The easiest way to redecorate an urban setting was clearly to display or redisplay existing statuaries. The progressive relocation of statues in baths found in North Africa can be related to a change in the function of the bath complex itself, and also to the fact that many fora were in disrepair and there were not enough resources to restore them. The opposite cases of Thurbursicu Numidarum, where inhabitants rebuilt a new forum in the second half of the 4th century by recycling materials from the old forum, and Sabratha where no attempt was made to restore the forum and the material was removed and stored for later reuse, reflect two different realities. Tripolitana suffered early decay due to the rise of local tribes and this probably affected levels of urban wealth; therefore, when the forum was destroyed there was no attempt to restore it. There were still people who had the skills to handle large marble materials, but they stored them rather than attempting to restore the buildings. At Thubursicu Numidarum, where the forum was also destroyed, locals reacted differently by constructing a new forum, erecting statues and recording the activity through inscriptions. Reasons for this difference may lay in the nature of the territory or economic contact with Rome, but also probably in the impact of the Roman presence on the local culture.
29Markets for space, marbles, and statuary must have been very common in these late antique cities, although this phenomenon is very difficult to identify archaeologically. The case of the Oxyrinchos papyrus mentioned earlier indicates that the same inventory and cataloguing of available materials also occurred for building materials.
32Recycling and reuse occurred at two levels in topographical terms. One was the reuse of spaces and buildings, determining a substantial change in the semantic and topographical structure of the city. The second, although admittedly more difficult to investigate, was the reuse and recycling of materials.
Notes
1 For a synthesis see Leone, 2013.
2 Gros 1985, p. 114 and Leone, 2007, p. 159, p. 174.
3 See discussion in Ibid.
4 Composed by Theodosius II in the first half of the 5th century.
5 For example: Nemo propriis ornamentis esse privandas existimet civitates… (CTh 15, 1, 1). For a discussion on this aspect see Leone, 2013, pp. 55-61.
6 See on the later phases of Uchi Maius, more recently Vismara, 2007b and for Rougga (Bararus), Guéry, 1981; Leone, 2007, pp. 84-85.
7 Vismara, 2007a.
8 For a discussion see Leone, 2007, pp. 213-237.
9 For a discussion see Ead., 2013.
10 Bartoccini, 1927, p. 48; Leone, 2013, pp. 220-223.
11 Merlin, 1908, p. 169. For a detailed discussion see Lepelley, 1994; Leone, 2013, pp. 169-176.
12 Smith, 1999.
13 Lefebvre, 2006, pp. 2139-2140.
14 Lepelley, 1994; Witschel, 2007.
15 Thébert, 2003, pp. 446-47.
16 Lepelley, 1979; Id. 2005, pp. 27-28.
17 ILAlg 1129, 1247, 1274, 1275, 1276, 1285; Sassy, 1953.
18 Ibid.
19 For a more detailed discussion see Leone, 2013, pp. 111-113.
20 ILAlg 4011.
21 Papaconstantinou, 2012.
22 Victor Vitensis, Historia Persecutionis Africanae Provinciae 1, 2: «Qui reperti sunt, sense, iuuenes, paruuli, serui uel domini, octoginta milia numerati». Although the number is probably symbolic, it suggests that only a limited number of Vandals physically conquered and settled in North Africa. On the limited numbers of the Vandals see also Modéran, 2002, p. 106.
23 For a synthesis on problems with identifying the building see Lavan, 1999.
24 Procopius, De aedificiiis, VI, 5; Id. Bella Vandalorum, II, 14.
25 Lézine, 1968, pp. 77-179.
26 Bockmann, 2013, pp. 47-52.
27 Broise, 2012, p. 344; Balmelle, Darmon, Gozlan, 2012, p. 324.
28 Balmelle et alii, 2003, pp. 164-165.
29 Guéry, 1981.
30 Vismara, 2007b.
31 Lézine, 1968.
32 For a complete dataset see Leone, 2013, pp. 144-149.
33 Lézine, 1968.
34 Leone, 2013, p. 207; Bonacasa Carra, 1992.
35 Lézine, 1968.
36 Leone, 2013, pp. 121-187.
37 Humphrey, 1988; Leone, 2007, p. 207.
38 Leone, 2013.
39 Bonacasa Carra, 2003-2004, pp. 6-7 with n. 9. The same provenance has been identified for capitals at Damous el Karita, Pinard 1960-1961, p. 42.
40 Béssier, 2005; Leone 2013, p. 201.
41 Sears, 2007, pp. 56-57.
42 Baldini Lippolis, 2007, p. 223.
43 Bessiér, 2005, pp. 244-248.
44 Pensabene, 1986, pp. 403-406.
45 Al-Idrisi, Opus geographicum, III, 2, 212, imported capitals from Carthage were reuse in the mosque in Kairouan, Pensabene, 1986, pp. 403-406.
46 Caron, Lavoie, 2002.