Entre civitas y madīna
|
,
II.1. — Perspectivas generales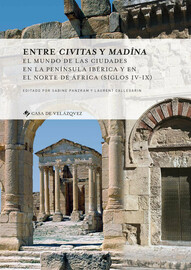 Early Medieval Urbanism in Ifrīqiya and the Emergence of the Islamic city
p. 203-219
Texte intégral
11Nonetheless, by the 9th century, the urban network had changed significantly from the urban peak of the early Roman period and its densely urbanized landscape of small and large towns. Carthage, the capital city of Africa under Punic, Roman, Vandal and Byzantine rule had been destroyed and replaced by two new cities: Kairouan, the new capital in the south and Tunis, the new harbour-city and district capital in the north. During late antiquity and the early middle ages, for whatever reason, many smaller towns do seem to have been reduced to villages or abandoned in the changing political and economic circumstances of the 9th century. In contrast, the large, prosperous, administrative centres of Roman Africa continued to be important centres in Muslim Ifrīqiya and benefited from the presence of soldiers, administrators and traders. Most changes in urban patterns, however, were not related to the direct intervention of the Muslim state and their speed and chronology varied for individual towns.
15Further construction took place under Ḥassān b. al-Nu'mān who restored and expanded the Great Mosque in c. 689, though a more substantial building programme seems to have taken place under Hišām (723-742) whose governor Bišr b. Ṣafwān is also credited with repairing the mosque and giving it a minaret, building and laying out sūq-s on a long street along the west face of the Grand Mosque, as well as building fifteen reservoirs for the provision of water (fig. 2, p. 209). Here, we see clearly the role of the state in city-building: on the caliph's instructions, the city was provided with a working infrastructure, including markets, a water supply (cisterns, aqueducts), as well as a congregational mosque for the believers.
17Tunis was not a miṣr, but like Kairouan it was built as a Muslim city. According to the sources, on 9 March 699 Ḥassān b. al-Nu'mān founded the new city and arsenal at the base of the lagoon, on the outskirts of Tunes, a minor town and bishopric in the 7th century. As well as building or dredging a canal between the sea and lagoon, he imported Coptic labourers from Egypt to build an arsenal and ships for a new naval fleet. Replacing the Byzantine capital, Carthage, which had been captured and destroyed in 697/8, it took on the role of capital of northern Tunisia and the biggest export port.
38The study of the towns of early medieval Ifrīqiya and their transformation from late antiquity is still in its infancy, and lags behind medieval studies in, al-Andalus. Perhaps the most important conclusion to draw is that the historical trajectories of towns varied enormously whether they were the old, inherited classical towns or new Muslim foundations. In many cases, the fate of cities were decided by political decisions: those cities that gained garrisons of Arab troops or served as administrative centres thrived and prospered in the middle ages. This was not simply because they became centres of Muslim activity, but because in the early Islamic state, the government and military were the most important generators of economic activity.
39Despite a marked lack of investment in many of the old towns in the eighth and early ninth centuries, it is clear that the Umayyad and Abbasid armies moving in did have a significant effect on urban organization. The new foundations of Kairouan (670) and Tunis (c. 705), both built on or near existing settlements, mark the most obvious break with the old order. Established as new Muslim cities to house the Muslim soldiers and ever-growing Muslim community, they included new types of buildings including mosques and the governor's residence (dār al-imāra) that had never been seen before in North Africa. At other sites, the takeover of forts and the addition of extra-mural quarters to house the new Muslim community increased the size of other sites and introduced new forms of house plan.
40The late 8th and 9th century mark a more significant change for North African cities with new ribāṭ-s, town walls, congregational mosques and oratories being constructed on a large scale in many of the old towns as well as the new towns of Kairouan and Tunis. A new model of Islamic urbanism also appeared in the new palatine towns of al-'Abbāsiyya (800) and Raqqāda (876) established by the Aghlabid emirs which I have not discussed in this paper. At the same time, the Roman and late antique heritage continued to strongly shape the urban form of many of the old towns of Ifrīqiya and differentiate them from the new Muslim foundations. Churches and Byzantine-built forts and town-walls were still dominant elements in many cityscapes, as were the Roman streets and water supply and storage system that underpinned their ability to function as urban centres.
Notes
1 See his companion article, Kennedy, 1985.
2 Thébert, Biget, 1990.
3 Walmsley 2007; Avni, 2011; Id., 2014.
4 Key excavations have taken place at Ramla, Fustat and Ayla.
5 See Leone, 2007; Fenwick, 2013; von Rummel, 2016; Fenwick, in press a; Id., in press b.
6 See Baratte this volume.
7 Cressier, García-Arenal, 1998.
8 On late antique Morocco, Villaverde Vega, 2001, on urbanization in Morocco, see especially Cressier, 1992; Id., 1998; Bonne, Benco, 1999. See Ettahiri, Fili, Van Staëvel, 2013, pp. 157-160 for a brief history of developments in Islamic archaeology in Morocco.
9 Lézine, 1971; Djelloul, 1995; Cressier et alii, 2001; Mahfoudh, 2003.
10 Chabbi, 1967-1968.
11 Louhichi, 1997.
12 E.g. Cressier, Rammah, 2006. The eagerly awaited report of Cressier and Rammah's excavations at Ṣabra al-Manṣūriyya promises to transform our understanding of the Fatimid site.
13 See for example, Cirelli, 2001 on Leptis Magna; Ferjaoui, Touihri, 2005 on Zama Regia and Althiburos.
14 Cressier, 2012, p. 119.
15 Fenwick, 2013, pp. 11-12.
16 Mattingly, Hitchner, 1995.
17 See Cirelli, 2001; Leone, 2007; E. Rocca and F. Béjaoui this volume for the value of re-examining old excavation reports and archival records.
18 Fenwick, forthcoming; Ead., in press.
19 On bishoprics, see Maier, 1973.
20 See Pringle, 1981 on Byzantine fortifications; Djelloul, 1995 on medieval fortifications.
21 Cambuzat, 1982; Fenwick, forthcoming; cf. Kennedy, 2002; Id. 2011 and in this volume.
22 See Vitelli, 1981, pp. 15-17, pp. 24-39; Gelichi, Milanese, 2002; Stevens, 2016.
23 Chelbi, Paskoff, Trousset, 1995; the ongoing Tunisian-British excavations at Utica have not found any ceramics dating to the 5th-7th centuries, Fentress, personal communication.
24 Fentress this volume; Potter, 1995.
25 The founding of a miṣr (pl. amṣār) usually adjacent to an existing town is an Arabic principle that originated in antiquity with a ḥāḍir («settlement») established outside towns like Aleppo to house Arab auxiliary troops serving the Romans, see Whitcomb, 1994.
26 There is some dispute about the date and location of the first camps founded by the Arab armies, but certainly by 775, the town we now know as Kairouan had been established in some form, see Mahfoudh, Baccouch, Yazidi, 2004.
27 M'Charek, 1999, convincingly identifies this existing settlement as Iubaltianae and dismisses its earlier identification as Qamūniyya. Nothing is known of the municipal history of the site: it may have been an imperial estate centre or a small road station, but bishops are attested at various councils between 397 and 646.
28 Akbar, 1989; Whitcomb, 2007; Kennedy, 2010.
29 Walmsley, 2007, p. 105.
30 Sakly, 2000, p. 68.
31 Ms of Ibn Abi Zayd, Mahfoudh, 2003, p. 75.
32 Talbi, 1976.
33 Northedge, 1994; Whitcomb, 1994; Hillenbrand, 1999.
34 Mahfoudh, 2003, pp. 19-39. Apparently a ditch was cut in 770 during a siege of Kairouan that was so bad that the inhabitants had to eat their dogs and cats.
35 Ibid., p. 28.
36 Id., 2008.
37 Lézine, 1971, pp. 141-154. Bishops attended Councils in 411 and 533: Mesnage, 1913, pp. 164-165.
38 Al-Bakrī, Description de l'Afrique septentrionale, 81-82.
39 Ibn Ḥawqal, Configuration de la Terre, 70.
40 Mahfoudh, 2003, pp.173-209.
41 Marçais, 1954, pp. 9-22.
42 See Johns, 1999, pp. 109-110.
43 Leone, 2007.
44 Pringle, 1981. On the shifting ideal of the city in the 6th century, see Saradi 2006.
45 Leone, 2007, pp. 166-279. See also: Mahjoubi, 1979; Février, 1983; Thébert, 1983; Pentz, 1992; Lepelley, 2006; Benabbès, 2007.
46 For bibliography, see Gelichi, Milanese, 2002; Fenwick, 2013; von Rummel, 2016.
47 For a full account of medieval Leptis, see Cirelli, 2001.
48 Fenwick, 2013, pp. 21-23, for a re-analysis of Duval, 1982; Id. 1990, model of a city reduced by the 7th century to a series of small inhabited nuclei consisting of fortified complexes, a church and a production site, and surviving in this fragmented state until at least the 9th century.
49 Duval, Baratte, 1973; Béjaoui, 1996, pp. 38-39.
50 Duval, 1982, p. 625; Id., 1999.
51 Mahjoubi, 1978.
52 Fentress, 1987; Amara, Fentress, 1990; Fentress, 2000; Ead., 2013.
53 Biskra: al-Bakrī, Description de l'Afrique septentrionale, 111; Baghai: Ibn Ḥawqal, Configuration de la Terre, 81; Tobna: al-Bakrī, Description de l'Afrique septentrionale, 109. A similar phenomenon may have occurred at Tahudha, see Cambuzat, 1982, p. 203.
54 See Laporte, 2015 for a more detailed overview of the late antique and medieval city, supplemented by Mahfoudh, 2003.
55 See Foucher, 1964, p. 341, though the argument seems to be largely based on the presence of sculptural fragments (capitals, corbels and a lintel with a chrism) reused in the construction of the ribat.
56 Lézine, 1956.
57 Talbi, 1966.
58 Lézine, 1956, pp. 44-45, suggests that the wall follows Byzantine foundations, a suggestion that is plausible — it is similar in construction technique and design to the 6th century walls at Tébessa (Theveste) and the large citadel of Haidra Pringle, 1981, p. 96, pp. 199-200. It should be noted that the sources give the word banà which can mean to reconstruct or build a new.
59 Carton, 1907; Djelloul, 1995.
60 On the mosque see Creswell, 1989, pp. 353ff.; Marçais, 1954, pp. 23ff.
61 Lézine, 1971, p. 104.
62 Baratte et alii, 2014, pp. 221-222.
63 Février, 1965; Fentress at alii, 1991.
64 Béjaoui, 1996.
65 Jones, 1983; E. Rocca and F. Béjaoui this volume.
66 Mahfoudh, 2003.
67 Mahfoudh, Baccouch, Yazidi, 2004, p. 11; Mahfoudh, 2008.
68 Béjaoui, 1996.
69 Mahfoudh, 2003.
70 Jones, 1984; Thébert, 2003.
71 Bel, 1913; Poinssot, 1958; Fentress, Limane, 2010.
72 Al-Bakrī, Description de l'Afrique septentrionale, 26.
73 Pringle, 1981.
74 Cambuzat, 1982.
75 Goodchild, 1967; Jones, 1983.
76 Fenwick, 2013, pp. 26-27.
77 Mahjoubi, 1978.
78 Al-Bakrī, Description de l'Afrique septentrionale, 56-61.
79 Djelloul, 1995; Hassen, 2001.
80 Pringle, 1981.
81 Carton, 1905.
82 Talbi, 1966.
83 According to Ibn Ḫaldun, Histoire des Berbères, t. 4, p. 429; also Talbi, 1966, p. 251, under Abū-Ibrāhīm Aḥmad (853-63), over 10,000 forts (ḥiṣn) were built — all in stone and lime.
84 Djelloul, 1995.
85 Ibid., p. 38.
86 Handley, 2004. On Christianity after the Muslim conquest, see Mahjoubi, 1966; Talbi, 1990; Savage, 1997; Valérian, 2011.
87 Duval, 1982, p. 625.
88 Talbi, 1990, p. 319.
89 Church III in Gui, Duval, Caillet, 1992, p. 25.
90 Gauckle, 1907, p. 794.
91 Marçais, 1954, pp. 29-30.
92 Dunbabin, 1978, pp. 9-22.
93 Mila Carthage: Whitehouse, 1983; Haïdra: Baratte, 1996, pp. 151-153.
Table des illustrations
Légende
Map 1. — Map of medieval North Africa (6th-9th century).
Crédits
Source: Corisande Fenwick, based on Cambuzat, 1982
URL
http://books.openedition.org/cvz/docannexe/image/23737/img-1.jpg
Fichier
image/jpeg, 84k
Légende
Fig. 1. — Great Mosque of Kairouan and the Simaṭ.
Crédits
Photography: Corisande Fenwick
URL
http://books.openedition.org/cvz/docannexe/image/23737/img-2.jpg
Fichier
image/jpeg, 69k
Légende
Fig. 2. — Cisterns of Sidi Dahmani, Kairouan.
Crédits
Photography: Corisande Fenwick
URL
http://books.openedition.org/cvz/docannexe/image/23737/img-3.jpg
Fichier
image/jpeg, 72k
Légende
Fig. 3. — Plan of Sbeïtla.
Crédits
Modified from Duval, 1980, with additions from Bejaoui, 1990 and 1996
URL
http://books.openedition.org/cvz/docannexe/image/23737/img-4.jpg
Fichier
image/jpeg, 46k
Légende
Fig. 4. — Satellite photo of medieval settlement at Belalis Maior.
URL
http://books.openedition.org/cvz/docannexe/image/23737/img-5.jpg
Fichier
image/jpeg, 94k
Légende
Fig. 5. — Plan of Sousse (9th c.).
Crédits
Draw: Corisande Fenwick
URL
http://books.openedition.org/cvz/docannexe/image/23737/img-6.jpg
Fichier
image/jpeg, 37k
Légende
Fig. 6. — Sousse showing great mosque, port and walls taken from the ribāṯ.
Crédits
Photography: Corisande Fenwick
URL
http://books.openedition.org/cvz/docannexe/image/23737/img-7.jpg
Fichier
image/jpeg, 61k
Légende
Fig. 7. — Medieval baths at Dougga abutting the exterior of the Byzantine fort.
Crédits
Photography: Corisande Fenwick
URL
http://books.openedition.org/cvz/docannexe/image/23737/img-8.jpg
Fichier
image/jpeg, 67k
Légende
Fig. 8. — Plan of early medieval Tocra showing location of Byzantine fort.
Crédits
Draw: Corisande Fenwick
URL
http://books.openedition.org/cvz/docannexe/image/23737/img-9.jpg
Fichier
image/jpeg, 46k
Légende
Fig. 9. — Ribāṯ of Monastir.
Crédits
Photography: Corisande Fenwick
URL
http://books.openedition.org/cvz/docannexe/image/23737/img-10.jpg
Fichier
image/jpeg, 64k