Entre civitas y madīna
|
,
I.2. — Estudio de casos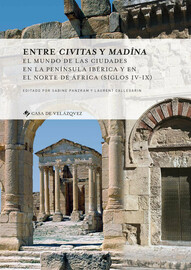 The
Rabaḍ
of
Šaqunda
in Umayyad Córdoba (750-818 AD)
p. 119-132
Texte intégral
2These aspects are particularly important in a city such as Córdoba, which has boasted a longterm urban function from classical times up to the present day. The study of its historical-archaeological past has a long historiographic tradition, in terms of transformation processes both within and outside its walls. The Islamic madīna inherited the walled area, the continuation of the street layout and the recycling of some basic infrastructures, such as the Roman bridge which crossed the river Guadalquivir, from the classical Colonia Patricia («Córdoba»). Two features are particularly significant during the Islamic period in this story of both the survival and creation of distinctive new elements: on the one hand, eastern models created by the new state which emerged in the aftermath of the conquest of 711 and, on the other hand, the maintenance of a local population of Hispano-Roman origin with its own traditions and technological baggage.
3The considerable urban growth that Córdoba has undergone in the last 20 years has generated a considerable amount of new archaeological information. This has allowed us to suggest new explanations regarding the transformation of the city from Late Antiquity and its evolution after the arrival of the Arab conquerors. The discovery and analysis of the rabaḍ of Šaqunda has been a major breakthrough in uncovering the distinctive features that characterize the urban growth of the city of Córdoba in the aftermath of the conquest, i.e. the early Islamic period in al-Andalus following the conquest and settlement of the conquerors after 711. As this has enabled us to recognize the material culture of this period, this has become a guide to the archaeological recognition of other early Islamic settlements, both in the city of Córdoba and in other sites in al-Andalus.
4The urbanistic and social transformations which took place from the 3rd century bc in the Colonia Patricia until its configuration as the Islamic Qurţuba («Córdoba»), have been highlighted by several archaeological milestones. One of the latter has been the discovery of the late antique complex of Cercadilla, which represented a breakthrough in the archaeological knowledge of the 4th to 7th centuries ad.
© Gerencia Municipal de Urbanismo de Córdoba - Universidad de Córdoba
19All these public or semi-public common areas were paved using the typical combination of several layers of small- or medium-sized gravel laid one on top of the other. It is very common to see them in community zones with heavy transit, as one of their features is their permeability to drain off liquids, thus, avoiding an accumulation of water and smells. There are some examples of areas paved with pebbles, particularly in the accesses of small alleys or side streets.
20The walls which line this urban area were built using pebbles, tiles and pieces of ceramic, joined using a clayish mould, thus making the wall more compact. There are alternate rows at a slant forming an ear of wheat shape. There are larger pebbles at the opposite ends and smaller ones inside. As it is usual in a city such as Córdoba, we have found different previous materials being reused (marble, sandstone, calcarenite) forming part of the core of some of these walls, marking the corners, open access points or strengthening the joining of the structures.
© Gerencia Municipal de Urbanismo de Córdoba - Universidad de Córdoba
© Gerencia Municipal de Urbanismo de Córdoba - Universidad de Córdoba
© Gerencia Municipal de Urbanismo de Córdoba - Universidad de Córdoba
Source: Alberto Canto García, Fátima Martín Escudero, Mª Teresa Casal García © Gerencia Municipal de Urbanismo de Córdoba - Universidad de Córdoba
38People who lived in Šaqunda were members of an urbanised society. According to the data gleaned from written sources Šaqunda had a population of merchants, artisans and, possibly, former soldiers. This entire population lived among the indigenous population which was acquiring some of the manners and customs of the new settlers, while preserving traces of the existing pre-conquest society. The formation of a new social and urbanistic model needed time. It was being influenced by everything around it and was the by-product of the relationship that was forged between the new-comers and the previous population. The process was complex and diverse and only culminated a century after the destruction of Šaqunda, at a time when the social homogeneity allowed for the proclamation of the Umayyad caliphate in al-Andalus.
Notes
1 This article is part of my research about the district of Šaqunda, thanks to my involvement in the project HAR2013-4075-P, directed by Eduardo Manzano Moreno from the CSIC.
2 Manzano Moreno, 2003, p. 14; León Muñoz, 2006, pp. 409-438; Gutiérrez Lloret, 1993, pp. 13-35.
3 Kennedy, 1985, p. 4: «The urban framework is a key factor in the process of Islamisation of the society and that is where political power was exercised»; see also Kennedy, 1998, pp. 53-64; Gutiérrez Lloret, 2011, pp. 189-210.
4 Murillo Redondo, Casal García, Castro del Río, 2004, pp. 257-290.
5 Murillo Redondo et alii, 2010b, p. 507.
6 Ibid. pp. 515-516. We have an example in Cercadilla, where a cemetery and centre of Christian worship was excavated. These were associated with the gravestone of the Bishop Lampadio (532-549) of Córdoba.
7 Ibid., p. 517 with note 317.
8 Sánchez Ramos, 2007, p. 435; Carrillo Díaz-Pinés et alii, 1999, p. 58 with note 39.
9 León Muñoz, Murillo Redondo, 2009, p. 406.
10 From the Roman period, we have evidence of a square with arches, areas of tabernae, plus an industrial complex associated with the port facilities of the Roman Portus cordubensis. This port continued in operation in Late Antiquity: see Carrasco Gómez et alii, 2003, pp. 283-298. An updated study of the river port can be seen in León Pastor, 2009-2010, pp. 45-72.
11 Carrasco Gómez et alii, 2003; Casal García, Salinas Pleguezuelo, 2009, pp. 1-12; Murillo Redondo et alii, 2010b.
12 León Muñoz, Murillo Redondo, 2009.
13 This area continued as a centre of civil and religious power during the late medieval period, moving to the surroundings of the Corredera square in the 16th to 17th centuries ad, see Murillo Redondo et alii, 2010b, p. 519.
14 Both those registered by Félix Hernández Giménez in the 30s of the 20th century, and the results of the several archaeological works by Pedro Marfil Ruiz from the year 2000 to 2006.
15 Murillo Redondo et alii, 2010b, p. 521 with note 323.
16 Gutiérrez Lloret, 1996a.
17 Manzano Moreno, 1999, pp. 389-432.
18 Aḫbār, Crónica anónima, pp. 23-27.
19 There are many factors to consider concerning the reasons for the transfer of the capital from Seville to Córdoba: one of them was the struggle for supremacy in their respective areas of influence. The strategic position of Córdoba made this city an essential node of communications between the area of the Guadalquivir valley and the Central Plateau, see Murillo Redondo, 2013, pp. 69-88. The city had been conquered by force of arms and this gave the conquerors more control over land and buildings, with the governor having a fifth of the conquered lands (ḫums) under his direct administration.
20 Acién Almansa, Vallejo Triano, 1998, pp. 107-136; Manzano Moreno, 2006, p. 37.
21 The so-called French's Plan from 1811, is considered the first urban map of Córdoba, and offers a reliable vision of the medieval city showing the walls of the last Islamic period, see Murillo Redondo et alii, 2010b, p. 526.
22 Nowadays, we have verified about 15 archaeological interventions in which graves belonging to this cemetery have appeared, with a total of 1,040 tombs corresponding to different chronologies. This cemetery was one of the most important in the city. Members of the Umayyad family were buried there; see Casal García, 2003, p. 60. Some of their gravestones have been preserved; see Martínez Núñez, 2011, p. 185. It was also mentioned as al-Rabaḍ al-qiblī, as the cemetery of Qurayš and, during the Almohade period, the Rawḍat al-ṣulaḥā, and Rawḍat Banī Marwān. This cemetery was kept in use up to the Christian conquest. One of the most important aspects is the relationship between it and the district of Šaqunda. Two archaeological excavations have provided evidence for the superposition of both activities: an earlier phase with structures from the district of Šaqunda and a second one with evidence of later burials in the same area.
23 Acién Almansa, Vallejo Triano, 1998, p. 111.
24 Ajbar, Crónica anónima, p. 64.
25 Acién Almansa, Vallejo Triano, 1998, p. 113.
26 The archaeological interventions in calle Torrijos, between the Mosque and the Museo Diocesano, have documented the foundations of two sābāṭ, one from the emiral period and the other from the caliphal period. Pizarro Berengena, 2013, pp. 233-249.
27 Murillo Redondo, 2009, pp. 450-482.
28 Murillo Redondo, Casal García, Castro Del Río, 2004, p. 264: «The same pattern was repeated by his son Hišām I when he founded the almunia of Dār al-Mulk on ground near Šaqunda; by his grandson al-Ḥakam I and his concubine 'Ağab, who founded another almunia on the left side of the river; and by the emir Ἁbd Allāh who founded al-Nā'ūra, on the right side of the Guadalquivir, very well connected with the city of Córdoba by some roads. In a second stage, from c. IX, along these almunias emerge new districts, and then mosques, cemeteries, and baths founded by personalities of the emir's family and their entourage.» See also Murillo Redondo, 2013, p. 78.
29 Acién Almansa, Vallejo Triano, 1998, p. 115.
30 Ibn al-Qūṭiyya, Conquista de España, p. 22.
31 Some milestones have been documented in the route where the Via Augusta once crossed the Guadalquivir River — it was still in use suffering from some repairs during the Islamic period; Torres Balbás, 1959, p. 447.
32 Santos Gener, 1955, 37-38; CIL II2/7 567. We have documented tombs from this cemetery in the archaeological excavations of Miraflores, where we also found a funeral stele from the 2nd to the 3rd century ad reused as part of the entrance from a room of the district of Šaqunda; see Casal García, 2008, p. 119. We also have evidence of some burials in two more archaeological excavations, corroborating the funerary use for these area in the Roman and Late Antiquity periods.
33 The majority of the inhabitants emigrated to Fez, where they founded a new district. Some of them went to Alejandria and later helped to conquering Crete. A few of them who were ulama and their families ran away to Toledo and later they were forgiven, such as Yaḥyà b. Yaḥyà or the ancestor of Ibn al-Ḫaṭīb, Ibn Wazīr; see Fierro Bello, 1987, p. 43; Makki, 1994, pp. 23-24. ˘
34 Ibn Ḥayyān, Crónica de los emires (796-847), p. 81.
35 León Muñoz, 2002-2003, pp. 391-425; León Muñoz, León Pastor, Murillo Redondo, 2008, pp. 267-276.
36 Ramírez de Arellano, 1874; Ocaña Jiménez, 1952, pp. 379-388; Santos Gener, 1955, p. 31.
37 The excavation was possible because there were plans for the construction of a conference centre and a centre for contemporary art. All these infrastructures took up an area of about 22,000 square metres divided into three plots: A, B and C. The excavation was carried out by members of the Universidad de Córdoba-Gerencia Municipal de Urbanismo de Córdoba (UCO-GMU) convention over several archaeological campaigns in 2001, 2002, 2005 and 2008.
38 In this article we will stick to the archaeological remains found in interventions related to the «Informe-memoria de la intervención arqueológica de urgencia» (IAU) in Miraflores Park, Centro de Convenciones de Córdoba (CCC) and Centro de Arte Contemporáneo (CAC) whose excavation in an open area has allowed a more accurate reading. We have evidence of three more archaeological interventions in a nearby site, which have also documented archaeological remains from the suburb of Šaqunda.
39 We have many mentions from the medieval stage and from the later stages about these inundations, and some old pictures from antiquity in which we can appreciate this area during a flood. Until the beginning of about the 20th century transverse levels could not begin to be built that consolidated and prevent the flooding of the river. This flooding did not remain definitely solved until 1957 when the so-called Murallón of Miraflores was built.
40 Ibn Ḥayyān, Crónica de los emires (796-847), pp. 145-146. We have documented a lot of flooding in the texts between 901 and 975 ad; Pavón Maldonado, 1990.
41 Van Staëvel, 1995, pp. 53-57.
42 Ibn 'Abdūn, Sevilla a comienzos del s. xii. Also in Toledo by Aguado Villaba, 2006, pp. 159-171.
43 Córdoba has many underground aquifers located at a depth of seven to nine meters from the surface; see Castro del Río, 2005, pp. 104-105; Vázquez Navajas, 2013, pp. 31-66.
44 Vidal Castro, 2000, pp. 101-124; Id., 2001.
45 Casal García, 2008, p. 120.
46 This is not exclusive to Córdoba, as it is also documented in other cities, such as Mérida and more specifically in the Amir's buildings of Morería, where roof tiles had smaller thinner and narrower tegulae moulding; see Mateos Cruz, Alba Calzado, 2001, p. 157.
47 The closest chronological parallel we can find, among others, is in Peñaflor (Salvatierra Cuenca, Castillo Armenteros, 2000), in the Tolmo of Minateda (Gutiérrez Lloret, Cañavete, Castejón 2010, pp. 123-148), or Recópolis (Olmo Enciso, 2001, pp. 385-400).
48 Cánovas Ubera, Castro del Río, Moreno Almenara, 2008, pp. 201-220.
49 These have not been documented in settlements with a similar chronology; see El Tolmo de Minateda, marroquíes bajos or Recópolis.
50 Casal García, 2008, p. 127.
51 Vázquez Navajas, 2013, pp. 31-66.
52 They are currently being studied by María Antonia Martínez Núñez, who has already made a first reading of the two objects, and I wish to thank her for their availability.
53 From the archaeological perspective, the process of «Islamization» can be appreciated in the introduction of new social models (urbanism, domestic constructions, pottery), cultural (introduction of Arabic, dietary habits and funeral rites), and economic (coins) factors. These interact with native populations, and acquire, to a greater or lesser extent, the new parameters. All this was influenced by a past with Hispano-Roman reminiscences, which can be appreciated in the early centuries of the Islamic medieval period; see Acién Almansa, 1998, pp. 45-67; Gutiérrez Lloret, 2011, pp. 191-213.
54 The pottery studies have been developed from both a formal and typological view. We also considered the three chronological periods established in the district, so we can see the evolution and diversification of the different shapes of pottery in the seventy years of the life of the district. For more information about these analyses see Casal García et alii, 2005, pp. 189-235; López Guerrero, 2008, pp.135-162. We also analysed the pottery found in some closed contexts in six pits from Zone A, pp.151-160 in Casal García, Martínez Sánchez, Araque, 2009-2010, pp. 143-182.
55 The discovery of several grinding stones from hand mills, which would be used for the manufacture of flour needed for this breads, is also noteworthy; see Gutiérrez Lloret, 1990-1991, p. 162.
56 Gutiérrez Lloret, 1996b, pp. 237-254.
57 Alba Calzado, Gutiérrez Lloret, 2008, p. 605.
58 Ibid., p. 605
59 Casal García, Martínez Sánchez, Araque, 2009-2010, pp. 152-153.
60 The latest information on the documentation of the first Cordoban glazing brings us to the end of the 9th century; see Fuertes Santos, Hidalgo Prieto, 2003, pp. 505-540; Salinas Pelguezuelo, 2013, pp. 67-96.
61 Rodríguez Pérez et alii, 2011, pp. 779-794. We have documented several pottery kilns in the area of «Ollerias» from the final emiral stage of the 9th century which maintained their pottery tradition throughout the Islamic medieval period; see Molina, Salinas Pelguezuelo, 2010, Principio del formulario p. 48 with note 11.
62 This finishing has also been documented in some pottery of Mérida, considering the presumable Cordovan origin of the pieces, something that, without the convenient analysis pastes we cannot confirm, whether it would be likely because of the trade and reciprocal influence between these two cities is attested from the 7th century, as for this early stage 8th to 9th century. See Alba Calzado, Gutiérrez Lloret, 2008, p. 606.
63 FuertesSantos, González Virseda, 1993, pp. 771-778; Id., 1994, pp. 227-301; Ruiz Lara et alii, 2008, pp. 163-200.
64 All of the large collection of metal objects found in the suburb of Šaqunda is still unstudied today, because of the shortage of budget for restoration. The information we reproduce here was from the excavation.
65 We found many parallels with objects described in the following study: Navarro Palazón, Robles Fernández, 1996.
66 Bazzana, 1996, p. 158, describes some examples documented in al-Andalus classifying them as «accessories to open fire». He analyses the types of homes and what was available in Islamic homes.
67 Zozaya Stabel-Hansen, 1984, pp. 255-259.
68 The results obtained in this first study have been very important to define certain parameters of eating habits; see Casal García, Martínez Sánchez, Araque, 2009-2010, pp. 143-182. The rest of the faunal material documented is currently in the research stage. We hope that these analyses will improve the exposition in the research mentioned above.
69 Díaz García, 1982-1983, pp. 32-33: «The best beef is the lamb, from one year. It is the most pleasant taste, while the food containing more nourishment […]. A yearling lamb meat as follows mutton that has taken her first teeth, because is less succulent, and complexion more proportionate that meat from sheep».
70 Leatherwork has been very important in the Iberian Peninsula since ancient times and it developed further with the arrival of Muslims; see Cano Sánchez, León Pastor, Salinas Pelguezuelo, 2010, p. 687.
71 Of all the most recent artefacts published both in the magnificent study by Doménech-Beld, López Seguí, 2008, pp. 243-257, and the other found in Priego de Córdoba (2010), we can highlight an artefact that still retained a text written in ink, a recent discovery in 2013 on the site of Los Bañales in Uncastillo. It is nowadays being studied by Zozaya Stabel-Hansen, 1986, pp. 111-126; Carmona Ávilla, Martínez Enamorado, 2010, pp. 197-205; García, 2013, p. 46.
72 Casal García, Martínez Sánchez, Araque, 2009-2010, pp. 171-172.
73 Nowadays, there is an increase in the studies of faunal remains from different settlements, and from several medieval chronologies and geographic locations. These provide important data enabling us to see the possible differences between Mozarabic and Muslim communities, or between different territories; see also Morales Muñiz et alii, 2011, pp. 305-317.
74 A study carried out in another district of Córdoba with a later chronology, 10th century, shows the same dietary customs as we have documented in Šaqunda; see Aparicio Sánchez, Riquelme Cantal, 2008, pp. 93-115.
75 The research of the coins has been carried out by Alberto Canto García (UAM) and Fátima Martín Escudero (UCM). I would like to thank them for allowing me to use the latest data available in this text. See Casal García, Martín Escudero, Canto García, 2009, pp. 845-865 and Martín Escudero, 2012, pp. 311-350.
76 When we make a reference to the types and series, we follow the classification of Frochoso Sánchez, 2001.
77 Casal García, Martín Escudero, Canto García, 2009, p. 864. An aspect which was verified by the research of all the felús checked by Martín Escudero, 2012, p. 322.
78 «God is unique / God is eternal and undivided, is not begotten nor has begotten».
79 Martín Escudero, 2012, p. 316. To them, we can add the three Roman to Late-Roman pieces from the total of 42 coins documented in another nearby excavation, but with remains from the district of Šaqunda; see Rodríguez Pérez et alii, 2011, p. 790.
80 Martín Escudero, 2012, p. 317.
81 Two from the oriental mint dated in the years 89 H-707 ad and 91 H-709 ad; one of them from the al-Andalus mint and dated in the year 169 H-785 ad; and the other on which the data is not preserved.
82 Casal García, Martín Escudero, Canto García, 2009, p. 852.
83 Doménech-Belda, Gutiérrez Lloret, 2006, pp. 337-374; García Lerga, 2012, pp. 17-69.