L'Économie politique et la sphère publique dans le débat des Lumières
|
,
III. Idées économiques, pays et émergence de la sphère publique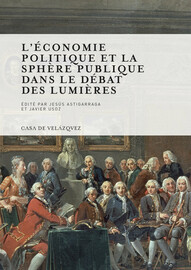 Political economy, local knowledge and the reform of the Portuguese empire in the Enlightenment
p. 245-257
Texte intégral
5In a letter to the Padua-born Domingos Vandelli—later director of the Lisbon Royal Botanical Garden—which Silva Lisboa wrote from Salvador in October 1781, the Bahian expressed his doubt about the utility of a solely agrarian-based development strategy for Brazil:
7

Letter reproduced in D. C

arvalho

,

Desenvolvimento e Livre Comércio

, p. 44; On Silva Lisboa, see G.

(...)

Our century is the century of agriculture; everyone writes about agriculture from the comfort of their study, perhaps without having ever worked the earth. Agriculture is easier and more attractive, therefore, to write about than to pursue as an occupation […] not withstanding its advantages, the cultivation of sugar cane is detrimental and fraught with problems […] The necessity of having to live among slaves and the tenuous nature of one's wealth (riqueza) and the possibility of [the slaves] being cruel and pernicious to the senhor or the senhor treating [the slaves] with harshness, or to be badly served, represents another terrible obstacle to the cultivation of sugar cane in Brazil7.
6Silva Lisboa's rationale is not entirely convincing, but this passage offers evidence for the claim that local circumstances in the colonies were crucial to explaining the mixed reception, and partial, eclectic use, of European political economy. In the case of slave-dependent agriculture, the social dynamics of the plantation, and the insecurity they engendered, produced Silva Lisboa's skepticism concerning the utility and applicability of certain economic doctrines.
7Mirroring its geographical position, Portuguese political economy straddled and represented a fusion of two worlds: one was that of Europe, where it was a minor player on the periphery; the second, quite different from the first, was an inter-oceanic and bi-hemispheric world of far-flung, heterogeneous territories in which Lisbon, and subsequently, Rio de Janeiro, was the center. These were overlapping realities, of course. Portuguese officials were well aware, and often explicitly stated, that without colonies (and, it must be added, without the British alliance), Portugal would soon be reduced to a province of Spain. Lisbon-based officials, then, necessarily looked to the empire while simultaneously realizing that its economic potential could be harnessed only with fresh ideas. This would entail a closer link between European thought and its policy in the colonies, where it would be tested, with varying results. Portuguese political economy, with its strong statist and reformist orientation, reflected this dual position. The colonies were as much sites of innovation and the creation of knowledge as was the metropole. Observations made in European capitals such as Turin, Paris, and London found their way back to Lisbon, where political writers and policy-makers, already in possession of detailed descriptions of Portugal's overseas territories, attempted to bridge the gap between the two seemingly incommensurate worlds and formulate a policy capable of embracing the empire as a whole.
8Portuguese statesmen were not content to straddle these two worlds, but rather sought to transform spaces throughout the empire to make them more similar, to eliminate, or at least minimize, the diversity or heterogeneity which had made (and continued to make) local knowledge indispensable. Franco Venturi's comment, in his 1971 essay «The Chronology and Geography of the Enlightenment», is especially apposite in this context:
8

F. V

enturi

,

Utopia and Reform

, p. 133.

It is tempting to observe that the Enlightenment was born and organized in those places where the contact between a backward world and a modern one was chronologically more abrupt and geographically closer8.
9This observation is useful perhaps for thinking about political economy and, more generally, the Enlightenment in Portugal and its empire. It was this interpenetration of the New World and the Old, the strange and familiar, the jungle and the palace, the Casa Grande and the Senzala, an interaction which was not always intentional, that was a distinctive, characteristic feature of the Luso-Brazilian public sphere. It was at the interface of the colonial «backward» colony and the «modern» metropole that Portuguese reformers sought to deploy the insights of political economy. The remainder of this essay, therefore, analyzes the ways that political writers and statesmen intent on reforming Portugal's empire engaged in broader European debates concerning political economy. I focus on two aspects: first, the extent to which the Portuguese sought to emulate other European powers yet how this emulation was often modified in practice in response to local knowledge and incommensurate contexts; second, how intra-imperial networks served to integrate Brazil into this broader public sphere and how such attempts at integration suggested the limits of political economy's utility in colonial contexts.
10

R. de S. C

outinho

, «Reflexões Políticas», t. I, p. 141.

perhaps there is none more interesting and useful than that of recording and transmitting the current state of affairs in the country, the causes which have secured its prosperity or hastened its decline10.
11Indeed, as he suggested in another document,
11

I

d

., «Recopilação dos Oficios Expedidos de Turim no Ano de 1786», t. I, p. 79.

it is a just ambition of all governments to bring to their vassals the luzes enjoyed by more enlightened nations, recognizing that a nation's future greatness depends on the use of such principles11.
12These sorts of attitudes concerning the desirability and, indeed, inevitability of emulation, were widespread. One political writer offered an anecdote he claimed was derived from Neapolitan policy in order to emphasize the point that «agriculture is not something learned by chance; it is an art, even a science, and it is rather difficult to master». The same writer continued that:
12

Arquivo Nacional [Rio de Janeiro], Diversos Codices 807, vol. 21, Agostinho Ignacio da Costa Quinte

(...)

When the King of Naples wanted to improve the agriculture of his kingdom, he sent an intelligent man to apprentice himself to one of the most successful farmers in England, in order to learn the best techniques. Upon his return [to Naples], the King ordered that this man set up a school, and gave him land upon which he could practice, for the benefit of all, what he had learned abroad12.
through a system of education and promotion, rotation in office and institutional checks, the magistracy remained tied to royal interest and dependent on the crown […] The weakness of the power of the viceroy, the existence of multiple institutional checks, the incorporation of Brazilian posts into the hierarchy of office and the channels of promotion, and the constant need to refer matters to Portugal
28All of these imperial reform activities were coterminous with the rise of political economy in Portugal and the integration of its political writers into a European public sphere in which political economy was a key feature. It was not a mere coincidence, however, for these were intimately related developments. The diversity of the empire made the easy application of doctrines of political economy impossible without detailed knowledge of local conditions. At the same time, the insights and methods of political economy furnished Portuguese policy makers with the formulas and incentives to overcome diversity, dissolve distances, facilitate communication and thus create a world a little less strange, a bit more European, and easier to control, manipulate and exploit. If this description appears more despotic than enlightened, it must be remembered that these initiatives would have been inconceivable without ideas incubated by the public sphere. There was nothing intrinsic to political economy that produced such an outcome, but the exigencies of international rivalry led to its unintended use far from the European public sphere.
Notes
1 C. Hesse, «Topography of Enlightenment».
2 N. Safier, Measuring the New World, pp. 114-15.
3 For a case with notable parallels, see J. Robertson, «Political Economy and the "Feudal System"».
4 D. R. Curto, «D. Rodrigo de Sousa Coutinho e a Casa Literaria do Arco do Cego», pp. 26-27; for a fuller articulation of such a intregated vision of the empire, see A. R. C. da Silva, Inventando a Nação.
5 N. Sanjad, «Éden Domesticado».
6 See, for example, W. J. Simon, Scientific Expeditions; and Â. Domingues, Viagens de Exploração.
7 Letter reproduced in D. Carvalho, Desenvolvimento e Livre Comércio, p. 44; On Silva Lisboa, see G. Paquette, «José da Silva Lisboa».
8 F. Venturi, Utopia and Reform, p. 133.
9 F. J. C. Falcon, A Época Pombalina, p. 308.
10 R. de S. Coutinho, «Reflexões Políticas», t. I, p. 141.
11 Id., «Recopilação dos Oficios Expedidos de Turim no Ano de 1786», t. I, p. 79.
12 Arquivo Nacional [Rio de Janeiro], Diversos Codices 807, vol. 21, Agostinho Ignacio da Costa Quintela, «Verdadeiro Projeto ou Breve Discurso para se Aumentar a Agricultura em Portugal» (n.d.), fº 7rº.
13 Manuel Jacinto de Sampaio e Melo, quoted in L. Jobim, Ideologia e Colonialismo, p. 79.
14 S. J. de C. Melo, Escritos Económicos, p. 42.
15 On Pombaline policy, see K. R. Maxwell, Pombal; for an overview of Dom José's reign, see N. G. Monteiro, Dom José; for an assessment of whether or not Pombal actually may be considered a «prime minister», see Id., «Pombal's Government».
16 S. J. de C. Melo, Escritos Económicos, p. 136.
17 Pombal, quoted in K. R. Maxwell, Conflicts and Conspiracies, p. 19.
18 On the Pombaline companies in Brazil, see A. Carreira, As Companhias Pombalinas.
19 J. da S. Lisboa, Observações sobre a franqueza da indústria. On Silva Lisboa, see G. Paquette, «José da Silva Lisboa».
20 A. J. R. Russell-Wood, «Centers and Peripheries», p. 114.
21 S. B. Schwartz, Sovereignty and Society, pp. 362, 365.
22 Ibid., p. 361.
23 F. T. da Fonseca, «Scientiae Thesaurus Mirabilis», p. 530.
24 K. R. Maxwell, Conflicts and Conspiracies; on the themes of «useful knowledge» and «improvement» in the eighteenth century, see R. H. Drayton, Nature's Government.
25 A. J. R. Russell-Wood, «A Dinâmica», p. 15.
26 M. R. de Mello Pereira, «Brasileiros a Serviço do Império», p. 153.
27 M. O. da S. Dias, «Aspectos da Ilustração», pp. 131-132.
28 L. Vidal, Mazagão.
29 N. G. Monteiro, D. João Carlos de Bragança.
30 J. L. Cardoso, O Pensamento Económico, pp. 56, 67-74, 100, 122.
31 D. Vandelli, «Memória sobre a pública instrução», p. 131.
32 Id., «Memória sobre a Agricultura deste Reino», p. 127.
33 T. Walker, «Acquisition and Circulation of Medical Knowledge».
34 M. A. da S. Dias, «Aspectos da Ilustração no Brasil», p. 112.
35 J. de Loureiro, «Da Transplantação das Árvores (1789)», p. 126.
36 D. Vandelli, «Memória sobre a Agricultura deste Reino», p. 130; in another unpublished manuscript, however, Vandelli argued that «India and the coasts of Africa have no purpose other than commerce», a situation he compared to Brazil, which he considered suitable for both commerce and agriculture. See D. Vandelli, «Memorias sobre o Commercio de Portugal e suas Colonias», fos 29-39vº passim.
37 J. L. Cardoso, O Pensamento Económico, pp. 110-111.
38 Quoted in ibid., p. 111.
39 On these latter of these societies, see P. F. de Matos, «Oficiais da Armada»; and R. Cunha, «Documentos Diversos sobre a Sociedade Real Maritima, Militar e Geografica».
40 These activities are enumerated in J. M. D. Pereira, Memoria para a Historia do Grande Marquez de Pombal, pp. 62-63.
41 M. B. N. da Silva, A Cultura Luso-Brasileira, pp. 27, 30, 60-62.
42 L. F. de Almeida, «Aclimatação», p. 403.
43 R. Raminelli, Viagens Ultramarinas, p. 13.
44 Ibid., p. 137.
45 G. Paquette, «Introduction».
46 For a study that recovers the anti-imperial tradition in eighteenth-century thought, see S. Muthu, Enlightenment Against Empire.
47 On Spanish efforts, see P. De Vos, «Research. Development and Empire»; G. Paquette, Enlightenment, Governance, and Reform.
48 A. C. N. da Silva, O Modelo Espacial, p. 373.
49 D. Davidson, Rivers and Empire, pp. 75-84.
50 N. Safier, Measuring the New World, p. 113.
51 K. R. Maxwell, Conflicts and Conspiracies.
52 Â. Domingues, Viagens de Exploração; B. A. Sommer, «Cupid on the Amazon».