L'Économie politique et la sphère publique dans le débat des Lumières
|
,
I. Économie politique et littératures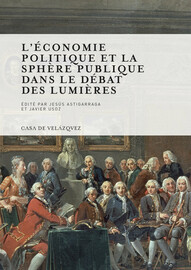 Economics treatises and textbooks in Italy
A comparative analysis of 18
th
- and 19
th
-century political economy
p. 103-122
Texte intégral
1The present economic crisis has stimulated the public opinion to raise questions about the reliability of market forces. A specific point made by the Harvard students who walked out of Gregory Mankiw's class of Economics 10 is that
1

«An Open Letter to Greg Mankiw».

[a] legitimate academic study of economics must include a critical discussion of both the benefits and flaws of different economic simplifying models […]. There is no justification for presenting Adam Smith's economic theories as more fundamental or basic than, for example, Keynesian theory1.
7The present paper focuses on one of these devices, notably textbooks of political economy, by comparing those of the 19th century with those published in the 18th century. We aim to understand whether the main treatises of «civil» or «public» economy published in Italy in the Age of the Enlightenment already played the typical normative and pedagogical functions of 19th-century textbooks, contributing to the social construction of market society. A related question is whether these «devices» played a role in the formation of the public sphere, and which role they played.
8As to the organisation of the paper, we use the results of our research on 19th- century economics textbooks as a sort of benchmark for a comparative analysis of the 18th century. Therefore, section 1 analyses the connection between textbooks, the institutionalisation and international circulation of political economy and the development of the public sphere in the 19th century, while section 2 provides some hints for the study of 18th century textbooks. Given our limited competence in the latter period, these suggestions are only tentative and will require further research.
9The recent research on 19th-century economics textbooks has revealed that the expansion of this literary genre started immediately after the Restoration of 1815, and by the end of the century it had turned into a mass phenomenon. Table 1 maps the different sub-genres that were connected either to an educational function or to an activity of popularisation: books that had the appearance of scientific treatises but were de facto recommended or used as textbooks; essays that focused only on the definition of political economy, highlighting its aims and scope and its connections with other moral sciences; textbooks stricto sensu; lecture notes collected by students and young assistants and often revised by professors; and finally short manuals devoted to the popularisation of political economy amongst the middle and working classes.
Table 2. — Types of textbooks of political economy published in Italy (1815-1922)
| | | |
| --- | --- | --- |
| Types of textbooks | Total number | First editions |
| University | 90 | 39 |
| High school | 150 | 104 |
| Elementary school | 2 | 2 |
| Comparative exams | 10 | 8 |
| Total | 252 | 153 |
Source
M. M. Augello and M. E. L. Guidi (eds.), The Economic Reader, p. 133.
11Table 2 details the types of textbooks that were published in the same period. The number of textbooks addressed to a public of university students is a consequence of the process of institutionalisation of political economy in Italian universities that took occasionally place since the Restoration but was propelled by the unification of Italy in 1861. Chairs of political economy were progressively created in all law faculties, and the new university regulations of 1876 added the teaching of statistics, while public finance was established as compulsory course in the academic year 1885-1886, following a period in which it had already existed as an optional course. Likewise in the eighties, two Higher Schools of Commerce were created in Genoa and Bari, similar to the first institution of this kind which had been founded in Venice in 1868.
12As table 2 reveals, a large number of textbooks published in Italy was actually targeted at secondary school students. Most of them were adapted to the educational programmes of technical institutes, the «practical» branch of secondary education that was instituted in 1859 by the Kingdom of Sardinia (the dominion of the Savoy dynasty including Piedmont, Liguria and Sardinia), and was extended to the whole country after 1861. These institutes included a commercial branch in which political economy was regularly taught. Starting from the late 1880s, the revision of syllabuses entrusted to the positivist intellectual Aristide Gabelli introduced the teaching of political economy, in conjunction with ethics and law, into the «schools of education» (scuole normali), the secondary institutes for the training of primary school teachers. Finally, a small number of textbooks of political economy for lyceums were issued in the first decade of the twentieth century. Classical lyceums were the «noble» branch of secondary education, the only one that provided access to university studies. However, the teaching of political economy—combined with law—in lyceums did not survive the reform of 1923 entrusted by the fascist government to the philosopher Giovanni Gentile.
16These aims were mirrored by the typical structure of nineteenth-century textbooks, modelled, with some variations, on Say's Traité and Cours. After an introductory part containing an extensive discussion of the scientific nature of political economy, of its methodology and of its connections with other moral or social sciences, textbooks were divided into four parts, respectively devoted to the analysis of production, circulation, distribution, and consumption. The theory of production and circulation contained the more objective, theoretical and formalised aspects of the science, like the definitions of wealth, value, prices, trade, money, capital, and the analysis of the role of capital, labour and land in the production, reproduction and growth of wealth. Their aim was to show that there were natural laws underlying the production and circulation of wealth and that freedom of enterprise and of exchange encouraged competition and maximised well-being. Normative discussions in these parts related to the role of government in regulating trade, money and credit. Needless to say, laissez-faire arguments largely predominated at least until the last decades of the century. The theory of distribution contained both an objective theoretical analysis of the natural laws that regulated wages, profits and rents, and vehement normative digressions illustrating the benefits (and limits) of private property or the rules of individual and collective behaviour that the various social classes should adopt to be consistent with economic laws: privileges, artificial monopolies, the right of succession, trade-unions, strikes, associations, cooperatives, socialism were some typical targets of these discussions. Paradoxically but not surprisingly, the more elementary and synthetic the textbook was, the more this normative side was predominant. But the most striking part of textbooks was that on consumption. This part was composed by a sub-part on public consumption, which contained the theory of taxation and public expenditure, and by another very significant sub-part on private consumption, which offered a series of indications on the need to be industrious and on the virtues of moderation, saving, providence, marriage, family cohesion, responsible parenthood et similia. Here a «microphysics of power», to use Foucault's definition, was deployed in order to construct the morals of the market.
18As a matter of fact, nineteenth-century textbooks presented these systematic connections between economic laws to a supposedly ignorant public that was to learn them as a system. They instilled such a consciousness into relatively untrained minds that could be moulded at will, as a tabula rasa. They created a self-governing, self-referential civil society, by educating individuals, spreading the morals of the market, and shaping the horizon of expectations of market participants. And by cognitively constructing civil society through political economy, textbooks contributed to creating the public sphere, because they posited the conditions through which the inner normativity of the market was turned into a truth that could be studied scientifically and assessed on the basis of scientific reasoning, scientific analysis, empirical testing, etc. Market laws became a parameter, a benchmark to assess this new form of governmentality. «After the textbook», a public sphere could exist as mirror game between the governors and the governed, between the State and civil society. The public sphere could exist as a public discourse on the political virtues of the market because the morals of the market had been socially constructed also thanks to textbooks.
20We call these «serialised» sets of arrangements «institutional packages». An institutional package is a system of institutional and discursive devices that proves successful in one environment in promoting and establishing a particular form of governmentality and is imported in other areas by being adapted and «translated» by key actors, within key networks, in order to replicate a similar form of governmentality. Sometimes existing institutions are modified (and this is a particular form of translation) from within in order to adapt them to the new package. But the point is that it is impossible to think of the spread of economic ideas and of their success as arguments in public discussions without considering the effort that was made to institutionalise these sets of institutions in different geographical contexts.
27We must now turn to the institutional context of these episodes in order to see if there were similarities between them and the more systematic phenomena of institutionalisation that took place in the 19th century, and if these similarities may justify the argument that the normative and pedagogical process associated with the teaching of political economy and the circulation of textbooks in the 19th century had its origins in the Age of the Enlightenment.
30Therefore, also in the 18th century the spread and circulation of political economy, and its institutionalisation as a science with a clear political content, were connected to the creation of a network of individuals and institutions in which economic knowledge and expertise played a key role. Furthermore, it is clear that most of the institutions listed above had as a source of inspiration the French model, with its academies, salons and informal intellectual circles, and with its journals and other publishing ventures (like the Encyclopédie). The circulation of Italian intellectuals between Naples, Milan, Venice and Paris is a proof that such a model existed and was recognised by contemporaries, as the biographies of Ferdinando Galiani, Pietro Verri and Cesare Beccaria well exemplify. However, the academic institutionalisation of political economy owed more to the German and Austrian model of state and cameral sciences than to the French example, although Naples can boast of a priority in Europe in this field. There are however two features of this «Enlightenment and Reform» institutional package that emerge in comparison with the 19th- century French-liberal equivalent. Firstly, it was less directly focused on the promotion and dissemination of political economy. A principal aim of journals, academies, aristocratic circles and debating societies was the critique of tradition, prejudice, obscurantism in their multiple shapes. Scientific, literary, philosophical subjects were as much important, if not more important, than political and economic subjects. Even the political debate was less dominated by politico-economic issues than in the early 19th century. And secondly, in the institutionalisation of economic knowledge and in the demand for economic expertise political economy was rivalled by the less political and more technical subject of agriculture.
as the great Father, or Sovereign of the nation, and instructs him to govern with science, prudence, and humanity. And Civil Economy is the part of politics embracing the rules that may render the subject nation populous, rich, powerful, wise and polite. On the other hand, Political Tactics properly is the part containing the art of legislating and preserving the State and the Empire57.
These forces [of the mind and of the body], when they are well managed and properly combined, and directed to an end, will make Sovereigns almost omnipotent, as Mr. Fontenelle says with much grace. It is not easy to understand what can be done with them, when they are well and attractively employed and stimulated, and mainly through prize and honour, which are two very powerful springs of the human mind65.
39How can this fragility be interpreted? As revealed by the description of the institutional package attempted at the beginning of this section, political economy was considered a central art of government, and its critical analyses served as a blueprint for social and political reform. However, in a way practising this art seemed to be more important than teaching or spreading it. And expertise appeared to many more important than education and open discussion. The descriptive, artificialist and normative structure of eighteenth-century political economy excludes that such a theory could be foundational for a self-referential economic sphere regulated by natural laws, in which individuals participate as elements of a social mechanism to which they must be educated and about which they must be enlightened. More precisely, individuals must be educated and enlightened, and academies, economic societies and journals demonstrate the efforts made to create at least the core of a modern public sphere. But first of all they have to be governed: and political economy is the art and science of the statesman and legislator and is taught to the statesman and legislator.
41On his side, Verri concludes his Meditazioni by arguing that the end of the «Minister of the Economy» is
74

P. V

erri

,

Meditazioni sulla economia politica

, pp. 559-560.

… never to despair about the good, and to speed up its advent by spreading into the Nation the seeds of the most useful truths […]. All the rest should be abandoned to the immediate principle that moves the universe and acts with unchangeable laws. This principle unites and divides every being; but it never plunders and it leaves nothing idle in the physical as well as in the political domain. This principle, of which we see the effects, know the existence and admire the laws, is called by us—with a vague and always indefinite vocable—nature74.
42We find therefore in Beccaria and Verri some important attempts to provide a formal rationalisation of economic knowledge, and these attempts prepare the ground for the new science of political economy of the Physiocrats and Adam Smith. Verri offers a clear example of an intention to promote the advent of a «natural» regulation of economic phenomena through the enlightenment of the public opinion.
43A first result of the comparative analysis attempted in this paper through the case study of Italy between the 18th and the 19th century, is that the context for the development of political economy as a set of representations and norms appears to be institutionally dense and to be organised around institutional packages that circulate through transnational networks of people and arrangements, and are adapted to different circumstances: the «Enlightenment and Reform» package in the 18th century, and the «(Anglo-) French liberal» package in the 19th century.
44A second conclusion is that the relative fragility of the institutionalisation of political economy in the 18th century as compared with 19th century can be interpreted as a symptom of a different role attributed to political economy in these respective contexts. On the one hand this branch of knowledge was seen as the art and science of government that should guide the action of reform of enlightened sovereigns thanks to an analysis of the human nature that revealed the natural «forces» or «springs of action» that the government could wisely manipulate to obtain the ends of prosperity, power, populousness, and politeness. On the other hand, political economy became since the early 19th century the science of the natural laws of production, distribution, exchange and consumption, and its main role consisted both in revealing their inner political normativity, and in creating a system of representations and norms that were consistent with, and supportive to, the smooth functioning of market and population laws.
45This conclusion is confirmed by the texts that were more closely connected to the institutionalisation of political economy. Not only the limited number of original treatises or textbooks published in the 18th century in Italy sharply contrasts with the mass phenomenon of publication and circulation of these instruments in the following century. The brief descriptions and quotations we have provided also offer some confirmations of the different nature and aims of political economy in either case. Maybe the absence of popular manuals and of guides for the education of the youth in the Age of Enlightenment is a further sign that such a difference was also strictly related to the role of the public sphere: there can be a fully developed public opinion and an open public discussion on the consistency of policy and private choices only when political economy is attributed the function of indicating the forces that replace and put serious limits to the visible hand of government. Nowadays that public discussion suggests to revise uncritical confidence in market forces, we are still talking of putting limits to the latter, rather than replacing them with active, albeit democratic, manipulation from above.
Notes
1 «An Open Letter to Greg Mankiw».
2 N. G. Mankiw and M. P. Taylor, Economics.
3 See M. M. Augello and M. E. L. Guidi (eds.), L'economia divulgata. See also Id., «Educating the Nation».
4 To limit references to the main contributions in English, see Id., «The Emergence of Economic Periodical Literature»; Id. (eds.), The Spread of Political Economy; Id. (eds.), Economists in Parliament.
5 See the papers collected in A. W. B. Coats, The Sociology and Professionalization of Economics.
6 See P. Bourdieu, Homo academicus; Id., Langage et pouvoir symbolique; F. Lebaron, «La formation des économistes».
7 See Ph. Steiner, Sociologie de la connaissance économique.
8 See B. Latour, Science in Action; Id., Pandora's Hope; M. Callon (ed.), La science et ses réseaux.
9 See F. Muniesa, Y. Millo and M. Callon, «An Introduction to Market Devices».
10 See A. Magliulo, «La sistemazione dell'economia politica».
11 See K. Tribe, «Economic Manuals and Textbooks».
12 J. Habermas, The Structural Transformation of the Public Sphere.
13 M. Foucault, Sécurité, territoire, population; Id., Naissance de la biopolitique.
14 See J. Bentham, Deontology.
15 See J.-B. Say, Œuvres diverses de J.-B. Say.
16 See, Id., Leçons d'économie politique, pp. 130-154.
17 J. Bentham, Constitutional Code, p. 36.
18 G. Filangieri, La Scienza della Legislazione, bk. 4, ch. 53, «Della libertà di stampa».
19 See V. Llombart, «Realidad nacional y circulación internacional»; E. Lluch and J. L. Cardoso, «Las teorías económicas».
20 See L. Le Van-Lemesle (ed.), Les problèmes de l'institutionnalisation; Id., Le Juste ou le Riche; Ph. Steiner, «Cours, Leçons, Manuels».
21 Y. Breton, «The Société d'économie politique of Paris».
22 See Id., «French Economists in Parliament».
23 See G. de Molinari, «Frédéric Bastiat».
24 All these economists published their lectures in the form of a textbook. See A. Blanqui, Cours d'économie industrielle; P. Rossi, Cours d'économie politique; M. Chevalier, Cours d'économie politique; J. Garnier, Abrégé des éléments de l'économie politique; Id., Traité d'économie politique.
25 Ch. Coquelin and G.-U. Guillaumin (eds.), Dictionnaire de l'économie politique.
26 See G. Erreygers, «Economic Associations in Belgium»; G. Erreygers and M. van Dijck, «A Powerful Instrument of Progress».
27 See S. Almenar, «Economic Thought in Spanish Periodical Publications».
28 See S. Almenar and V. Llombart, «Spanish Societies, Academies and Economic Debating Societies».
29 See S. Almenar, «Chair, Tribune and Seat».
30 See Id., «Teaching, Spreading and Preaching».
31 A. Scialoja, I principj della economia sociale.
32 G. Boccardo, Trattato teorico-pratico di economia politica. See G. Bianchi and R. Faucci, «Il Trattato di Gerolamo Boccardo».
33 G. Boccardo, Dizionario della economia politica.
34 See M. M. Augello and M. E. L. Guidi, «The Associations of Economists».
35 See P. Roggi, «Francesco Ferrara»; G. Gioli, «Lo studio delle "scienze economiche"».
36 See G. Michelagnoli, «Francesco Ferrara».
37 See M. M. Augello and M. E. L. Guidi, «Economists and Political Economy in Parliament».
38 See R. Romeo, Cavour e il suo tempo.
39 There were other successful «institutional packages» in the nineteenth-century history of economics. Consider, for example, the international success of the Socialism of the Chair in the 1870s and 80s, with its typical associations, journals and publishing ventures, or the more limited attempts to imitate the Marshallian organisation of economic studies at the University of Cambridge at the turn of the nineteenth century. The international spread of Marxism, Socialist planning and corporativism (at least in clusters of countries characterised by similar political regimes) are other examples of the same phenomenon at a later date.
40 G. D. Romagnosi, Dell'indole e dei fattori dell'incivilimento, pp. 25, 59-60.
41 See F. Di Battista, «Per la storia della prima cattedra universitaria d'economia», pp. 40-42.
42 See M. Bianchini, «Una difficile gestazione».
43 A. Genovesi, Delle lezioni di commercio.
44 C. Beccaria, Elementi di economia pubblica.
45 P. Verri, Meditazioni sulla economia politica.
46 See É. B. de Condillac, Le commerce et le gouvernement.
47 F. Venturi, Settecento riformatore, vol. 1, ch. 8; C. Capra, I progressi della ragione, pp. 177-231.
48 See M. Bianchini, «Una difficile gestazione», p. 49.
49 Ibid., pp. 51-52.
50 See R. Pasta, «L'Accademia dei Georgofili»; V. Becagli, «L'Accademia economico-agraria dei Georgofili».
51 See the various contributions to M. M. Augello and M. E. L. Guidi (eds.), Associazionismo economico, vol. I.
52 See Ph. Steiner (ed.), L'économie politique néo-smithienne.
53 Agostino Paradisi's course in Modena (1773-1774 and 1774-1775), as revealed by his lecture notes, is exactly in this style, covering in the first year an outline of the economic system, the moral system, property, fidecommissums, mortmains, agriculture, forests, hunting, fisheries and mines. In the second year it deals with commerce in three parts: commerce in general (territory, workers [not labour!], proprietors [not property or capital] as the leading class of society, population, labour, metals); the elements of commerce (exchange, the circulation of money, the amount of specie, interest); and foreign trade (change, money, and the balance of trade). See M. Bianchini, «Una difficile gestazione», p. 65.
54 See F. Di Battista, «Per la storia della prima cattedra universitaria d'economia», pp. 36-37.
55 A. Genovesi, Delle lezioni di commercio, p. 262.
56 Ibid., p. 262.
57 Ibid., pp. 262-263.
58 Ibid., p. 264.
59 Ibid., pp. 264-265.
60 Ibid., p. 265.
61 Ibid., pp. 266-267.
62 Ibid., p. 267.
63 Ibid., p. 267.
64 Ibid., pp. 276-277.
65 Ibid., pp. 277-278.
66 P. Verri, Meditazioni sulla economia politica, p. 511.
67 J. Bodin, Les Six Livres de la République; N. Delamare, Traité de la Police; J. F. von Bielfeld, Institutions politiques.
68 See A. O. Hirschman, The Passions and the Interests.
69 F. Di Battista, «Per la storia della prima cattedra universitaria d'economia», p. 37.
70 M. Bianchini, «Una difficile gestazione», p. 57.
71 Ibid., p. 67.
72 J. von Sonnenfels, Grundsätze der Polizey.
73 M. Bianchini, «Una difficile gestazione», p. 53; K. Tribe, Governing Economy, pp. 86-87.
74 P. Verri, Meditazioni sulla economia politica, pp. 559-560.
75 See M. Bianchini, Alle origini della scienza economica; Id., «Some Fundamental Aspects»; Id., «The Galilean Tradition».