L'Économie politique et la sphère publique dans le débat des Lumières
|
,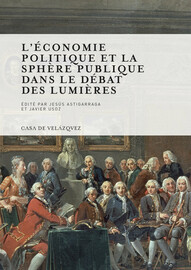 Enlightenment, public sphere and political economy
p. 9-32
Texte intégral
19We should, however, understand the rise of political economy to intellectual prominence in the mid-eighteenth century in a wider context than the growth of purely economic writing over the previous hundred and fifty years. Such a wider context is to be found, I suggest, in the transformation of several existing, traditional forms of analysis of moral and political behaviour, and in particular in the emergence of a new way of thinking about sociability, or the development of society, in which economic activities assumed a much more important place. At least three long-established ways of thinking about politics and the social order underwent radical adjustment in the later seventeenth and early eighteenth centuries: reason of state, the classification of forms of government, and natural law.
21Less obviously open to considering economic activity was a second, much older tradition of political analysis, that which classified states by their form of government. In its classical, Aristotelian form the typology was three-fold, distinguishing the monarchic, aristocratic or oligarchic and the democratic forms of government; simpler was the distinction between monarchies, which were characteristically territorial, and republics, usually city-states. In this tradition the form of government determined the political character of a nation: the distribution of power, subordinate institutions, and the values of the subjects or citizens were all dependent on the constitution. The economic sphere, however, was treated as independent, and of no political value: its role was simply to ensure that the state was self-sufficient in necessities. It might therefore be expected that a world in which governments were obliged to concern themselves with the economic activities of citizens in order to maximise their own resources would stretch the capabilities of this form of analysis, and even leave it redundant. But here too the concepts proved to be adaptable. The question became which form of government was more favourable to commerce—and the answer was found in history.
24By these arguments, Montesquieu enabled his contemporaries not merely to adjust to the new importance of commerce, but to recognise and appreciate the extent to which it now held the key to understanding the modern world. No other work did as much to place commerce at the centre of enquiry, or to establish its importance in understanding human society and its betterment. It is no coincidence that so many of those who took up the study of political economy in the 1750s—Vincent de Gournay and his circle, the editors of the Encyclopédie and their contributors (including Rousseau), David Hume, and Antonio Genovesi—did so at the same time as they read and engaged with the work of Montesquieu.
30Even more important than such original works of political economy, however, were translations. This may seem paradoxical: translations are surely of second-order importance, a reflection of a work's intrinsic importance. In fact, it was not by their intrinsic authority alone that individual works, even the Wealth of Nations, secured the credibility of political economy in the eighteenth century; it was by translation. Political economy was not in the position once enjoyed by natural jurisprudence, whose exponents took for granted a common, Latin conceptual vocabulary, for which vernacular equivalents would be found, or coined, as necessary. From the seventeenth century, economic matters were being discussed in all the major European vernaculars. By the eighteenth century, it was clear that French was the new language of learning: to contribute to the wider development of the discipline, a work of political economy would have to be translated into French.
33Translation into French ensured that a work could become known (even if in altered form) across Europe. But if a work was also to contribute to debate and the formulation of policy in a specific national context, it would in addition have to be translated into the local language. Which works were chosen depended on the individual making or sponsoring the translation, and the purpose for which he needed it. Three such cases of vernacular translation have been the subject of recent studies: what these studies reveal is a richly complex process, in which the «text» subject to translation, the «peritext» of commentary and annotation, and the inter-textual and inter-authorial connections all require attention.
39In outline and now also in some detail, therefore, it is possible to see how political economy became established as a major new field of intellectual enquiry in the eighteenth century. Not only were existing, traditional frameworks of political thought adapted to reflect on the economic conditions of sociability and successful government. But economic arguments were formally set out, variously translated, and deliberately adapted to meet different «national» circumstances—and then subjected to the test of explicit disagreement. By these means, political economy acquired credibility as an intellectual discipline; by these means too, it presented itself in forms suitable to be placed in the «public sphere», there to be discussed, in all the major vernaculars, by educated readers. So doing, it may also be argued, political economy made itself important, indeed fundamental, to «Enlightenment». For it offered not only a new instrument for the understanding of human behaviour, but one which explicitly addressed the conditions of human betterment in this world, in terms which engaged the «public».
40As a subject for study and public discussion, political economy enjoyed two further advantages. It could be studied and discussed the more readily in most parts of Europe because it was not inherently irreligious. In focussing on bettering the human condition in this world, it set aside the next; but it did not require its adherents and exponents to repudiate a belief in the world to come. In explaining human behaviour in rational, self-interested terms, it would dispel superstition and deprive the clergy of one of its holds over the people; but it did not challenge theology as such. The religious might well be suspicious of political economy, and, where the economic interests of the Church were under attack, openly obstructive of its teaching and even publication. The example of Spain, and the fate of Ramón de Salas in particular, is an example of the lengths to which ecclesiastical authorities might go. But this was unusual, perhaps even the exception which proves the rule. Political economy was not a frontal attack on religion, and while it might not excite the radical, it also did not, of itself, deter adherents by imposing unbelief.
41A second advantage was that political economy sought to educate governments as much in what they should not do as in what they should do. Its arguments were of course used by interest groups everywhere to put pressure on governments; but since its premise was that individuals were driven by their passions to pursue personal advantage, from which it followed that governments could expect to direct economic activity only to a limited extent, political economy did not normally present an open, political challenge to individual governments. Across Europe, the political economists conceived of influencing governments in two ways, by «public opinion», and «legislation».
44In sum, it is the argument of this paper that if we connect the social historians' concept of the public sphere with the eighteenth-century «science» of political economy, we can reconstruct an Enlightenment which was both grounded in contemporary society and intellectually innovative. This was an Enlightenment with a real historical existence, which can be found in various guises, some well-established, others more superficial, across the European world. It was one Enlightenment, in several manifestations. So reconstructed, the Enlightenment should not be hostage to a particular philosophical critique; but we can claim that it made a major contribution to understanding a vital dimension of human sociability, and to thinking about how governments should be brought to understand and exercise their economic responsibilities. It was not an Enlightenment which could solve all the problems of its own time, let alone establish the enduring principles of «modernity». But what it did achieve was historically significant, and is still worth celebrating.
Notes
1 With minor alterations, this contribution has also been separately published (in Greek and English) as the C. Th. Dimaras Lecture for 2010: «The Enlightenment, the public sphere and political economy» (Athens, Institute for Neo-Hellenic Research, National Hellenic Research Foundation, 2011). I am grateful to the participants at the Azcoitia conference for their comments on my original paper, and in particular to Jesús Astigarraga, Antonella Alimento and Loïc Charles for pertinent suggestions for its improvement.
2 R. Mortier, «"Lumière" et "Lumières"». Revisiting this evidence, D. Edelstein, The Enlightenment, uses it to argue that it was the Quarrel of the Ancients and the Moderns which defined the subsequent movement of «Enlightenment».
3 The notice with which the editor, Johann Karl Möhsen, posed the question, and the answers offered by Moses Mendelssohn, Karl Leonhard Reinhold and Christoph Martin Wieland as well as by Kant are conveniently collected and translated in to English by James Schmidt, in his edited volume What is Enlightenment? For an account of the range of German usages in the later eighteenth century, see H. Stuke, «Aufklärung».
4 There was also a Spanish equivalent: R. Mortier, «"Lumière" et "Lumières"», p. 25, notes that the term ilustración was employed by Jovellanos, although ilustrar and ilustrado were more common.
5 D. Mcmahon, Enemies of Enlightenment. For a valuable general valuable survey of the ways in which Enlightenment was understood from the Revolution onwards, see V. Ferrone and D. Roche (eds.), Le monde des Lumières, Part 5, «L'historiographie des lumières», esp. pp. 497-522: «Le xixe siècle: l'identité refusée».
6 J. Schmidt, «Inventing the Enlightenment».
7 Id., «What the Enlightenment was».
8 E. Cassirer, Die Philosophie der Aufklärung. On which: J. K. Wright, «"A bright, clear mirror"».
9 M. Horkheimer and T. W. Adorno, Dialektik der Aufklärung; R. Koselleck, Kritik und Krise.
10 M. Foucault, «Qu'est-ce que les lumières?»; first published in English translation as «What is Enlightenment?». A. Macintyre, After Virtue. R. Rorty, «The continuity between Enlightenment and Postmodernism». But the opposition between Postmodernism and Enlightenment may be exaggerated. Rorty believed that the Enlightenment's political project might yet be salvaged from the wreck of its philosophical heritage, while J. Schmidt has recently suggested that Foucault's reading of Kant may lead to an Enlightenment philosophical politics: «Misunderstanding the question "What is Enlightenment?"».
11 For this crucial phase in the reconstruction of the Enlightenment as a historical subject. see G. Ricuperati, Frontiere e limiti della ragione, pp. 56-126: «L'uomo che inventò la crisi della coscienza europea», in particular pp. 61-3, on Lanson.
12 D. Mornet, Les origines intellectuelles de la Révolution française.
13 P. Hazard, La crise de la conscience européenne; Id., La pensée européenne de Montesquieu à Lessing.
14 F. Venturi, Jeunesse de Diderot; Id., Le origini dell'Enciclopedia (1946—its publication delayed until after the War).
15 Id., «La circolazione delle idee»; «L'illuminismo nel Settecento europeo», originally presented to the XIth International Congress of Historical Sciences in Stockholm, 1960, translated and reprinted as «The European Enlightenment».
16 First in edited volumes of Id., Illuministi italiani, vol. III: Riformatori Lombardi, piemontesi e toscani, vol. V: Riformatori napoletani and vol. VII: Riformatori delle antiche repubbliche; then in the five volumes of Settecento riformatori, beginning with vol. I: Da Muratori a Beccaria 1730-1764 (1969), and ending (albeit leaving the project uncompleted) with vol. V, part. II: La Repubblica di Venezia 1761-1797 (1990). Articles which give an indication of the contents were translated into English and collected in Italy and the Enlightenment (see n. 15).
17 H. Trevor-Roper, «The Spanish Enlightenment»; Id., «The Scottish Enlightenment».
18 R. Porter and M. Teich (eds), The Enlightenment in National Context.
19 J. Schmidt, «What Enlightenment project?»; an argument now qualified by Id., «Misunderstanding the question "What is Enlightenment?"» (above, n. 10).
20 J. G. A. Pocock, Barbarism and Religion; in particular, vol. I: The Enlightenments of Edward Gibbon, and vol. II: Narratives of Civil Government (both 1999), and now vol. V: The First Triumph of Religion (2010). See also Id., «Historiography and Enlightenment».
21 J. Robertson, The Case for the Enlightenment.
22 J. I. Isarel, Radical Enlightenment; Id., Enlightenment Contested and, in anticipation of a third, comparably large volume covering the period 1750-1790, the slimmer volume of lectures: Id., A Revolution of the Mind.
23 P. Gay, The Enlightenment, vol. I: The Rise of Modern Paganism, followed by vol. II: The Science of Freedom.
24 See in particular, A. Lilti, «Comment écrit-on l'histoire intellectuelle des Lumières?»; and A. J. La Vopa, «A new intellectual history?».
25 V. Ferrone, Lezioni illuministiche, is fiercely critical of the philosophers, but nonetheless confident that when the Enlightenment is understood historically as «the cultural revolution of the Ancien Regime», it can be seen as «the true laboratory of modernity».
26 J. Habermas, Strukturwandel der Öffentlichkeit.
27 For Anglophone discussion of Habermas: A. J. LaVopa, «Conceiving a public»; D. Goodman, «Public sphere and private life»; M. C. Jacob, «The mental landscape of the public sphere». For an excellent conspectus of the relevant scholarship: J. van H. Melton, The Rise of the Public.
28 F. Furet and D. Roche et alii, Livre et société; D. Roche, Le Siècle des lumières en province; R. Darnton, «The high Enlightenment», reprinted in his The Literary Underground; Id., «The Encyclopédie wars of pre-revolutionary France»; Id., The Forbidden Best-Sellers; and the essays collected in George Washington's False Teeth. In both cases, these are but a small selection from their output.
29 D. Goodman, The Republic of Letters; S. Knott and B. Taylor (eds.), Women, Gender and Enlightenment. More recently: K. O'Brien, Women and Enlightenment; D. Goodman, Becoming a Woman in the Age of Letters.
30 F. Waquet, «Qu'est-ce que la République des Lettres?».
31 A. Goldgar, Impolite Learning.
32 C. Spector, «Les lumières avant les Lumières». Likewise D. Edelstein, The Enlightenment.
33 On this, and much else, R. B. Sher, The Enlightenment and the Book.
34 R. Darnton, «The Encyclopédie wars of pre-revolutionary France».
35 A recent conspectus of censorship in the eighteenth century is E. Tortarolo, L'invenzione della libertà di stampa.
36 Italian examples: V. Ferrone, «The Accademia Reale delle Scienze»; E. Chiosi, «Intellectuals and academies».
37 On the Real Sociedad Bascongada, J. Astigarraga, Los ilustrados vascos. For an example from the Habsburg Monarchy, R. Krueger, Czech, German, and Noble.
38 J. Livesy, Civil Society and Empire.
39 J. Shovlin, «Rethinking Enlightened reform in a French context».
40 J. Robertson, The Case for the Enlightenment, ch. 1, pp. 28-33.
41 J. Appleby, Economic Thought and Ideology; L. Rothkrug, Opposition to Louis XIV. An interesting, if isolated, Italian example is discussed by S. A. Reinert and E. S. Reinert, «An early national innovation system».
42 I. Hont, Jealousy of Trade, especially pp. 1-156: «Introduction», and pp. 185-266: «Free trade and the economic limits to national politics: neo-Machiavellian political economy reconsidered».
43 R. Tuck, Philosophy and Government, pp. 65-69.
44 J. G. A. Pocock, The Machiavellian Moment, ch. 8: «Neo-Machiavellian political economy»; see also Hont, as in n. 42.
45 One author of both kinds of history of commerce was P.-D. Huet, otherwise priest, Biblical scholar and champion of «ancient» literature: Histoire du commerce; and Id., Mémoires sur le commerce des Hollandois. On the potential significance of this literature: P. Cheney, Revolutionary Commerce, pp. 26-31.
46 Montesquieu, Esprit des Lois, bks. XX, XXI, esp. bk. XX, chs. i-ii, vol. II.
47 Ibid., bks. IV-XIX.
48 H. Grotius, The Rights of War and Peace, Prolegomena § 11, p. 89: «though we should even grant, what without the greatest wickedness cannot be granted, that there is no God, or that he takes no care of human affairs». The remainder of § 11 qualifies the concession still further.
49 A. Brett, Changes of State.
50 Th. Hobbes, On the Citizen, pp. 21-25; Id., Leviathan, pp. 86-90.
51 S. Pufendorf, Of the Law of Nature and Nations, lib. II, cap. i, § XV, also §§ XVI-XVII. See I. Hont, «The language of sociability and commerce» (originally published 1986), now in Id., Jealousy of Trade, pp. 159-184.
52 J. Robertson, «Sacred history».
53 On Vico, Mandeville and Hume, see my Case for the Enlightenment, chs. 5-6.
54 Montesquieu, Esprit des Lois, bk. I, chs. i-ii.
55 J.-F. Melon, Essai politique sur le commerce. On Melon, C. Larrère, L'invention de l'économie au xviiie siècle, pp. 95-134; I. Hont, Jealousy of Trade, pp. 30-33.
56 A. Genovesi, Delle lezioni di commercio, ed. M. L. Perna; É. B. de Condillac, Le commerce et le gouvernement; engl. transl. by W. and S. Eltis, Commerce and Government; A. Smith, An Inquiry into the Nature and Causes of the Wealth of Nations, ed. R. H. Campbell and A. S. Skinner.
57 Information derived from L. Charles, «French "New Politics"»; and A. Alimento, «Introduzione» pp. ix-xxiii. Along with Christine Théré and John Shovlin (above, n. 39), Charles and Alimento have led recent investigation of the Gournay circle. See also R. J. Ives, «Political Publicity and Political Economy».
58 L. Charles, «French "New Politics"», esp. pp. 184-191, for discussion of these issues.
59 A. Alimento, «Entre animosité nationale et rivalité d'émulation». Also Id., «Introduzione», pp. xiv-xxiii.
60 S. A. Reinert, «Emulazione e traduzione»; the story will be told at greater length in the same author's monograph, Id., Translating Empire. A full, critical edition of the Storia del commercio della Gran Bretagna is included in M. L. Perna (ed.), Antonio Genovesi.
61 J. Astigarraga, «La dérangeante découverte de l'autre», esp. pp. 97-106.
62 J. Robertson, Case for the Enlightenment, pp. 340-342; on Celestino and Ferdinando Galiani, K. Stapelbroek, Love, Self-Deceit, and Money.
63 F. Longano, «Discorso del notatore». Melon's name was not on the title page, but was on that of the later Neapolitan edition, Saggio politico sul commercio del signor Melon (1795). On Longano's translation: P. Matarazzo, «"Senza ineguaglianza e senza lusso"».
64 J. Astigarraga, «La dérangeante découverte de l'autre», pp. 106-115.
65 A. Genovesi, Lecciones de comercio; J. Astigarraga and J. Usoz, «From the Neapolitan A. Genovesi of Carlo di Borbone».
66 J. Astigarraga, «Pensiero giusnaturalista»; and now the same author's monograph, Luces y republicanismo. Astigarraga's studies of translations of political economy have taken the subject to a new level of importance in Enlightenment scholarship.
67 As will be evident, I have not considered translations into German, Scandinavian or other languages. The tradition of Cameralism gave German economic thinking an independent context, likely to have shaped translations in distinctive ways. On German economic thinking, K. Tribe, Governing Economy.
68 G. L. Schmidd'Avenstein, Principj della legislazione universale, with a dedication to Giuseppe Palmieri by the publisher, Michele Stasi; A. Smith, Ricerche sulla natura, e le cagioni della ricchezza delle nazioni del Signor Smith. On the latter, see G. Gioli, «The knowledge of Adam Smith's Wealth of Nations in Italy», pp. 153-154. In Spain Ramón de Salas also translated Schmid D'Avenstein around 1790; but this too remained unpublished: J. Astigarraga, «La Fisiocracia en España».
69 Understanding of both debates has been transformed by the seminal studies of I. Hont: «The early Enlightenment debate on commerce and luxury»; «The "rich country-poor country" debate»; reprinted in I. Hont, Jealousy of Trade; and «The "rich country- poor country" debate revisited». On the luxury debate, see also M. Berg and E. Eger (eds.), Luxury in the Eighteenth Century, T. Wahnbaeck, Luxury and Public Happiness, and several contributions to Alimento (ed.), Modelli d'oltre confine.
70 I. Hont, «The "rich country-poor country" debate revisited», p. 304.
71 Discorso sopra il vero fine delle lettere e delle scienze. See J. Robertson, The Case for the Enlightenment, pp. 351-359; E. Chiosi, «L'identità socio-economica Napoletana», and A. M. Rao, «Economia e morale».
72 G. Filangieri, Delle leggi che riguardano l'educazione, i costumi e l'istruzione pubblica, ed. P. Bianchini, t. IV of Id., La Scienza della Legislazione, ed. V. Ferrone, pp. 359-365.
73 A. M. Rao, «The feudal question»; J. Robertson, «Political economy and the "feudal system"».