Urbanisme civique en temps de crise
|
,
I. — Histoires provinciales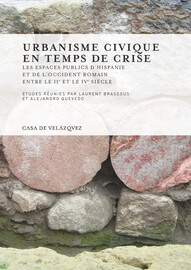 Public buildings in the cities of Roman Britain: successes or failures?
p. 63-82
Texte intégral
5The area of the basilica seems to have continued in use, possibly with some of the walls still standing, into at least the fifth century, with the stonework finally being robbed in the seventh century or later. The two very contrasting histories of the basilicas of Caerwent and Silchester suggest that there will be no simple, uniform pattern across Britain; Caerwent points to the maintenance of the civic vocation of the basilica and its annexes till at least the late fourth century, whereas at Silchester this vocation had been lost at least a century earlier and the basilica turned over to industrial uses.
8Overall, no single clear pattern emerges for the fate of Romano-British forum and basilica complexes through the later Roman period. Instead there appear to be two major trends. On the one hand at Caerwent, Caistor St Edmund, Cirencester, Exeter, Lincoln and possibly Leicester there is evidence that the complex was maintained. This maintenance was not just the «passive» preservation of the legacy of the second century but often «active» preservation involving major works of restoration or rebuilding. It is worth, nonetheless, iterating the caution that because there continued to be occupation within the structure of a forum, where the excavated sample is limited this is not proof that the structure remained in use as a forum (e.g. Leicester). On the other hand, there are cities such as London, Silchester and Wroxeter where all or a substantial part of the forum and basilica did not outlive the third century. Continuation of use seem to outnumber cessation so there seems to have been no generalised abandonment of the buildings that had materialised civic autonomy, indeed a significant number of the cities of Roman Britain apparently wished to curate this expression of their civic status. Equally, some other cities took other decisions. London seems purposefully to have dismantled and cleared away its massive forum and basilica; Silchester turned the shell of its basilica (which may never have been finished) over to other uses, principally metal-working; Wroxeter abandoned at least the basilica of the forum after it was engulfed by fire. At these cities status and autonomy no longer had to be expressed in the ways inherited from the High Empire. This does not, of course, mean that such status and autonomy no longer existed; it was just that the powers and the roles that they entailed were exercised in other ways and in other locations.
9Alongside the forum/basilica, public baths were the most numerous class of public building at the cities of Roman Britain, demonstrating the importance of the practices and rituals they housed, in particular the creation of the «Roman body» through the processes of bathing, exercise and bodily grooming. All the cities where there has been sufficient survey or excavation have yielded a major set of baths, occasionally two. Roman Britain cannot as yet demonstrate any examples of the so-called «imperial baths» such as the «Barbarathermen» at Trier/Trèves, or even of more modest but still substantial establishments such as the «Thermes de Cluny» at Paris. Romano-British public baths are essentially of the Reihentyp albeit on a monumental scale and with some elaboration of plan. The question which needs to be addressed here is whether these baths show significant change in the later Roman period, and if they do whether the reasons are simply pragmatic and to do with the structure of the baths, and/or whether they are more ideological and to do with changing social and cultural norms.
18Before going on to consider what the fate of individual buildings or classes of buildings in the later Roman period in Britain was and what this may signify, it is prudent to make two methodological points. Both of these have arisen in the discussions above, but should be made explicit as part of a general treatment of the evidence. The first is to do with the use of structures: merely because a structure continued to be used into the later Roman period does not of itself mean that it was being used for the same purpose as the one for which it was constructed. An obvious example of this is the Silchester forum-basilica. This point is particularly important when considering more recent excavations which may only concern themselves with part of a much larger structure; modifications in the later Roman period may mean continued use of the building for its original purpose, equally they may signal conversion to another purpose. The second is to do with the disuse of a building; sometimes it is difficult to tell when a building or other structure was disused in default of evidence for collapse or demolition or robbing. Good examples of this are structures such as theatres and amphitheatres; does the lack of evidence for collapse or demolition mean they were still in use, or had been abandoned and left to rot? In the case of structures such as the theatres at Canterbury or Colchester this problem is accentuated by the severity of post-Roman disturbance and robbing which has removed all evidence for the use-surfaces leaving only the wall foundations. On both these counts we need to be careful about how much we can assume about continuity or discontinuity both of use and of function.
21Fora/basilicae, baths, macella, and so on were not the only public buildings and monuments ever possessed by Roman cities in the West. By the late Roman period there was another hugely important public undertaking that defined the city physically and ideologically and needs to be considered here, again to set the development of public buildings and monuments in its proper context. This undertaking was of course urban defences.
Notes
1 Millett, 1990.
2 Mattingly, 2006, chap. viii et xi.
3 Frere, 1987, chap. xi.
4 Reece, 1980.
5 Esmonde Cleary, 1989, pp. 66-85; Faulkner, 2000; Rogers, 2011, chap. iii.
6 Wacher, 1995, chap. ii for a summary of knowledge up to 1990; for more recent information see Rogers, 2011, chap. v.
7 Blagg, 1980.
8 Brewer, 1993.
9 Fulford, Timby, 2000, pp. 573-581.
10 Brigham, 1990; Milne (éd.), 1992.
11 Holbrook, 1998, pp. 99-121.
12 Bidwell, 1979, chap. v et vi.
13 Jones, 2002, pp. 62-64; Ibid., pp. 127-130.
14 Hebditch, Mellor, 1973, pp. 41-42.
15 Frere, 1971, pp. 11-14.
16 Atkinson, 1942, chap. vi; White, Barker, 1998, p. 112.
17 Atkinson, 1942, pp. 105-07.
18 Ibid, chap. vii, pl. 73.
19 White, 1999.
20 Barker et alii, 1997.
21 Kenyon, 1948, p. 36.
22 St John Hope, Fox, 1905, pp. 341-366.
23 Frere, 1971, pp. 20-22.
24 Nash-Williams, 1930.
25 Blockley et alii, 1995, pp. 121-207.
26 Down, 1978, pp. 145-152.
27 Fagan, 1999.
28 Richardson, 1944.
29 Fabre, Paillet, 2010.
30 Wacher, 1995, p. 352.
31 Ibid., p. 362.
32 Ellis, 2000, pp. 25-90.
33 Holbrook, 1998, pp. 187-188.
34 White, Barker, 1998, pp. 114-116.
35 Frere, 1970.
36 Crummy, 1982.
37 Dunnett, 1971, esp. p. 41.
38 Holbrook, 1998, pp. 142-145.
39 Kenyon, 1935, pp. 232-241.
40 Fulford, 1989, esp. pp. 57-58.
41 Holbrook, 1998, pp. 145-175.
42 Bradley, 1975, esp. pp. 78-79.
43 White, 1936.
44 Little, 1971.
45 Bateman, Cowan, Wroe-Brown, 2008.
46 Crummy, 2008.
47 Laurence, Esmonde Cleary, Sears, 2011, chap. vii-viii.
48 Esmonde Cleary, 2005.
49 Faulkner, 2000; Perring, 2002, esp. chap. iii.
50 Esmonde Cleary, 2013, chap. v.
51 Esmonde Cleary, 2003; Id. 2007.
52 Ibid. 2007.
53 Faulkner, 2000, esp. figs. 2.14 and 2.15.
54 Esmonde Cleary, 2013, p. 124.
55 Laurence, Esmonde Cleary, Sears, 2011, chap. v-x.
56 Blagg, 1990.